Product Description
Candado Paso 40-1 Transmission Industrial Roller Chain 08A-1 08B-1 CADENA 25-1 04C-1 chain 35-1
1.Material choices:Carbon steel,40Mn ,C45 steel,304 stainless steel, 316 stainless steel and 201 stainless steel.
2.We specialized in producing all kinds of standard chains and special chains, such as A or B series chains, roller chains,
driving chains, conveyor chains, hoisting chains, agricultural chains, sprockets, gears, wheels and so on;
3.Roller chains: A series(12.7-50.8mm pitches),B series (9.525-50.8mm pitches)and the heavy series.
4.We supply all kinds of different mode stainless steel roller chain.
5.We also supply following short pitch precision roller chain
Simplex Roller Chains&Bushing Chains: 04C-1,06C-1,085-1,08A-1,10A-1,12A-1,16A-1,20A-1,24A-1,28A-1,32A-1,36A-1,40A-1,48A-1
Duplex Roller Chains&Bushing Chains:04C-2,06C-2,085-2,08A-2,10A-2,12A-2,16A-2,20A-2,24A-2,28A-2,32A-2,36A-2,40A-2,48A-2
Triplex Roller Chains&Bushing Chains:04C-3,06C-2,085-3,08A-3,10A-3,12A-3,16A-3,20A-3,24A-3,28A-3,32A-3,36A-3,40A-3,48A-3
Specification
| | |
| --- | --- |
| Name | High Quality Short Pitch Precision Roller Chains *03C *04C-1 *06C-1 |
| Material | Low carbon steel, C45, 20CrMnTi, 42CrMo, 40Cr, stainless steel |
| Surface treatment | Blacking, galvanization, chroming, electrophoresis, color painting |
Roller Chain We can provide roller chain A & B series with high quality and competitive price. 
Standard : 03C-1, 04C-1, 06C-1,08A-1,10A-1,12A-1,16A-1,20A-1,24A-1,28A-1,32A-1,40A-1,48A-1
                  03C-2, 04C-2, 06C-2,08A-2,10aA-2,12A-2,16A-2,20A-2,24A-2,28A-2,32A-2,40A-2,48A-2
                  03C-3, 04C-3, 06C-3,08A-3,10A-3,12A-3,16A-3,20A-3,24A-3,28A-3,32A-3,40A-3,48A-3 etc
                  05B-1;06B-1,08B-1,10B-1,12B-1,16B-1,20B-1,24B-1,28B-1,32B-1,40B-1,48B-1 05B-2;
                  06B-2,08B-2,10B-2,12B-2,16B-2,20B-2,24B-2,28B-2,32B-2,40B-2,48B-2 05B-3 ,
                   08B-3,10B-3,12B-3,16B-3,20B-3,24B-3,28B-3,32B-3,40B-3,48B-3 etc 
Nonstandard chain : We can make all kinds of non-standard chains according to the requirements of customer Application scope: Roller chain and Sprocket work together, apply to textile machinery, food machinery, printing machinery and woodworking machinery etc. 
Product name :Simplex short pitch roller chain 08A-1 La cadena de rodillos
Material: Stainless steel, Alloy steel Heat Treatment Carburizing and quenching and heat treatment, tempering, and blackening. Surface treatment " Short blasting Blackening, bluing, copper plating, galvanizing, or as required by the customer
Function High precision, high wear resistance, best service life ; best noise reduction ; best price
1. Heat Treatment.:the plate of roller chains would be bulk heat treatment
2. Carburization: Place in heat treatment equipment parts were heated to a certain temperature and heat preservation   time, and then pass into the carbon, medium carbon into the workpiece surface, chain in order to improve the hardness and abradability .
3 Quenching Parts :after heated to a certain temperature in heat treatment equipment, heat preservation time, and then according to the requirements in different medium cooling, thus improve parts hardness.
4 Tempering:After quenching parts at a certain temperature in the heat treatment equipment
for heating, cooling and heat preservation time after.Parts after tempering can reduce the quenching hardness, eliminate the quenching stress,improve the toughness.
5.Black Oxide/Bluing:Using organic polymer polymerization principle, the use of heat treatment process in the process of tempering heat black film.
Our company
HangZhou Flow Group Ltd is a professional manufacturer of bearings, collecting together production and processing, domestic and foreign trade. The factory specializes in the production and export of many kinds of bearings: deep groove ball bearing, spherical roller bearing, tapered roller bearing, and so on. The customized bearings is also acceptable and the production will be according to your requirements and samples.
All bearings in our factory adopt international quality standards. The complete equipment, strict quality control, advanced Japanese technology and quality service provide a guarantee to supply the high-quality bearings for our customers. Domestic sales and service network has covered 15 major cities in China, meanwhile our bearing has sold more than 60 overseas countries and regions.
If you are interested in any of our products or have an intention to order, please feel free to contact us.
Contact Us
Bella
 
| | |
| --- | --- |
| Standard or Nonstandard: | Standard |
| Application: | Textile Machinery, Conveyer Equipment, Packaging Machinery, Electric Cars, Motorcycle, Food Machinery, Marine, Mining Equipment |
| Structure: | Roller Chain |
| Material: | Stainless Steel |
| Type: | Short Pitch Chain |
| Transport Package: | Box+Wooden Box |
Customization:

Available

|

Customized Request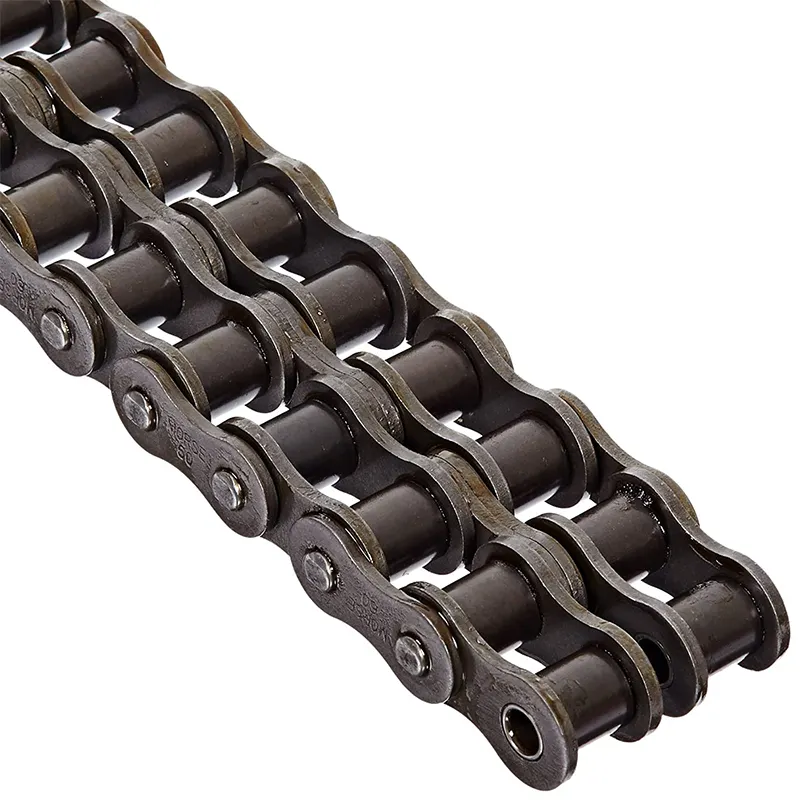 What are the future trends and advancements in industrial chain technology?
Industrial chain technology is continuously evolving to meet the changing needs of various industries. Here are some future trends and advancements that can be observed in industrial chain technology:
Increased Automation: Industrial chains are becoming an integral part of automated systems. The advancement of robotics, IoT (Internet of Things), and artificial intelligence is driving the integration of industrial chains with smart technologies. This includes features such as remote monitoring, predictive maintenance, and real-time data analysis for optimizing chain performance and overall system efficiency.
Improved Materials and Coatings: Ongoing research and development efforts are focused on developing advanced materials with enhanced properties for industrial chains. This includes materials with superior strength, durability, corrosion resistance, and wear resistance. Additionally, the development of advanced surface coatings and treatments further enhances the performance and lifespan of industrial chains.
Energy Efficiency: Energy efficiency is a growing concern in industrial applications. Future industrial chains are likely to incorporate designs and features that reduce energy consumption, such as optimized chain profiles, reduced friction coatings, and improved lubrication systems. These advancements aim to minimize power losses and improve overall system efficiency.
Integration with Digital Technologies: Industrial chains are expected to be increasingly integrated with digital technologies for seamless communication and data exchange. This integration enables better monitoring of chain performance, real-time diagnostics, and the ability to make data-driven decisions for maintenance and optimization. Digital twins, virtual simulations, and augmented reality (AR) are also emerging trends that allow for improved chain design, testing, and troubleshooting.
Enhanced Safety Features: Safety remains a top priority in industrial settings. Future industrial chains may incorporate advanced safety features such as integrated sensors for detecting chain wear, overload conditions, or abnormal operating parameters. These features can provide early warning signs and help prevent accidents or equipment failures.
The future of industrial chain technology is driven by the need for increased efficiency, reliability, and safety. The integration of smart technologies, improved materials, energy efficiency measures, digitalization, and enhanced safety features are expected to shape the advancements in industrial chain technology in the coming years.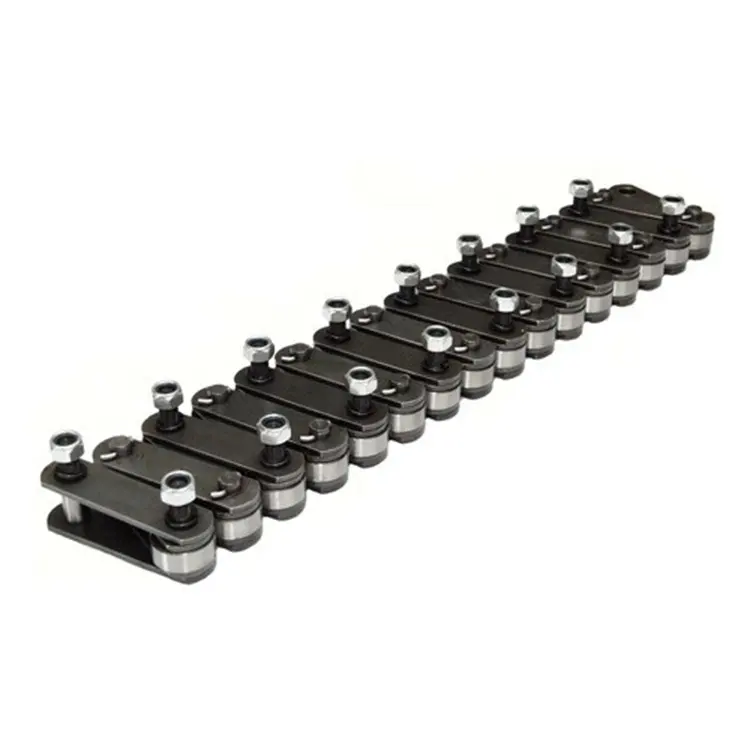 What are the common causes of industrial chain failures?
Industrial chain failures can occur due to various factors:
Excessive load: Applying a load that exceeds the chain's capacity can lead to stress and failure. It is important to consider the chain's rated load and choose the appropriate chain for the application.
Inadequate lubrication: Insufficient or improper lubrication can result in increased friction and wear, leading to premature chain failure. Regular lubrication with the recommended lubricant and following the manufacturer's guidelines is crucial.
Improper tensioning: Incorrect chain tension can cause misalignment, premature wear, and failure. Proper tensioning ensures optimal performance and longevity of the chain.
Misalignment: Poor alignment between the sprockets can cause the chain to wear unevenly and increase the risk of failure. Proper alignment of the sprockets is essential for smooth operation.
Wear and tear: Continuous use without proper maintenance and regular inspection can result in chain fatigue, elongation, and eventual failure. Regular inspection and timely replacement of worn-out components are necessary to prevent failure.
Corrosion: Exposure to corrosive environments can weaken the chain material and compromise its integrity. Using corrosion-resistant chains or applying appropriate coatings can mitigate the risk of corrosion-related failures.
Lack of maintenance: Neglecting routine maintenance tasks such as cleaning, lubrication, and inspection can lead to chain degradation and eventual failure. Regular maintenance is essential to ensure optimal chain performance and longevity.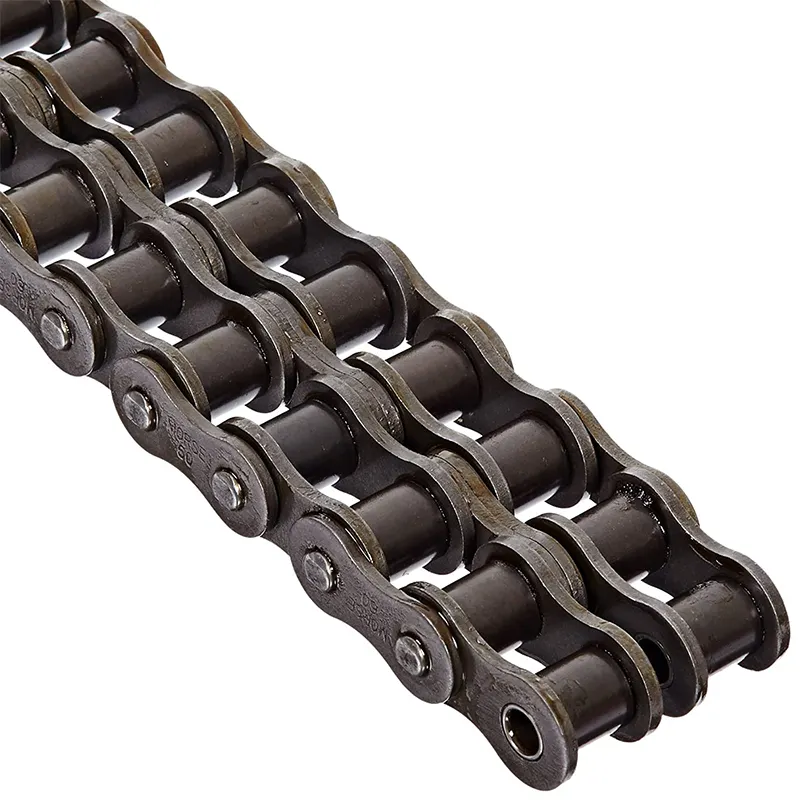 How do you troubleshoot common issues with industrial chains?
Troubleshooting common issues with industrial chains involves identifying the problem, determining its cause, and taking appropriate corrective actions. Here are some common issues and troubleshooting steps:
Chain misalignment: If the chain is misaligned, it can cause excessive wear, noise, and tension issues. To troubleshoot this, visually inspect the chain's alignment and check if the sprockets are properly aligned. Adjust the sprockets and ensure they are aligned with the chain's centerline.
Chain elongation: Over time, industrial chains can elongate, leading to poor performance and increased stress on the components. To troubleshoot elongation, measure the chain's pitch and compare it to the manufacturer's specifications. If the chain is elongated beyond the recommended limit, it may need to be replaced.
Inadequate lubrication: Insufficient or improper lubrication can result in increased friction and wear. Check the lubrication system and ensure the chain is properly lubricated according to the manufacturer's recommendations. Adjust the lubrication schedule or consider using a different lubricant if necessary.
Excessive chain tension: Excessive tension can cause increased wear, noise, and strain on the chain and components. Check the tension of the chain and adjust it to the manufacturer's recommended specifications. Ensure proper tensioning devices, such as tensioners or idler sprockets, are in place and functioning correctly.
Broken or damaged links: If there are broken or damaged links in the chain, they can cause performance issues and potential failure. Inspect the chain for any visible damage, such as broken pins or links, and replace the affected components as necessary.
Excessive chain wear: Excessive wear can lead to chain elongation, decreased performance, and increased risk of failure. Regularly inspect the chain for signs of wear, such as elongation, worn sprocket teeth, or excessive clearance between the chain and sprockets. Replace the chain if it has reached its wear limit.
It is important to consult the manufacturer's guidelines and recommendations for troubleshooting specific issues with the particular type of industrial chain being used. Additionally, regular maintenance, including proper lubrication, tensioning, and periodic inspections, can help prevent common issues and prolong the lifespan of the industrial chain.



editor by CX 2023-10-24