Product Description
CHINAMFG rollers enhance rotation on the bushing while reducing impact loads on the sprocket tooth during operation.
All components are heat treated to achieve maximum strength. All components are heat treated to achieve maximum strength.
Pre-loaded during the manufacturing process to minimize initial elongation.
Hot dipped lubrication ensures 100% lubrication of all chain components to extend wear life and reduce maintenance costs.
ISO
NO.
ANSI
NO.
PITCH 
ROLLER
LINK
WIDTH
ROLLER
DIA
PIN
PLATE
MIN. TENSILE
STRENGTH
AVG. TENSILE
STRENGTH
MAX. ALLOWABLE
LOAD
P
W
D
d
L
Lc
H
T
mm
mm
mm
mm
mm
mm
mm
mm
kgf
kgf
kgf
C208A
C2040
25.40
7.85
7.95
3.98
17.80
21.00
12.00
1.50
1,420
1,950
280
C208AL
C2042
25.40
7.85
15.88
3.98
17.80
21.00
12.00
1.50
1,420
1,950
280
C210A
C2050
31.75
9.40
10.16
5.09
21.80
25.00
15.00
2.00
2,220
3,100
450
C210AL
C2052
31.75
9.40
19.05
5.09
21.80
25.00
24.10
2.00
2,220
3,100
450
C212
C2060
38.10
12.58
11.91
5.96
26.90
31.00
30.10
2.35
3,190
4,200
640
C212AL
C2062
38.10
12.58
22.23
5.96
26.90
31.00
36.20
2.35
3,190
4,200
640
C216A
C2080
50.80
15.75
15.88
7.94
33.50
38.00
42.20
3.20
5,680
7,500
1,100
C216AL
C2082
50.80
15.75
28.58
7.94
33.50
38.00
48.20
3.20
5,680
7,500
1,100
C220A
C2100
63.50
18.90
19.05
9.54
41.10
47.00
54.30
4.00
8,870
12,100
1,900
C220AL
C2102
63.50
18.90
39.67
9.54
41.10
47.00
60.30
4.00
8,870
12,100
1,900
C224A
C2120
76.20
25.23
22.23
11.11
50.80
57.00
72.40
4.70
12,770
16,000
2,550
C224AL
C2122
76.20
25.23
44.45
11.11
50.80
57.00
18.00
4.70
12,770
16,000
2,550
| | |
| --- | --- |
| Usage: | Transmission Chain, Conveyor Chain, Roller Chains |
| Material: | Alloy/Carbon Steel |
| Surface Treatment: | Polishing |
| Feature: | Heat Resistant |
| Chain Size: | 1"~3" |
| Structure: | Roller Chain |
Samples:

US$ 10/Meter

1 Meter(Min.Order)

|
Request Sample
Customization:

Available

|

Customized Request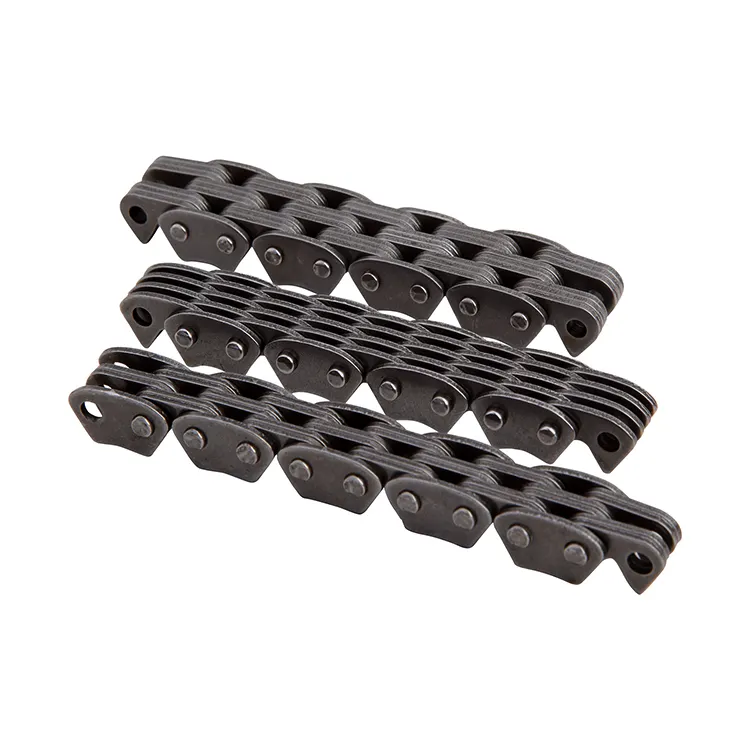 How do you prevent corrosion in industrial chains?
Preventing corrosion in industrial chains is essential to ensure their longevity and performance. Here are several measures that can be taken to prevent corrosion:
1. Material selection: Choose corrosion-resistant materials for the chain components. Stainless steel, specifically austenitic stainless steel grades, is highly resistant to corrosion and is commonly used in corrosive environments.
2. Coatings and surface treatments: Apply protective coatings or surface treatments to the chain components. These coatings can include zinc plating, galvanizing, chrome plating, or specialized corrosion-resistant coatings. These coatings create a barrier between the chain and the corrosive environment, preventing direct contact and inhibiting corrosion.
3. Lubrication: Proper lubrication is crucial in preventing corrosion. Lubricants create a protective film on the chain surface, reducing friction and preventing moisture and contaminants from reaching the metal. Use lubricants specifically designed for corrosion protection.
4. Regular cleaning and maintenance: Regularly clean and inspect the chains to remove any accumulated dirt, debris, or corrosive substances. Use appropriate cleaning agents and methods recommended for the specific chain material.
5. Environmental control: Control the environmental conditions to minimize exposure to corrosive elements. This can include implementing proper ventilation, reducing humidity levels, or installing protective barriers to shield the chains from direct contact with corrosive substances.
6. Proper storage: Store the chains in a clean, dry, and well-ventilated area to prevent exposure to moisture and corrosive agents. Use appropriate storage methods such as hanging or storing in containers to avoid contact with the ground or other potentially corrosive surfaces.
7. Regular inspections: Conduct regular inspections of the chains to detect any signs of corrosion or damage early. This allows for timely maintenance or replacement before the corrosion progresses and affects the chain's performance.
8. Follow manufacturer's guidelines: Always follow the manufacturer's guidelines and recommendations for the specific chain type and application. They may provide additional instructions on preventing corrosion and maintaining the chain's integrity.
By implementing these preventive measures, you can significantly reduce the risk of corrosion in industrial chains and ensure their long-term reliability and performance.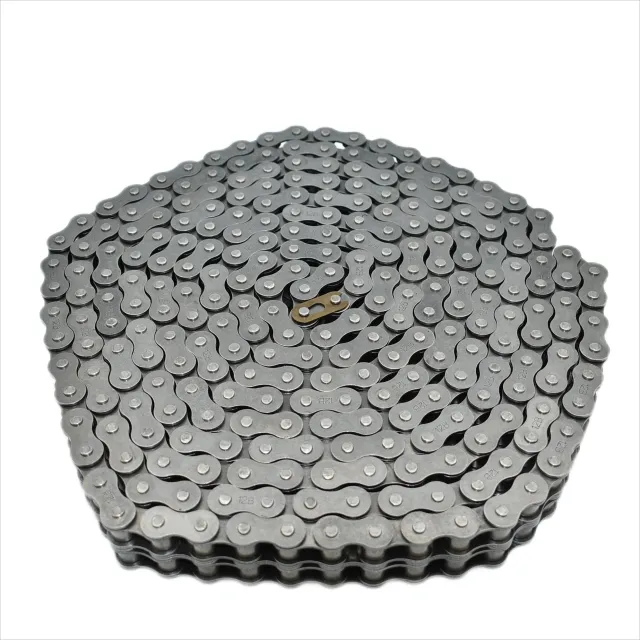 What are the environmental considerations when using an industrial chain?
When using an industrial chain, there are several environmental considerations to take into account:
1. Lubrication: Proper lubrication of the chain is important not only for its performance but also for environmental reasons. Using environmentally-friendly lubricants can help minimize the impact on the environment, especially in applications where there is a risk of lubricant leakage or contamination.
2. Material Selection: Choosing the right materials for the chain and its components is crucial. Opting for materials that are resistant to corrosion and wear can extend the chain's lifespan and reduce the need for frequent replacements, thus minimizing waste.
3. Maintenance and Inspection: Regular maintenance and inspection of the chain can help identify any potential issues early on, preventing unexpected failures and reducing the environmental impact of unplanned downtime and repairs.
4. Noise and Vibration: Industrial chains can generate noise and vibrations during operation, which may have environmental implications, especially in noise-sensitive areas or where worker comfort is a priority. Implementing measures to minimize noise and vibration, such as proper lubrication, chain tensioning, and damping systems, can help mitigate these effects.
5. Waste Management: Proper disposal and recycling of worn-out or damaged chain components are important to minimize the environmental impact. Recycling programs or partnering with responsible waste management companies can ensure that discarded chain components are properly handled and disposed of in an environmentally friendly manner.
By considering these environmental factors and implementing appropriate measures, the use of industrial chains can be made more sustainable and environmentally responsible.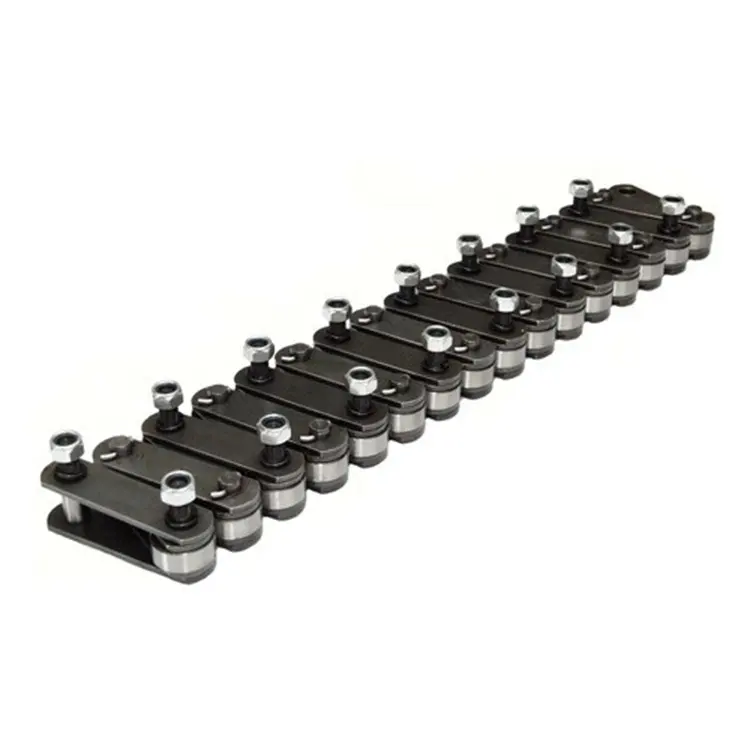 How does an industrial chain work in a manufacturing process?
An industrial chain plays a crucial role in a manufacturing process by facilitating the movement of materials or products along a predetermined path. Here's a detailed explanation of how an industrial chain works:
Input of materials: The manufacturing process begins with the input of raw materials or components onto the industrial chain. These materials are usually placed onto the chain manually or through automated systems.
Chain movement: The industrial chain is set into motion, either by a motor or by connecting it to a power source. As the chain moves, it carries the materials or products along its path.
Transfer and handling: The materials or products are transferred from one workstation to another as they move along the industrial chain. This transfer can involve various processes such as assembly, inspection, packaging, or any other manufacturing operation.
Control and synchronization: The movement of the industrial chain is controlled and synchronized to ensure proper timing and coordination of the manufacturing process. This can be achieved through the use of sensors, actuators, and control systems that monitor and adjust the speed, direction, and position of the chain.
Output and completion: As the materials or products reach the end of the industrial chain, they are either ready for further processing or considered as finished goods. They are then removed from the chain and directed to the next stage of the manufacturing process or prepared for shipment.
The working principle of an industrial chain involves the continuous loop movement of the chain, which allows for the smooth and controlled transfer of materials or products. The chain's design, including the type of links, pitch, and attachments, is optimized to meet the specific requirements of the manufacturing process, such as load capacity, speed, and environmental conditions.
By utilizing an industrial chain in a manufacturing process, companies can achieve increased efficiency, improved productivity, and enhanced automation. The precise and reliable movement of materials or products provided by the industrial chain ensures a streamlined and synchronized manufacturing operation.



editor by CX 2023-09-25