Product Description
Chain No
Pitch
Width
Between
Inner Plates
Pin
Dia
Pin
Length
Inner
Plate
Depth
Average
Tensile
Strength
Weight
 
Mm
mm
mm
mm
mm
mm
Kn
kg/m
04B-1
6.000
2.80
1.85
6.80
5.00
3.2
0.11
05B-1
8.000
3.00
2.31
8.20
7.10
5.9
0.20
*06B-1
9.525
5.72
3.28
13.15
8.20
10.4
0.41
08B-1
12.700
7.75
4.45
16.70
11.80
19.40
0.69
10B-1
15.875
9.65
5.09
19.50
14.70
27.50
0.93
12B-1
19.050
11.68
5.72
22.50
16.00
32.20
1.15
16B-1
25.400
17.02
8.28
36.10
21.00
72.80
2.71
20B-1
31.750
19.56
10.19
41.30
26.40
106.7
3.70
24B-1
38.100
25.40
14.63
53.40
33.20
178.0
7.10
28B-1
44.450
30.99
15.90
65.10
36.70
222.0
8.50
32B-1
50.800
30.99
17.81
66.00
42.00
277.5
10.25
40B-1
63.50
38.10
22.89
82.20
52.96
394.0
16.35
48B-1
76.20
45.72
29.24
99.10
63.80
621.6
25.00
56B-1
88.90
53.34
34.32
114.60
77.80
940.0
35.78
Our company offers variety of products which can meet your multifarious demands. We adhere to the management principles of "quality first, customer first and credit-based" since the establishment of the company and always do our best to satisfy potential needs of our customers. Our company is sincerely willing to cooperate with enterprises from all over the world in order to realize a CHINAMFG situation since the trend of economic globalization has developed with anirresistible force.
| | |
| --- | --- |
| Standard or Nonstandard: | Standard |
| Application: | Food Machinery |
| Structure: | Roller Chain |
| Material: | Stainless Steel |
| Type: | Double Pitch Chain |
| Function: | Transmisssion |
Customization:

Available

|

Customized Request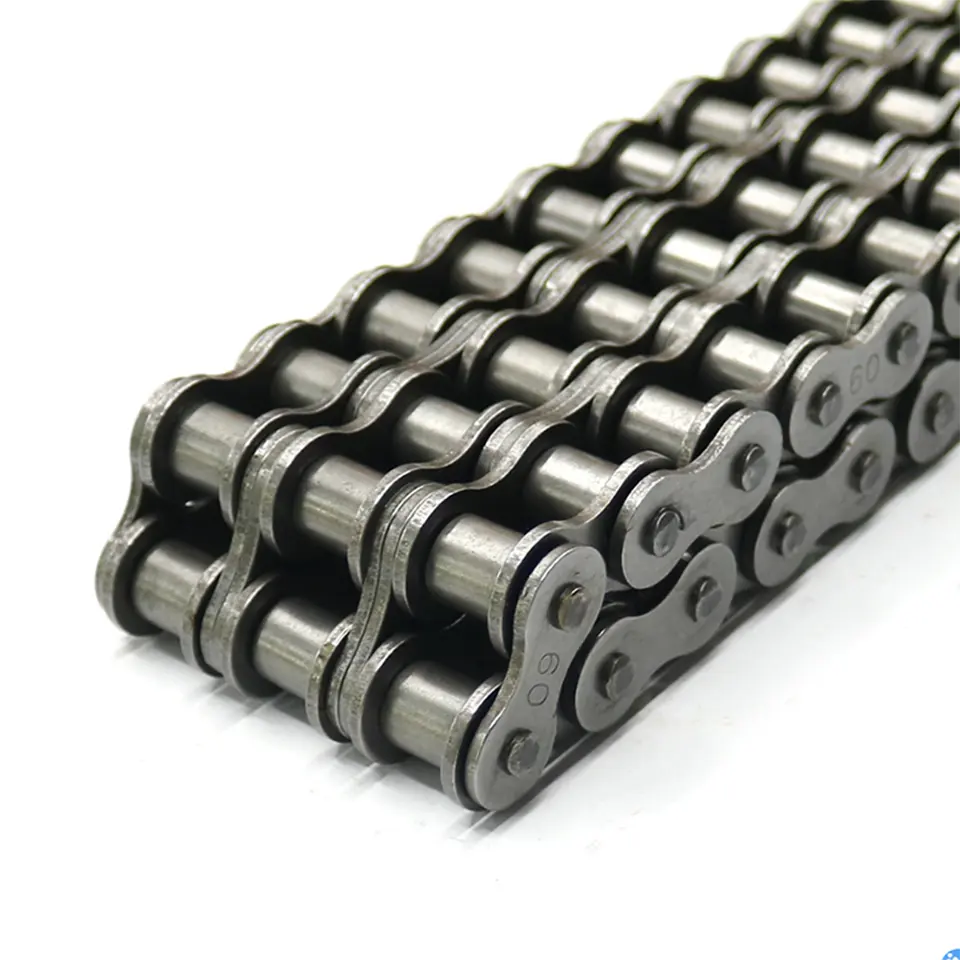 How do you determine the expected lifespan of an industrial chain?
The expected lifespan of an industrial chain can vary depending on various factors. Here's how you can determine the expected lifespan of an industrial chain:
Manufacturer's specifications: Start by referring to the manufacturer's specifications and guidelines for the industrial chain. Manufacturers often provide information about the estimated lifespan based on the chain's design, material, and intended use.
Operating conditions: Evaluate the operating conditions in which the industrial chain will be used. Factors such as temperature, humidity, exposure to chemicals or abrasive materials, and load conditions can significantly impact the chain's lifespan. Consider whether the chain will be subject to heavy loads, frequent starts and stops, or continuous operation.
Maintenance practices: Proper maintenance is essential for prolonging the lifespan of an industrial chain. Follow the manufacturer's recommended maintenance procedures, including regular cleaning, lubrication, and inspection. Neglecting maintenance can lead to premature wear and reduce the chain's lifespan.
Chain wear monitoring: Implement a chain wear monitoring program to track the condition of the chain over time. This can involve measuring the elongation of the chain, inspecting for signs of wear, and conducting regular maintenance checks. By monitoring wear, you can anticipate when the chain may need replacement.
Application-specific factors: Consider any unique factors related to the specific application. This may include factors like shock loads, vibration, misalignment, or exposure to extreme conditions. These factors can accelerate wear and impact the chain's lifespan.
Historical data and experience: Drawing from historical data and experience with similar applications can provide insights into the expected lifespan of the industrial chain. If there are past records of chain performance in similar operating conditions, they can serve as a reference point.
It's important to note that determining the exact lifespan of an industrial chain is challenging as it depends on various factors. Regular monitoring, proper maintenance, and adherence to recommended operating conditions can help maximize the chain's lifespan.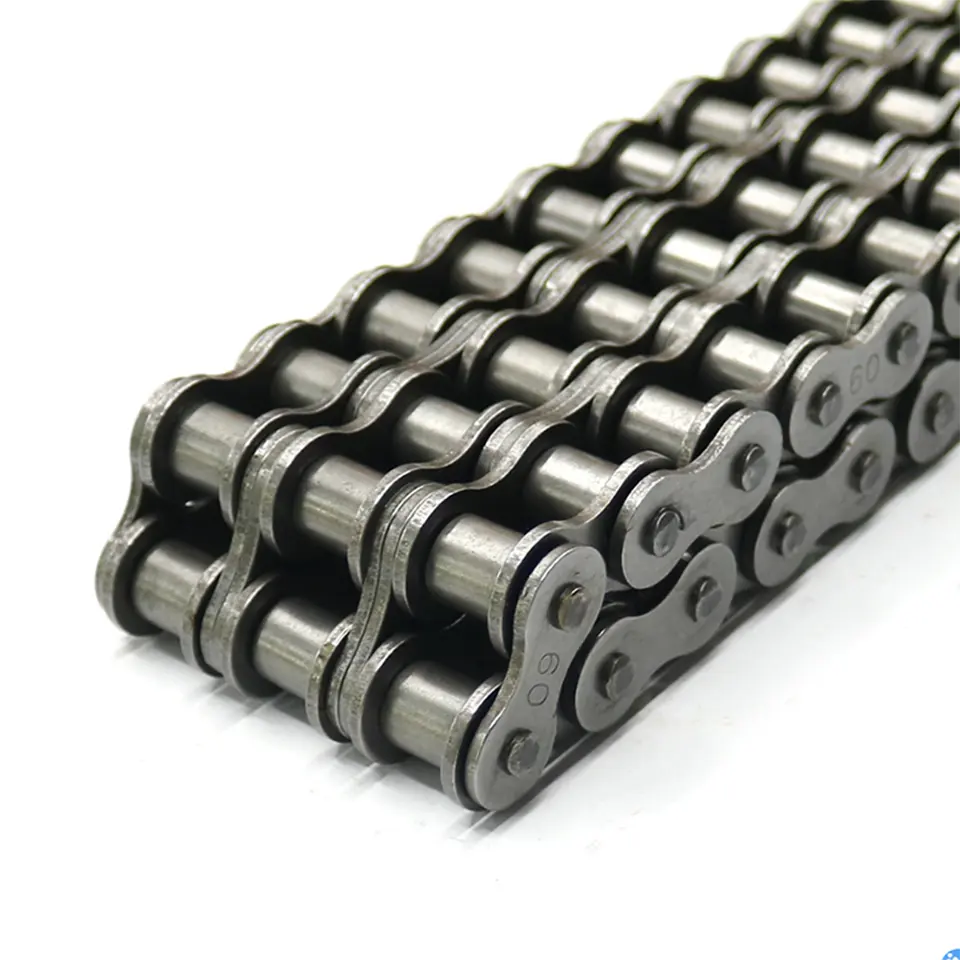 Can an industrial chain be used in high-temperature environments?
An industrial chain's suitability for high-temperature environments depends on the specific chain type, material, and operating conditions. While some industrial chains are designed to withstand elevated temperatures, others may experience performance issues or damage when exposed to excessive heat.
Industrial chains used in high-temperature applications are typically constructed using materials that exhibit excellent heat resistance. Common materials include heat-resistant alloys, stainless steel, or specialized coatings that can withstand the elevated temperatures without compromising the chain's strength or integrity.
When considering the use of an industrial chain in high-temperature environments, several factors should be taken into account:
Temperature Range: Determine the maximum temperature the industrial chain will be exposed to. Different chain materials have different temperature limits, and it's crucial to select a chain that can withstand the specific temperature range.
Chain Type: Certain chain types, such as roller chains or silent chains, may be better suited for high-temperature applications than others. Consult the manufacturer's guidelines and specifications to ensure the chosen chain type is suitable for the intended temperature range.
Lubrication: Proper lubrication is essential in high-temperature environments to minimize friction, reduce wear, and ensure smooth chain operation. Special high-temperature lubricants or dry lubrication methods may be required to maintain chain performance under elevated temperatures.
Heat Dissipation: Consider the ability of the industrial chain and the surrounding equipment to dissipate heat effectively. In some cases, additional cooling mechanisms or heat shielding may be necessary to protect the chain and prevent overheating.
Application Requirements: Assess the specific demands of the application, such as load, speed, and cyclic operation, and ensure that the chosen industrial chain can handle these conditions at high temperatures.
It's important to consult the manufacturer's recommendations and technical documentation to verify the suitability of an industrial chain for high-temperature environments. Working with experienced engineers or industry experts can also provide valuable insights and guidance in selecting the appropriate chain for such applications.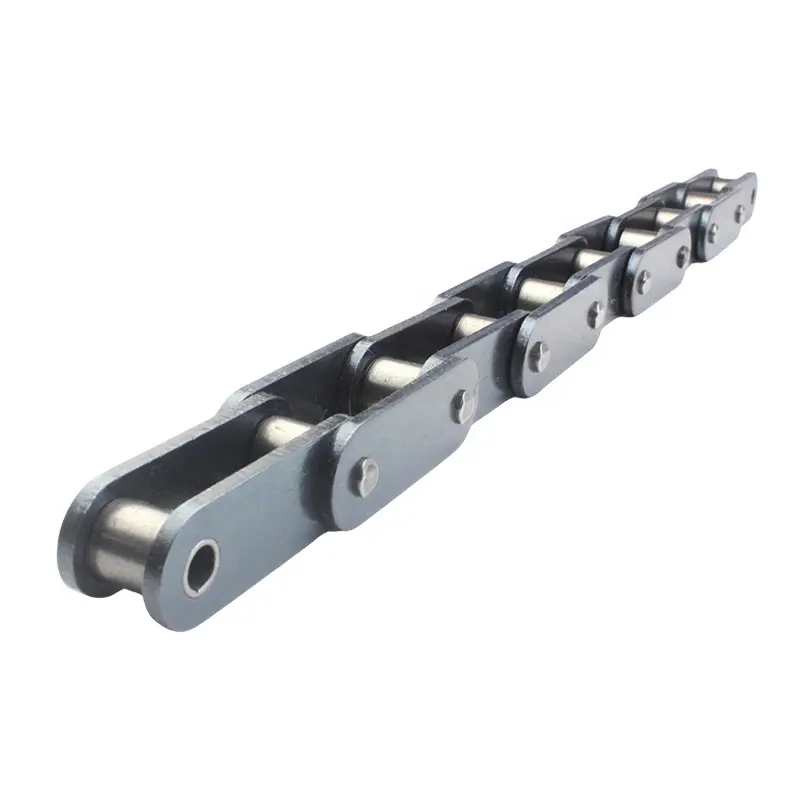 Can an industrial chain be repaired or does it need to be replaced entirely?
Whether an industrial chain can be repaired or needs to be replaced entirely depends on the extent of damage and the type of chain. In some cases, minor issues with an industrial chain can be repaired, while in other cases, replacement may be necessary. Here are some considerations:
Extent of damage: If the chain has minor issues such as a damaged link or a loose pin, it may be possible to repair it by replacing the damaged component. However, if the chain has significant damage, such as severe elongation or multiple broken links, it may be more cost-effective to replace the entire chain.
Type of chain: The repairability of an industrial chain also depends on its construction and design. Some chains, such as roller chains, can be disassembled and repaired by replacing individual components. However, other types of chains, such as welded steel chains, may be difficult or impractical to repair and may require complete replacement.
Manufacturer's recommendations: It is essential to consult the manufacturer's guidelines and recommendations regarding repairs. The manufacturer can provide specific information on whether the chain can be repaired and the proper procedures to follow.
Cost and time considerations: Repairing an industrial chain may require specialized tools, replacement parts, and technical expertise. It is important to consider the cost of repairs, including labor and materials, compared to the cost of a new chain. Additionally, repair time should be taken into account, as it may result in downtime for the equipment or production line.
Ultimately, the decision to repair or replace an industrial chain should be based on factors such as the extent of damage, the chain's design, manufacturer's recommendations, and cost-effectiveness. It is recommended to consult with a qualified technician or contact the manufacturer for guidance in making this determination.



editor by CX 2023-10-10