Product Description
Ordinary mild steel link chain
SHORT LINK CHAIN:
Link Specification

Test

Load

Breaking

Load

Net WT Per 200FT

(KG)

D 
L
W
IN
MM
MM
MM
KG
KG
 B.F
 H.D.G
1/8
3.20
16
12
200
400
11.40
 11.74
5/32
4.00
18.5
14.5
300
600
18.60
 19.00
3/16
4.70
19
17
400
800
26.20
 27.00
7/32
5.50
20
19
550
1100
36.80
 38.00
1/4
6.35
22
21
750
1500
50.00
 51.50
5/16
7.94
26.5
27.2
1200
2400
80.00
 82.40
3/8
9.50
30
32
1700
3400
122.00
 125.70
7/16
11.11
34
36
2300
4600
164.00
 169.00
1/2
12.70
39
43
3000
6000
210.00
 216.00
5/8
15.80
45
53
4700
9400
334.00
 344.00
3/4
19.00
55
63
6800
13600
485.00
 499.00
7/8
22.20
64
74
9250
18500
656.00
 675.00
1
25.40
73
84
12150
24300
870.00
 896.00  
MEDIUM LINK CHAIN:
Link Specification

Test

Load

Breaking

Load

Net WT Per 200FT

(KG)

D 
L
W
IN
MM
MM
MM
KG
KG
 B.F
 H.D.G
1/8
3.20
20
12
200
400
10.80
 11.00
5/32
4.00
23
15
300
600
17.40
 18.00
3/16
4.70
25
18
400
800
24.40
 25.00
7/32
5.50
26
19
550
1100
 34.00
 35.00
1/4
6.35
26
23
750
1500
 48.80
 50.00
5/16
7.94
32
29
1200
2400
76.00
 78.00
3/8
9.50
35
35
1700
3400
111.00
 114.00
7/16
11.11
38
38
2300
4600
 154.00
 158.00
1/2
12.70
50
45.5
3000
6000
 194.00
 200.00
5/8
15.80
60
56.7
4700
9400
 303.00
 312.00
3/4
19.00
76
69
6800
13600
 432.00
 445.00
7/8
22.20
90
80
9250
18500
 586.00
 603.00
1
25.40
105
95
12150
24300
 770.00
 792.00  
LONG LINK CHAIN:
Link Specification

Test

Load

Breaking

Load

Net WT Per 200FT

(KG)

D 
L
W
IN
MM
MM
MM
KG
KG
 B.F
 H.D.G
1/8
3.20
23
12
200
400
10.40
 10.70
5/32
4.00
27
15
300
600
16.60
 17.50
3/16
4.70
31
17
400
800
22.40
 23.30
7/32
5.50
32
19
550
1100
 32.00
 33.00
1/4
6.35
33
21
750
1500
 43.50
 44.80
5/16
7.94
48
31
1200
2400
68.00
 70.00
3/8
9.50
60
37
1700
3400
96.00
 99.00
7/16
11.11
71
41
2300
4600
126.00
 129.00
1/2
12.70
85
48.5
3000
6000
167.00
 172.00
5/8
15.80
114
61.5
4700
9400
256.00
 264.00
3/4
19.00
125
75
6800
13600
381.00
 392.00
7/8
22.20
140
88
9250
18500
527.00
 543.00
1
25.40
155
100
12150
24300
696.00
 716.00  
COMPANY INTRODUCTION:
LinYi YuanTong Hardware Locks Co.,Ltd. was founded in Located in TaiPing Street,HeXihu (West Lake) Dis. District,LinYi City,ZheJiang Province.It covers an area of 10,000 square meters,there are more than 200 employees,the main prouducts of enterprises are ordinary chains,high stength chains,stainless steel chains,knit chains,animal chains,ect,there are more than 300 varieties of specifications.
Our company has passed the international quality management system certification, and has a strict quality management system.With first- class equipment,reliable quality assurance,products have been exported to the United States,Canada,Europe and more than 30
countries and regions,have a high reputation.
If you need more details or have any questions, please feel free to contact us, we are more than pleased to do any help. Thanks!
We can offer the following products:
1)Weldless chain
2)Animal chain
3)Stainless steel link chain
4)G30 proof coil chain
5)Ordinhary mild steel link chain 
6)Norwegian standard link chain
7)Korean standard link chain
8)NACM1990 Standard link chain
9)ASTM80 standard link chain
10)NACM96 standard link chain
11)Australian standard link chain
12)DIN5685 DIN764 DIN763 DIN766
13)DIN5686 Knotted chain
 
| | |
| --- | --- |
| Usage: | Transmission Chain, Drag Chain, Conveyor Chain, Dedicated Special Chain, Link Chain |
| Material: | Iron |
| Surface Treatment: | Electroplating |
| Feature: | Heat Resistant |
| Chain Size: | 1/2"*3/32" |
| Structure: | Roller Chain |
Samples:

US$ 0/Meter

1 Meter(Min.Order)

|
Request Sample
Customization:

Available

|

Customized Request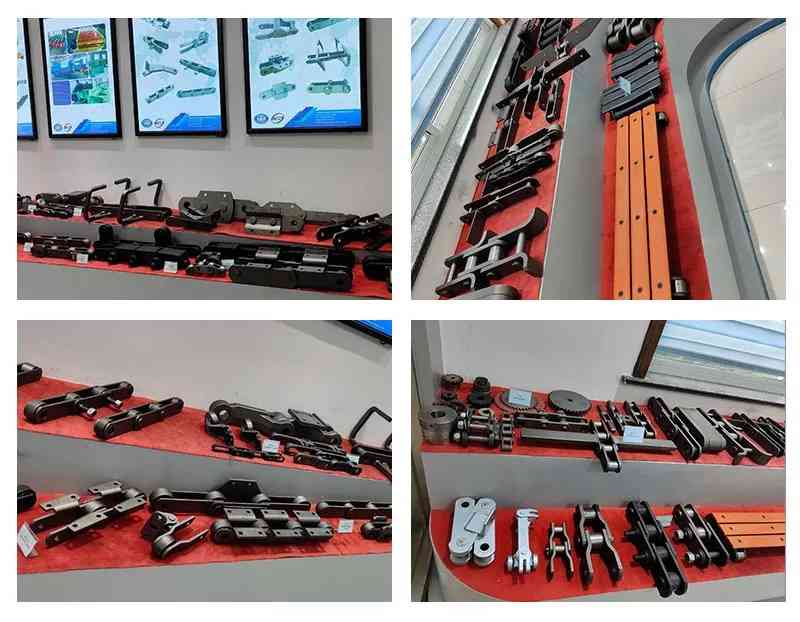 Advantages and Disadvantages of Drive Chains
Drive chains are widely used for sliding steel guides. While solution chains are often used, roller chains are more efficient in size and weight. Nevertheless, a drive chain is often the best choice for dirty jobs. The following are some of the benefits and disadvantages of drive chains. Learn more! Adapt your vehicle to your specific situation with drive chains. You'll be glad you did! Read on to learn more! Continue reading for information on different types of drive chains.
Inverted tooth chain
An inverted tooth camshaft drive chain has teeth on its links and two pin rolling pivot joints that engage each other to transmit moderate to high-speed rotations. This type of drive chain is also known as a silent chain drive, which is particularly effective in reducing noise and vibration. The teeth on the links mesh perfectly with the teeth of the gear sprocket. The inverted tooth design also provides smooth communication of chain links with the teeth of the sprocket.
The design of the new model was particularly effective in quelling noise. The "Druid" spring forks enabled the chain to adjust with minimal motion of the axle. It was launched at the 1910 Olympia show and sold more than 500 units. The drive chain was also silent, which reduced the need for sound insulation and attenuation components, which in turn minimized weight. Hence, it became an ideal choice for wind turbines.
The main disadvantages of chain drive include its low speed and limited range. It is expensive to manufacture and requires precise mounting. Maintenance is essential, including lubrication and slack adjustment. Its velocity fluctuates as the chain is stretched. This causes the chain to fail at the worst possible time. The chain drive also has problems associated with slippage. In addition, it can be prone to excessive wear and tear. Fortunately, however, there are newer types of drive chains available, which are more durable and reliable.
Duplex chain
There are three types of duplex drive chains: SC, RP, and Ramsey. Each has their own unique advantages and features. The Rampower duplex series offers twice the power capacity of the standard SC duplex chain. They are often used in new applications. SC duplex chains are the most affordable and are used in less demanding applications. The SC duplex chain has a lower power capacity but lower weight. There is also no guarantee of performance.
Multi-strand roller chain
The Multiple-strand roller chain for drive chain market can be defined on the basis of the factors that drive growth in this industry. The factors that hamper market growth can be understood in order to come up with alternative bends for lucrative opportunities. This report aims to understand the current scenario and the impact of COVID-19 on the industry as a whole. We will also discuss the market drivers and restraints. We will discuss the various types of Multiple-strand roller chains for drive chain and their market sizes in the coming years.
The minimum tensile strength for a roller chain is one sixth or one-ninth the tensile strength of a conventional drive chain. These standards are established to prevent linkplate fatigue, which is the main cause of premature breakdown. A chain made of this material is considered a superior choice for high-performance applications involving a high load-bearing capacity. If you're using a drive chain, make sure to choose a proper chain based on the type of application. A simple chain with a high load-bearing capacity is also ideal for simple applications.
While it is true that a high-tension, high-speed drive requires a higher power rating than a low-speed chain, roller chains are primarily used in low to mid-speed applications. They are similar to bicycle chains but may have a master link. In motorcycles, chains are heavier and may require a chain tool to remove. These chains are often replaced with toothed belts or a combination of both.
Flat top chain
The flat top drive chain is a versatile conveyor belt that conveys medium and large workpiece pallets. Its arcing capacity makes it suitable for continuous drive combinations involving curve arcs. The flat top chain is also available with PA wear pads on the workpiece pallets. The flat top chain's steel and plastic glide profiles allow surface loads of up to 1.5 kg/cm. HD profiles are compatible with the flat top chain.
The steel flat top chain is available in several types: 815, 820, and 881 series. These are heat-treated to have high strength and excellent wear resistance. They can also be used with various sprockets, including 820 sprockets. The high-quality steel chain can be used with many industrial applications. However, if you are looking for a durable chain for your industrial application, iwis hardened stainless steel flat top chains are an excellent choice.
TSplus flat top drive chain offers the most flexibility of any conveying media. The drive units can be linked end-to-end to form extended conveyor lines. Side-flexing flat top chains are available to create serpentine, in-line, and carousel conveyors. Drive units are available in standard and heavy-duty models. They are versatile enough to handle a variety of container sizes. If you need a more complex conveyor system, you can choose a heavy-duty drive chain.
Rexnord flat top chains come in two basic styles: MatTop chain and TableTop chain. The TableTop chain is molded in standard widths ranging from 3.25 inches to 12 inches. These are shipped in ten-foot sections, but you can also find 20-foot-wide mattop chains. You can even customize your MatTop chain to meet your exact needs. They are perfect for a variety of conveying applications, from general conveying to wash down applications.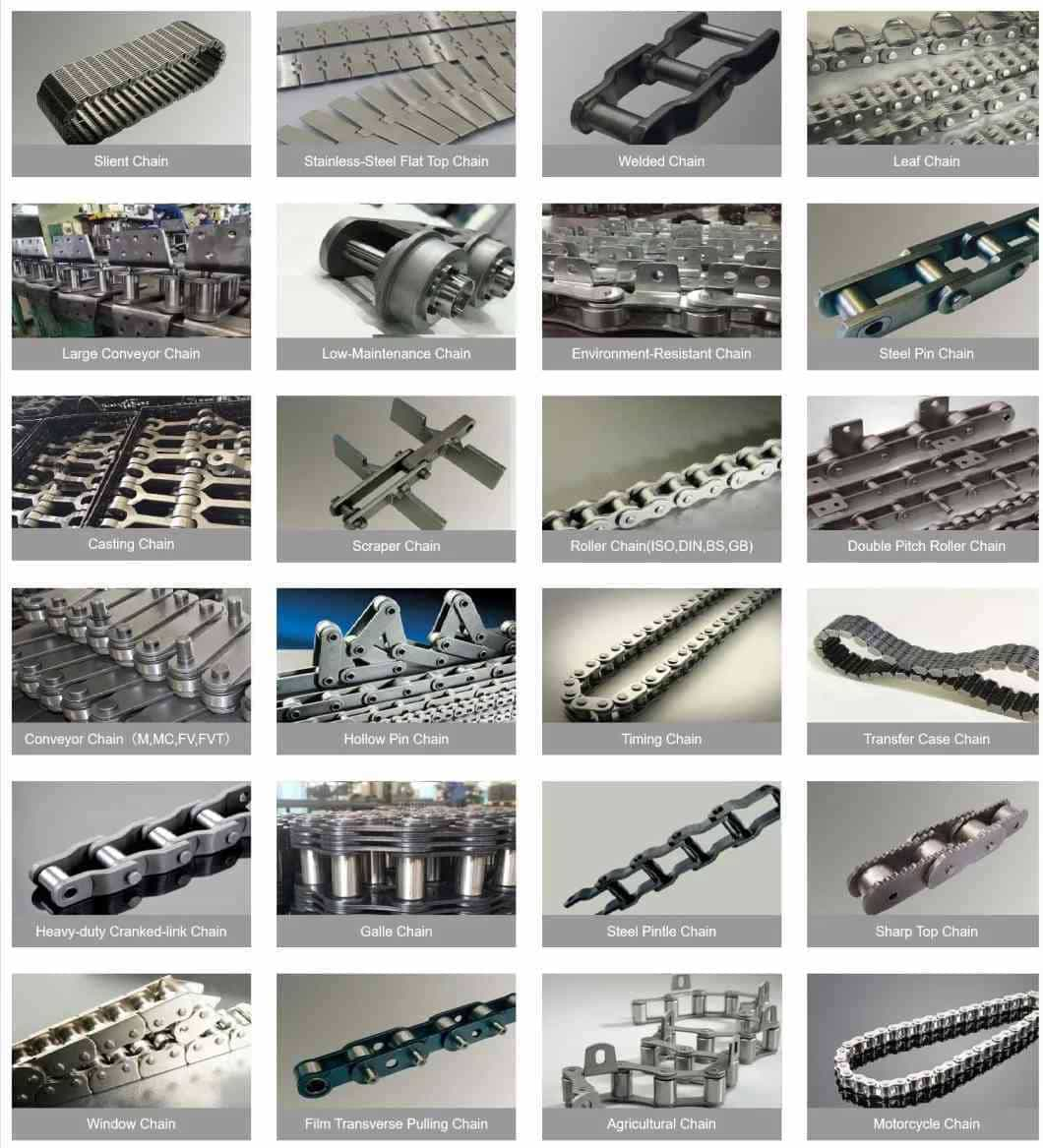 Conveyor chain
Drive chains for conveyors come in a variety of styles. These chains can have varying degrees of pitch. Pitch is governed by wheel tooth strength, the overall chain rigidity, and the type of drive motor. A normal maximum pitch is determined by the width of the link plates and the angle between the mounting angles. You can increase the pitch of your chain by strengthening the bushes between the link plates. Make sure that the gap between the wheel teeth and the bushes is approximately one-fourth inch.
Pitch and tension of the chain are important considerations when choosing a chain. The minimum pitch is determined by the thickness of the tooth on the wheel and the maximum pitch is determined by the rigidity of the link plates. However, this maximum pitch may be exceeded with bushes between the link plates or clearance with the wheel teeth. A good quality chain will have bearing surfaces lubricated to prevent excessive wear and rust. Medium-viscosity mineral oil is suitable for normal operating conditions. SAE 20W-50 is a good choice for this application. Self-lubricating chains are available from many chain manufacturers.
The chain is usually lubricated by dripping oil between the links. This type of lubrication requires regular inspection of the conveyor chain. The amount of oil should be enough to prevent reddish brown discoloration on the chain joints. A lubricating oil should be applied on a daily basis, according to the manufacturer's specifications. In order to ensure a longer life for your drive chain, make sure that you lubricate it on a regular basis.



editor by CX 2023-05-25