Product Description
Product

Standard Double Pitch Roller chain

Material

40Mn steel,304 stainless steel, 316 stainless steel and 201 stainless steel.

Types

Standard chains and special chains, such as A or B series chains, roller chains, driving chains, conveyor chains, hoisting chains, agricultural chains, sprockets, gears, wheels and so on.

Series

 A series(12.7-50.8mm pitches),B series (9.525-50.8mm pitches)and the heavy series.

Short pitch precision roller chain

Simplex Roller Chains&Bushing Chains: 

04C-1,06C-1,085-1,08A-1,10A-1,12A-1,16A-1,20A-1,24A-1,28A-1,32A-1,36A-1,40A-1,48A-1
Duplex Roller Chains&Bushing Chains:

04C-2,06C-2,085-2,08A-2,10A-2,12A-2,16A-2,20A-2,24A-2,28A-2,32A-2,36A-2,40A-2,48A-2
Triplex Roller Chains&Bushing Chains:

04C-3,06C-2,085-3,08A-3,10A-3,12A-3,16A-3,20A-3,24A-3,28A-3,32A-3,36A-3,40A-3,48A-3

Chain link type

Standard links (without attachment) and non-standard links (with attachment).

 

A1: One-side,one hole cranked attachments.
A2: One-side,two holes cranked attachments.
K1: Both-side,one hole cranked attachments.
K2: Both-side,two hole cranked attachments.
D1: One-side,an extended pin on every outer link.
D3: One-side,two extended pin on every outer link.

Our Products Advantage

1. Every step from production order to the packing process has a strict quality inspection.
2. We have standard roller chain with 1.5 CZPT (DIN. ANSI.); Non-standard roller chain (customized acording to customer drawings).
3. Export products with high quality and low price.
4.We have a good service before and after-sale.
1.Fast delivery: Standard products can be delivered in as fast as 20 days
2.Good service: timely reply, prompt quotation, responsible for the product
3.High cost performance: can maintain price stability for a certain period of time, bringing greater profits to customers
4.Good quality: production and testing have corresponding supervision to ensure product quality and get high praise from customers
5.OEM service: products can be customized according to drawings and requirements
We are responsible for the ordered products. We are very confident in the products we produce. Of course, if you have any problems after receiving the goods, you can contact us directly. We will confirm and negotiate in time to solve your difficulties.
Shipping Cost:

Estimated freight per unit.





To be negotiated
| | |
| --- | --- |
| Material: | Alloy |
| Structure: | Roller Chain |
| Surface Treatment: | Polishing |
Samples:

US$ 35/kg

1 kg(Min.Order)

|

Order Sample
Customization:

Available

|

Customized Request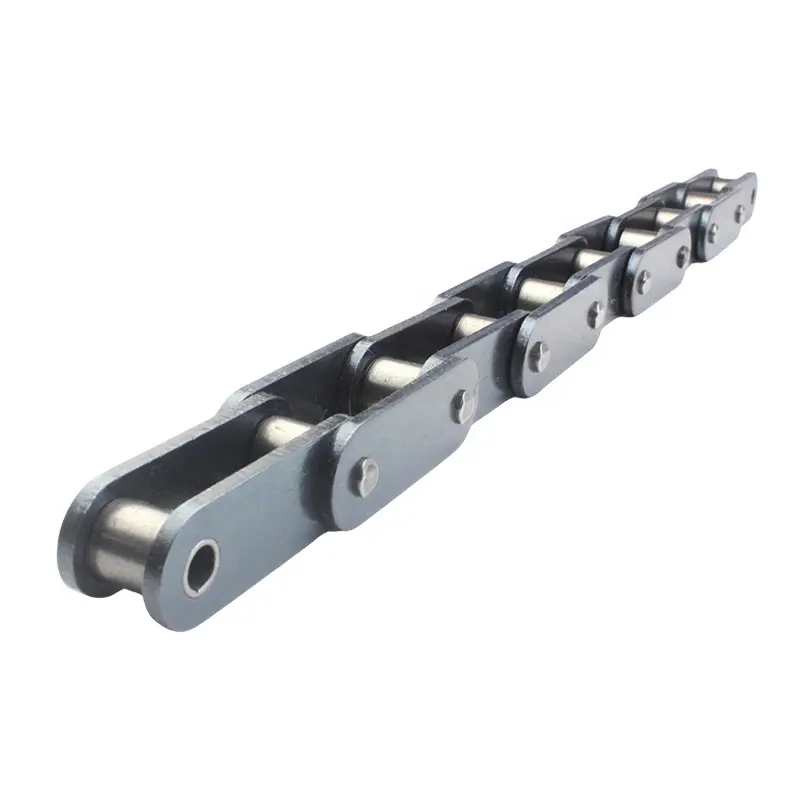 Can an industrial chain be used in corrosive or abrasive environments?
Yes, industrial chains can be used in corrosive or abrasive environments, but the selection of the appropriate chain material and proper maintenance practices are crucial for their reliable performance. Here are some considerations:
Corrosive Environments: In corrosive environments where the chain is exposed to chemicals, moisture, or other corrosive substances, it is essential to choose a chain material that offers excellent corrosion resistance. Stainless steel chains or chains with corrosion-resistant coatings are commonly used in such applications. These materials provide protection against rust and corrosion.
Abrasive Environments: In abrasive environments where the chain is subjected to wear and abrasion, it is important to select a chain with high hardness and resistance to wear. Chains made from materials like alloy steel or with hardened components are suitable for such conditions. Additionally, chains with specialized surface treatments or coatings can provide extra protection against abrasion.
Maintenance Practices: Proper maintenance is essential to extend the lifespan of an industrial chain in corrosive or abrasive environments. Regular cleaning of the chain to remove contaminants and applying appropriate lubrication can help reduce friction, wear, and corrosion. Inspecting the chain regularly for signs of damage or wear and addressing any issues promptly can also prevent premature failure.
Considerations for Material Selection: When choosing an industrial chain for corrosive or abrasive environments, consider factors such as the specific chemicals or substances present, temperature variations, humidity levels, and the intensity of abrasion. Consulting with chain manufacturers or industry experts can help in selecting the most suitable chain material and design for your specific application.
By selecting the right chain material, implementing proper maintenance practices, and considering the specific requirements of the corrosive or abrasive environment, industrial chains can effectively operate and withstand the challenges posed by such conditions.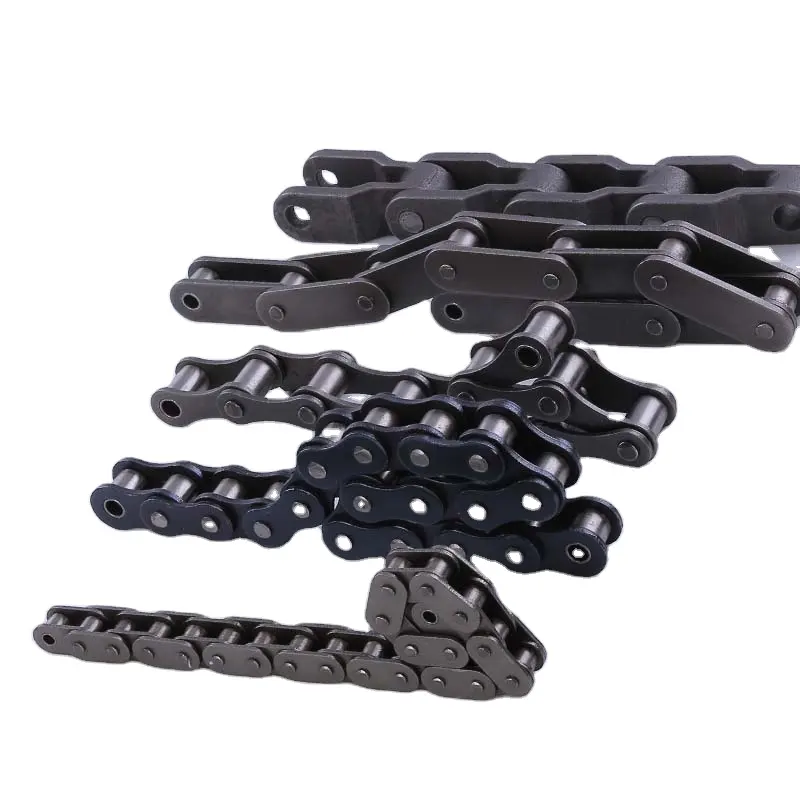 What are the industry standards and regulations for industrial chains?
There are several industry standards and regulations that govern the design, manufacturing, and use of industrial chains. These standards ensure safety, reliability, and performance consistency across different applications. Here are some prominent standards and regulations related to industrial chains:
– ISO 606: This standard specifies the design and dimensions of metric series roller chains used in industrial applications. It provides guidelines for chain pitch, roller diameter, and plate dimensions.
– ANSI/ASME B29.1: This American National Standard covers the design, dimensions, and interchangeability requirements for roller chains, including single, multiple, and double-pitch chains.
– ISO 10823: This standard focuses on the measurement and assessment of chain elongation during operation. It provides guidelines for evaluating the wear and elongation of roller chains.
– OSHA (Occupational Safety and Health Administration): OSHA sets safety standards and regulations to ensure a safe working environment. While it doesn't specifically address industrial chains, it covers general machine guarding requirements that are applicable to chain-driven machinery.
– Machinery Directive (2006/42/EC): This European directive outlines the essential health and safety requirements for machinery and equipment. It covers aspects such as design, construction, and use of machinery, including industrial chains.
It's important for manufacturers and users of industrial chains to be aware of these standards and regulations and ensure compliance. Adhering to these standards helps ensure the safety, reliability, and proper functioning of industrial chain systems in various industries.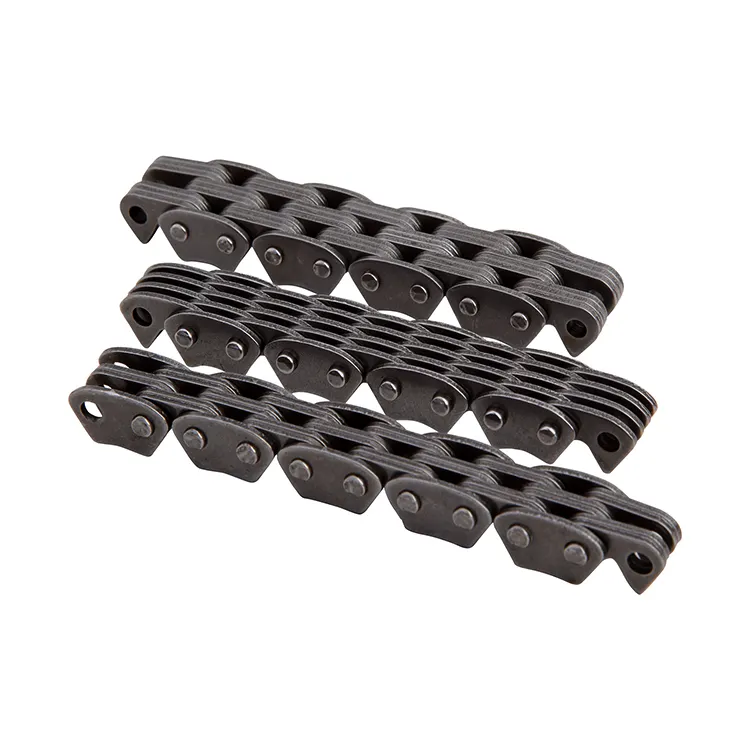 What are the signs of wear and tear in an industrial chain?
Monitoring the condition of an industrial chain is essential to identify signs of wear and tear. Here are some common signs to watch for:
Chain Elongation: Measure the chain's pitch to check for elongation. Excessive elongation indicates wear in the chain and can lead to poor performance and premature failure.
Worn Sprocket Teeth: Inspect the sprocket teeth for signs of wear. Worn or misshapen teeth can cause the chain to skip or slip, resulting in decreased efficiency and increased stress on the system.
Chain Flexibility: Assess the flexibility of the chain by bending it. If the chain is stiff or has tight spots, it may indicate corrosion, inadequate lubrication, or worn components.
Visible Damage: Look for any visible damage on the chain, such as bent links, cracked or broken plates, or missing pins or rollers. These can weaken the chain's integrity and compromise its performance.
Excessive Noise: Unusual noise during operation, such as grinding, rattling, or squeaking, can indicate a problem with the chain. It may be caused by misalignment, inadequate lubrication, or worn components.
Increased Friction: Check for excessive heat or signs of friction, such as discoloration or hot spots. Increased friction can accelerate wear and lead to premature failure.
Poor Tension: Assess the chain's tension by checking for slack or excessive tightness. Improper tension can cause the chain to wear unevenly and affect its performance.
Regular inspections and maintenance are crucial to identify these signs of wear and tear. Addressing issues promptly, such as replacing worn components or adjusting tension, can help prolong the life of the industrial chain and prevent unexpected failures.



editor by CX 2023-09-05