Product Description
About Factory 
With more than 18 years' histiory, we are a professinal manufacturer for drop forged products such as forged chain (X348 X458 X658 X678 X698 F100 F160), scraper chain (10160, 14218, 14226, 142N), conveyor trolley (X348, X458, X678, XT160), and drive chain (X348, X458, X678), and so forth standard moulds of chain. 
Besides, we can also produce as per your drawing or sample, special link chain, pusher, pin and plate, according to customers' unique requirements.
Product Description
1) Material: Alloy steel, 40Cr, 42CrMo and so on.
2) Types: Standard types, X348 X458 X678, and so on. (Or as per your drawing)
3) Process: Moulding→Forging→Polishing & Blasting→Fine machining→Heat treatment→Blasting→Inspecting & testing→Packing
Product Show
 
Technical Data
 
Model
Dimension
Weight (Kg)
Material
Hardness
Working Load (KN)
Limit Load (KN)
P
T
C
S
F
R
D
10160B
101.6
24
36
13
14
6
14
0.32
20CrMnTi
Surface HRC56-64°    
Depth 0.6-1.2mm
18
100
10160
101.6
30
36
13
14.5
9
14
0.36
20CrMnTi
Surface HRC56-64°     Depth 0.6-1.2mm
21.6
120
14218
142
42
50
19
20.5
11
25
1.15
20CrMnTi
Surface HRC56-64°     Depth 0.6-1.2mm
48.6
270
14226
142
62
50
28
30
15
25
1.75
20CrMnTi
Surface HRC56-64°     Depth 0.6-1.2mm
61.2
340
2571
200
66
60
30
32
18
30
2.8
20CrMnTi
Surface HRC56-64°     Depth 0.6-1.2mm
72
400
26014
260
70
75
31
33
20
34
5.2
20CrMnTi
Surface HRC56-64°     Depth 0.6-1.2mm
135
750
142N
142
43
50
19
22
12.5
25
1.2
40Cr
Quench HRC36-44°
75.6
420
150D
142
42
50
19
20.5
11
25
1.15
40Cr
Quench HRC36-44°
75.6
420
MG20
200
70
50
27
29
17
35
3.78
40Cr
Quench HRC36-44°
144
800
MG20B
200
70
50
27
29
17
30
3.82
40Cr
Quench HRC36-44°
140.4
780
MG20C
200
70
50
27
29
17
28
3.85
40Cr
Quench HRC36-44°
122.4
680
MS32
200
42
50
20
22
12
25
1.4
40Cr
Quench HRC36-44°
75.6
420
MS55
200
80
70
35
38
25
28
4.36
40Cr
Quench HRC36-44°
138.6
770
3006
200
65
70
30
33
24
32
3.6
40Cr
Quench HRC36-44°
160.2
890
MS63
250
70
80
30
33
20
32
4.93
40Cr
Quench HRC36-44°
147.6
820
S16
100
30
27
15
16
8
14
0.3
40Cr
Quench HRC36-44°
16
88
S20
125
34
33
17
18
8
17
0.37
40Cr
Quench HRC36-44°
19.4
108
S25
160
48
39
23
25
13
20
1.28
40Cr
Quench HRC36-44°
55.8
310
S30
142
46
49
22
23.5
14
25
1.3
40Cr
Quench HRC36-44°
91.8
510
Z16
100
40
35
18
20
12
17
0.4
40Cr
Quench HRC36-44°
32.4
180
Z20
125
50
46
24
26
15
20
0.67
40Cr
Quench HRC36-44°
59.4
330
Z20D
125
52
60
24
26
16
26
1.15
40Cr
Quench HRC36-44°
82.8
460
Z25
160
58
55
28
30
18
25
2.25
40Cr
Quench HRC36-44°
82.8
460
Z25D
160
66
64
29
31
22
28
2.6
40Cr
Quench HRC36-44°
120.6
670
Z30
142
64
50
29
30.5
18
25
1.8
40Cr
Quench HRC36-44°
111.6
620
Products & Testing Equipments
 
Products Application

Packing & Delivery
 
Why Choose Us?
1. We are engaged in chain industry over 15 years with rich market experience. We keep improving production techniques. All the products have longer working life and have passed the market test.
2. We can design the correct chains with high quality material, good abrasion resistance, good corrosion, high strengthen and etc as per your request or the chain application.
3. We are the chain manufacturer; you can directly purchase the product from us with low price and high quality.
4. We have a professional team for international trade, they have abundant experiences and are always ready to solve problems for customers. So you have nothing to worry about.
5. We have the long-term cooperative forwarder who can give us the lowest freight. And it can help you to save the freight. What's more, for the FCL, we will design the packages as per the container sizes with the largest capacity to save the shipping cost for both of us.
| | |
| --- | --- |
| Standard or Nonstandard: | Standard |
| Application: | Textile Machinery, Garment Machinery, Conveyer Equipment, Packaging Machinery, Electric Cars, Motorcycle, Food Machinery, Mining Equipment, Agricultural Machinery, Coating, Spraying, Mining, Slaughtering, Assembly |
| Surface Treatment: | Polishing |
| Structure: | Combined Chain |
| Material: | Alloy |
| Type: | Cranked Link Chain |
Samples:

US$ 5/Piece

1 Piece(Min.Order)

|
Request Sample
Customization:

Available

|

Customized Request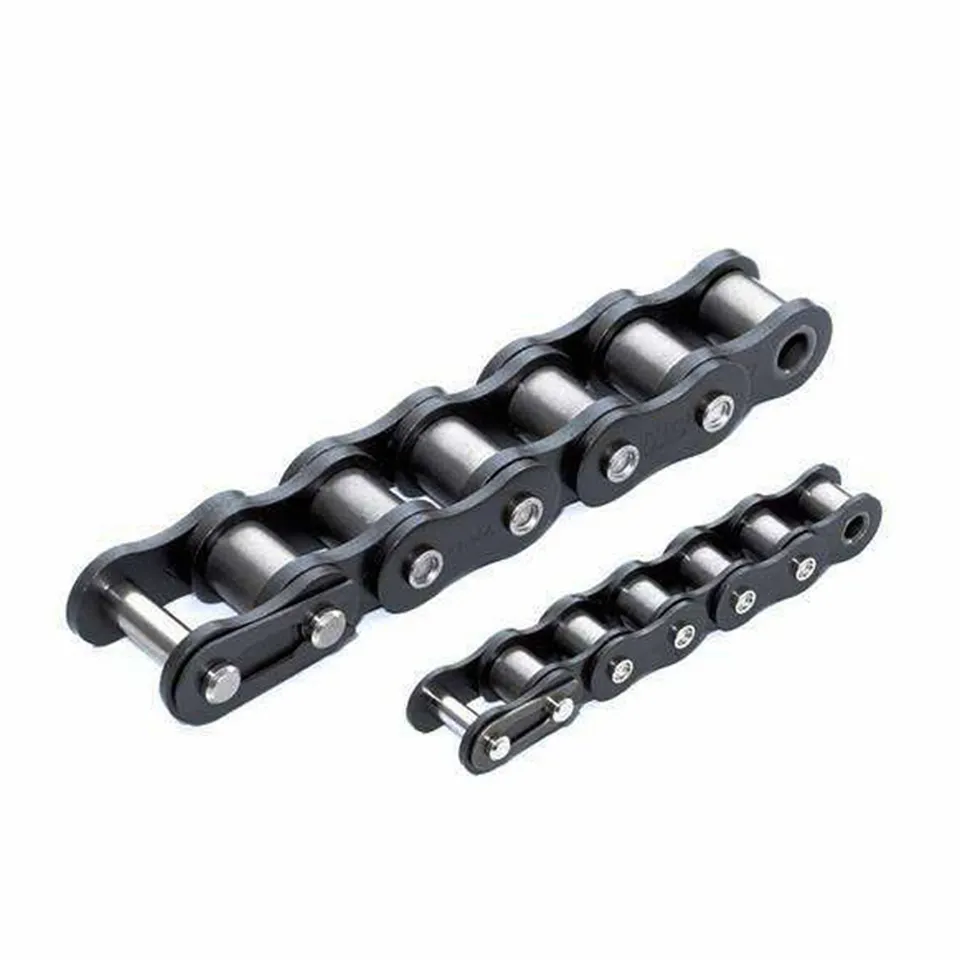 What are the benefits of using plastic industrial chains?
Plastic industrial chains offer several advantages in various applications. Here are some benefits of using plastic industrial chains:
Corrosion resistance: Plastic chains are highly resistant to corrosion, making them suitable for use in corrosive environments where metal chains may degrade over time.
Chemical resistance: Plastic chains can withstand exposure to a wide range of chemicals without deteriorating, making them ideal for applications in chemical processing or handling.
Lightweight: Plastic chains are significantly lighter than their metal counterparts, reducing the overall weight of the system and allowing for easier handling and installation.
Low noise: Plastic chains produce less noise during operation compared to metal chains, making them suitable for applications where noise reduction is important, such as in food processing or packaging.
Self-lubricating: Some plastic chains are designed with self-lubricating properties, reducing the need for frequent lubrication and maintenance.
High strength: Despite their lightweight nature, plastic chains can still provide high tensile strength and load-bearing capabilities, making them suitable for various heavy-duty applications.
Low friction: Plastic chains exhibit low friction characteristics, resulting in smoother and more efficient operation, reducing power consumption and wear.
Design flexibility: Plastic chains can be molded into various shapes and sizes, allowing for customization and adaptation to specific application requirements.
Cost-effective: Plastic chains are often more cost-effective compared to metal chains, making them an economical choice for many industrial applications.
Plastic industrial chains offer a range of benefits, including resistance to corrosion, chemicals, and noise, lightweight design, self-lubrication, and design flexibility, making them suitable for a wide range of industries and applications.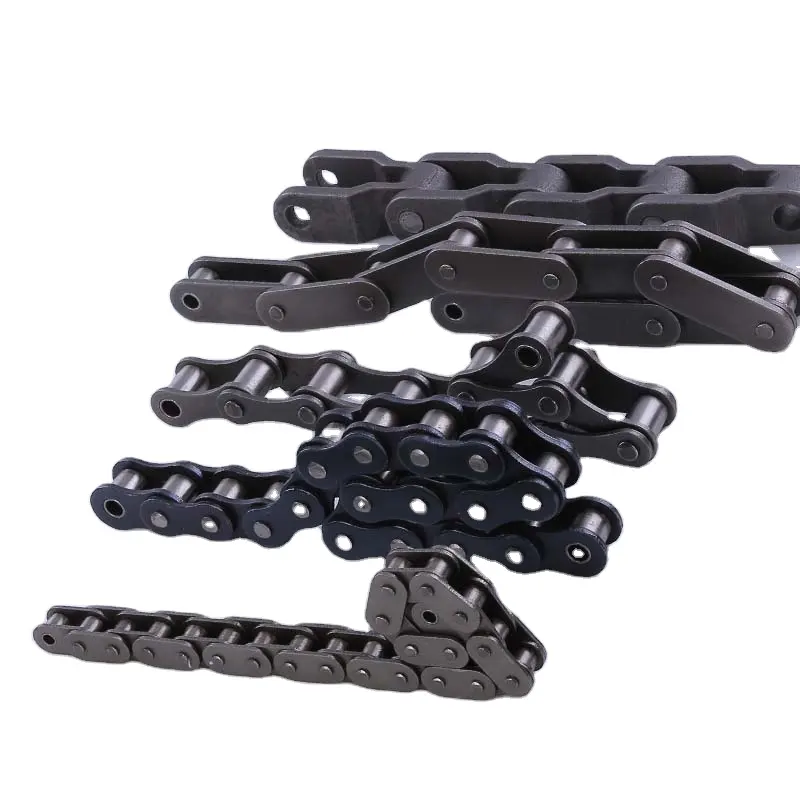 What are the industry standards and regulations for industrial chains?
There are several industry standards and regulations that govern the design, manufacturing, and use of industrial chains. These standards ensure safety, reliability, and performance consistency across different applications. Here are some prominent standards and regulations related to industrial chains:
– ISO 606: This standard specifies the design and dimensions of metric series roller chains used in industrial applications. It provides guidelines for chain pitch, roller diameter, and plate dimensions.
– ANSI/ASME B29.1: This American National Standard covers the design, dimensions, and interchangeability requirements for roller chains, including single, multiple, and double-pitch chains.
– ISO 10823: This standard focuses on the measurement and assessment of chain elongation during operation. It provides guidelines for evaluating the wear and elongation of roller chains.
– OSHA (Occupational Safety and Health Administration): OSHA sets safety standards and regulations to ensure a safe working environment. While it doesn't specifically address industrial chains, it covers general machine guarding requirements that are applicable to chain-driven machinery.
– Machinery Directive (2006/42/EC): This European directive outlines the essential health and safety requirements for machinery and equipment. It covers aspects such as design, construction, and use of machinery, including industrial chains.
It's important for manufacturers and users of industrial chains to be aware of these standards and regulations and ensure compliance. Adhering to these standards helps ensure the safety, reliability, and proper functioning of industrial chain systems in various industries.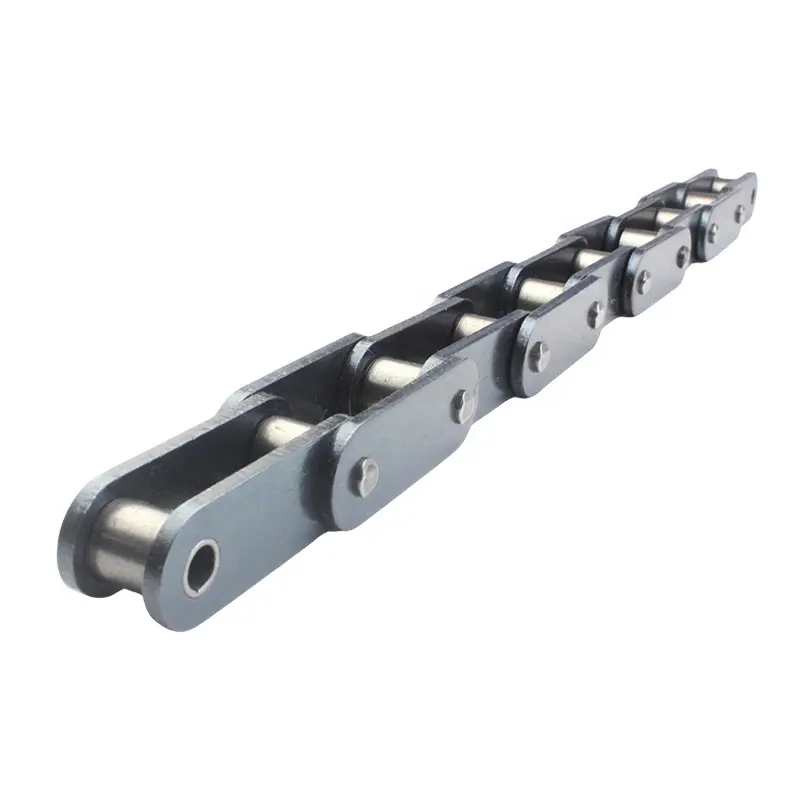 Can an industrial chain be repaired or does it need to be replaced entirely?
Whether an industrial chain can be repaired or needs to be replaced entirely depends on the extent of damage and the type of chain. In some cases, minor issues with an industrial chain can be repaired, while in other cases, replacement may be necessary. Here are some considerations:
Extent of damage: If the chain has minor issues such as a damaged link or a loose pin, it may be possible to repair it by replacing the damaged component. However, if the chain has significant damage, such as severe elongation or multiple broken links, it may be more cost-effective to replace the entire chain.
Type of chain: The repairability of an industrial chain also depends on its construction and design. Some chains, such as roller chains, can be disassembled and repaired by replacing individual components. However, other types of chains, such as welded steel chains, may be difficult or impractical to repair and may require complete replacement.
Manufacturer's recommendations: It is essential to consult the manufacturer's guidelines and recommendations regarding repairs. The manufacturer can provide specific information on whether the chain can be repaired and the proper procedures to follow.
Cost and time considerations: Repairing an industrial chain may require specialized tools, replacement parts, and technical expertise. It is important to consider the cost of repairs, including labor and materials, compared to the cost of a new chain. Additionally, repair time should be taken into account, as it may result in downtime for the equipment or production line.
Ultimately, the decision to repair or replace an industrial chain should be based on factors such as the extent of damage, the chain's design, manufacturer's recommendations, and cost-effectiveness. It is recommended to consult with a qualified technician or contact the manufacturer for guidance in making this determination.



editor by CX 2023-07-25