Product Description
| | |
| --- | --- |
| Model NO. | 08B\10B\12B\16B |
| Chain Model | Roller Chains |
| Structure (for Chain) | Roller Chain |
| Specification | GB/T, DIN, ANSI, ISO, BS, JIS. |
| Origin | HangZhou, ZheJiang |
| Color | Solid Color |
| Chain Color | Customized |
Our company
Wolff Chain Co. is 1 of the professional chain manufacturers in China. We focus on reseaching, manufacturing and trading of the chain drive with famous brands — "DOVON" and "DECHO". We supply OEM services for many famous enterprises such as SUZUKI, XIHU (WEST LAKE) DIS., FAW, AGCO, JUMING as well. 
Wolff mainly producing the Transmission chains,Conveyor chains,Dragging Chains,Silent chains,Leaf chains,Roller chains,Special chain and many other series of chain products. Our technicians a have improved the chains quality to the world-level. High quality material selection, powerful and precise heat-treatment technology and excellent assembly methods ensure Wolff chains meet the tough and strict requirements for machines and vehicles. 
All of our products completely conform to the international standard such as ISO\DIN\ANSI\BS\JIS, etc. Wolff has been successfully certified by ISO9001 Quality Management System,SGS inspection and BV inspection. Wolff chains can be widely applied to many industries including automobile, motorcycle, forklift, wood processing machine, constructure machine, packing machine, food machine,tobacco machine and agricultural equipments. Wolff chains are popular in America,South America,Europe,Middle East, South East Asia and Africa markets
Our workshop
Welcome to our exhibition
| | |
| --- | --- |
| Standard or Nonstandard: | Standard |
| Application: | Textile Machinery, Garment Machinery, Conveyer Equipment, Packaging Machinery, Food Machinery, Marine, Mining Equipment |
| Surface Treatment: | Oil Blooming |
| Structure: | Roller Chain |
| Material: | Carbon Steel |
| Type: | Short Pitch Chain |
Customization:

Available

|

Customized Request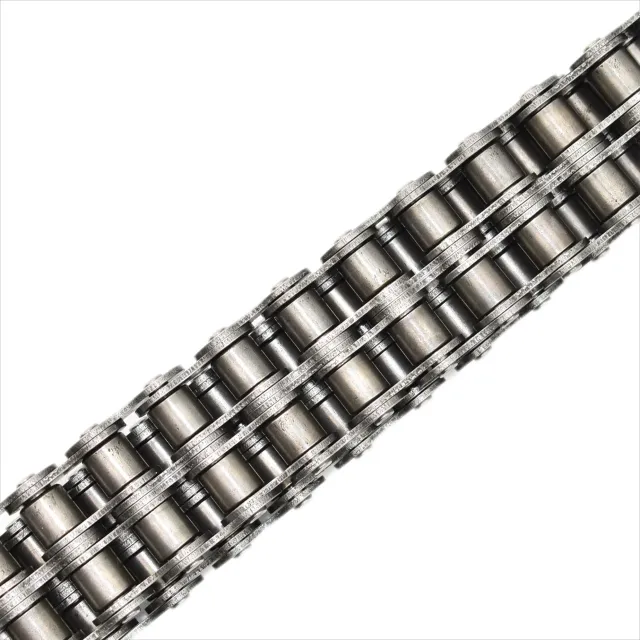 What are the safety measures for working with heavy-duty industrial chains?
Working with heavy-duty industrial chains requires adherence to proper safety measures to ensure the well-being of personnel and the prevention of accidents. Here are some key safety measures to consider:
Personal protective equipment (PPE): Operators and personnel working with industrial chains should wear appropriate PPE, including safety goggles, gloves, steel-toed boots, and protective clothing, to protect against potential hazards.
Training and education: Ensure that all individuals involved in working with industrial chains receive proper training and education on safe operating procedures, equipment handling, and maintenance practices. This includes understanding the specific risks and hazards associated with heavy-duty chains.
Machine guarding: Implement machine guarding measures to prevent accidental contact with moving chain components. This may include installing barriers, safety covers, or interlocking devices to prevent unauthorized access to the chain and related machinery.
Proper installation: Follow manufacturer guidelines and recommendations for the proper installation of heavy-duty industrial chains. Improper installation can lead to chain failure or accidents during operation. Ensure that chains are correctly tensioned, aligned, and securely fastened.
Maintenance and inspection: Regularly inspect and maintain the industrial chains to identify any signs of wear, damage, or fatigue. Replace worn or damaged components promptly to prevent chain failure. Follow a maintenance schedule that includes lubrication, tension adjustment, and inspection of chain links, sprockets, and other relevant parts.
Lockout/tagout procedures: Establish lockout/tagout procedures to ensure that industrial chains are de-energized and secured before performing maintenance, repair, or adjustment tasks. This helps prevent accidental startup or movement of the chain during work.
Risk assessment: Conduct a comprehensive risk assessment of the work environment to identify potential hazards associated with heavy-duty industrial chains. Implement appropriate control measures to mitigate the identified risks.
Emergency preparedness: Have emergency protocols in place, including clear evacuation routes, accessible emergency stop buttons, and proper communication channels to respond quickly to any incidents or accidents involving industrial chains.
It is essential to follow local safety regulations, industry standards, and manufacturer recommendations specific to the heavy-duty industrial chains being used. Regular safety training, awareness, and ongoing monitoring of the work environment contribute to a safe and productive operation involving industrial chains.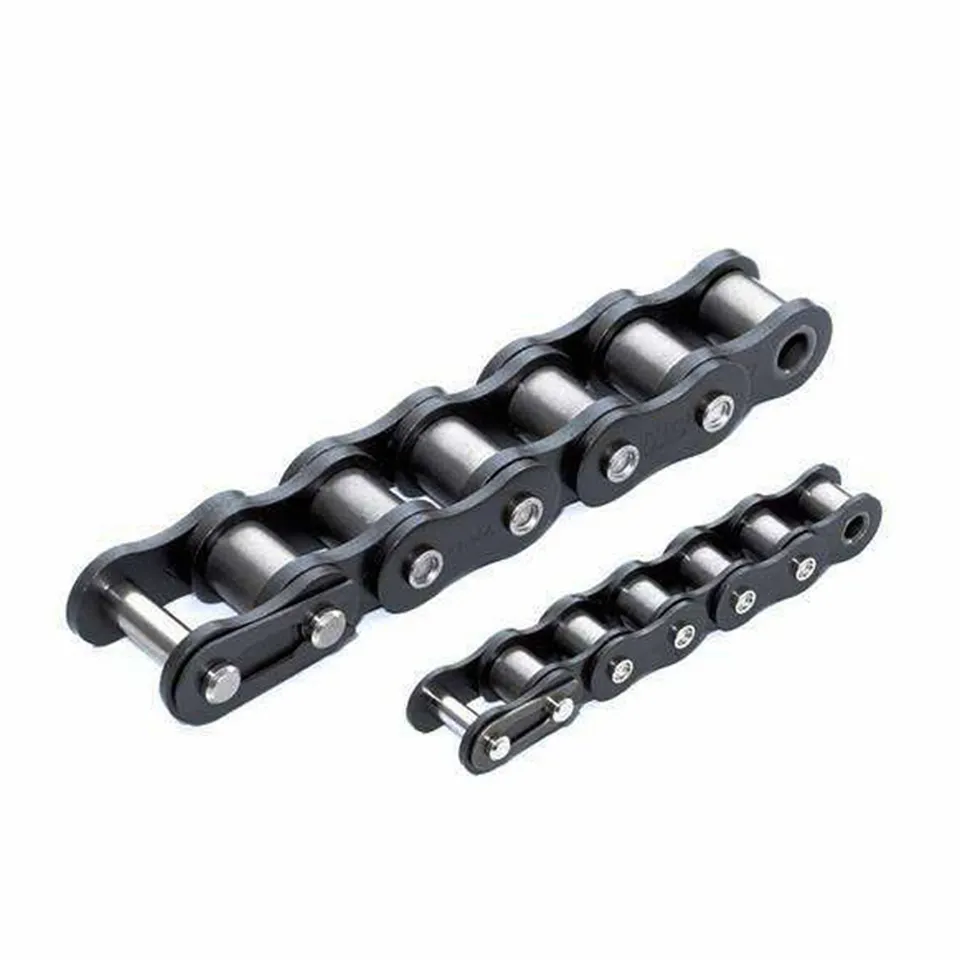 What is the load capacity of an industrial chain?
An industrial chain's load capacity refers to the maximum amount of weight or force it can safely withstand without experiencing failure or damage. The load capacity of an industrial chain depends on several factors, including its design, construction, material, and size.
Industrial chains are engineered and manufactured to handle a wide range of load capacities, from light-duty applications to heavy-duty industrial operations. The load capacity of a specific industrial chain is typically provided by the manufacturer and can be found in product specifications or technical documentation.
The load capacity of an industrial chain is influenced by various factors, such as:
Chain Type and Size: Different chain types, such as roller chains, silent chains, or engineering steel chains, have varying load capacities. Additionally, the size or pitch of the chain also affects its load capacity, with larger chains generally having higher load capacities.
Chain Material and Construction: The material used to construct the chain, such as stainless steel, carbon steel, or alloy steel, affects its strength and load-bearing capacity. The chain's construction, including the number and arrangement of links, also plays a role in determining its load capacity.
Operating Conditions: The environment in which the industrial chain operates, such as temperature, humidity, and exposure to chemicals or corrosive substances, can impact its load capacity. Extreme conditions may require special chains with higher load ratings.
Application Requirements: The specific application and the forces involved, such as tension, shock loads, or dynamic forces, need to be considered when determining the appropriate load capacity of an industrial chain.
To ensure the safe and efficient operation of an industrial chain, it is crucial to select a chain with an appropriate load capacity for the intended application. Exceeding the recommended load capacity can lead to premature wear, chain failure, or safety hazards. Consulting the manufacturer's specifications and guidelines, as well as engineering calculations, can help determine the suitable load capacity for a given industrial chain.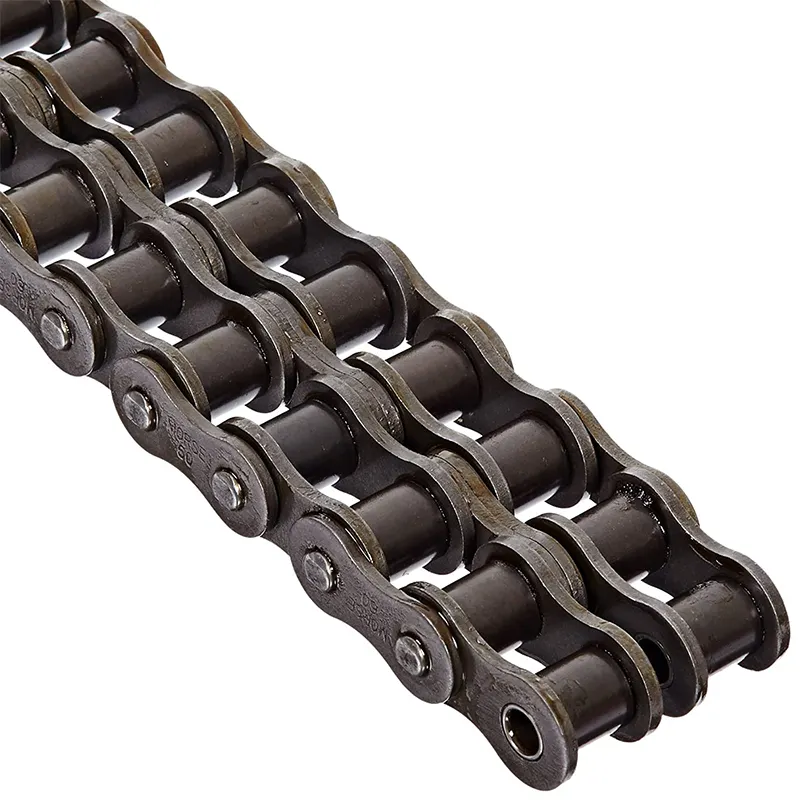 How do you troubleshoot common issues with industrial chains?
Troubleshooting common issues with industrial chains involves identifying the problem, determining its cause, and taking appropriate corrective actions. Here are some common issues and troubleshooting steps:
Chain misalignment: If the chain is misaligned, it can cause excessive wear, noise, and tension issues. To troubleshoot this, visually inspect the chain's alignment and check if the sprockets are properly aligned. Adjust the sprockets and ensure they are aligned with the chain's centerline.
Chain elongation: Over time, industrial chains can elongate, leading to poor performance and increased stress on the components. To troubleshoot elongation, measure the chain's pitch and compare it to the manufacturer's specifications. If the chain is elongated beyond the recommended limit, it may need to be replaced.
Inadequate lubrication: Insufficient or improper lubrication can result in increased friction and wear. Check the lubrication system and ensure the chain is properly lubricated according to the manufacturer's recommendations. Adjust the lubrication schedule or consider using a different lubricant if necessary.
Excessive chain tension: Excessive tension can cause increased wear, noise, and strain on the chain and components. Check the tension of the chain and adjust it to the manufacturer's recommended specifications. Ensure proper tensioning devices, such as tensioners or idler sprockets, are in place and functioning correctly.
Broken or damaged links: If there are broken or damaged links in the chain, they can cause performance issues and potential failure. Inspect the chain for any visible damage, such as broken pins or links, and replace the affected components as necessary.
Excessive chain wear: Excessive wear can lead to chain elongation, decreased performance, and increased risk of failure. Regularly inspect the chain for signs of wear, such as elongation, worn sprocket teeth, or excessive clearance between the chain and sprockets. Replace the chain if it has reached its wear limit.
It is important to consult the manufacturer's guidelines and recommendations for troubleshooting specific issues with the particular type of industrial chain being used. Additionally, regular maintenance, including proper lubrication, tensioning, and periodic inspections, can help prevent common issues and prolong the lifespan of the industrial chain.



editor by CX 2023-10-27