Product Description
Product Description
Product Parameters
Standard
GB, ISO, ANSI, DIN
Type
Standard A and standard B precision roller chain, conveyor chain;
special chain with accessories, welding chain, leaf chain and sprocket
ANSI chain No.
40,50,60,80,100,120,140,160,180,200,240;
C40,C50,C60,C80,C100,C120,C140,C160;
DIN/ISO chain No.
08A,10A,12A,16A,20A,24A,28A,32A,36A,40A,48A;
C08A,C10A,C12A,C16A,C20A,C24A,C28A,C32A;
Application
Food processing, pharmaceutical and chemical industries, electronics, machinery;
household appliances, automotive manufacturing, metallurgy, sewage treatment
Series
A series,B series
More Products
Advantage
Certifications
DETAILS ABOUT CZPT CHAIN 
Exhibition
Workshop
Application
Packaging Details
Shipping
FAQ      
1. Are you a manufacturer or trade Company?
We are a factory founded in 1997 with a trade team for international service.
2. What terms of payment do you usually use?
T/T 30% deposit and 70% against document, Western Union, L/C at sight
3. What is your lead time for your goods?
Normally 35 days after confirmed order. 30 days could be available in the low season for some items (during May to July), and 45 days during the new year and hot season ( Jan to March).
4. Samples
For customers who need sample confirmation before ordering, please bear in mind that the following policy will be adopted:
1) All samples are free of charge with a maximum value not exceeding USD 100.
2) The courier cost for the first-time sample sending will be charged by the consignee. We will send the samples with freight to be collected. So please inform your account with FedEx, UPS, DHL, or TNT so that we can proceed promptly.
3) The first-time courier cost will be totally deducted from the contract value of the trial cooperation.
4) OEM/ODM are both available.
| | |
| --- | --- |
| Usage: | Transmission Chain, Drag Chain, Conveyor Chain, Dedicated Special Chain |
| Material: | Stainless steel |
| Surface Treatment: | Polishing |
| Feature: | Heat Resistant |
| Chain Size: | 1/2"*11/128" |
| Structure: | Roller Chain |
Samples:

US$ 1/Meter

1 Meter(Min.Order)

|
Request Sample
Customization:

Available

|

Customized Request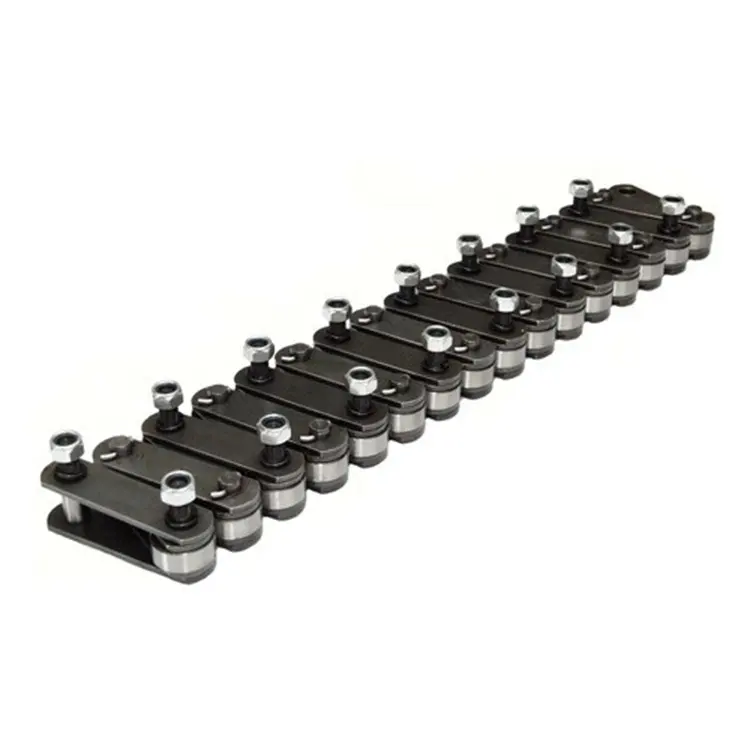 What are the design considerations for a long-span industrial chain conveyor?
Designing a long-span industrial chain conveyor requires careful consideration of several factors to ensure optimal performance and reliability. Here are some key design considerations:
Chain selection: Choose a chain that is specifically designed for long-span conveyors. Consider factors such as chain strength, wear resistance, and fatigue resistance to handle the load and stress over the extended distance.
Tensioning system: Implement an effective tensioning system to maintain proper tension in the chain throughout the conveyor's length. This helps prevent chain slack and ensures smooth operation.
Support structure: The support structure should be robust and capable of handling the weight of the conveyor and the conveyed materials over the long span. Consider factors such as the material used, structural design, and stability.
Drive system: The drive system should be appropriately sized and positioned to ensure consistent and efficient power transmission along the entire length of the conveyor. Consider factors such as motor power, gear ratio, and drive unit placement.
Guiding system: Implement an effective guiding system to keep the chain aligned and prevent deviation or misalignment. This helps ensure smooth and reliable operation, especially over long distances.
Material handling: Consider the characteristics of the conveyed material, such as size, weight, and flow rate, to determine the appropriate design features such as conveyor width, chain speed, and loading/unloading mechanisms.
Safety features: Incorporate necessary safety features such as emergency stops, guards, and interlocks to ensure operator safety and prevent accidents.
Maintenance access: Design the conveyor with easy access points for maintenance and inspection. This allows for routine maintenance tasks, such as chain lubrication and cleaning, to be performed efficiently.
Environmental conditions: Consider the environmental factors that may impact the conveyor's performance, such as temperature, humidity, and exposure to contaminants. Choose materials and components that can withstand these conditions.
Compliance with regulations: Ensure that the design of the long-span industrial chain conveyor complies with relevant safety and industry regulations.
By carefully considering these design considerations, a long-span industrial chain conveyor can be designed to meet the specific requirements of the application, providing reliable and efficient material handling over extended distances.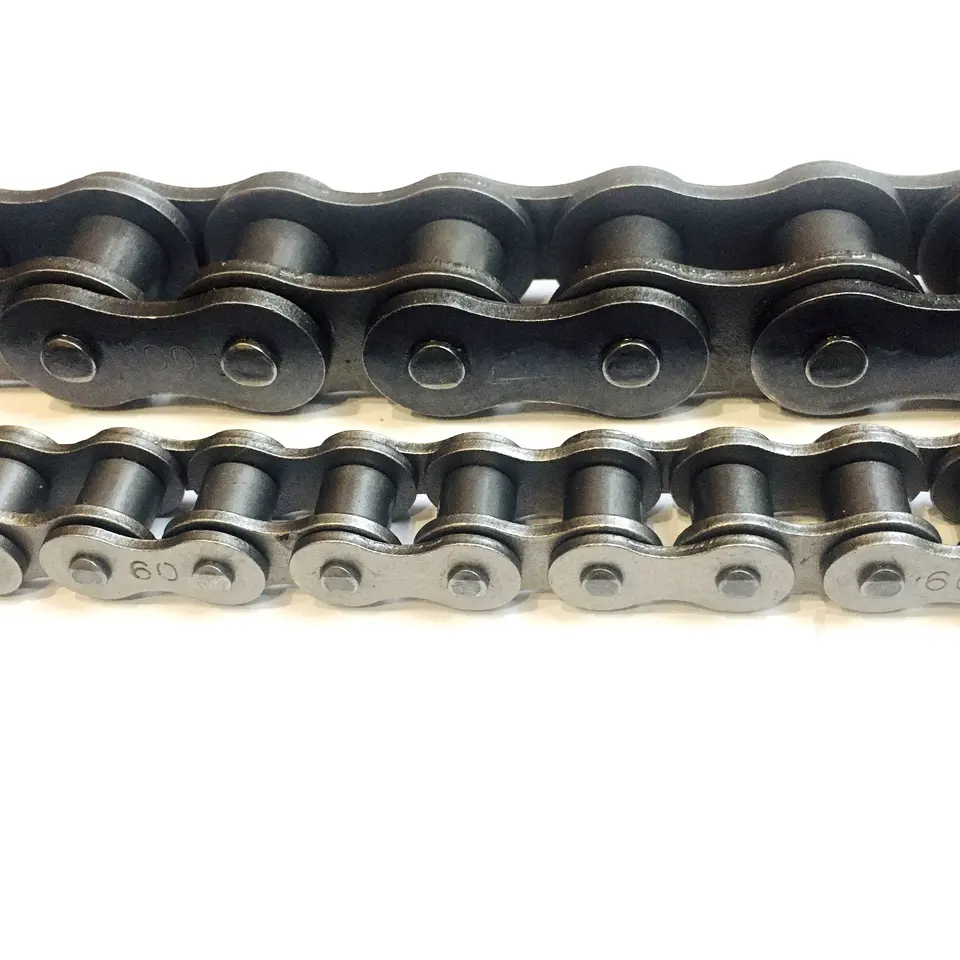 How do you select the appropriate lubricant for an industrial chain?
Selecting the right lubricant for an industrial chain is crucial to ensure its smooth operation, reduce wear, and extend its lifespan. Here are the key factors to consider when choosing the appropriate lubricant:
1. Chain type: Different types of industrial chains may have specific lubrication requirements. Refer to the manufacturer's recommendations or technical specifications to determine the compatible lubricant.
2. Operating conditions: Consider the operating environment, such as temperature, humidity, and exposure to contaminants like dust or chemicals. Choose a lubricant that can withstand the specific conditions and provide adequate protection.
3. Load and speed: Evaluate the load capacity and speed of the chain system. High loads or high speeds may require lubricants with enhanced film strength and viscosity to prevent metal-to-metal contact.
4. Lubricant properties: Look for lubricants with properties such as high viscosity index, good thermal stability, anti-wear additives, corrosion resistance, and water resistance. These properties contribute to better lubrication and protection.
5. Lubrication method: Consider the lubrication method available for the chain system, such as manual lubrication, automatic lubrication systems, or oil bath lubrication. Ensure the selected lubricant is compatible with the chosen lubrication method.
6. Maintenance schedule: Assess the maintenance intervals and frequency of lubrication. Some lubricants offer longer-lasting performance, reducing the frequency of relubrication and maintenance requirements.
7. Environmental impact: Take into account any environmental regulations or considerations when selecting a lubricant. Choose environmentally friendly options, such as biodegradable or low-toxicity lubricants, if required.
Consult with lubricant suppliers or industry experts for specific recommendations based on your application and chain system requirements. They can provide valuable insights and help you select the most suitable lubricant to optimize the performance and longevity of your industrial chain.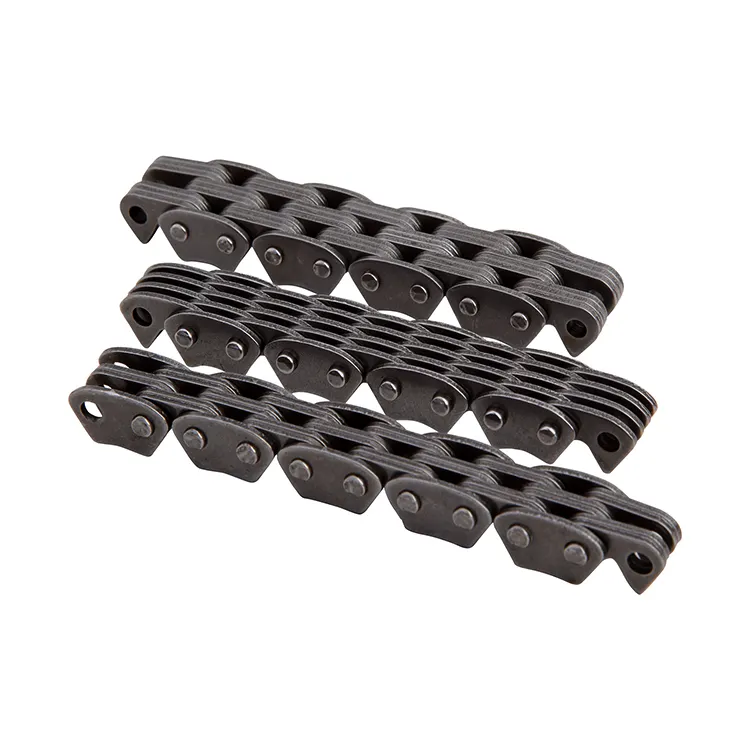 What are the signs of wear and tear in an industrial chain?
Monitoring the condition of an industrial chain is essential to identify signs of wear and tear. Here are some common signs to watch for:
Chain Elongation: Measure the chain's pitch to check for elongation. Excessive elongation indicates wear in the chain and can lead to poor performance and premature failure.
Worn Sprocket Teeth: Inspect the sprocket teeth for signs of wear. Worn or misshapen teeth can cause the chain to skip or slip, resulting in decreased efficiency and increased stress on the system.
Chain Flexibility: Assess the flexibility of the chain by bending it. If the chain is stiff or has tight spots, it may indicate corrosion, inadequate lubrication, or worn components.
Visible Damage: Look for any visible damage on the chain, such as bent links, cracked or broken plates, or missing pins or rollers. These can weaken the chain's integrity and compromise its performance.
Excessive Noise: Unusual noise during operation, such as grinding, rattling, or squeaking, can indicate a problem with the chain. It may be caused by misalignment, inadequate lubrication, or worn components.
Increased Friction: Check for excessive heat or signs of friction, such as discoloration or hot spots. Increased friction can accelerate wear and lead to premature failure.
Poor Tension: Assess the chain's tension by checking for slack or excessive tightness. Improper tension can cause the chain to wear unevenly and affect its performance.
Regular inspections and maintenance are crucial to identify these signs of wear and tear. Addressing issues promptly, such as replacing worn components or adjusting tension, can help prolong the life of the industrial chain and prevent unexpected failures.



editor by CX 2023-08-02