Product Description
Item
Standard Transmission Roller Chains
Model
Series A, Series B, Heavy Duty
Row
Simplex/Duplex/Triplex
Application
Machinery Parts
Surface Teatment
Self-color/Sand-blasted/Shot-peening
Brand
OEM
Package
Poly bag, then box, finally poly-wooden case
Port
Any sea port or airport in China
A Series
03C,04C-1,06C-1,085-1,08A-1,10A-1,12A-1,16A-1,20A-1,24A-1,28A-1,32A-1,36A-1,40A-1,48A-1. 15,25-1,35-1,41-1,40-1,50-1,60-1,80-1,100-1,120-1,140-1,160-1,180-1,200-1,240-1.
04C-2,06C-2,085-2,08A-2,10A-2,12A-2,16A-2,20A-2,24A-2,28A-2,32A-2,36A-2,40A-2,48A-2. 15,25-2,35-2,41-2,40-2,50-2,60-2,80-2,100-2,120-2,140-2,160-2,180-2,200-2,240-2.
04C-3,06C-3,085-3,08A-3,10A-3,12A-3,16A-3,20A-3,24A-3,28A-3,32A-3,36A-3,40A-3,48A-3. 15,25-3,35-3,41-3,40-3,50-3,60-3,80-3,100-3,120-3,140-3,160-3,180-3,200-3,240-3.
B Series
05B-1,06B-1,08B-1,10B-1,12B-1,16B-1,20B-1,24B-1,28B-1,32B-1,40B-1,48B-1,56B-1,64B-1,72B-1.
05B-2,06B-2,08B-2,10B-2,12B-2,16B-2,20B-2,24B-2,28B-2,32B-2,40B-2,48B-2,56B-2,64B-2,72B-2.
05B-3,06B-3,08B-3,10B-3,12B-3,16B-3,20B-3,24B-3,28B-3,32B-3,40B-3,48B-3,56B-3,64B-3,72B-3.
Heavy Duty Type
35H-1,40H-1,50H-1,60H-1,80H-1,100H-1,120H-1,140H-1,160H-1,180H-1,200H-1,240H-1.
35H-2,40H-2,50H-2,60H-2,80H-2,100H-2,120H-2,140H-2,160H-2,180H-2,200H-2,240H-2.
35H-3,40H-3,50H-3,60H-3,80H-3,100H-3,120H-3,140H-3,160H-3,180H-3,200H-3,240H-3.
| | |
| --- | --- |
| Standard or Nonstandard: | Standard/Nonstandard |
| Application: | Textile Machinery, Garment Machinery, Conveyer Equipment, Packaging Machinery, Motorcycle, Food Machinery, Marine, Mining Equipment, Agricultural Machinery, Car |
| Surface Treatment: | Polishing |
| Structure: | Roller Chain |
| Material: | Carbon Steel/Stainless Steel |
| Type: | Short Pitch Chain |
Samples:

US$ 5/Several links of standard chain

1 Several links of standard chain(Min.Order)

|
Request Sample
Customization:

Available

|

Customized Request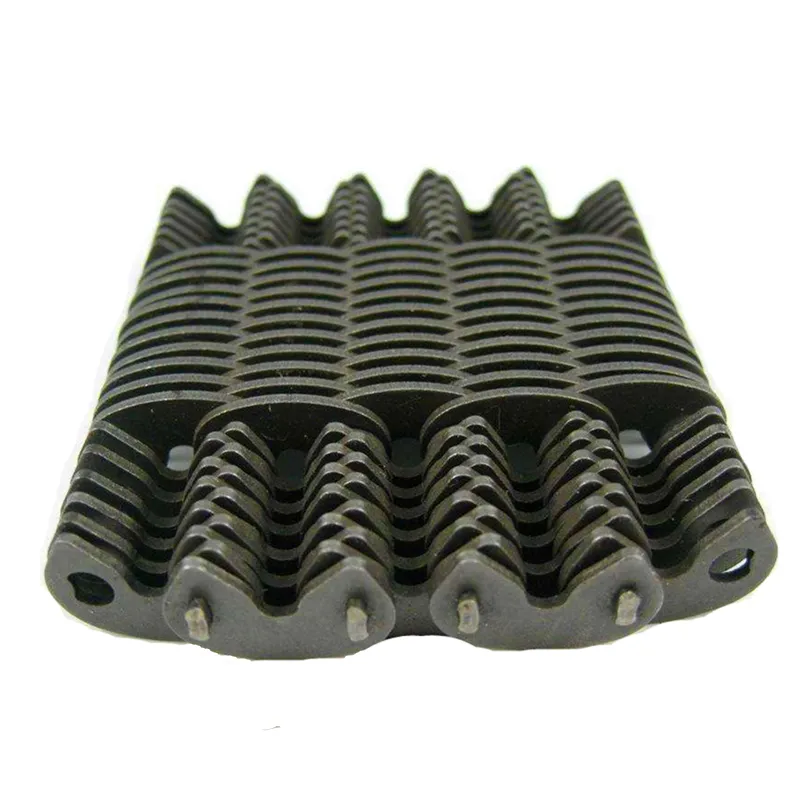 What are the benefits of using stainless steel industrial chains?
Stainless steel industrial chains offer several advantages compared to traditional chains made from other materials. Here are the key benefits of using stainless steel chains:
1. Corrosion resistance: Stainless steel is highly resistant to corrosion and oxidation, making it ideal for applications in humid or corrosive environments. It can withstand exposure to water, chemicals, and various corrosive substances without rusting or deteriorating.
2. Durability and longevity: Stainless steel chains have excellent durability and a long lifespan. They can withstand heavy loads, high temperatures, and frequent cycling without significant wear or fatigue. This reduces the need for frequent replacements, resulting in cost savings over time.
3. Strength and reliability: Stainless steel has high tensile strength and resistance to breakage. It provides reliable performance and can handle heavy-duty applications where strength and reliability are crucial.
4. Hygiene and cleanliness: Stainless steel chains are hygienic and easy to clean. They are non-porous, making them resistant to bacterial growth and contamination. This makes them suitable for industries with strict hygiene requirements, such as food processing, pharmaceuticals, and healthcare.
5. Temperature resistance: Stainless steel has excellent temperature resistance, allowing it to maintain its mechanical properties even in extreme temperature conditions. It can withstand both high and low temperatures without deformation or loss of performance.
6. Aesthetic appeal: Stainless steel chains have a polished and attractive appearance, making them suitable for applications where aesthetics matter, such as architectural or decorative purposes.
7. Versatility: Stainless steel chains are available in various sizes, configurations, and types to suit different applications. They can be found in a wide range of industries, including food processing, pharmaceuticals, chemicals, automotive, and more.
8. Easy maintenance: Stainless steel chains require minimal maintenance. They do not require regular lubrication and are easy to clean, reducing downtime and maintenance costs.
In summary, using stainless steel industrial chains provides the advantages of corrosion resistance, durability, strength, hygiene, temperature resistance, aesthetic appeal, versatility, and easy maintenance. These benefits make stainless steel chains a preferred choice in industries where reliability, longevity, and performance are crucial.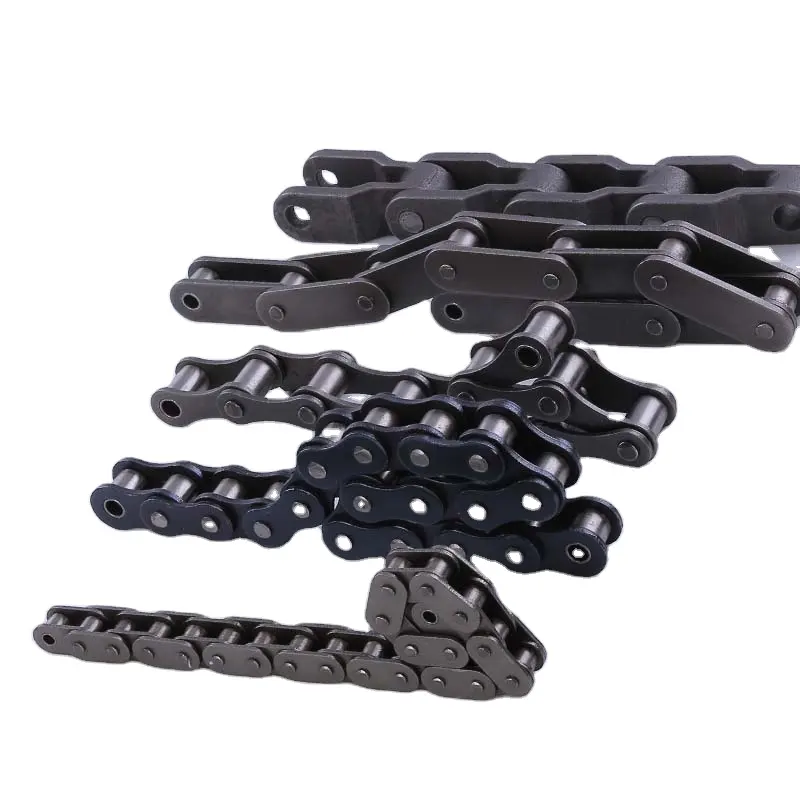 What are the industry standards and regulations for industrial chains?
There are several industry standards and regulations that govern the design, manufacturing, and use of industrial chains. These standards ensure safety, reliability, and performance consistency across different applications. Here are some prominent standards and regulations related to industrial chains:
– ISO 606: This standard specifies the design and dimensions of metric series roller chains used in industrial applications. It provides guidelines for chain pitch, roller diameter, and plate dimensions.
– ANSI/ASME B29.1: This American National Standard covers the design, dimensions, and interchangeability requirements for roller chains, including single, multiple, and double-pitch chains.
– ISO 10823: This standard focuses on the measurement and assessment of chain elongation during operation. It provides guidelines for evaluating the wear and elongation of roller chains.
– OSHA (Occupational Safety and Health Administration): OSHA sets safety standards and regulations to ensure a safe working environment. While it doesn't specifically address industrial chains, it covers general machine guarding requirements that are applicable to chain-driven machinery.
– Machinery Directive (2006/42/EC): This European directive outlines the essential health and safety requirements for machinery and equipment. It covers aspects such as design, construction, and use of machinery, including industrial chains.
It's important for manufacturers and users of industrial chains to be aware of these standards and regulations and ensure compliance. Adhering to these standards helps ensure the safety, reliability, and proper functioning of industrial chain systems in various industries.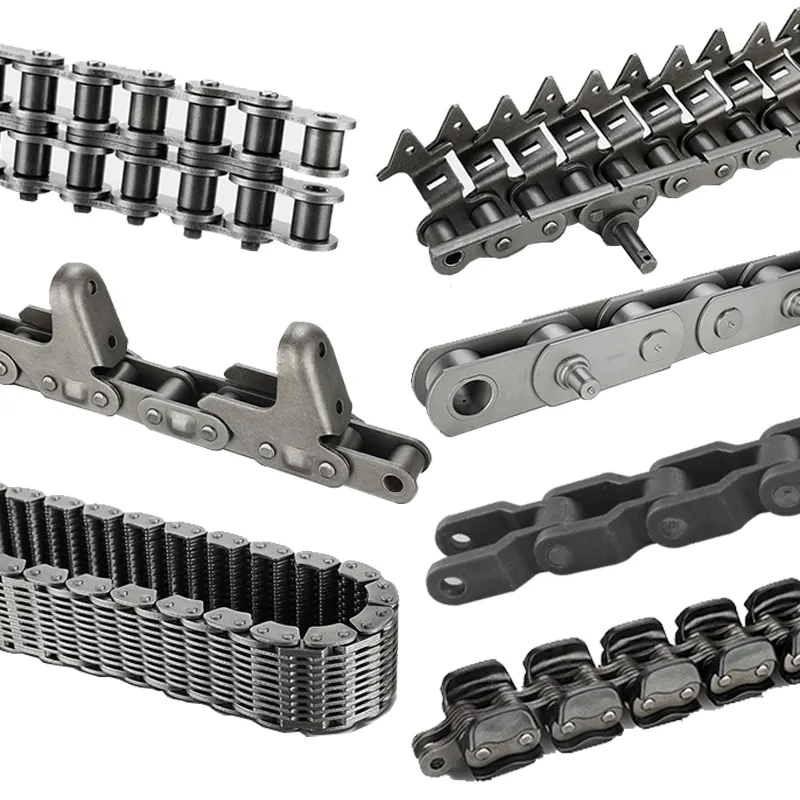 What are the different types of industrial chains?
Industrial chains are available in various types, each designed to suit specific applications and requirements. Here are some common types of industrial chains:
Roller chains: Roller chains are the most common type of industrial chains. They consist of a series of interconnected rollers that engage with the sprockets to transmit power and facilitate the movement of materials.
Conveyor chains: Conveyor chains are specifically designed for use in conveyor systems. They have attachments or slats that allow them to carry materials or products along a horizontal or inclined path.
Leaf chains: Leaf chains are made up of interlocking plates or links that provide high tensile strength and resistance to fatigue. They are commonly used in applications that require heavy lifting or load-bearing capabilities.
Wire mesh chains: Wire mesh chains are composed of interconnected wire mesh links. They are often used in applications that involve high-temperature environments, such as oven conveyors or drying processes.
Bucket elevator chains: Bucket elevator chains are designed for vertical lifting applications, typically used in industries such as agriculture, mining, and construction. They feature buckets that carry materials as they move upward.
Precision chains: Precision chains are engineered to provide precise positioning and accurate movement. They are commonly used in applications such as robotics, automation, and CNC machinery.
Specialty chains: Specialty chains are designed for specific applications and industries. Examples include agricultural chains, escalator chains, drag chains, and many more.
Each type of industrial chain has its unique design features, materials, and applications. The selection of the appropriate chain type depends on factors such as load capacity, speed, environment, and specific operational requirements.



editor by CX 2023-11-03