Product Description
Detailed Photos
Product Description
 The shape is simple, UH-7075-S is the basic style of the five-ton cross suspension chain, suitable for general overhead conveyor lines.
The traditional old five-ton chain (UH-5075) is a more widely used and more used suspension chain. Because this chain has a small pitch, it can run smaller curved rails, can hang more objects, and has many chain styles and cranes. With complete accessories and easy installation, it has always been the choice of suspension conveyors.
The 5-ton cross-shaped chain UH-7075-S is based on the design and transformation of the traditional 5-ton suspension chain UH-5075-S. It is not only a new appearance change, but also an important improvement in mechanical performance.
Spare parts item
Features
Photo
Up-Down track
for rising or falling areas. standard diameter is 1.2 meters,180º angle. it can be cut based on any necessary angles of any install conditions.the angle should not be more than 45º angle. the distance between 2 adjiacent hangers should be considered.
Check track
There is a hatch which can open the track, through the hatch, worker can dismantle or install, check or maintain the conveying chains. Driving device for each conveying route is usually located between driver and take-up device for easy checking and maintenace.
Take-up device

(Tensioner)

Keep the chains in the state of original tension and compensate for the tensile deformation caused by tensile force or telescopic deformaton caused by varied temperature while working.
Make sure certain tensile force between driver and take-up device.   Install it behind driver about distance 3~6 meters. Better have no up-down track behind take-up device. 
Straight track
for where conveyor chain go straight. it can be cut according to the specific install condition. standard length is 3 meters.
Caterpiller driver device
Two types-Standard type and heavy duty type.
The driving device adjust the momentum that the motor ouput, after speed reduction unit increase its power which is to be passed to the driver caterpiller, the pusher dogs on which transport the chain so that chain can move forward.
Hanger
 
Several types hangers:

Cross type hanger;

Y type hanger;

I type hanger;

Sprocket wheel hanger;

U-type hanger;

Bearing hanger;

Customized.

Automatic oil sprayer
Specially designed for various automatic conveying chain;

More convenient to check oil-feeding diyusyion nsdrf CZPT oil volume in the transparent oil pipes.
FAQ
Q1: Are you trading company or manufacturer ?
A: We are factory.
Q2: How long is your delivery time and shipment?
1.Sample Lead-times: generally 30 workdays.
2.Production Lead-times: 60 workdays after getting your deposit.
Q3. What is your terms of payment?
A: T/T 30% as deposit, and 70% before delivery.
We'll show you the photos of the products and packages before you pay the balance.
Q4: What is your advantages?
1. Manufacturer,the most competitive price and good quality.
2. Perfect technical engineers give you the best support.
3. OEM is available.
4. Rich stock and quick delivery.
Q5. If you can't find the product on our website,what do you next?
Please send us inquiry with product pictures and drawings by email or other ways and we'll check
 
| | |
| --- | --- |
| Material: | Alloy |
| Structure: | Combined Chain |
| Surface Treatment: | Polishing |
| Chain Size: | 1/2"*3/32" |
| Feature: | Fire Resistant, Oil Resistant, Heat Resistant |
| Fuction: | Long Using Life |
Customization:

Available

|

Customized Request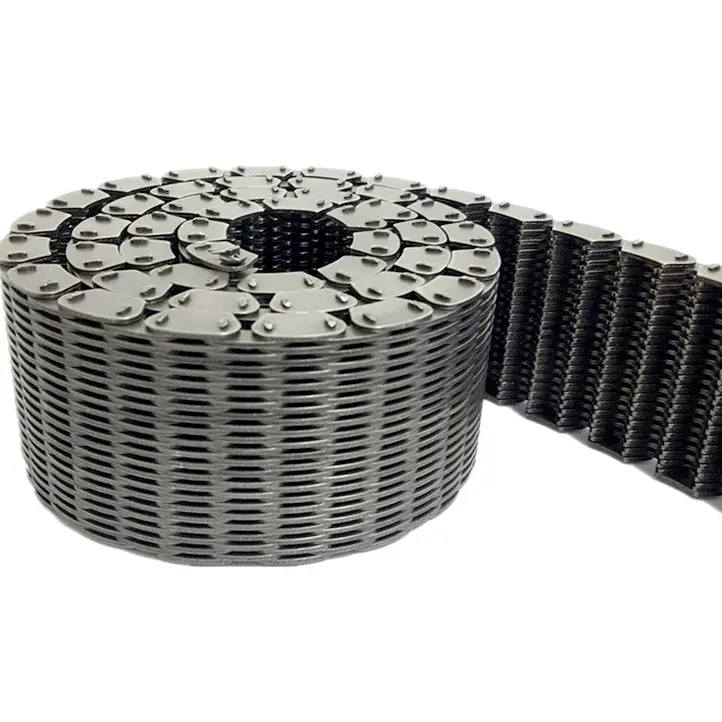 What are the advantages of using a silent chain in an industrial application?
A silent chain, also known as an inverted tooth chain or toothed belt, offers several advantages when used in industrial applications:
1. Quiet operation: Silent chains are designed to minimize noise during operation. The toothed design allows for smooth engagement and disengagement of the chain, resulting in reduced noise levels compared to other chain types. This is particularly beneficial in applications where noise reduction is important, such as in indoor environments or noise-sensitive areas.
2. High load-carrying capacity: Silent chains are capable of carrying heavy loads due to their robust construction. The interlocking toothed design provides excellent power transmission capabilities, allowing for efficient transfer of high torque and load-bearing capacity. This makes silent chains suitable for applications that require heavy-duty performance.
3. Precise positioning and synchronization: Silent chains provide precise positioning and synchronization between the driving and driven components. The toothed profile ensures accurate motion control, making them ideal for applications that require precise timing, such as conveyors, robotics, and automated systems.
4. Low maintenance requirements: Silent chains require minimal maintenance compared to other chain types. The toothed design reduces the need for frequent lubrication, tensioning, and adjustments. This results in lower maintenance costs and less downtime for maintenance activities.
5. High efficiency: Silent chains have high power transmission efficiency due to their positive engagement between the teeth. This means that less energy is wasted during operation, resulting in improved overall system efficiency.
6. Durability and longevity: Silent chains are designed to withstand demanding industrial environments. They are constructed from high-quality materials, such as alloy steel or stainless steel, which provide excellent strength, wear resistance, and corrosion resistance. This ensures a long service life and reduces the need for frequent replacements.
7. Wide range of applications: Silent chains can be used in various industrial applications, including power transmission systems, conveyors, packaging machinery, printing presses, machine tools, and automotive timing systems. Their versatility makes them suitable for a wide range of industries, including manufacturing, automotive, food processing, and pharmaceutical.
Overall, the advantages of using a silent chain in an industrial application include quiet operation, high load-carrying capacity, precise positioning, low maintenance requirements, high efficiency, durability, and versatility. These benefits make silent chains a preferred choice for many industrial applications where reliable and efficient power transmission is required.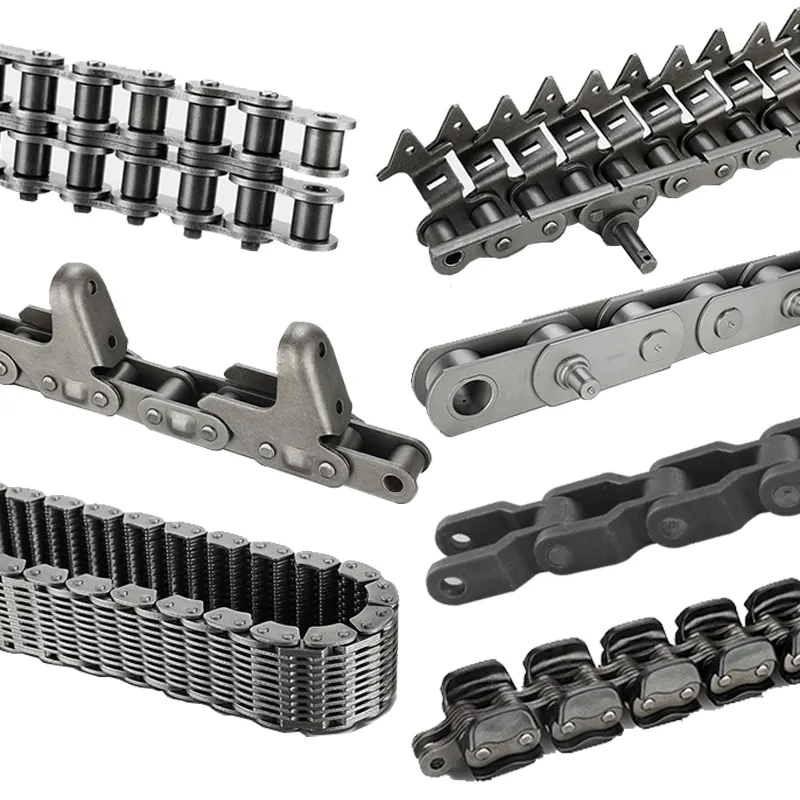 Can an industrial chain be used for vertical lifting applications?
Yes, industrial chains can be used for vertical lifting applications. However, several factors need to be considered to ensure safe and efficient lifting operations:
Chain type and strength: The industrial chain selected for vertical lifting applications must have the appropriate strength and load capacity to safely lift the intended load.
Safety factors: It is crucial to consider the safety factors and ensure that the selected chain is capable of handling the maximum expected load without exceeding its rated capacity.
Overhead clearance: Sufficient overhead clearance is necessary to accommodate the length of the chain and prevent any obstructions during the lifting process.
Proper tensioning: The chain must be properly tensioned to prevent slippage or excessive slack, which can compromise the lifting operation.
Guidance and control: Proper guidance and control mechanisms should be in place to ensure smooth and controlled vertical movement of the load.
Maintenance and inspection: Regular maintenance and inspection of the chain are essential to identify any signs of wear, damage, or fatigue that may compromise its integrity and lifting capability.
It is important to consult industry standards, regulations, and specific manufacturer guidelines to determine the suitability of an industrial chain for a vertical lifting application. Additionally, working with experienced professionals and following established safety protocols is crucial to ensure the safe and effective use of the industrial chain in lifting operations.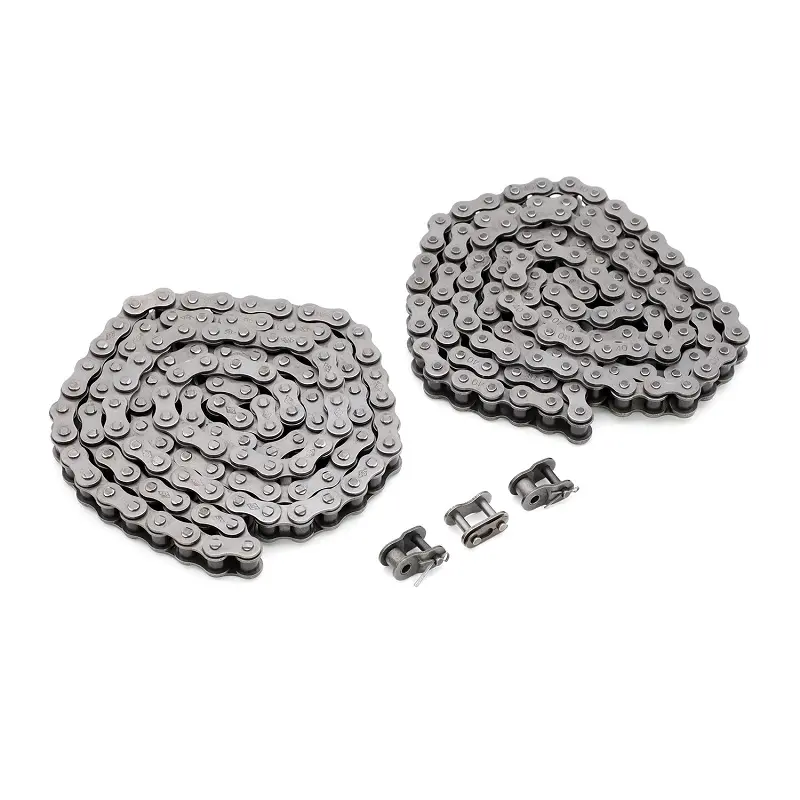 What are the maintenance requirements for an industrial chain?
Maintaining an industrial chain is crucial to ensure its optimal performance and extend its lifespan. Here are some key maintenance requirements for industrial chains:
Cleaning: Regularly clean the industrial chain to remove dirt, debris, and contaminants that can cause friction and wear. Use a suitable solvent or cleaning agent recommended by the chain manufacturer.
Lubrication: Apply the appropriate lubricant to the chain according to the manufacturer's recommendations. Lubrication reduces friction, minimizes wear, and helps prevent corrosion. Regularly inspect the lubrication levels and replenish as needed.
Tension Adjustment: Check the tension of the industrial chain regularly. Ensure it is within the recommended range specified by the manufacturer. Improper tension can lead to excessive wear, reduced performance, and increased stress on the chain components.
Alignment: Verify that the industrial chain is properly aligned with the sprockets or pulleys. Misalignment can cause uneven wear and premature failure. Adjust the alignment as necessary.
Inspection: Periodically inspect the industrial chain for signs of wear, corrosion, damaged links, or other abnormalities. Look for elongation, bent or broken links, and excessive wear on the sprockets. Replace any worn or damaged components promptly.
Environment: Consider the environmental conditions in which the industrial chain operates. Protect the chain from excessive moisture, extreme temperatures, and corrosive substances. Implement appropriate measures such as covers, guards, or coatings to safeguard the chain.
Documentation: Keep records of maintenance activities, including lubrication schedules, tension adjustments, inspections, and any repairs or replacements. This documentation helps track the chain's history and aids in future maintenance planning.
Following these maintenance requirements will help ensure the reliability, efficiency, and longevity of the industrial chain. It is important to refer to the manufacturer's guidelines and recommendations for specific maintenance procedures and intervals for your particular chain type and application.



editor by CX 2023-08-18