Product Description
G80 Lifting Alloy Steel Chain
1,Alloy chain is designed and manufactured for superior lifting performance. It can withstand more abuse, abrasion resistance, greater load lifting per size. It is lighter to handle for application. Produced from high quality alloy steel, heat treated and proof tested. Reliable for lifting applications.
2,Safety factor: 4:1
3,Embossed with marking for identification and traceability.
4,Finish: black tempered, electro galvanized, hot dip galvanized, painted.
5,Length and width of the chain link are adjustable.
6,Can be manufactured in accordance with standard: EN818-2, ISO3077, JIS standard, US federal specification, etc.
 Product Show(Self Color,Black,Golden Galvanized)
DATE SHEET 
Chain dia.
b (mm)
Inside length
t (mm)
Inside width
b1. (mm)
Outside width
b2. (mm)
Working load (t)
Breaking load (t)
Weight
(kg/m)
3
9.00
3.80
10.70
0.36
14.10
0.21
4
12.00
5.00
14.30
0.63
25.10
0.35
5
15.00
6.30
16.50
1.00
3.16
0.50
6
18.00
7.50
20.00
1.44
4.56
0.80
6.3
19.80
8.20
20.80
1.60
5.00
0.84
7
21.00
9.00
24.50
1.92
6.00
1.10
7.1
21.30
9.00
24.50
2.00
6.32
1.15
8
24.00
10.00
28.00
2.50
8.00
1.40
9
27.00
11.00
31.50
3.15
10.20
1.82
10
30.00
12.50
35.00
4.00
12.80
2.20
11
33.00
12.60
36.50
4.20
15.20
2.33
12
36.00
15.00
42.00
4.60
18.40
3.10
13
39.00
16.30
46.00
5.30
21.20
3.70
14
42.00
18.00
49.00
6.30
25.20
4.13
15
46.00
20.00
52.00
7.00
28.00
5.17
16
48.00
20.00
56.00
8.00
32.00
5.63
18
54.00
23.00
63.00
10.00
40.00
6.85
19
57.00
23.70
63.20
11.30
45.20
7.80
20
60.00
25.00
70.000
12.50
50.00
8.60
22
66.00
28.00
77.00
15.30
61.20
11.00
24
72.00
32.00
82.00
18.00
72.00
12.80
26
78.00
35.00
91.00
21.30
85.20
14.90
32
90.00
38.00
105.00
28.30
113.20
19.60
34
102.00
46.50
121.20
36.30
145.20
25.50
36
108.00
49.50
128.50
40.70
162.80
31.00
38
114.00
52.00
136.00
45.30
181.20
32.00
42
126.00
55.50
144.50
55.40
221.60
38.60
48
144.00
62.40
177.60
72.30
289.20
52.00
50
150.00
65.00
185.00
80.00
320.00
56.00
52
156.00
67.60
192.40
85.00
340.00
59.00
56
168.00
72.80
207.20
100.00
400.00
72.50
63
190.00
81.90
233.10
125.00
500.00
89.00
72
210.00
91.00
259.00
160.00
640.00
110.00
Packing Optional:
                                    Wooden Carton                                                                             Steel Drum
Applications:
All Kinds Of CZPT Chain SlingLoad Chain For Chain Block&Lever Block
Production Process
CE Certified
Related Products

About Us
ZheJiang CZPT Lifting Co., Ltd is committed to the developing and manufacturing High quality products which
are widely used for operations of heavy duty lifting, rigging, fastening, and material handling in mines, oil rigs,
mills, docks, and on ships. All the products we provide can be certified by registers BV, ABS, Lloyd' S, etc.
Deso' History can be dated back to 1987, following The Policy Of Reform And opening of China, Our domestic and
global market with huge demand for lifting material, we begin our business first with Chain Hoist and Lever Hoist.
Our products with good reputation in China, and we also export goods to a few countries like USA, Germany etc.
By cooperating with some National stae-owned Imp&Exp enterprises.
Deso gained the right to export in 2002 following the step of China' S joining WTO(World Trade Organization), we
are among the first companies with the authority to export in China. In order to meet the demand of our client
(Mainly for European and MID-East at that time), we expanded our products from Chain Block&Lever Block to
more lifting material. After the development of the past years, our high quality products with good price including:
*G80 Chain, Hook, Master Link, Connecting Link, Chain Sling.
*G100 Chain, Hook, Master Link, Connecting Link, Chain Sling.
*US Type Shackles and Other Rigging Hardware.
*Chain Block&Lever Block.
*Steel Wire Rope.
*Webbing Sling&Round Sling 
Deso invested new factory and facility in ZheJiang Province2571, updated production line and facility guarantee us
improved quality and capacity, combined with our 27 years' S experience in the field of international trade. We find
our advantages to Survive and the right way to help our customer win the marketshare, that' S quality and service.
When Buying From CZPT You Are Buying More Than Products, You Are Buying Quality And Service
FAQ:
Q1. Why choose us?
1.We are your one-stop service and solutions provider,certified by ISO9001.
2. Exporting to Europe,USA,Australia,Mid East,Southeast Asia and Africa.
3. Strict quality control and with long term quality inspection contract with CE SGS.
4. Products is underwritten by the China Property Insurance Company(PICC) as quality assurance for customer.
5.Pre-shipment quality inspection for customer by picture/video.
6. Meet Customized requirement on design and logo.
7. Small order acceptable.Can  also include other products like wire rope ,rigging into 1 order.
Q2. How Can I order?
  Please send inquiry here, professional sales team will reply you as soon as possible.
Q3. Can I get discounts?
Yes. For big order and Frequent Customers, we give reasonable discount.
Q4. Can you add our own logo on the products?
Yes.  We offer the service of adding customers' logo on the product.
We will have a agreement with each other and not supply products with your logo to others.
Q5.OEM and ODM acceptable?
Yes,we can produce according to customer's drawing,sample or requirement.
And can make customer's logo on products and packing according to requirement.
| | |
| --- | --- |
| Usage: | Heavy Duty Lifting |
| Material: | Alloy |
| Surface Treatment: | Baking Paint |
| Feature: | Heat Resistant |
| Chain Size: | 7mm-13mm |
| Structure: | Welded Chain |
Samples:

US$ 2/Meter

1 Meter(Min.Order)

|
Request Sample
Customization:

Available

|

Customized Request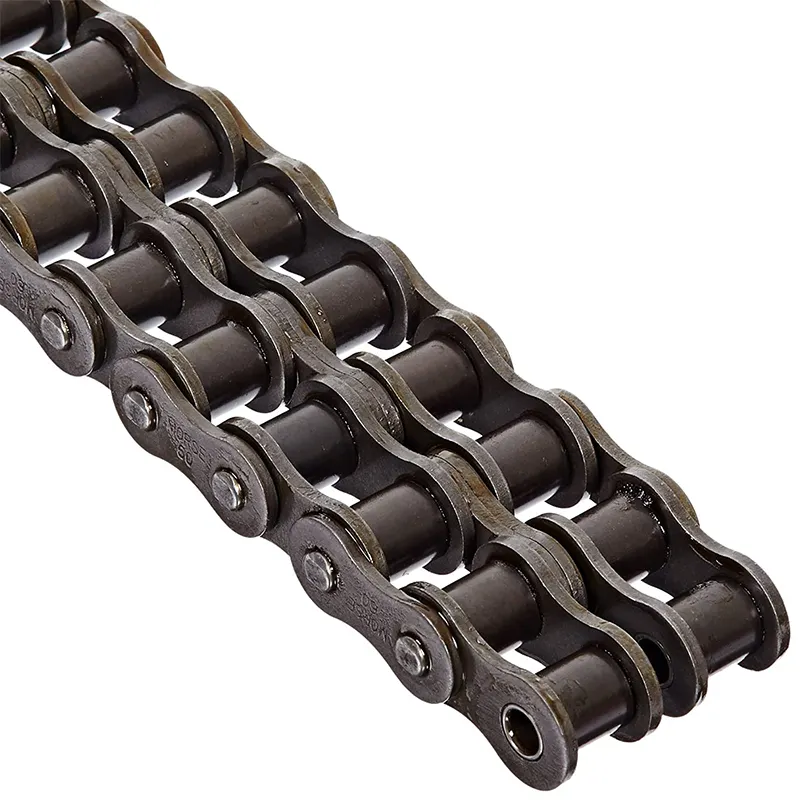 What are the future trends and advancements in industrial chain technology?
Industrial chain technology is continuously evolving to meet the changing needs of various industries. Here are some future trends and advancements that can be observed in industrial chain technology:
Increased Automation: Industrial chains are becoming an integral part of automated systems. The advancement of robotics, IoT (Internet of Things), and artificial intelligence is driving the integration of industrial chains with smart technologies. This includes features such as remote monitoring, predictive maintenance, and real-time data analysis for optimizing chain performance and overall system efficiency.
Improved Materials and Coatings: Ongoing research and development efforts are focused on developing advanced materials with enhanced properties for industrial chains. This includes materials with superior strength, durability, corrosion resistance, and wear resistance. Additionally, the development of advanced surface coatings and treatments further enhances the performance and lifespan of industrial chains.
Energy Efficiency: Energy efficiency is a growing concern in industrial applications. Future industrial chains are likely to incorporate designs and features that reduce energy consumption, such as optimized chain profiles, reduced friction coatings, and improved lubrication systems. These advancements aim to minimize power losses and improve overall system efficiency.
Integration with Digital Technologies: Industrial chains are expected to be increasingly integrated with digital technologies for seamless communication and data exchange. This integration enables better monitoring of chain performance, real-time diagnostics, and the ability to make data-driven decisions for maintenance and optimization. Digital twins, virtual simulations, and augmented reality (AR) are also emerging trends that allow for improved chain design, testing, and troubleshooting.
Enhanced Safety Features: Safety remains a top priority in industrial settings. Future industrial chains may incorporate advanced safety features such as integrated sensors for detecting chain wear, overload conditions, or abnormal operating parameters. These features can provide early warning signs and help prevent accidents or equipment failures.
The future of industrial chain technology is driven by the need for increased efficiency, reliability, and safety. The integration of smart technologies, improved materials, energy efficiency measures, digitalization, and enhanced safety features are expected to shape the advancements in industrial chain technology in the coming years.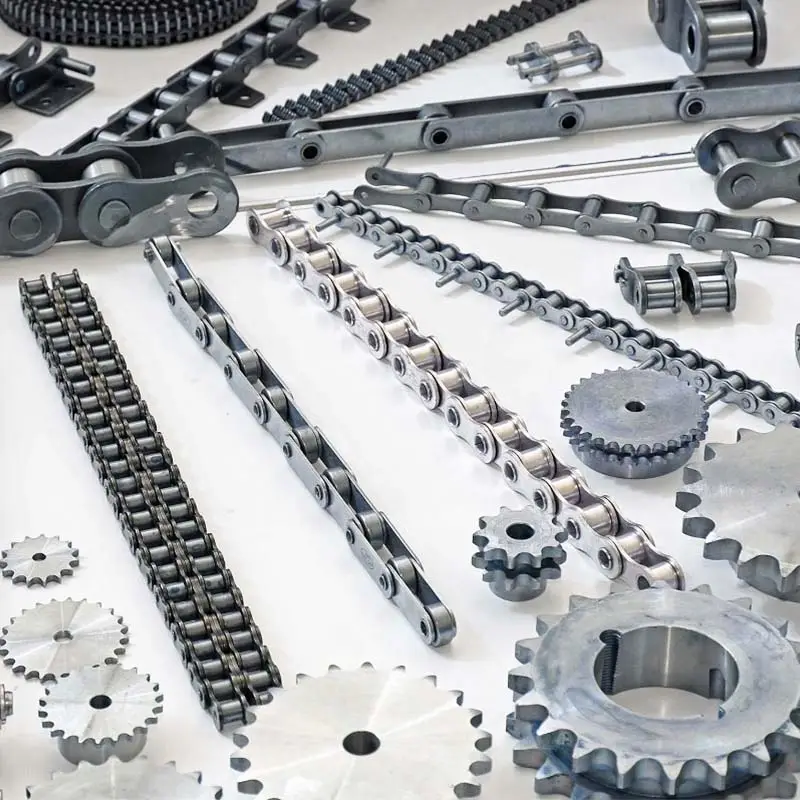 How does an industrial chain compare to other types of power transmission systems?
An industrial chain is a type of power transmission system that offers several advantages compared to other systems:
Strength and durability: Industrial chains are designed to handle heavy loads and withstand tough operating conditions. They are known for their high strength and durability, making them suitable for demanding industrial applications.
Efficiency: Industrial chains provide efficient power transmission, minimizing energy loss during operation. They offer high mechanical efficiency, which is especially important in applications that require precise and consistent power transfer.
Flexibility: Industrial chains are flexible in terms of design and configuration. They can be easily adapted to various applications and can transmit power over long distances, making them suitable for a wide range of industrial machinery and equipment.
Cost-effectiveness: Industrial chains are often cost-effective compared to alternative power transmission systems. They are relatively simple in design, easy to manufacture, and have a lower initial cost. Additionally, their durability and longevity reduce the need for frequent replacements, resulting in long-term cost savings.
Reliability: Industrial chains are known for their reliability and consistent performance. When properly maintained and operated within their load and speed limits, they can provide reliable power transmission for extended periods.
Versatility: Industrial chains can accommodate various environmental conditions, including high temperatures, corrosive environments, and high-speed applications. They can be made from different materials and configured with specific features to suit specific application requirements.
While industrial chains offer numerous advantages, it is essential to consider specific application needs and requirements when selecting a power transmission system. Factors such as load capacity, operating environment, speed, and precision may influence the suitability of an industrial chain compared to alternatives such as belts, gears, or shafts.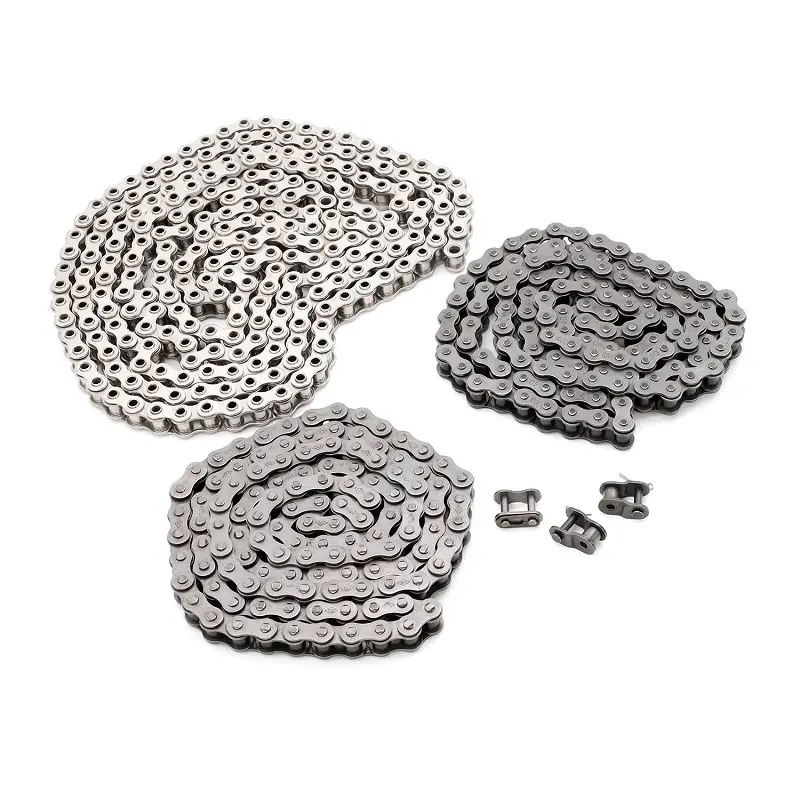 How do you properly tension an industrial chain?
Tensioning an industrial chain is a critical step to ensure its proper functioning and longevity. Here are the steps to properly tension an industrial chain:
1. Check the manufacturer's specifications: Refer to the manufacturer's guidelines or technical documentation to determine the recommended tension range for your specific industrial chain.
2. Identify the tensioning points: Locate the appropriate tensioning points on the industrial chain system. These are typically found near the chain's drive sprocket or pulley.
3. Loosen the tensioning device: If there is an existing tensioning device, such as an adjusting bolt or tensioning screw, loosen it to create slack in the chain.
4. Apply tension: Apply tension to the chain by either moving the tensioning device or adjusting the position of the chain's drive sprocket or pulley. The goal is to remove any slack in the chain while maintaining it within the recommended tension range.
5. Verify tension: Once the tension is applied, check the tension using a tensioning tool or by applying a moderate force to the chain at a midpoint between the sprockets. The chain should have a slight amount of deflection but should not sag or be excessively tight.
6. Lock the tensioning device: Once the proper tension is achieved, secure the tensioning device in place to maintain the tension. This may involve tightening the adjusting bolt or screw or using a locking mechanism specific to your tensioning device.
7. Recheck and readjust: After a period of operation, recheck the chain's tension to ensure it remains within the recommended range. If necessary, make further adjustments to maintain proper tension.
It's important to follow the manufacturer's recommendations and guidelines for tensioning procedures specific to your industrial chain. Proper tensioning ensures optimal performance, reduces wear and elongation, and prevents excessive stress on the chain and its components.



editor by CX 2023-08-04