Product Description
Stainless Steel Transmission Chain, Stainless Steel Roller Chain, Stainless Steel Conveyor chain, Stainless steel chains for bottle conveyor line which is used on bottle filling conveyor lines, other standard ss chain or special ss chain(SS304 chains, SS316 chains, SS316L chains, SS conveyor chains, SS304 conveyor chain, SS316 conveyor chain) all available
We have special technolodgy to arrange more hardness on SS chains plate as per the request of famous chains factory in Europe
We have many OEM chain factory customer from Europe and our stainless steel chain quality is similar to the A quality in the world
We are professional supplier of chains:
1. Bicycle chain: 408, 410, 415
2. Motorcycle chain: 04C, 25H, 06C, T3, 270H, 415H, 420, 420L, 425, 428, 428H, 520,
525, 530
3. ASA roller chain: 35, 40, 41, 50, 60, 60H, 80, 80H, 100, 120, 140, 160, 200, 240
(Catalog)
4. Chain (British standard): 05-B, 06-B, 08-B, 10-B, 12-B, 16-B, 20-B, 24-B, 28-B,
32-B, 40-B (Catalog)
5. Large pitch chains: 100, 100H, 120, 120H, 140, 140H, 160, 160H, 180, 200, 240
6. Extend-pitch precision roller chain: 208A, 208B, 210A, 210B, 212A, 212B, 216A,
216B, 220A, 220B, 224A, 224B, 228B, 232B
7. Roller chains for beer buntline conveyor: CK-70S, CK-100S, CK-100SA, CK-100SC, CK-133XA,
CK-140X, CK-140XA, CK-150X, CK-150S, CK-154X, CK-155X, CK-155XA, CK-160X, CK-160XA, CK-160XB, CK-160XC, CK-165X, CK-165XA, CK-169, CK-180X, CK-180XA, CK-200S, CW-102, CW-127
8. Implement roller chains for conveyors: 81X, 81XH, 81XHH, CA550, CA555, CA620
9. Multi strand sizes available; Up to 5 strands, for select size standard attachment
Available
10. Chains from 04b~16b are with spring clips, others are riveted; Cottered design
Is available for size 80 to 240
11. Stainless steel chain and nickel plated chains is available; Special design also available
(i. E., oven conveyor) and we can produce as per material your requests, usually stainless steel chain material is SS304, if you need SS316 or SS316L etc. It is available too
Our conveyor chains are as following items:
Short pitch, double pitch conveyor roller chain:
1)European standard short pitch roller conveyor accessories: A1 – WSK2
2)European Standard Short Pitch Hollow Pin Chains and accessories: 08BHP – 12BHP
3)European standard short pitch bending roller conveyor: 08BSB, 10BSB, 4)12BSB
4)European standard double pitch conveyor chain: C208B – C232BL
5)American Standard Short pitch conveyor chain attachments: A1 – WSK2
6)American Standard Short Pitch Hollow Pin Chain: 40HP – 80HP
7)American Standard short pitch bending roller conveyor: 35SB – 80SB
8)American Standard Double pitch conveyor roller: C2040 – C2162H
9)American Standard Double pitch conveyor roller attachment: A1 – WSK2
10)American standard double pitch hollow pin chain: C2040HP – C2082HP
11)American Standard Double pitch conveyor roller scoliosis: C2040SB, C2050SB, C2060SB
12)American standard double pitch conveyor roller Plastic Large: C2042D – C2102HD
13)American Standard controllable beat conveyor (speed chain): C2030VR – C2080VR
14)American Standard side-mounted conveyor roller (short pitch double pitch): 40PSR – 100PSR; C2040PSR – C2100PRS
15)American Standard overhead plastic roller conveyor chains (short pitch, double pitch and long pitch): 40TR – 100TR; C2040TR – C2100TR
| | |
| --- | --- |
| Material: | Alloy |
| Structure: | Roller Chain |
| Surface Treatment: | Polishing |
| Chain Size: | 1/2"*11/128" |
| Feature: | Fire Resistant, Oil Resistant, Heat Resistant |
| Usage: | Transmission Chain, Drag Chain, Dedicated Specia |
Customization:

Available

|

Customized Request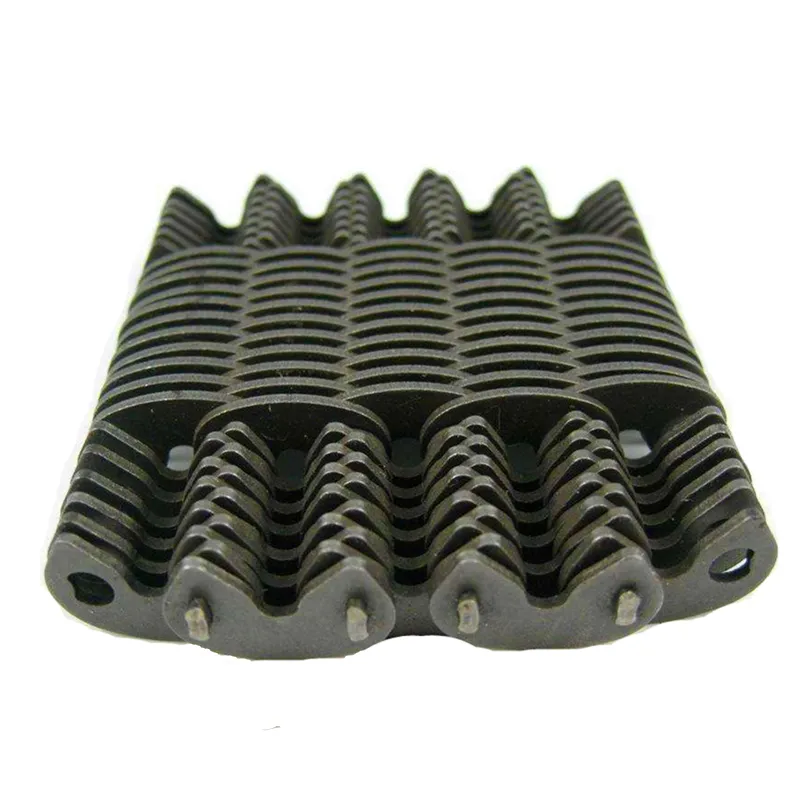 What are the benefits of using stainless steel industrial chains?
Stainless steel industrial chains offer several advantages compared to traditional chains made from other materials. Here are the key benefits of using stainless steel chains:
1. Corrosion resistance: Stainless steel is highly resistant to corrosion and oxidation, making it ideal for applications in humid or corrosive environments. It can withstand exposure to water, chemicals, and various corrosive substances without rusting or deteriorating.
2. Durability and longevity: Stainless steel chains have excellent durability and a long lifespan. They can withstand heavy loads, high temperatures, and frequent cycling without significant wear or fatigue. This reduces the need for frequent replacements, resulting in cost savings over time.
3. Strength and reliability: Stainless steel has high tensile strength and resistance to breakage. It provides reliable performance and can handle heavy-duty applications where strength and reliability are crucial.
4. Hygiene and cleanliness: Stainless steel chains are hygienic and easy to clean. They are non-porous, making them resistant to bacterial growth and contamination. This makes them suitable for industries with strict hygiene requirements, such as food processing, pharmaceuticals, and healthcare.
5. Temperature resistance: Stainless steel has excellent temperature resistance, allowing it to maintain its mechanical properties even in extreme temperature conditions. It can withstand both high and low temperatures without deformation or loss of performance.
6. Aesthetic appeal: Stainless steel chains have a polished and attractive appearance, making them suitable for applications where aesthetics matter, such as architectural or decorative purposes.
7. Versatility: Stainless steel chains are available in various sizes, configurations, and types to suit different applications. They can be found in a wide range of industries, including food processing, pharmaceuticals, chemicals, automotive, and more.
8. Easy maintenance: Stainless steel chains require minimal maintenance. They do not require regular lubrication and are easy to clean, reducing downtime and maintenance costs.
In summary, using stainless steel industrial chains provides the advantages of corrosion resistance, durability, strength, hygiene, temperature resistance, aesthetic appeal, versatility, and easy maintenance. These benefits make stainless steel chains a preferred choice in industries where reliability, longevity, and performance are crucial.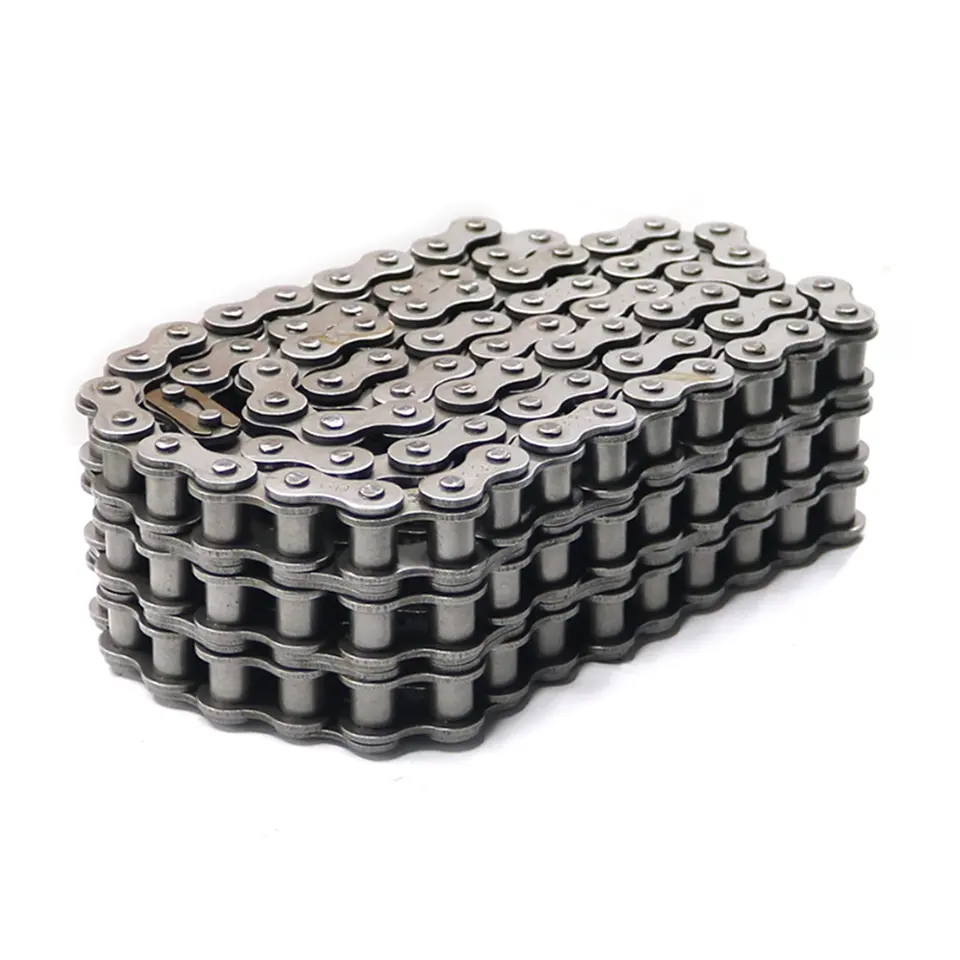 What safety precautions should be followed when working with industrial chains?
Working with industrial chains involves potential hazards, and it is important to follow proper safety precautions to prevent accidents and injuries. Here are some safety guidelines to consider:
Training and Familiarization: Ensure that workers are properly trained in handling industrial chains, including understanding the risks involved and knowing how to operate, maintain, and inspect them correctly.
Personal Protective Equipment (PPE): Wear appropriate PPE, such as safety glasses, gloves, and steel-toed shoes, to protect against potential hazards, including flying debris, pinch points, and sharp edges.
Equipment Inspection: Regularly inspect the industrial chain, sprockets, and other related equipment for any signs of damage, wear, or misalignment. If any issues are found, repair or replace the components before using the chain.
Proper Installation: Follow the manufacturer's instructions and guidelines for proper installation of the industrial chain, including correct tensioning, alignment, and lubrication. Ensure that the chain is securely attached and that all connections and fasteners are properly tightened.
Safe Operating Procedures: Adhere to safe operating procedures when using machinery or equipment with industrial chains. Avoid operating the machinery at excessive speeds or overloading the chain beyond its recommended capacity.
Lockout/Tagout: When performing maintenance or repairs on machinery with industrial chains, follow lockout/tagout procedures to ensure the equipment is de-energized and cannot be accidentally started.
Avoid Loose Clothing and Jewelry: Do not wear loose clothing, jewelry, or any other items that can get caught in the chain or machinery, posing a risk of entanglement.
Emergency Stop Devices: Ensure that emergency stop devices are easily accessible and functional to quickly halt the machinery in case of an emergency or entanglement.
Regular Maintenance: Implement a regular maintenance program to inspect and maintain industrial chains, including lubrication, tensioning, and replacing worn or damaged components.
It is crucial to consult and follow all relevant safety regulations and guidelines specific to your industry and location. Additionally, fostering a safety-conscious work environment, providing proper training and supervision, and promoting a culture of safety awareness among workers can contribute to the prevention of accidents and injuries when working with industrial chains.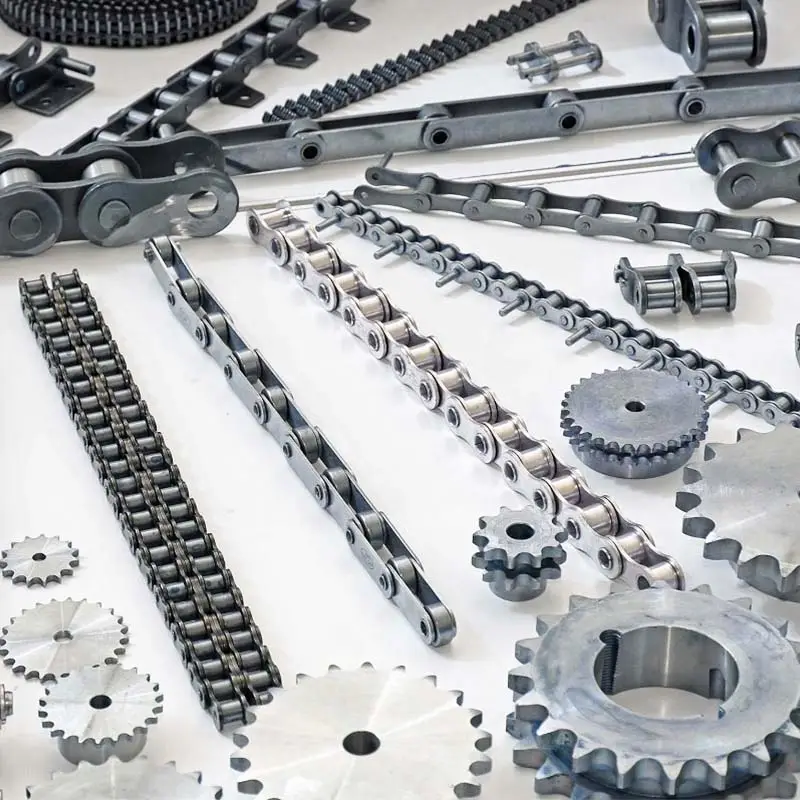 What industries rely heavily on industrial chains?
Industrial chains play a critical role in various industries where the efficient movement of materials and products is essential. Here are some industries that heavily rely on industrial chains:
Automotive industry: Industrial chains are used in automotive assembly lines for conveying and transferring components, as well as in engine systems for power transmission.
Food and beverage industry: Industrial chains are widely used in food processing and packaging applications, such as conveying products, sorting, bottling, and canning.
Mining industry: Industrial chains are utilized in mining equipment and conveyors for transporting ores, minerals, and bulk materials in harsh and demanding environments.
Construction industry: Industrial chains are employed in construction machinery, such as cranes and excavators, for lifting heavy loads and facilitating construction operations.
Agricultural industry: Industrial chains are essential in agricultural machinery, including tractors, combines, and harvesters, for power transmission and operating various components.
Material handling industry: Industrial chains are widely used in material handling systems, such as conveyors, elevators, and warehouse automation, for efficient movement and sorting of goods.
Paper and printing industry: Industrial chains are used in printing presses, bindery equipment, and paper manufacturing machines for paper handling and conveying.
Chemical industry: Industrial chains are employed in chemical processing equipment, including mixers, reactors, and dryers, for material handling and process operations.
Power generation industry: Industrial chains are used in power generation systems, such as steam turbines and generators, for transmitting power and controlling rotational movements.
Textile industry: Industrial chains are utilized in textile machinery, such as weaving looms and spinning machines, for yarn movement and fabric production.
These are just a few examples, and industrial chains are found in numerous other industries where they enable efficient and reliable material handling, power transmission, and machine operation.



editor by CX 2023-07-28