Product Description
Product

Standard Double Pitch Roller chain

Material

40Mn steel,304 stainless steel, 316 stainless steel and 201 stainless steel.

Types

Standard chains and special chains, such as A or B series chains, roller chains, driving chains, conveyor chains, hoisting chains, agricultural chains, sprockets, gears, wheels and so on.

Series

 A series(12.7-50.8mm pitches),B series (9.525-50.8mm pitches)and the heavy series.

Short pitch precision roller chain

Simplex Roller Chains&Bushing Chains: 

04C-1,06C-1,085-1,08A-1,10A-1,12A-1,16A-1,20A-1,24A-1,28A-1,32A-1,36A-1,40A-1,48A-1
Duplex Roller Chains&Bushing Chains:

04C-2,06C-2,085-2,08A-2,10A-2,12A-2,16A-2,20A-2,24A-2,28A-2,32A-2,36A-2,40A-2,48A-2
Triplex Roller Chains&Bushing Chains:

04C-3,06C-2,085-3,08A-3,10A-3,12A-3,16A-3,20A-3,24A-3,28A-3,32A-3,36A-3,40A-3,48A-3

Chain link type

Standard links (without attachment) and non-standard links (with attachment).

 

A1: One-side,one hole cranked attachments.
A2: One-side,two holes cranked attachments.
K1: Both-side,one hole cranked attachments.
K2: Both-side,two hole cranked attachments.
D1: One-side,an extended pin on every outer link.
D3: One-side,two extended pin on every outer link.

Our Products Advantage

1. Every step from production order to the packing process has a strict quality inspection.
2. We have standard roller chain with 1.5 CZPT (DIN. ANSI.); Non-standard roller chain (customized acording to customer drawings).
3. Export products with high quality and low price.
4.We have a good service before and after-sale.
1.Fast delivery: Standard products can be delivered in as fast as 20 days
2.Good service: timely reply, prompt quotation, responsible for the product
3.High cost performance: can maintain price stability for a certain period of time, bringing greater profits to customers
4.Good quality: production and testing have corresponding supervision to ensure product quality and get high praise from customers
5.OEM service: products can be customized according to drawings and requirements
We are responsible for the ordered products. We are very confident in the products we produce. Of course, if you have any problems after receiving the goods, you can contact us directly. We will confirm and negotiate in time to solve your difficulties.
Shipping Cost:

Estimated freight per unit.





To be negotiated
| | |
| --- | --- |
| Material: | Alloy |
| Structure: | Roller Chain |
| Surface Treatment: | Polishing |
Samples:

US$ 35/kg

1 kg(Min.Order)

|

Order Sample
Customization:

Available

|

Customized Request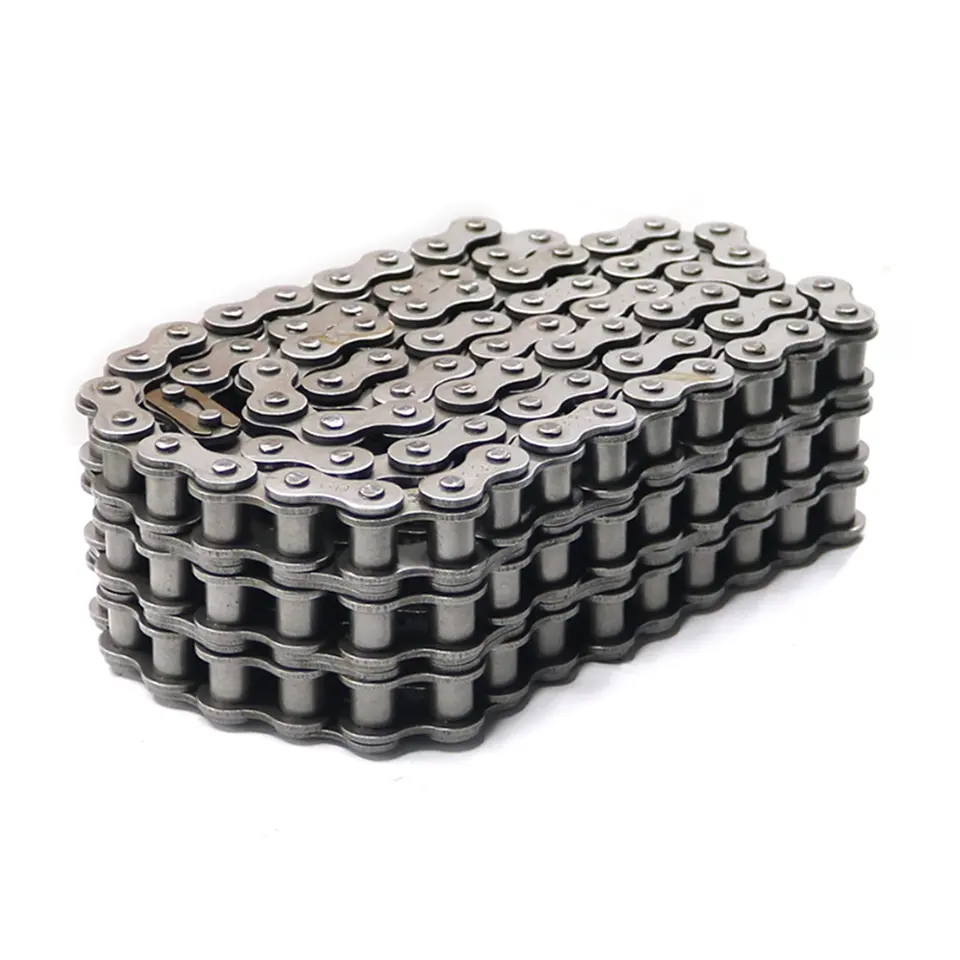 How do you troubleshoot chain skipping or slipping issues in an industrial chain?
Chain skipping or slipping issues in an industrial chain can lead to decreased efficiency and potential equipment damage. Here are some steps to troubleshoot and address these issues:
Check chain tension: Ensure that the chain is properly tensioned according to the manufacturer's recommendations. An overly loose or tight chain can cause skipping or slipping.
Inspect sprockets: Examine the sprockets for signs of wear, damage, or misalignment. Worn or damaged sprocket teeth can cause chain skipping. Correct any alignment issues and replace worn sprockets if necessary.
Inspect chain condition: Inspect the chain for signs of wear, elongation, or damage. A worn or stretched chain may not properly engage with the sprockets, leading to skipping or slipping. If the chain is significantly worn, it may need to be replaced.
Clean and lubricate the chain: Clean the chain thoroughly to remove any debris or contaminants that may be affecting its performance. Apply a suitable lubricant to ensure smooth operation and reduce friction.
Check drive system components: Examine other components of the drive system, such as bearings, shafts, and gears, for any signs of damage or misalignment. These components can also contribute to chain skipping or slipping.
Adjust alignment: Ensure that the entire chain drive system is properly aligned. Misalignment can cause uneven tension distribution and lead to chain skipping. Adjust the alignment as needed.
Inspect drive system tensioners: If the chain drive system includes tensioners, check their condition and adjustment. A malfunctioning or improperly adjusted tensioner can contribute to chain skipping.
Consult manufacturer guidelines: Refer to the manufacturer's guidelines and specifications for the specific industrial chain and equipment being used. Follow their recommended troubleshooting steps and maintenance practices.
Seek professional assistance if needed: If the issue persists or if you are unsure about the troubleshooting process, it is recommended to seek assistance from a qualified technician or the manufacturer's technical support team.
Addressing chain skipping or slipping issues promptly is important to prevent further damage and maintain the efficiency and reliability of the industrial chain system.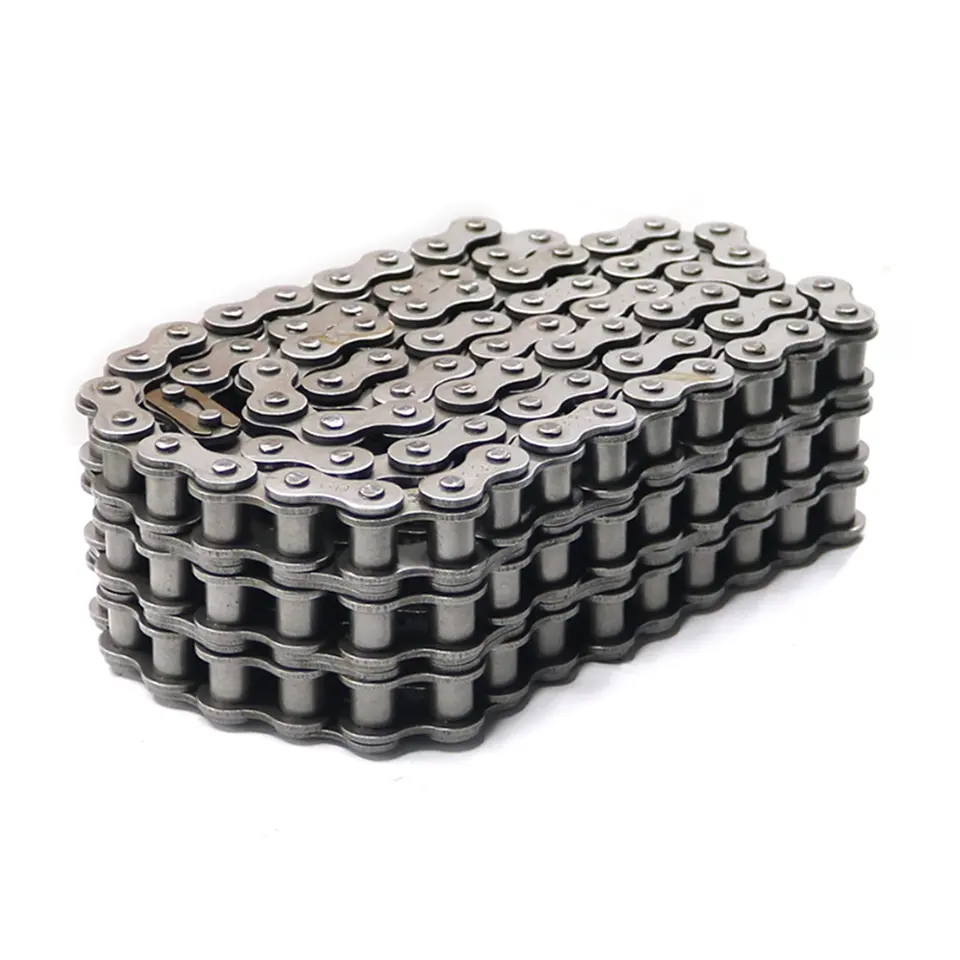 What safety precautions should be followed when working with industrial chains?
Working with industrial chains involves potential hazards, and it is important to follow proper safety precautions to prevent accidents and injuries. Here are some safety guidelines to consider:
Training and Familiarization: Ensure that workers are properly trained in handling industrial chains, including understanding the risks involved and knowing how to operate, maintain, and inspect them correctly.
Personal Protective Equipment (PPE): Wear appropriate PPE, such as safety glasses, gloves, and steel-toed shoes, to protect against potential hazards, including flying debris, pinch points, and sharp edges.
Equipment Inspection: Regularly inspect the industrial chain, sprockets, and other related equipment for any signs of damage, wear, or misalignment. If any issues are found, repair or replace the components before using the chain.
Proper Installation: Follow the manufacturer's instructions and guidelines for proper installation of the industrial chain, including correct tensioning, alignment, and lubrication. Ensure that the chain is securely attached and that all connections and fasteners are properly tightened.
Safe Operating Procedures: Adhere to safe operating procedures when using machinery or equipment with industrial chains. Avoid operating the machinery at excessive speeds or overloading the chain beyond its recommended capacity.
Lockout/Tagout: When performing maintenance or repairs on machinery with industrial chains, follow lockout/tagout procedures to ensure the equipment is de-energized and cannot be accidentally started.
Avoid Loose Clothing and Jewelry: Do not wear loose clothing, jewelry, or any other items that can get caught in the chain or machinery, posing a risk of entanglement.
Emergency Stop Devices: Ensure that emergency stop devices are easily accessible and functional to quickly halt the machinery in case of an emergency or entanglement.
Regular Maintenance: Implement a regular maintenance program to inspect and maintain industrial chains, including lubrication, tensioning, and replacing worn or damaged components.
It is crucial to consult and follow all relevant safety regulations and guidelines specific to your industry and location. Additionally, fostering a safety-conscious work environment, providing proper training and supervision, and promoting a culture of safety awareness among workers can contribute to the prevention of accidents and injuries when working with industrial chains.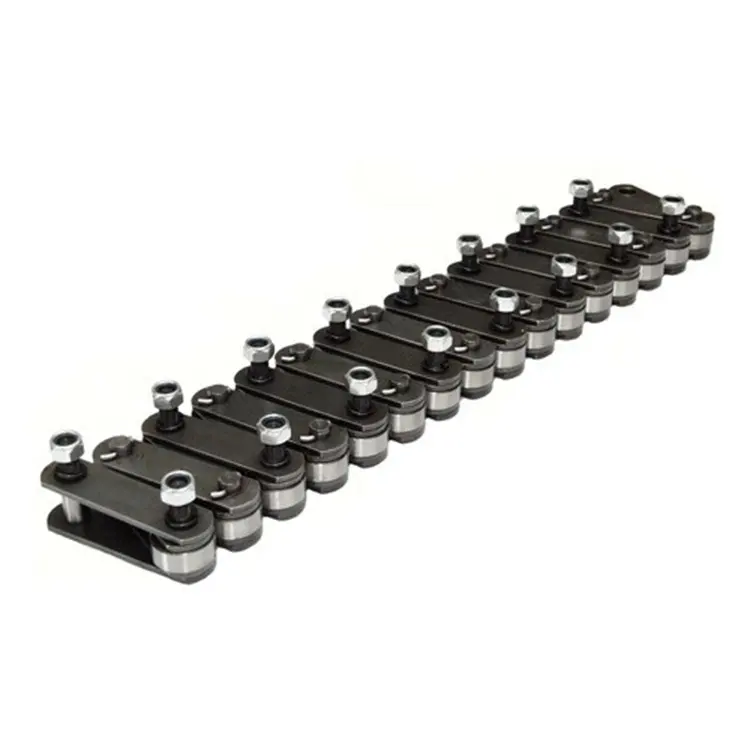 How does an industrial chain work in a manufacturing process?
An industrial chain plays a crucial role in a manufacturing process by facilitating the movement of materials or products along a predetermined path. Here's a detailed explanation of how an industrial chain works:
Input of materials: The manufacturing process begins with the input of raw materials or components onto the industrial chain. These materials are usually placed onto the chain manually or through automated systems.
Chain movement: The industrial chain is set into motion, either by a motor or by connecting it to a power source. As the chain moves, it carries the materials or products along its path.
Transfer and handling: The materials or products are transferred from one workstation to another as they move along the industrial chain. This transfer can involve various processes such as assembly, inspection, packaging, or any other manufacturing operation.
Control and synchronization: The movement of the industrial chain is controlled and synchronized to ensure proper timing and coordination of the manufacturing process. This can be achieved through the use of sensors, actuators, and control systems that monitor and adjust the speed, direction, and position of the chain.
Output and completion: As the materials or products reach the end of the industrial chain, they are either ready for further processing or considered as finished goods. They are then removed from the chain and directed to the next stage of the manufacturing process or prepared for shipment.
The working principle of an industrial chain involves the continuous loop movement of the chain, which allows for the smooth and controlled transfer of materials or products. The chain's design, including the type of links, pitch, and attachments, is optimized to meet the specific requirements of the manufacturing process, such as load capacity, speed, and environmental conditions.
By utilizing an industrial chain in a manufacturing process, companies can achieve increased efficiency, improved productivity, and enhanced automation. The precise and reliable movement of materials or products provided by the industrial chain ensures a streamlined and synchronized manufacturing operation.



editor by CX 2023-09-11