Product Description
Chain No
Pitch
Width
Between
Inner Plates
Pin
Dia
Pin
Length
Inner
Plate
Depth
Average
Tensile
Strength
Weight
 
Mm
mm
mm
mm
mm
mm
Kn
kg/m
04B-1
6.000
2.80
1.85
6.80
5.00
3.2
0.11
05B-1
8.000
3.00
2.31
8.20
7.10
5.9
0.20
*06B-1
9.525
5.72
3.28
13.15
8.20
10.4
0.41
08B-1
12.700
7.75
4.45
16.70
11.80
19.40
0.69
10B-1
15.875
9.65
5.09
19.50
14.70
27.50
0.93
12B-1
19.050
11.68
5.72
22.50
16.00
32.20
1.15
16B-1
25.400
17.02
8.28
36.10
21.00
72.80
2.71
20B-1
31.750
19.56
10.19
41.30
26.40
106.7
3.70
24B-1
38.100
25.40
14.63
53.40
33.20
178.0
7.10
28B-1
44.450
30.99
15.90
65.10
36.70
222.0
8.50
32B-1
50.800
30.99
17.81
66.00
42.00
277.5
10.25
40B-1
63.50
38.10
22.89
82.20
52.96
394.0
16.35
48B-1
76.20
45.72
29.24
99.10
63.80
621.6
25.00
56B-1
88.90
53.34
34.32
114.60
77.80
940.0
35.78
Our company offers variety of products which can meet your multifarious demands. We adhere to the management principles of "quality first, customer first and credit-based" since the establishment of the company and always do our best to satisfy potential needs of our customers. Our company is sincerely willing to cooperate with enterprises from all over the world in order to realize a CZPT situation since the trend of economic globalization has developed with anirresistible force.
| | |
| --- | --- |
| Standard or Nonstandard: | Standard |
| Application: | Food Machinery |
| Structure: | Roller Chain |
| Material: | Stainless Steel |
| Type: | Double Pitch Chain |
| Function: | Transmisssion |
Customization:

Available

|

Customized Request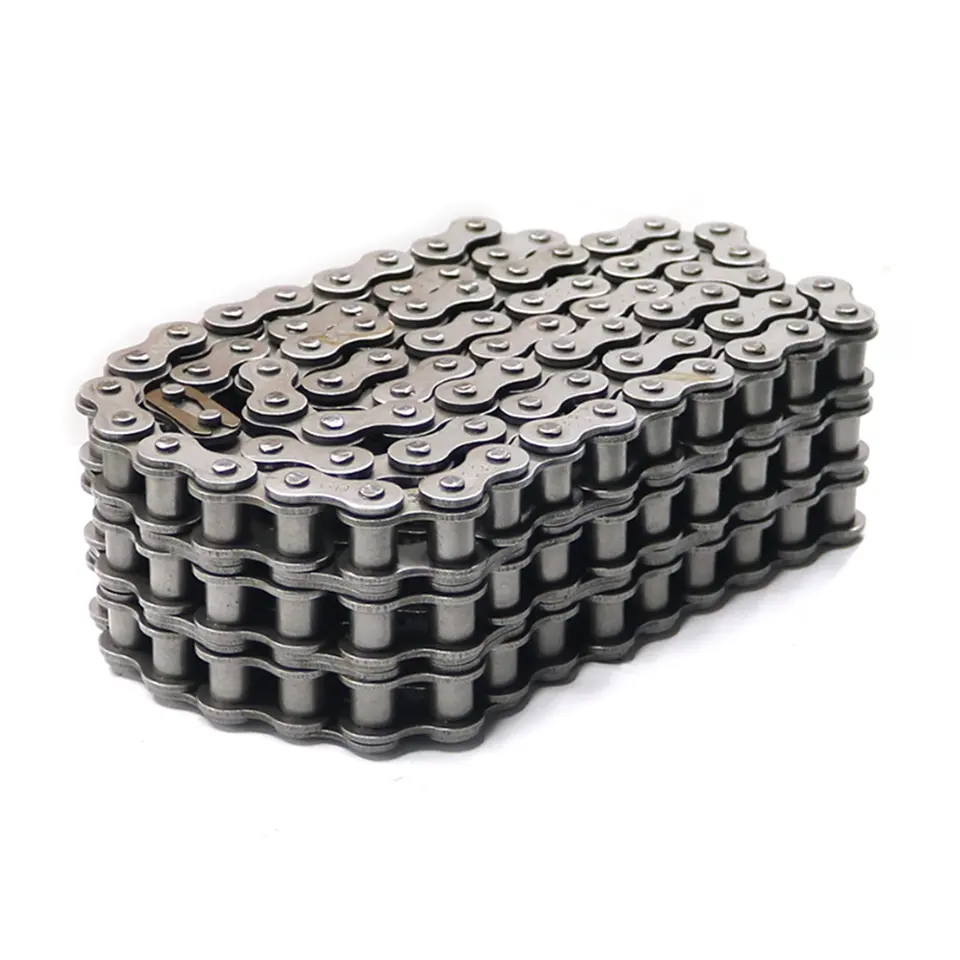 How do you troubleshoot chain skipping or slipping issues in an industrial chain?
Chain skipping or slipping issues in an industrial chain can lead to decreased efficiency and potential equipment damage. Here are some steps to troubleshoot and address these issues:
Check chain tension: Ensure that the chain is properly tensioned according to the manufacturer's recommendations. An overly loose or tight chain can cause skipping or slipping.
Inspect sprockets: Examine the sprockets for signs of wear, damage, or misalignment. Worn or damaged sprocket teeth can cause chain skipping. Correct any alignment issues and replace worn sprockets if necessary.
Inspect chain condition: Inspect the chain for signs of wear, elongation, or damage. A worn or stretched chain may not properly engage with the sprockets, leading to skipping or slipping. If the chain is significantly worn, it may need to be replaced.
Clean and lubricate the chain: Clean the chain thoroughly to remove any debris or contaminants that may be affecting its performance. Apply a suitable lubricant to ensure smooth operation and reduce friction.
Check drive system components: Examine other components of the drive system, such as bearings, shafts, and gears, for any signs of damage or misalignment. These components can also contribute to chain skipping or slipping.
Adjust alignment: Ensure that the entire chain drive system is properly aligned. Misalignment can cause uneven tension distribution and lead to chain skipping. Adjust the alignment as needed.
Inspect drive system tensioners: If the chain drive system includes tensioners, check their condition and adjustment. A malfunctioning or improperly adjusted tensioner can contribute to chain skipping.
Consult manufacturer guidelines: Refer to the manufacturer's guidelines and specifications for the specific industrial chain and equipment being used. Follow their recommended troubleshooting steps and maintenance practices.
Seek professional assistance if needed: If the issue persists or if you are unsure about the troubleshooting process, it is recommended to seek assistance from a qualified technician or the manufacturer's technical support team.
Addressing chain skipping or slipping issues promptly is important to prevent further damage and maintain the efficiency and reliability of the industrial chain system.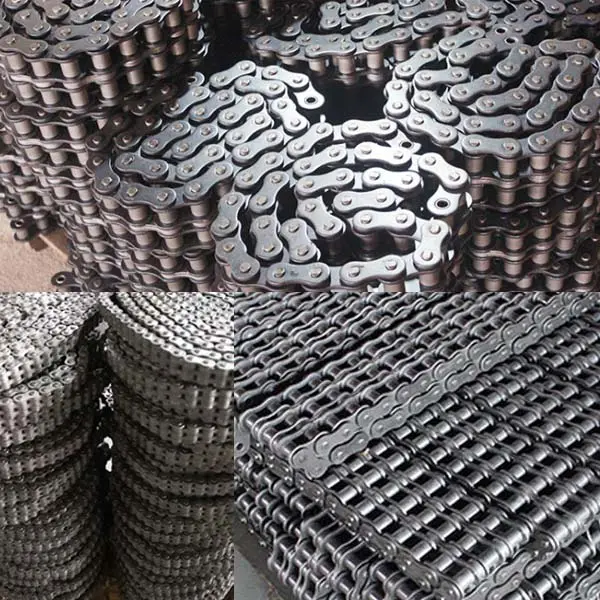 What are the noise levels associated with industrial chains?
The noise levels associated with industrial chains can vary depending on several factors, including chain design, lubrication, and operating conditions.
Chain Design: The design of the industrial chain, including the type of chain and its construction, can impact noise levels. Chains with smoother surfaces and precision manufacturing techniques tend to produce less noise.
Lubrication: Proper lubrication of the chain is essential for reducing noise. Applying a suitable lubricant to the chain can minimize friction and vibration, resulting in quieter operation.
Operating Conditions: The operating conditions of the industrial chain, such as the load, speed, and tension, can also affect noise levels. Higher loads and speeds, as well as inadequate tensioning, can increase noise levels.
Overall, it is important to consider noise levels when using industrial chains, particularly in noise-sensitive environments. Implementing proper chain design, regular lubrication, and maintaining appropriate operating conditions can help minimize noise and create a more comfortable work environment.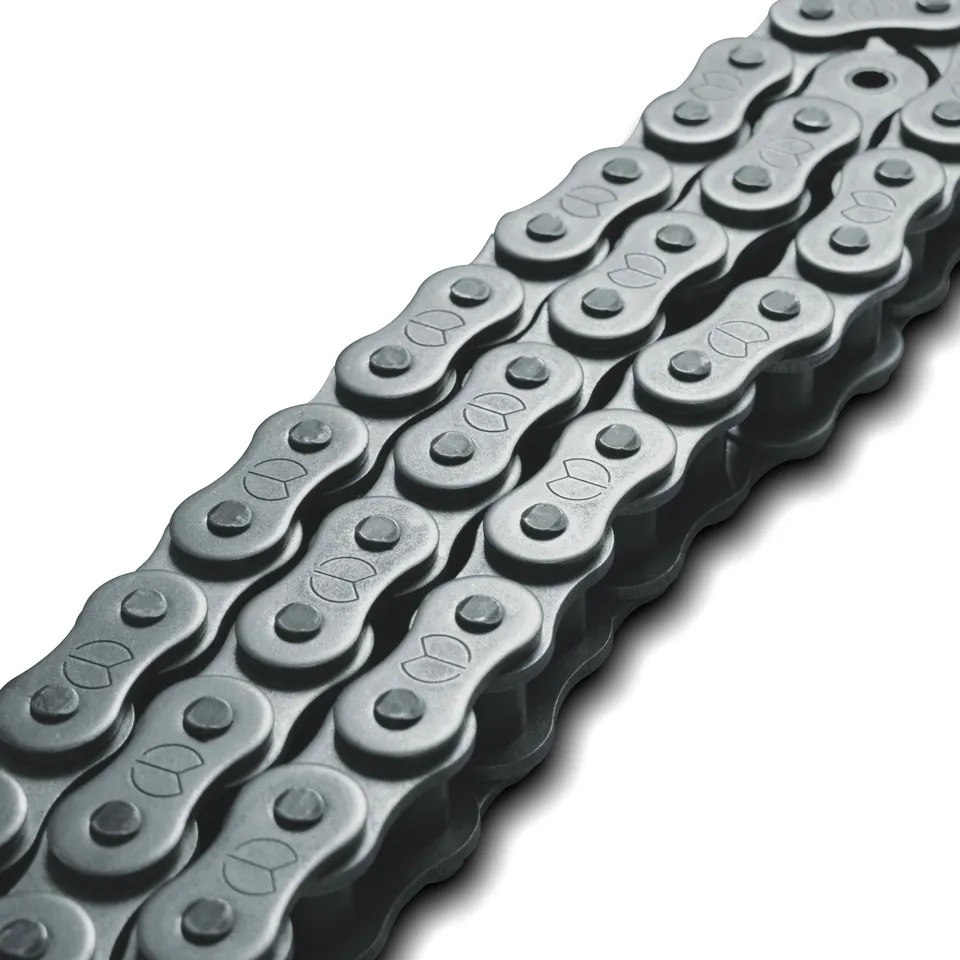 What is an industrial chain and what is its purpose?
An industrial chain, also known as an industrial conveyor chain, is a mechanical device used in various industries for the purpose of conveying or transferring materials or products from one point to another within a production or manufacturing process.
Industrial chains are typically made up of a series of interconnected links, which can be composed of metal, plastic, or other materials depending on the application requirements. These links form a continuous loop that moves materials along the chain's path.
The primary purpose of an industrial chain is to facilitate the smooth and efficient movement of materials or products within a production system. They are designed to withstand heavy loads, resist wear and corrosion, and operate reliably in demanding industrial environments.
Industrial chains find applications in various industries such as automotive, food and beverage, packaging, mining, agriculture, and many others. They are used in a wide range of processes including assembly lines, material handling systems, conveying systems, and production equipment.
By utilizing an industrial chain, manufacturers can achieve increased productivity, improved workflow, and streamlined operations. The chain's ability to transport materials or products allows for efficient material flow, reduced manual handling, and enhanced automation.
Overall, the purpose of an industrial chain is to enable the smooth and efficient movement of materials or products, contributing to the overall effectiveness and productivity of industrial processes.



editor by CX 2023-08-04