Product Description
ISO Standard Precision Short Pitch Precision Motorcycle Industrial Roller Chain (A series)
 
Product Description

1. Material: Alloy Steel
2. Surface Treatment: Shot peening
3. Application: 
  This chain will be widely used in all of the industry machine and equipment.
4. Chain No: 40-1, 50-1, 60-1, 80-1, 100-1, 120-1, etc.
 
Product name
High Precision Short Pitch Precision Roller Chain (A series)
Materials Available 
1. Stainless Steel: SS304, SS316, etc
2. Alloy Steel: 45Mn, 42CrMo, 20CrMo, etc
3. OEM according to your request
Surface Treatment
Shot peening, Blackening, Oxygenation, Polishing, Zinc-plated, Nickel-plated, Anodized, etc.
Characteristic
Fire Resistant, Oil Resistant, Heat Resistant
Design criterion
ISO DIN ANSI & Customer's Drawing
Size
Customer's Drawing & ISO standard 
Package
Wooden Case / Container and pallet, or made-to-order
Certificate
ISO9001: 2008 
Advantage
First quality, Best service, Competitive price, Fast delivery
Delivery Time
20 days for samples. 45 days for official order.
Detailed Photos
View more products,please click here…
Company Profile
| | |
| --- | --- |
| Standard or Nonstandard: | Standard |
| Application: | Packaging Machinery, Food Machinery, Marine, Mining Equipment, Agricultural Machinery |
| Surface Treatment: | Oil Blooming |
| Structure: | Roller Chain |
| Material: | Alloy |
| Type: | Short Pitch Chain |
Samples:

US$ 0/Meter

1 Meter(Min.Order)

|
Request Sample
Customization:

Available

|

Customized Request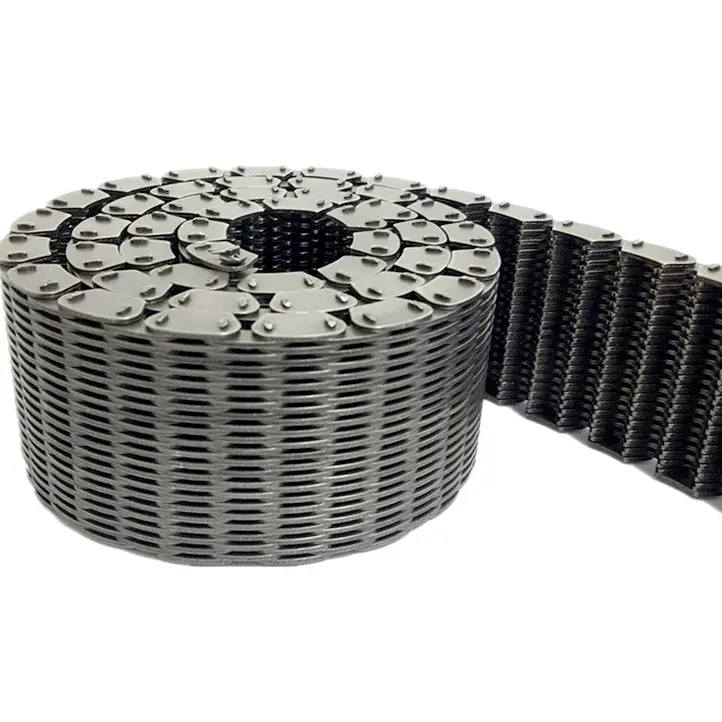 What are the advantages of using a silent chain in an industrial application?
A silent chain, also known as an inverted tooth chain or toothed belt, offers several advantages when used in industrial applications:
1. Quiet operation: Silent chains are designed to minimize noise during operation. The toothed design allows for smooth engagement and disengagement of the chain, resulting in reduced noise levels compared to other chain types. This is particularly beneficial in applications where noise reduction is important, such as in indoor environments or noise-sensitive areas.
2. High load-carrying capacity: Silent chains are capable of carrying heavy loads due to their robust construction. The interlocking toothed design provides excellent power transmission capabilities, allowing for efficient transfer of high torque and load-bearing capacity. This makes silent chains suitable for applications that require heavy-duty performance.
3. Precise positioning and synchronization: Silent chains provide precise positioning and synchronization between the driving and driven components. The toothed profile ensures accurate motion control, making them ideal for applications that require precise timing, such as conveyors, robotics, and automated systems.
4. Low maintenance requirements: Silent chains require minimal maintenance compared to other chain types. The toothed design reduces the need for frequent lubrication, tensioning, and adjustments. This results in lower maintenance costs and less downtime for maintenance activities.
5. High efficiency: Silent chains have high power transmission efficiency due to their positive engagement between the teeth. This means that less energy is wasted during operation, resulting in improved overall system efficiency.
6. Durability and longevity: Silent chains are designed to withstand demanding industrial environments. They are constructed from high-quality materials, such as alloy steel or stainless steel, which provide excellent strength, wear resistance, and corrosion resistance. This ensures a long service life and reduces the need for frequent replacements.
7. Wide range of applications: Silent chains can be used in various industrial applications, including power transmission systems, conveyors, packaging machinery, printing presses, machine tools, and automotive timing systems. Their versatility makes them suitable for a wide range of industries, including manufacturing, automotive, food processing, and pharmaceutical.
Overall, the advantages of using a silent chain in an industrial application include quiet operation, high load-carrying capacity, precise positioning, low maintenance requirements, high efficiency, durability, and versatility. These benefits make silent chains a preferred choice for many industrial applications where reliable and efficient power transmission is required.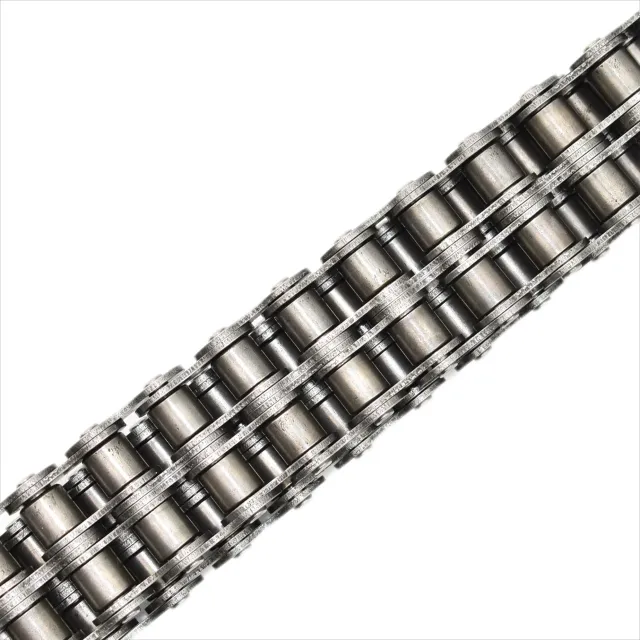 How do you optimize the efficiency of an industrial chain system?
Optimizing the efficiency of an industrial chain system involves various factors and considerations. Here are some key steps to achieve maximum efficiency:
1. Proper Design: Ensure that the industrial chain system is designed correctly for the specific application. Consider factors such as load capacity, speed, environment, and required service life when selecting the chain and related components.
2. Adequate Lubrication: Proper lubrication is essential for reducing friction, wear, and energy loss in the chain system. Follow the manufacturer's recommendations for lubrication intervals and use the appropriate lubricant type and quantity.
3. Correct Tensioning: Maintaining the right tension in the chain is crucial for optimal performance. Over-tensioning or under-tensioning can lead to increased wear, power loss, and premature failure. Regularly check and adjust the tension as per the manufacturer's guidelines.
4. Alignment and Sprocket Inspection: Ensure proper alignment of the chain and sprockets. Misalignment can cause excessive wear and energy loss. Regularly inspect the sprockets for signs of wear, damage, or misalignment, and replace or adjust as necessary.
5. Minimize Friction and Resistance: Reduce friction and resistance throughout the chain system by keeping the components clean and free from debris. Regularly clean and inspect the chain, sprockets, and guides to remove any accumulated dirt or contaminants.
6. Maintenance and Inspection: Implement a regular maintenance and inspection schedule for the entire chain system. This includes checking for wear, lubrication status, tension, and alignment. Address any issues promptly to prevent further damage and ensure optimal performance.
7. Training and Education: Provide proper training to operators and maintenance personnel on the correct handling, operation, and maintenance of the industrial chain system. This will help ensure that everyone understands the importance of efficiency and follows best practices.
By following these optimization strategies, the efficiency of an industrial chain system can be improved, leading to reduced energy consumption, extended service life, and cost savings in the long run.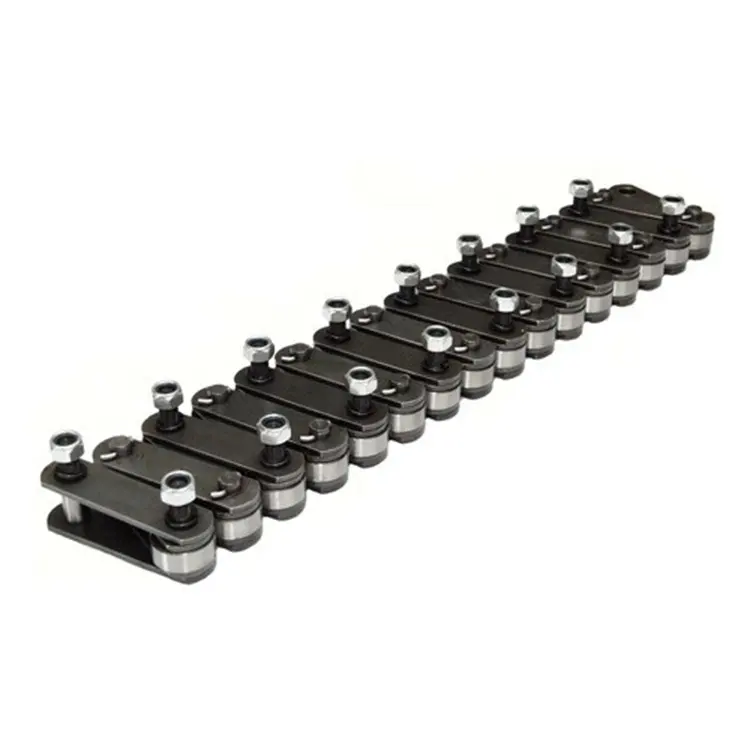 How does an industrial chain work in a manufacturing process?
An industrial chain plays a crucial role in a manufacturing process by facilitating the movement of materials or products along a predetermined path. Here's a detailed explanation of how an industrial chain works:
Input of materials: The manufacturing process begins with the input of raw materials or components onto the industrial chain. These materials are usually placed onto the chain manually or through automated systems.
Chain movement: The industrial chain is set into motion, either by a motor or by connecting it to a power source. As the chain moves, it carries the materials or products along its path.
Transfer and handling: The materials or products are transferred from one workstation to another as they move along the industrial chain. This transfer can involve various processes such as assembly, inspection, packaging, or any other manufacturing operation.
Control and synchronization: The movement of the industrial chain is controlled and synchronized to ensure proper timing and coordination of the manufacturing process. This can be achieved through the use of sensors, actuators, and control systems that monitor and adjust the speed, direction, and position of the chain.
Output and completion: As the materials or products reach the end of the industrial chain, they are either ready for further processing or considered as finished goods. They are then removed from the chain and directed to the next stage of the manufacturing process or prepared for shipment.
The working principle of an industrial chain involves the continuous loop movement of the chain, which allows for the smooth and controlled transfer of materials or products. The chain's design, including the type of links, pitch, and attachments, is optimized to meet the specific requirements of the manufacturing process, such as load capacity, speed, and environmental conditions.
By utilizing an industrial chain in a manufacturing process, companies can achieve increased efficiency, improved productivity, and enhanced automation. The precise and reliable movement of materials or products provided by the industrial chain ensures a streamlined and synchronized manufacturing operation.



editor by CX 2023-10-10