Product Description
Hot Selling Industrial Standard Grip Chain for Transportation and Feeding
 
Product Description
1. Material: Stainless steel chain / Alloy Carbon Steel
2. Surface Treatment: Zinc-Plated / Nickel-Plated / Dacromet-Plated
3. Short pitch stainless steel conveyor chain with attachments.
4. Double pitch stainless steel conveyor chain.
5. Double pitch hollow pin chain.
Note: If you have drawing or samples, we can do the special conveyor chains.
Product name 
Grip Conveyor Chain (08B)
Materials Available 
1. Stainless Steel: SS304, SS316, etc
2. Alloy Steel: 45Mn, 42CrMo, etc
3. OEM according to your request
Surface Treatment
Shot peening, Polishing, Oxygenation, Blackening, Zinc-plated, Nickel-plated, Anodized, etc.
Characteristic
Fire Resistant, Oil Resistant, Heat Resistant
Application
Mainly used in products transmission
Design criterion
ISO DIN ANSI & Customer's Drawing
Size
Customer's Drawing & ISO standard 
Package
Wooden Case / Container and pallet, or made-to-order
Certificate
ISO9001: 2008 
Advantage
First quality, Best service, Competitive price, Fast delivery
Delivery Time
20 days for samples. 45 days for official order.
View more products,please click here…
 
Company Profile
| | |
| --- | --- |
| Material: | Stainless Steel |
| Structure: | Conveyor Chain |
| Surface Treatment: | Oil Blooming |
| Chain Size: | Ts635 |
| Feature: | Heat Resistant |
| Sample: | for Free |
Samples:

US$ 0/Meter

1 Meter(Min.Order)

|
Request Sample
Customization:

Available

|

Customized Request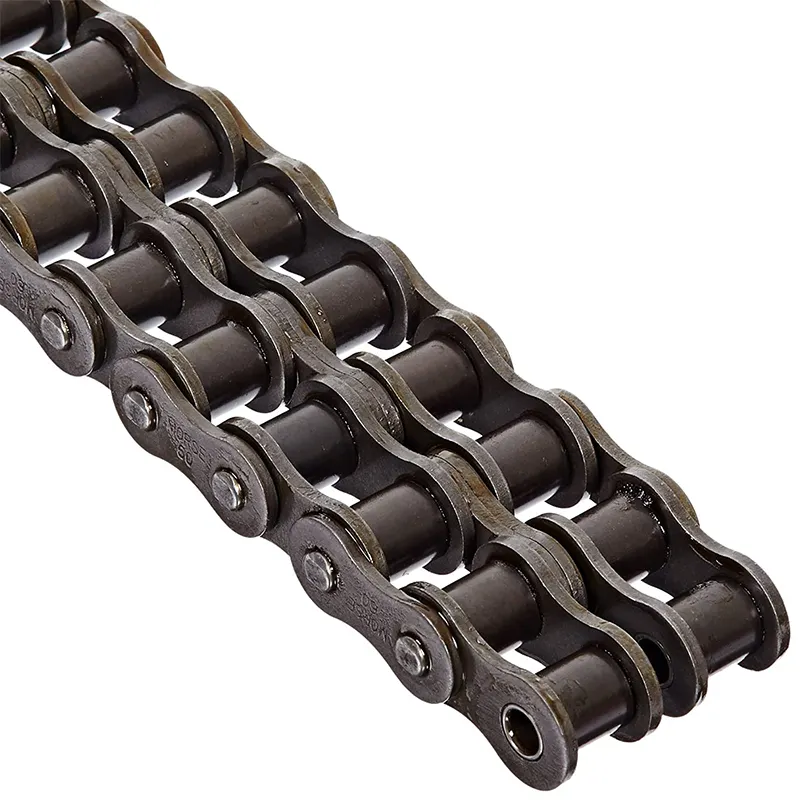 What are the future trends and advancements in industrial chain technology?
Industrial chain technology is continuously evolving to meet the changing needs of various industries. Here are some future trends and advancements that can be observed in industrial chain technology:
Increased Automation: Industrial chains are becoming an integral part of automated systems. The advancement of robotics, IoT (Internet of Things), and artificial intelligence is driving the integration of industrial chains with smart technologies. This includes features such as remote monitoring, predictive maintenance, and real-time data analysis for optimizing chain performance and overall system efficiency.
Improved Materials and Coatings: Ongoing research and development efforts are focused on developing advanced materials with enhanced properties for industrial chains. This includes materials with superior strength, durability, corrosion resistance, and wear resistance. Additionally, the development of advanced surface coatings and treatments further enhances the performance and lifespan of industrial chains.
Energy Efficiency: Energy efficiency is a growing concern in industrial applications. Future industrial chains are likely to incorporate designs and features that reduce energy consumption, such as optimized chain profiles, reduced friction coatings, and improved lubrication systems. These advancements aim to minimize power losses and improve overall system efficiency.
Integration with Digital Technologies: Industrial chains are expected to be increasingly integrated with digital technologies for seamless communication and data exchange. This integration enables better monitoring of chain performance, real-time diagnostics, and the ability to make data-driven decisions for maintenance and optimization. Digital twins, virtual simulations, and augmented reality (AR) are also emerging trends that allow for improved chain design, testing, and troubleshooting.
Enhanced Safety Features: Safety remains a top priority in industrial settings. Future industrial chains may incorporate advanced safety features such as integrated sensors for detecting chain wear, overload conditions, or abnormal operating parameters. These features can provide early warning signs and help prevent accidents or equipment failures.
The future of industrial chain technology is driven by the need for increased efficiency, reliability, and safety. The integration of smart technologies, improved materials, energy efficiency measures, digitalization, and enhanced safety features are expected to shape the advancements in industrial chain technology in the coming years.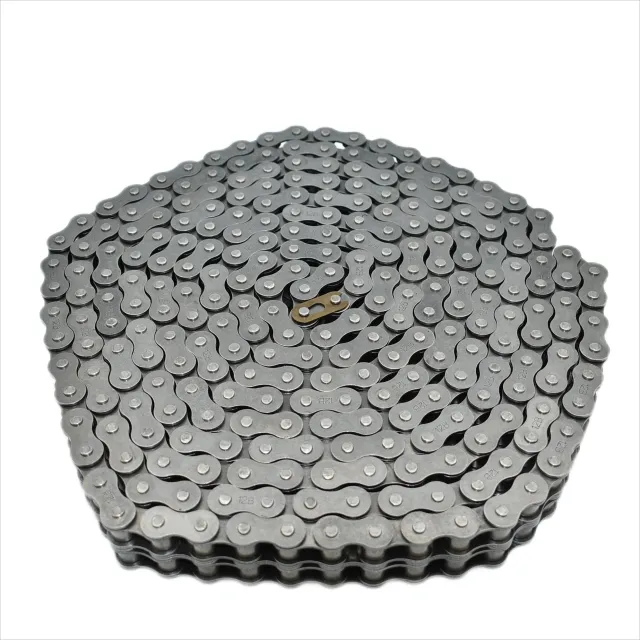 What are the environmental considerations when using an industrial chain?
When using an industrial chain, there are several environmental considerations to take into account:
1. Lubrication: Proper lubrication of the chain is important not only for its performance but also for environmental reasons. Using environmentally-friendly lubricants can help minimize the impact on the environment, especially in applications where there is a risk of lubricant leakage or contamination.
2. Material Selection: Choosing the right materials for the chain and its components is crucial. Opting for materials that are resistant to corrosion and wear can extend the chain's lifespan and reduce the need for frequent replacements, thus minimizing waste.
3. Maintenance and Inspection: Regular maintenance and inspection of the chain can help identify any potential issues early on, preventing unexpected failures and reducing the environmental impact of unplanned downtime and repairs.
4. Noise and Vibration: Industrial chains can generate noise and vibrations during operation, which may have environmental implications, especially in noise-sensitive areas or where worker comfort is a priority. Implementing measures to minimize noise and vibration, such as proper lubrication, chain tensioning, and damping systems, can help mitigate these effects.
5. Waste Management: Proper disposal and recycling of worn-out or damaged chain components are important to minimize the environmental impact. Recycling programs or partnering with responsible waste management companies can ensure that discarded chain components are properly handled and disposed of in an environmentally friendly manner.
By considering these environmental factors and implementing appropriate measures, the use of industrial chains can be made more sustainable and environmentally responsible.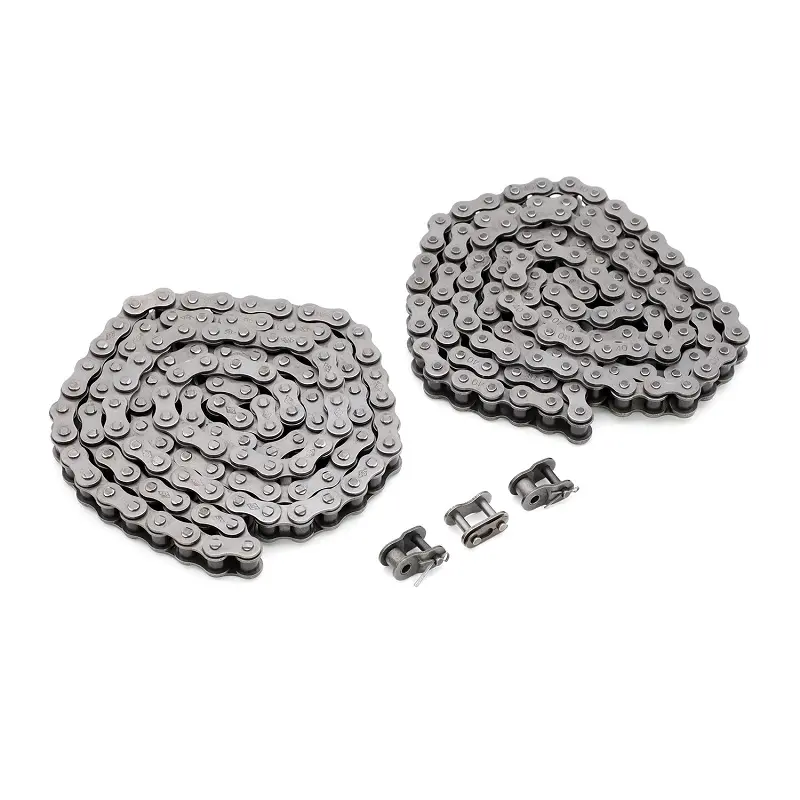 What are the maintenance requirements for an industrial chain?
Maintaining an industrial chain is crucial to ensure its optimal performance and extend its lifespan. Here are some key maintenance requirements for industrial chains:
Cleaning: Regularly clean the industrial chain to remove dirt, debris, and contaminants that can cause friction and wear. Use a suitable solvent or cleaning agent recommended by the chain manufacturer.
Lubrication: Apply the appropriate lubricant to the chain according to the manufacturer's recommendations. Lubrication reduces friction, minimizes wear, and helps prevent corrosion. Regularly inspect the lubrication levels and replenish as needed.
Tension Adjustment: Check the tension of the industrial chain regularly. Ensure it is within the recommended range specified by the manufacturer. Improper tension can lead to excessive wear, reduced performance, and increased stress on the chain components.
Alignment: Verify that the industrial chain is properly aligned with the sprockets or pulleys. Misalignment can cause uneven wear and premature failure. Adjust the alignment as necessary.
Inspection: Periodically inspect the industrial chain for signs of wear, corrosion, damaged links, or other abnormalities. Look for elongation, bent or broken links, and excessive wear on the sprockets. Replace any worn or damaged components promptly.
Environment: Consider the environmental conditions in which the industrial chain operates. Protect the chain from excessive moisture, extreme temperatures, and corrosive substances. Implement appropriate measures such as covers, guards, or coatings to safeguard the chain.
Documentation: Keep records of maintenance activities, including lubrication schedules, tension adjustments, inspections, and any repairs or replacements. This documentation helps track the chain's history and aids in future maintenance planning.
Following these maintenance requirements will help ensure the reliability, efficiency, and longevity of the industrial chain. It is important to refer to the manufacturer's guidelines and recommendations for specific maintenance procedures and intervals for your particular chain type and application.



editor by CX 2023-11-10