Product Description

G100 Chain & Chain Slings
Product Description
G100 Alloy steel chain & Chain Slings. The product has high strength, exquisite design, strong versatility, diverse functions have passed safety inspection
Material: Grade 100 Alloy steel, high tensile, heat treated accurate size. To ensure product's safety and reliability, every meter of chain has been tested with the pulling force double the standard value without deformation.
Newest Technology: Grade 100 Chains are produced by CNC Chain weave and automatic welding machine.
Surface treatment: After polishing process, we offer different choice for the surface, we have Galvanized, Black painted , Powder coated, Oxide black, Dacromet, Electrophoresis to fit all different work environment.
Application: Ship, iron or steel industry, petroleum chemical industry, coal mine…etc…
Product Parameters
Lifting chain G100
Size
d×t
Width(mm)
Inside min.
Outside
max.
Approx
Weight
Working
load Limit
Test Load
Breaking
Load min.
mm
b2
b
kg/m
T
kN
kN
6×18
7.5
21
0.79
1.4
34
54.9
8×24
10
28
1.38
2.6
63
101.9
10×30
12.5
35
2.2
4
98
156.8
13×39
16.3
46
3.8
6.8
167
266.5
16×48
20
56
5.63
10.3
252
403.7
Varieties
QUALITY CONTROL PROCESS
FAQ
Q1: Are you a factory or a trading company?
A1:We are a combination of both, we focused on manufacturing material handling product such as lift tables, manual & electric pallet trucks and lifting platforms over 35 years, we also exporting manual & electric chain hoist, lever hoisting, lifting clamp and steel jack. We are your ideal choice for 1 stop purchase with our compete line of industrial lifting/moving equipment
Q2: Can Giant lift provide customized products? OEM products or ODM products?
A2: Yes, Giant lift can provide customized products according to your requirement. Both OEM and ODM are acceptable.
Q3: Can we print the LOGO on products?
A3: Yes, the OEM is available with the permission of our customers.
Q4: How do you control your quality?
A4: 1. We only select high-quality steel material from famous steel group
2. Standardized production process with traceable ID Card, every part can be tracked to the original records.
3. 100% finished product testing before shipping.
4. We accept third party product inspections.
5. ISO9001 Quality management system certificated factory
6. Supervised container loading process, ensures the last step security
Q5: How long is the warranty on your products?
A5: We provide 12 months warranty for all of our product, excluding wear parts such as wheels, tire or hydraulic oil
Q6: What's the lead time for production?
A6: Usually around 10-15 days after payment received, around 30 days during new year's or national holidays.
Q7: What Payment terms do you accept?
A7: T/T or L/C, if you want any other method please contact sales
Q8: What are your advantages compared to the others?
A8:
Unique products, with customized service.
Timely production and delivery, time is money.
Market protection service, long term business strategy.
| | |
| --- | --- |
| Usage: | Drag Chain, Lifting Chain |
| Material: | Stainless steel |
| Surface Treatment: | Electroplating |
| Feature: | Heat Resistant |
| Chain Size: | 13-39 |
| Structure: | Combined Chain |
Samples:

US$ 8/Meter

1 Meter(Min.Order)

|
Request Sample
Customization:

Available

|

Customized Request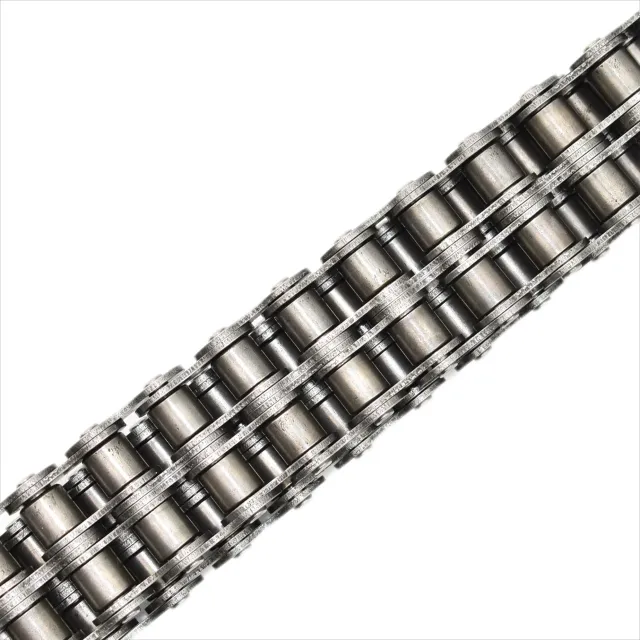 What are the safety measures for working with heavy-duty industrial chains?
Working with heavy-duty industrial chains requires adherence to proper safety measures to ensure the well-being of personnel and the prevention of accidents. Here are some key safety measures to consider:
Personal protective equipment (PPE): Operators and personnel working with industrial chains should wear appropriate PPE, including safety goggles, gloves, steel-toed boots, and protective clothing, to protect against potential hazards.
Training and education: Ensure that all individuals involved in working with industrial chains receive proper training and education on safe operating procedures, equipment handling, and maintenance practices. This includes understanding the specific risks and hazards associated with heavy-duty chains.
Machine guarding: Implement machine guarding measures to prevent accidental contact with moving chain components. This may include installing barriers, safety covers, or interlocking devices to prevent unauthorized access to the chain and related machinery.
Proper installation: Follow manufacturer guidelines and recommendations for the proper installation of heavy-duty industrial chains. Improper installation can lead to chain failure or accidents during operation. Ensure that chains are correctly tensioned, aligned, and securely fastened.
Maintenance and inspection: Regularly inspect and maintain the industrial chains to identify any signs of wear, damage, or fatigue. Replace worn or damaged components promptly to prevent chain failure. Follow a maintenance schedule that includes lubrication, tension adjustment, and inspection of chain links, sprockets, and other relevant parts.
Lockout/tagout procedures: Establish lockout/tagout procedures to ensure that industrial chains are de-energized and secured before performing maintenance, repair, or adjustment tasks. This helps prevent accidental startup or movement of the chain during work.
Risk assessment: Conduct a comprehensive risk assessment of the work environment to identify potential hazards associated with heavy-duty industrial chains. Implement appropriate control measures to mitigate the identified risks.
Emergency preparedness: Have emergency protocols in place, including clear evacuation routes, accessible emergency stop buttons, and proper communication channels to respond quickly to any incidents or accidents involving industrial chains.
It is essential to follow local safety regulations, industry standards, and manufacturer recommendations specific to the heavy-duty industrial chains being used. Regular safety training, awareness, and ongoing monitoring of the work environment contribute to a safe and productive operation involving industrial chains.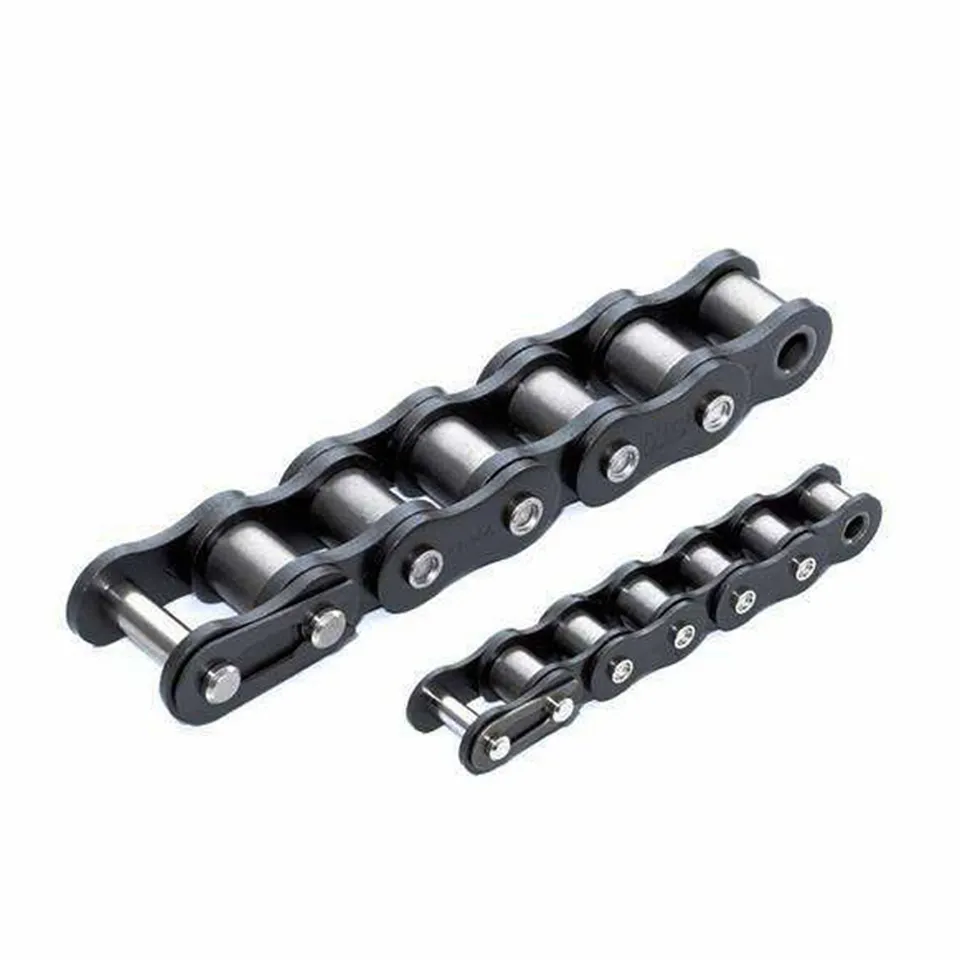 What is the load capacity of an industrial chain?
An industrial chain's load capacity refers to the maximum amount of weight or force it can safely withstand without experiencing failure or damage. The load capacity of an industrial chain depends on several factors, including its design, construction, material, and size.
Industrial chains are engineered and manufactured to handle a wide range of load capacities, from light-duty applications to heavy-duty industrial operations. The load capacity of a specific industrial chain is typically provided by the manufacturer and can be found in product specifications or technical documentation.
The load capacity of an industrial chain is influenced by various factors, such as:
Chain Type and Size: Different chain types, such as roller chains, silent chains, or engineering steel chains, have varying load capacities. Additionally, the size or pitch of the chain also affects its load capacity, with larger chains generally having higher load capacities.
Chain Material and Construction: The material used to construct the chain, such as stainless steel, carbon steel, or alloy steel, affects its strength and load-bearing capacity. The chain's construction, including the number and arrangement of links, also plays a role in determining its load capacity.
Operating Conditions: The environment in which the industrial chain operates, such as temperature, humidity, and exposure to chemicals or corrosive substances, can impact its load capacity. Extreme conditions may require special chains with higher load ratings.
Application Requirements: The specific application and the forces involved, such as tension, shock loads, or dynamic forces, need to be considered when determining the appropriate load capacity of an industrial chain.
To ensure the safe and efficient operation of an industrial chain, it is crucial to select a chain with an appropriate load capacity for the intended application. Exceeding the recommended load capacity can lead to premature wear, chain failure, or safety hazards. Consulting the manufacturer's specifications and guidelines, as well as engineering calculations, can help determine the suitable load capacity for a given industrial chain.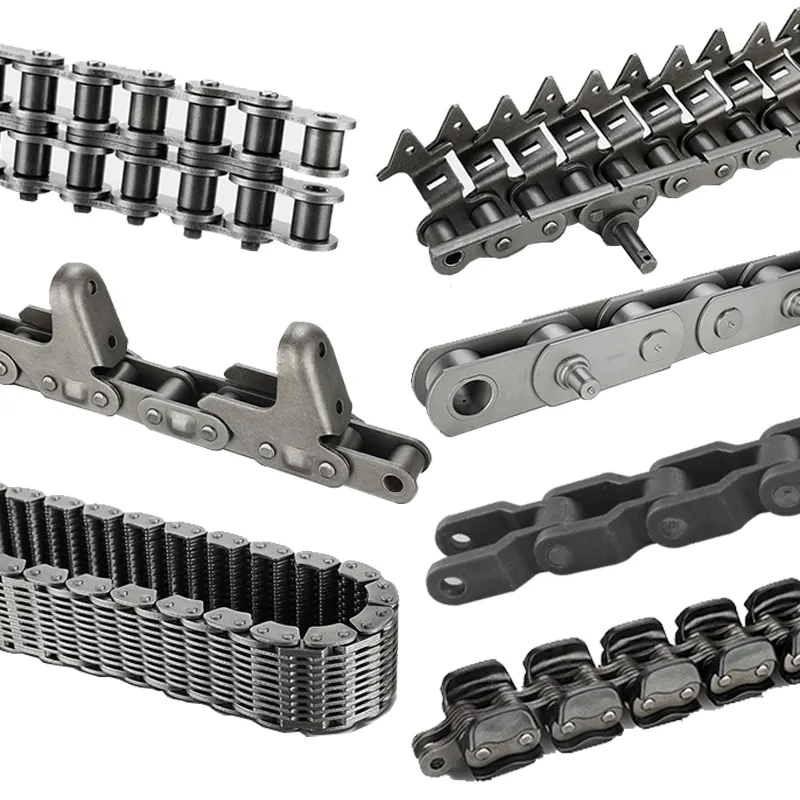 What are the different types of industrial chains?
Industrial chains are available in various types, each designed to suit specific applications and requirements. Here are some common types of industrial chains:
Roller chains: Roller chains are the most common type of industrial chains. They consist of a series of interconnected rollers that engage with the sprockets to transmit power and facilitate the movement of materials.
Conveyor chains: Conveyor chains are specifically designed for use in conveyor systems. They have attachments or slats that allow them to carry materials or products along a horizontal or inclined path.
Leaf chains: Leaf chains are made up of interlocking plates or links that provide high tensile strength and resistance to fatigue. They are commonly used in applications that require heavy lifting or load-bearing capabilities.
Wire mesh chains: Wire mesh chains are composed of interconnected wire mesh links. They are often used in applications that involve high-temperature environments, such as oven conveyors or drying processes.
Bucket elevator chains: Bucket elevator chains are designed for vertical lifting applications, typically used in industries such as agriculture, mining, and construction. They feature buckets that carry materials as they move upward.
Precision chains: Precision chains are engineered to provide precise positioning and accurate movement. They are commonly used in applications such as robotics, automation, and CNC machinery.
Specialty chains: Specialty chains are designed for specific applications and industries. Examples include agricultural chains, escalator chains, drag chains, and many more.
Each type of industrial chain has its unique design features, materials, and applications. The selection of the appropriate chain type depends on factors such as load capacity, speed, environment, and specific operational requirements.



editor by CX 2023-08-03