Product Description
Products Collection
Product Description
QLV silent chains are our top-of-the-line solution for your power transmission needs. These chains are designed to offer exceptional performance, efficiency, and noise reduction for machine running.
These chains are made from high-strength steel, with linked plates and pins that fit together tightly to minimise noise and vibration during operation. They can transfer power more effectively than other chains without sacrificing noise reduction
When you need a specific design, we can provide customised solutions based on what you need. Whether you require specific features, plans, materials, or specifications, our team can work to ensure you get a chain that fully meets your needs.
Are you looking for other chains? 
Leave your message below, and feel free to contact us!
FAQ
Question 1: Are you a Manufacturer or a Trading Company?
Answer:
We are a 100% chain manufacturer with 23 years of experience
Question 2: What should I provide to get a quotation?
Answer:
1. Type of the chain (with photos if available)
2. Pitch of the chain
3. Width of the chain
4. Length and quantity of the chain
5. Other specific requirements
Question 3:
How long is your manufacturing and delivery time?
Answer: 
Products are usually finished in 2 weeks, depending on the type and quantity. Also, please get in touch with us to check the delivery time to your destination.
Question 4: How long is your guaranteed time?
Answer: 
We offer a three-year guarantee if you purchase chains and matched sprockets together.
If you need chains only, a one-year guarantee can also be confirmed.
Question 5: Trade terms and Payment terms?
Answer:
We accept EXW, FOB, DDU, Door to Door. Payment terms, such as T/T, L/C, and Western Union, are acceptable. We also provide the service of Online Trading in this B2B platform.
Company Profile
Shipping Cost:

Estimated freight per unit.





To be negotiated
| | |
| --- | --- |
| Standard or Nonstandard: | Standard |
| Application: | Textile Machinery, Garment Machinery, Conveyer Equipment, Packaging Machinery, Food Machinery, Marine, Mining Equipment, Agricultural Machinery |
| Material: | Carbon Steel |
Samples:

US$ 100/Meter

1 Meter(Min.Order)

|

Order Sample
Customization:

Available

|

Customized Request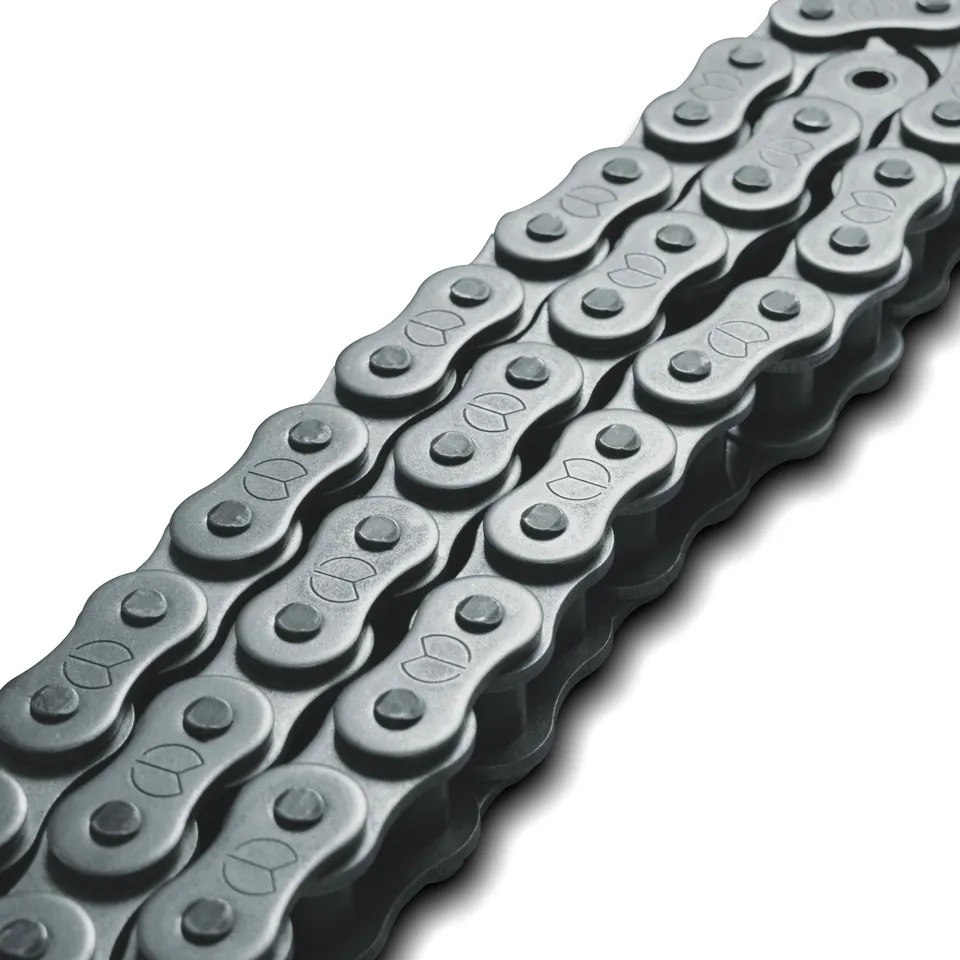 Can an industrial chain be used in food processing applications?
Yes, industrial chains can be used in food processing applications, but it's important to select the right type of chain that meets the specific requirements of the application. Here are some considerations:
Food-grade materials: When choosing an industrial chain for food processing, it is crucial to ensure that the chain is made of food-grade materials that comply with the necessary food safety standards. Stainless steel or plastic chains are commonly used in food processing due to their corrosion resistance and ease of cleaning.
Hygienic design: Industrial chains for food processing applications should have a hygienic design that minimizes the accumulation of debris, allows for easy cleaning, and prevents the growth of bacteria. Smooth surfaces, open construction, and self-draining features are desirable.
Chemical resistance: Food processing environments may involve exposure to various cleaning chemicals and sanitizers. The industrial chain should be resistant to these chemicals to maintain its integrity and avoid contamination.
Temperature resistance: Depending on the food processing application, the chain may be exposed to high or low temperatures. It's important to select a chain that can withstand the temperature range required for the specific process.
Load capacity: Consider the load requirements of the application. Food processing operations may involve heavy loads, so the chain should have the appropriate load capacity to ensure safe and reliable operation.
Compliance with regulations: Food processing facilities must adhere to strict regulations and standards related to food safety and hygiene. Ensure that the selected industrial chain complies with these regulations to maintain a safe and sanitary environment.
By selecting an industrial chain specifically designed for food processing applications and following proper maintenance and cleaning procedures, the chain can effectively and safely contribute to the food processing operations.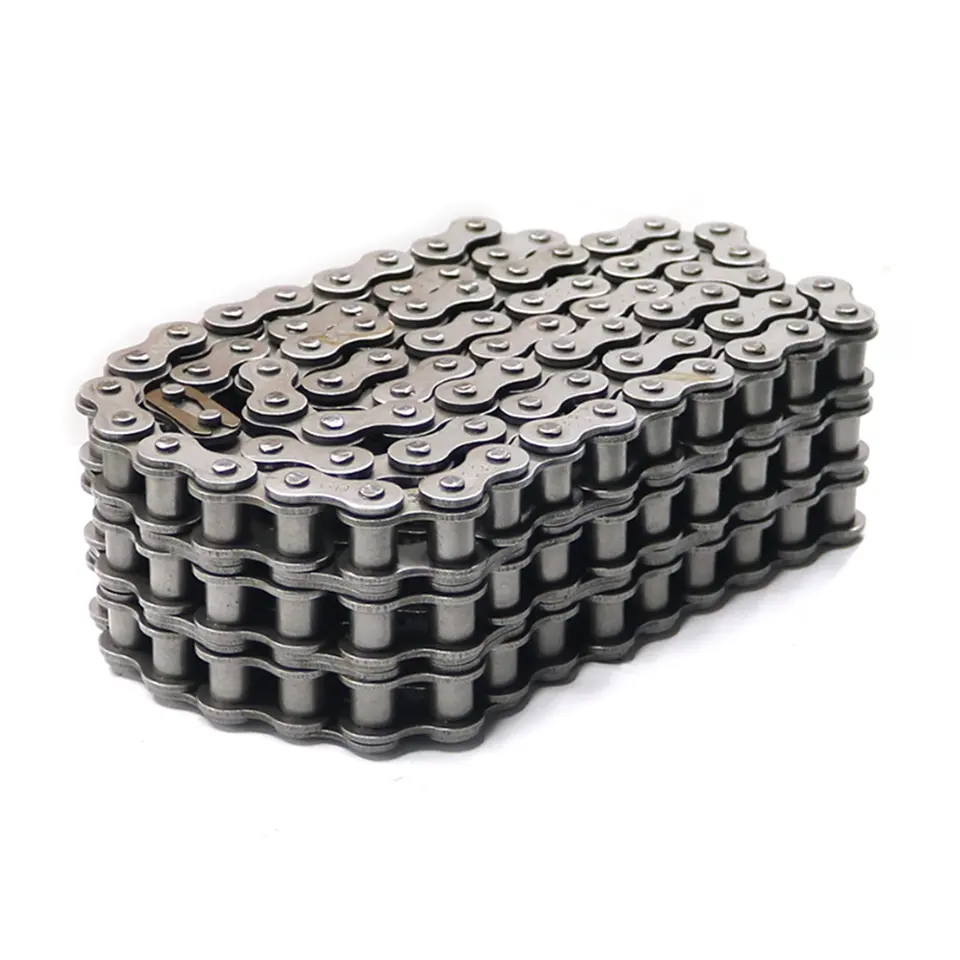 What safety precautions should be followed when working with industrial chains?
Working with industrial chains involves potential hazards, and it is important to follow proper safety precautions to prevent accidents and injuries. Here are some safety guidelines to consider:
Training and Familiarization: Ensure that workers are properly trained in handling industrial chains, including understanding the risks involved and knowing how to operate, maintain, and inspect them correctly.
Personal Protective Equipment (PPE): Wear appropriate PPE, such as safety glasses, gloves, and steel-toed shoes, to protect against potential hazards, including flying debris, pinch points, and sharp edges.
Equipment Inspection: Regularly inspect the industrial chain, sprockets, and other related equipment for any signs of damage, wear, or misalignment. If any issues are found, repair or replace the components before using the chain.
Proper Installation: Follow the manufacturer's instructions and guidelines for proper installation of the industrial chain, including correct tensioning, alignment, and lubrication. Ensure that the chain is securely attached and that all connections and fasteners are properly tightened.
Safe Operating Procedures: Adhere to safe operating procedures when using machinery or equipment with industrial chains. Avoid operating the machinery at excessive speeds or overloading the chain beyond its recommended capacity.
Lockout/Tagout: When performing maintenance or repairs on machinery with industrial chains, follow lockout/tagout procedures to ensure the equipment is de-energized and cannot be accidentally started.
Avoid Loose Clothing and Jewelry: Do not wear loose clothing, jewelry, or any other items that can get caught in the chain or machinery, posing a risk of entanglement.
Emergency Stop Devices: Ensure that emergency stop devices are easily accessible and functional to quickly halt the machinery in case of an emergency or entanglement.
Regular Maintenance: Implement a regular maintenance program to inspect and maintain industrial chains, including lubrication, tensioning, and replacing worn or damaged components.
It is crucial to consult and follow all relevant safety regulations and guidelines specific to your industry and location. Additionally, fostering a safety-conscious work environment, providing proper training and supervision, and promoting a culture of safety awareness among workers can contribute to the prevention of accidents and injuries when working with industrial chains.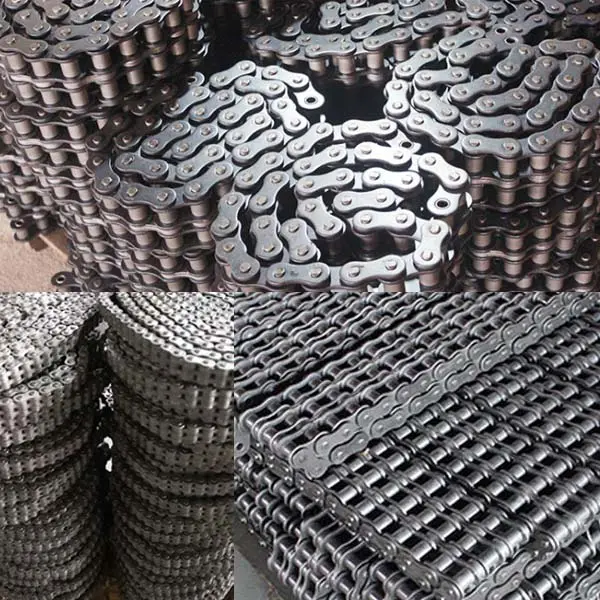 How do you select the right industrial chain for a specific application?
Selecting the right industrial chain for a specific application involves considering several factors to ensure optimal performance and longevity. Here are the steps to guide you in the selection process:
Identify the application requirements: Understand the specific needs of your application, such as load capacity, speed, operating environment, and desired functionality.
Determine the chain type: Based on the application requirements, choose the appropriate chain type, such as roller chains, conveyor chains, leaf chains, or specialty chains.
Consider chain material: Evaluate the compatibility of the chain material with the operating environment, including factors like corrosion resistance, temperature resistance, and chemical resistance.
Evaluate chain strength: Determine the required chain strength based on the anticipated loads and forces encountered in the application. Consider factors such as shock loads, tension, and fatigue resistance.
Calculate chain length: Calculate the required chain length by considering the distance between sprockets, the desired tension, and any adjustments required for installation and maintenance.
Check for specific features: Determine if any specific features are necessary for the application, such as self-lubricating capabilities, noise reduction, or specialized attachments.
Consult manufacturer guidelines: Refer to the manufacturer's guidelines and specifications for the selected chain type to ensure it meets the required standards and specifications.
Consider maintenance and serviceability: Evaluate the chain's maintenance requirements and ease of servicing to ensure it can be properly maintained throughout its lifespan.
Verify compatibility: Confirm the compatibility of the selected industrial chain with the accompanying sprockets, gears, or other components to ensure proper engagement and operation.
Consider cost-effectiveness: Assess the overall cost-effectiveness of the chain, considering factors such as initial cost, maintenance expenses, and expected lifespan.
By following these steps and considering the specific requirements of your application, you can select the right industrial chain that meets your operational needs and ensures reliable and efficient performance.



editor by CX 2023-07-27