Product Description
Product Description
Vision Group is 1 of the largest manufacturers of Driving Chain, Conveyor Chain, Motorcycle Chain, Hoisting Chain, Agriculture Chain, Stainless Steel Chain, Dropped Forged Rivetless Chain, Long Pitch Conveyor Chain and so on.
GB/T, DIN, ANSI, ISO, BS, JIS.
ISO9001: 2000 and ISO1400: 2004.
 
Product Attribute
Product name
Transmission Standard Roller Chain

Surface Treatment

Shot Peening ,Tempering Oiling  ,Nickel-plated
Grease, zince plated, Heat Treatment ,Stain proofing
Carburizing ,Pre-stretched and anti-fatigue ,Quenching    
Product application
Industry machine,Agriculture, mining, metallurgy,
petrochemical industry, lifting
and transportation and other industries
Product Series

Series A, Series B, Heavy Duty
Zinc-plated, Nickel-plated
 SP series ,SH series
Double pitch series

material

Stainless steel and carbon steel

structure

Simplex/Duplex/Triplex

Port

Any sea port or airport in China

Brand
TV OEM
Payment

L/C, T/T, D/P, Western Union

Package

Chain, Plastic Bag, Color Box, Wooden Case. or OEM

A Series
03C,04C-1,06C-1,085-1,08A-1,10A-1,12A-1,16A-1,20A-1,24A-1,28A-1,32A-1,36A-1,40A-1,48A-1.

15,25,35,41,40,50,60,80,100,120,140,160,180,200,240
 

04C-2,06C-2,085-2,08A-2,10A-2,12A-2,16A-2,20A-2,24A-2,28A-2,32A-2,36A-2,40A-2,48A-2.

25-2,35-2,41-2,40-2,50-2,60-2,80-2,100-2,120-2,140-2,160-2,180-2,200-2,240-2.
 

04C-3,06C-3,085-3,08A-3,10A-3,12A-3,16A-3,20A-3,24A-3,28A-3,32A-3,36A-3,40A-3,48A-3.

25-3,35-3,41-3,40-3,50-3,60-3,80-3,100-3,120-3,140-3,160-3,180-3,200-3,240-3.
 

B Series
05B-1,06B-1,08B-1,10B-1,12B-1,16B-1,20B-1,24B-1,28B-1,32B-1,40B-1,48B-1,56B-1,64B-1,72B-1.
 
05B-2,06B-2,08B-2,10B-2,12B-2,16B-2,20B-2,24B-2,28B-2,32B-2,40B-2,48B-2,56B-2,64B-2,72B-2.
 
05B-3,06B-3,08B-3,10B-3,12B-3,16B-3,20B-3,24B-3,28B-3,32B-3,40B-3,48B-3,56B-3,64B-3,72B-3.
 
Heavy Duty 
08AH-1,10AH-1,12AH-1,16AH-1,20AH-1,24AH-1,28AH-1,32AH-1,36AH-1,40AH-1,48AH-1

35H,40H,50H,60H,80H,100H,120H,140H,160H,180H,200H,240H
 

12AH-2,16AH-2,20AH-2,24AH-2,28AH-2,32AH-2,40AH-2,

35H-2,40H-2,50H-2,60H-2,80H-2,100H-2,120H-2,140H-2,160H-2,180H-2,200H-2,240H-2.
 

12AH-3,16AH-3,20AH-3,24AH-3,28AH-3,32AH-3,40AH-3

35H-3,40H-3,50H-3,60H-3,80H-3,100H-3,120H-3,140H-3,160H-3,180H-3,200H-3,240H-3.
 

Double pitch Series
 
208A,208B,210A,210B,212A,212B,216A,216AH,216B,220A,220B,224A,224B,228B,232B

2040,2050,2060,2080,2080H,2100,2120
 

We also carry out OEM according to your requirements
Product Parameters
Our Advantages
Company advantages:
Own Import & Export License, The TV trade mark registered successfully in many countries, Sales network spread all over China, Products export to 65 countries in 5 continents.
Membership:
1. The member of China General Machine Components Industry Association.
2. The member of China Chain Transmission Association.
3. The member of China Chain Standardization Association.
4. The member of China Agricultural Association Machinery Manufacturers.
With our excellent trained staffs and workers, advanced and efficient equipments, completely sales network, strict QA systems. You are confidence that our premium qualified chain can meet all customers' specification and strictest quality standards.
WHY CHOOSE US
Comprehensive Product Portfolio We produce and supply a wide range of power transmission
products including drive chains, leaf chains, conveyor chains, agricultural chains, sprockets, and
couplings. This one-store-for-all shopping experience will significantly reduce your searching costs while
guarantee youfind what you want at 1 click.
Value Choice Products Our products are the best combination of quality and price, and you get what
you want within your budgets
Seasoned Sales Associates and Engineers We have 15 seasoned sales associates and 5 engineers;
on our team at your disposal any time when you need a helping hand. They are well trained with industry
know-now and will always respond to your requests within 24 hours.
100% Customer Retention Rate Our regular customers from overseas come back not just for our
premium quality products, but for the superior services that we've provided over the years.
FAQ
Q1: What's your average lead time?
A: It varies. Our regular end-to-end lead time is 1-2 months.. We also provide express shipments for rush orders. For details,please consult our sales associate.
Q2: Is your price better than your competitors given the same quality?
A: Definitely YES. We provide the most competitive price in the power transmission industry. If price disparity exists, we'll be more than happy to do a price match.
Q3: Can you make chains according to my CAD drawings?
A: Yes. Besides the regular standard chains, we produce non-standard and custom-design products to meet the specific technical requirements. In reality, a sizable portion of our production capacity is assigned to make non-standard products.
Q4: Can we inspect the goods before shipment?
A: Yes. You or your representative or any third-party inspection party assigned is allowed access to our facility and do the inspection.
Q5: What kind of payment method is acceptable for your mill?
A: We're flexible. We take T/T, L/C, or any other online payment methods so long as it's applicable for you.
Q6: What if I have any other questions?
A: Whenever in doubt, you're always encouraged to consult our sales associate any time – They will help you to your satisfaction.
Shipping Cost:

Estimated freight per unit.





To be negotiated
| | |
| --- | --- |
| Usage: | Transmission Chain |
| Material: | Alloy/Carbon Steel |
| Surface Treatment: | Polishing |
Customization:

Available

|

Customized Request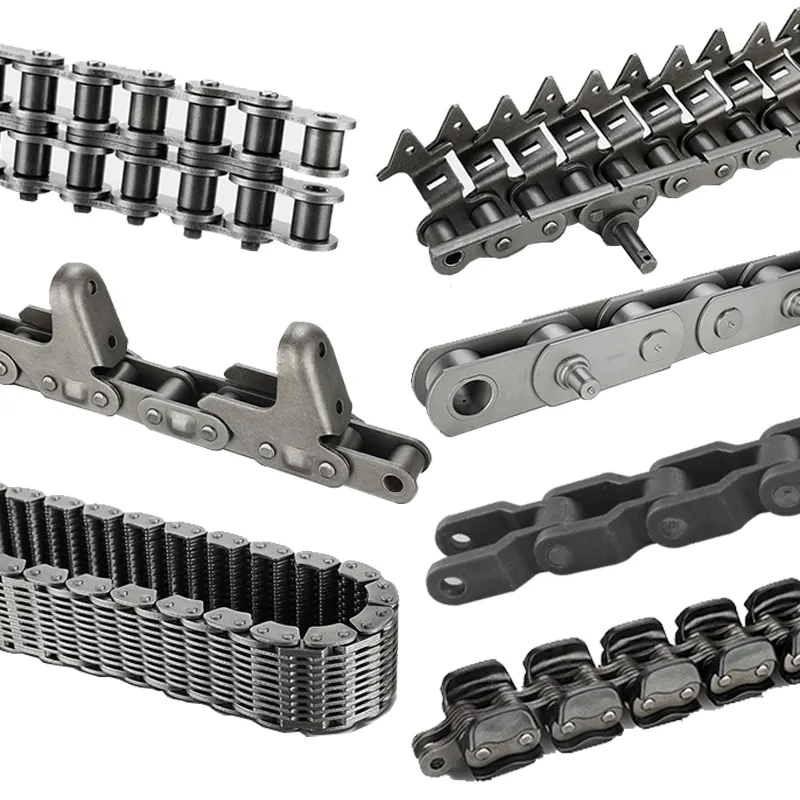 How does an industrial chain contribute to overall production efficiency?
An industrial chain plays a crucial role in enhancing overall production efficiency in various industries. Here are several ways in which an industrial chain contributes to production efficiency:
Power transmission: Industrial chains efficiently transmit power from the drive source to different components of the machinery or equipment, enabling smooth and consistent operation. This ensures that the production process runs without interruptions or power loss, maximizing overall efficiency.
Conveying and material handling: Industrial chains are commonly used in conveyor systems to transport materials, products, or components along the production line. They facilitate the movement of goods from one process to another, reducing manual handling and streamlining material flow. This improves production efficiency by minimizing bottlenecks, reducing cycle times, and optimizing resource utilization.
Positioning and indexing: In automated assembly or packaging systems, industrial chains are used to precisely position and index workpieces or products. This enables accurate and efficient assembly, reducing errors and rework. The precise positioning capabilities of industrial chains contribute to improved production efficiency and product quality.
Mechanical synchronization: Industrial chains are employed in machinery with multiple moving parts that require synchronization, such as in printing presses or packaging equipment. By linking and coordinating the movement of various components, industrial chains ensure precise timing and alignment, resulting in smooth operation and increased production efficiency.
High load capacity: Industrial chains are designed to withstand heavy loads and transmit high levels of torque. This allows them to handle demanding applications and heavy-duty processes effectively. By providing reliable and robust power transmission, industrial chains contribute to improved production efficiency in industries that require the handling of substantial loads.
Durability and reliability: Industrial chains are engineered to be durable and resistant to wear and fatigue, even in harsh operating conditions. Their long service life and minimal maintenance requirements contribute to increased production uptime and reduced downtime, enhancing overall production efficiency.
By facilitating power transmission, material handling, precise positioning, synchronization, and offering high load capacity, durability, and reliability, industrial chains play a vital role in optimizing production efficiency across various industries.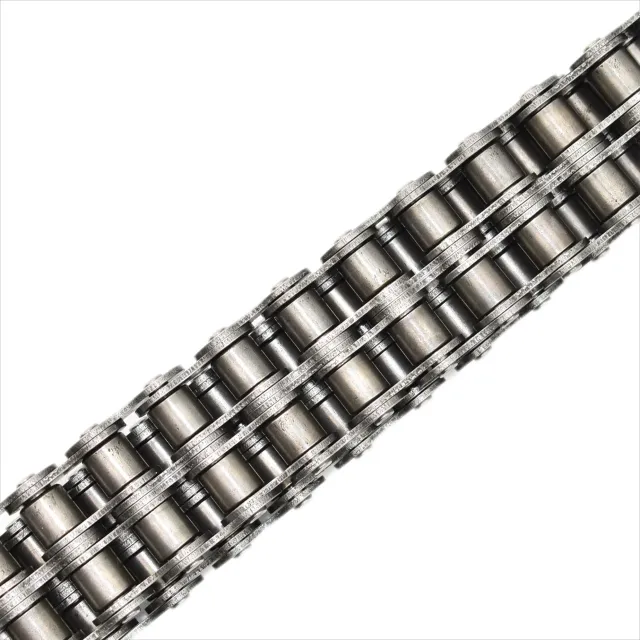 How do you optimize the efficiency of an industrial chain system?
Optimizing the efficiency of an industrial chain system involves various factors and considerations. Here are some key steps to achieve maximum efficiency:
1. Proper Design: Ensure that the industrial chain system is designed correctly for the specific application. Consider factors such as load capacity, speed, environment, and required service life when selecting the chain and related components.
2. Adequate Lubrication: Proper lubrication is essential for reducing friction, wear, and energy loss in the chain system. Follow the manufacturer's recommendations for lubrication intervals and use the appropriate lubricant type and quantity.
3. Correct Tensioning: Maintaining the right tension in the chain is crucial for optimal performance. Over-tensioning or under-tensioning can lead to increased wear, power loss, and premature failure. Regularly check and adjust the tension as per the manufacturer's guidelines.
4. Alignment and Sprocket Inspection: Ensure proper alignment of the chain and sprockets. Misalignment can cause excessive wear and energy loss. Regularly inspect the sprockets for signs of wear, damage, or misalignment, and replace or adjust as necessary.
5. Minimize Friction and Resistance: Reduce friction and resistance throughout the chain system by keeping the components clean and free from debris. Regularly clean and inspect the chain, sprockets, and guides to remove any accumulated dirt or contaminants.
6. Maintenance and Inspection: Implement a regular maintenance and inspection schedule for the entire chain system. This includes checking for wear, lubrication status, tension, and alignment. Address any issues promptly to prevent further damage and ensure optimal performance.
7. Training and Education: Provide proper training to operators and maintenance personnel on the correct handling, operation, and maintenance of the industrial chain system. This will help ensure that everyone understands the importance of efficiency and follows best practices.
By following these optimization strategies, the efficiency of an industrial chain system can be improved, leading to reduced energy consumption, extended service life, and cost savings in the long run.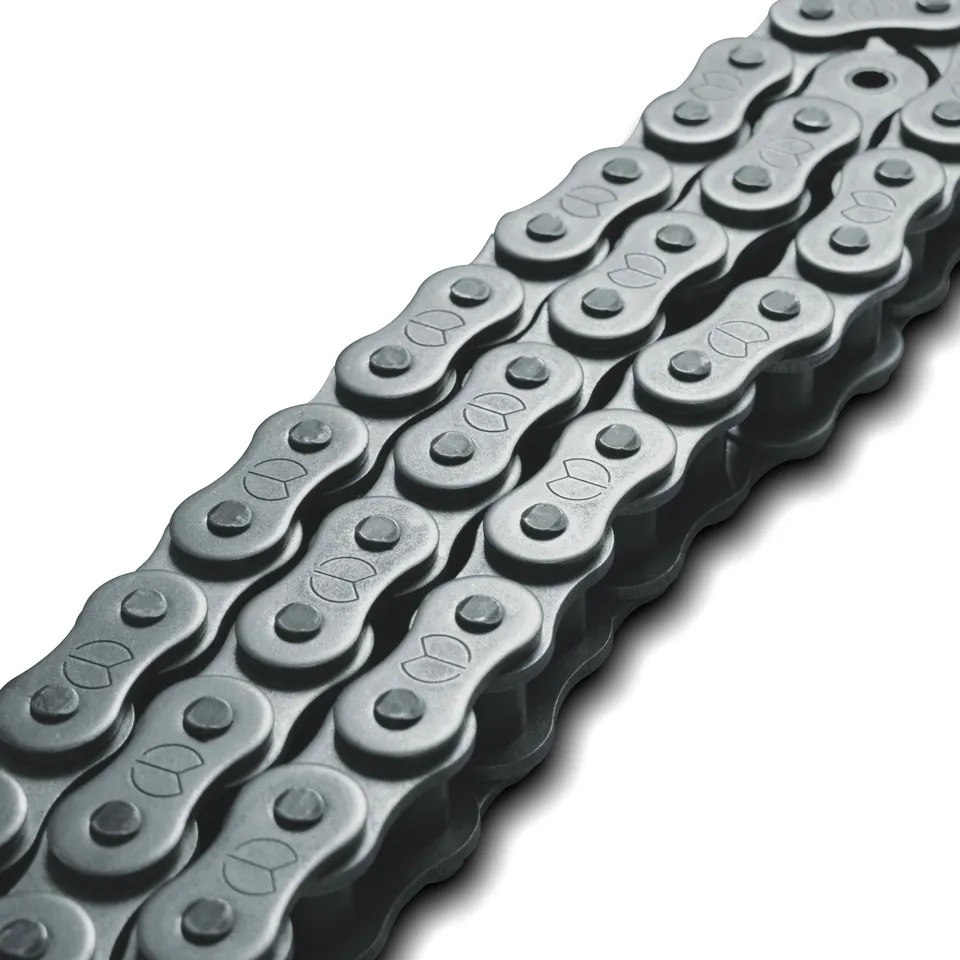 What is an industrial chain and what is its purpose?
An industrial chain, also known as an industrial conveyor chain, is a mechanical device used in various industries for the purpose of conveying or transferring materials or products from one point to another within a production or manufacturing process.
Industrial chains are typically made up of a series of interconnected links, which can be composed of metal, plastic, or other materials depending on the application requirements. These links form a continuous loop that moves materials along the chain's path.
The primary purpose of an industrial chain is to facilitate the smooth and efficient movement of materials or products within a production system. They are designed to withstand heavy loads, resist wear and corrosion, and operate reliably in demanding industrial environments.
Industrial chains find applications in various industries such as automotive, food and beverage, packaging, mining, agriculture, and many others. They are used in a wide range of processes including assembly lines, material handling systems, conveying systems, and production equipment.
By utilizing an industrial chain, manufacturers can achieve increased productivity, improved workflow, and streamlined operations. The chain's ability to transport materials or products allows for efficient material flow, reduced manual handling, and enhanced automation.
Overall, the purpose of an industrial chain is to enable the smooth and efficient movement of materials or products, contributing to the overall effectiveness and productivity of industrial processes.



editor by CX 2023-08-18