Product Description
| | | | | | | | |
| --- | --- | --- | --- | --- | --- | --- | --- |
| MODEL | P | T | t | h | H | b | d |
| S16 | 100 | 30 | 15 | 27 | 8 | 16 | 14 |
| P102-W385 | 102 | 30 | 13 | 27 | 9 | 14 | 14 |
| RUS270 | 123 | 50 | 24 | 46 | 16 | 25 | 20  20.5 |
| Z20 | 125 | 50 | 24 | 48 | 15 | 26 | 20 |
| P140 | 140 | 78 | 31 | 50 | 19 | 32 | 25 |
| Z30 | 142 | 64 | 28.5 | 50 | 18 | 30.5 | 25 |
| 150 | 150 | 38 | 18 | 40 | 10 | 20 | 18 |
| P155 | 155 | 79 | 39.5 | 63.5 | 36 | 40.5 | 30 |
| Z25 | 160 | 58 | 28 | 55 | 18 | 30 | 25 |
| YD310 | 200 | 43 | 20 | 47 | 12 | 22 | 20 |
| A-3634 | 216 | 64 | 26 | 72 | 20 | 28.5 | 35 |
| X63 | 250 | 60 | 28 | 70 | 20 | 30 | 25 |
| P260 | 260 | 72 | 32 | 75 | 20 | 34 | 32 |
         ZheJiang CHINAMFG Precision Casting and Forging Inc. was established in 2003, covering an area of 40,000 square meter with 300 employees. In 2571, the company passed the quality management system certification of GB/T 19001-2016 and ISO 9001:2015, and has a number of invention patents.It is a national high-tech enterprise.
        Our main products are bucket teeth,side teeth,bucket adapter for excavator and loader; Forged pipe coupling for concrete pump ; Drop forged chain for scraper conveyor, etc. Other casting and forging parts canalsobecustomized accordingto customer drawings. The main materials are alloy steel, high manganese steel, gray iron, ductile iron, etc.
       Our company can produce casting range in 0.1kg-2tons, forging range in 0.1kg-100kgs, casting and forging annual capacity of 10,000tons.From productdesign, mold development to heattreatment, machining and spraying, we provide the whole processof internal manufacturing to better control the cost and quality.
       ZheJiang Plus Import and Export Trading Co., Ltd. was established in 2571, is Wanxin's subsidiary, mainly responsible for marketing and export.
FAQ
Q1.Are you a manufacturer or a trading company?
we are totally manufacturer of machinery parts.
Q2.Can i get samples for checking the quality?
we can provide free samples,but you need to pay the freight.
Q3.What's your MOQ?
For normal prodcuts,we don't have MOQ.
For customerized products,we will tell you MOQ based on your drawing.
Q4.What's your delivery time?
it's about 7-45 days based on your quantity.
| | |
| --- | --- |
| Material: | Alloy |
| Structure: | Roller Chain |
| Surface Treatment: | Electroplating |
| Chain Size: | 1/2"*11/128" |
| Feature: | Fire Resistant, Oil Resistant, Heat Resistant |
| Warranty: | 12 Months Warranty |
Samples:

US$ 100/Piece

1 Piece(Min.Order)

|
Request Sample
Customization:

Available

|

Customized Request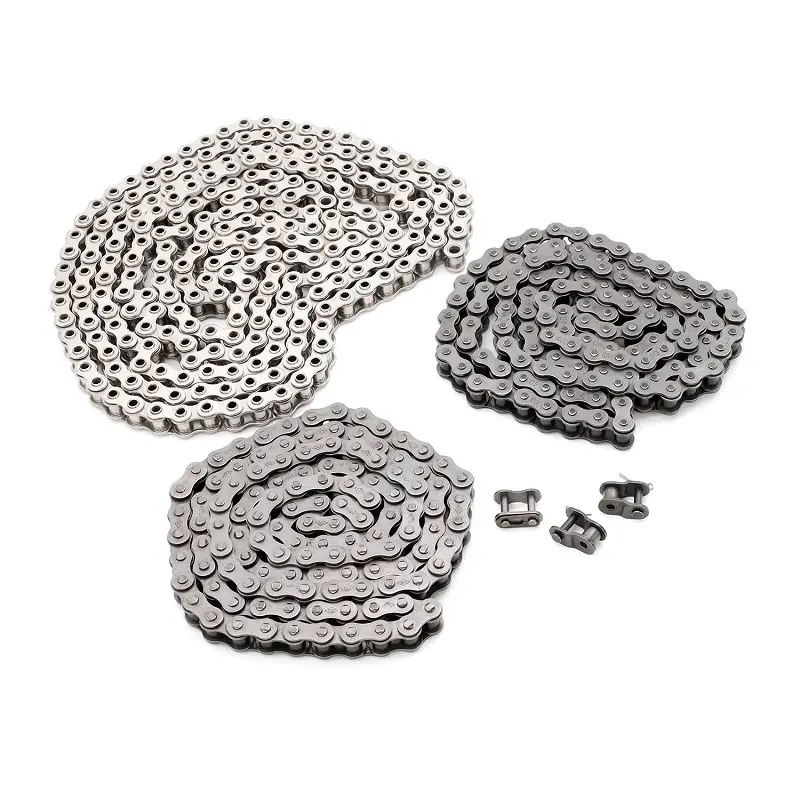 How do you ensure proper alignment of an industrial chain system?
Proper alignment of an industrial chain system is crucial for its efficient and reliable operation. Here are the steps to ensure proper alignment:
Sprocket Alignment: Align the sprockets correctly along the same plane to ensure the chain runs smoothly. Check for any misalignment, such as lateral or angular misalignment, and adjust the sprockets accordingly.
Tension Adjustment: Adjust the tension of the chain to the manufacturer's specifications. An overly loose or tight chain can cause excessive wear and premature failure. Use appropriate tensioning devices or methods to achieve the recommended tension.
Visual Inspection: Perform a visual inspection of the chain as it operates. Observe its movement along the sprockets to ensure it tracks properly. Look for any signs of the chain riding on the sprocket teeth or deviating from its intended path.
Measurement and Adjustment: Use alignment tools, such as a straightedge or laser alignment devices, to measure the alignment of the sprockets. Compare the measurements with the manufacturer's specifications and make necessary adjustments to achieve proper alignment.
Periodic Maintenance: Regularly inspect and maintain the chain system to ensure continued alignment. Check for any wear or damage that may affect the alignment and address it promptly. Keep the chain properly lubricated to reduce friction and improve its movement along the sprockets.
Professional Assistance: If you are unsure about the alignment or encounter persistent alignment issues, seek the assistance of a qualified professional or technician who has experience in industrial chain systems. They can provide expert guidance and ensure the proper alignment of the system.
By following these steps and maintaining proper alignment of the industrial chain system, you can minimize wear, reduce the risk of chain failure, and optimize the overall performance and longevity of the system.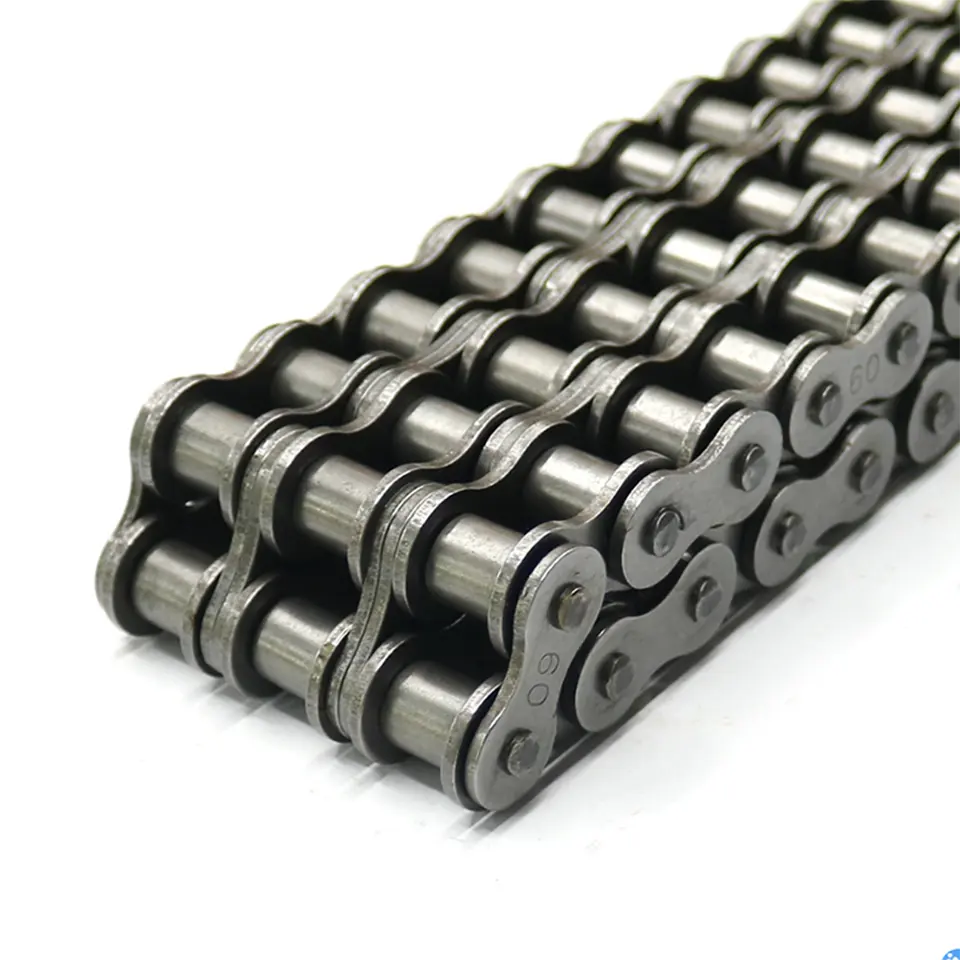 Can an industrial chain be used in high-temperature environments?
An industrial chain's suitability for high-temperature environments depends on the specific chain type, material, and operating conditions. While some industrial chains are designed to withstand elevated temperatures, others may experience performance issues or damage when exposed to excessive heat.
Industrial chains used in high-temperature applications are typically constructed using materials that exhibit excellent heat resistance. Common materials include heat-resistant alloys, stainless steel, or specialized coatings that can withstand the elevated temperatures without compromising the chain's strength or integrity.
When considering the use of an industrial chain in high-temperature environments, several factors should be taken into account:
Temperature Range: Determine the maximum temperature the industrial chain will be exposed to. Different chain materials have different temperature limits, and it's crucial to select a chain that can withstand the specific temperature range.
Chain Type: Certain chain types, such as roller chains or silent chains, may be better suited for high-temperature applications than others. Consult the manufacturer's guidelines and specifications to ensure the chosen chain type is suitable for the intended temperature range.
Lubrication: Proper lubrication is essential in high-temperature environments to minimize friction, reduce wear, and ensure smooth chain operation. Special high-temperature lubricants or dry lubrication methods may be required to maintain chain performance under elevated temperatures.
Heat Dissipation: Consider the ability of the industrial chain and the surrounding equipment to dissipate heat effectively. In some cases, additional cooling mechanisms or heat shielding may be necessary to protect the chain and prevent overheating.
Application Requirements: Assess the specific demands of the application, such as load, speed, and cyclic operation, and ensure that the chosen industrial chain can handle these conditions at high temperatures.
It's important to consult the manufacturer's recommendations and technical documentation to verify the suitability of an industrial chain for high-temperature environments. Working with experienced engineers or industry experts can also provide valuable insights and guidance in selecting the appropriate chain for such applications.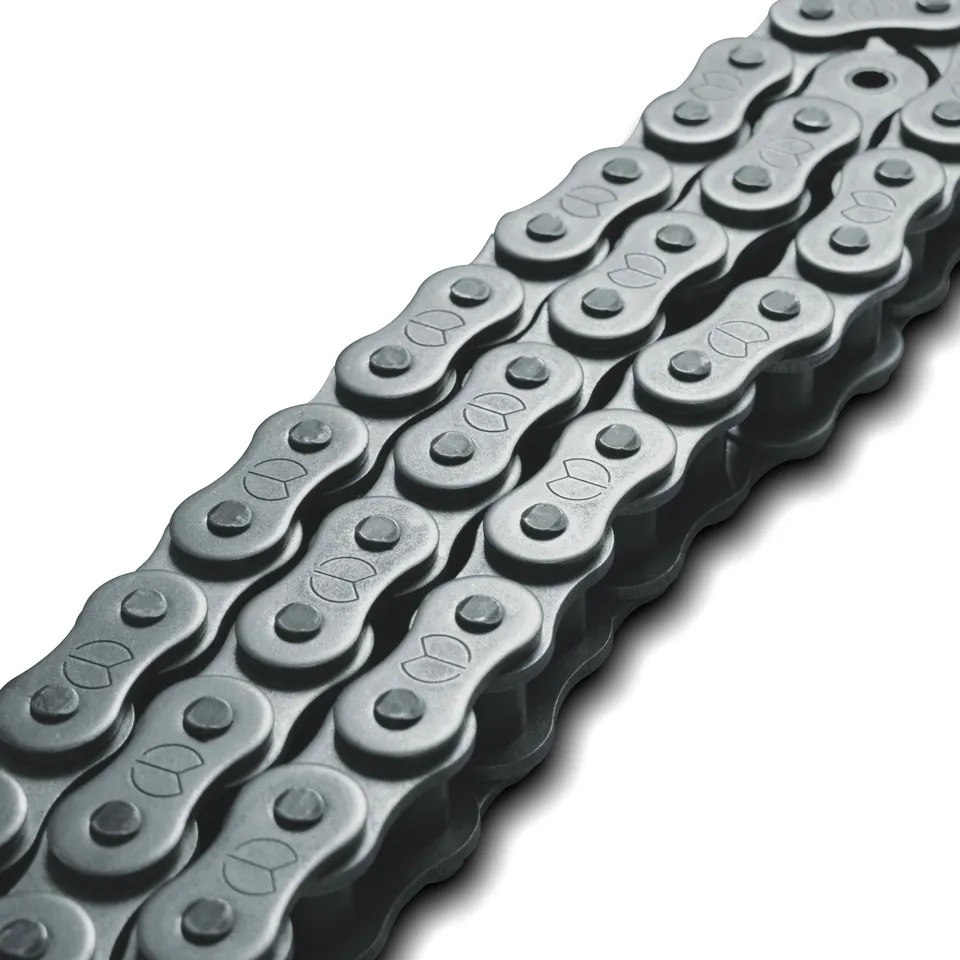 What is an industrial chain and what is its purpose?
An industrial chain, also known as an industrial conveyor chain, is a mechanical device used in various industries for the purpose of conveying or transferring materials or products from one point to another within a production or manufacturing process.
Industrial chains are typically made up of a series of interconnected links, which can be composed of metal, plastic, or other materials depending on the application requirements. These links form a continuous loop that moves materials along the chain's path.
The primary purpose of an industrial chain is to facilitate the smooth and efficient movement of materials or products within a production system. They are designed to withstand heavy loads, resist wear and corrosion, and operate reliably in demanding industrial environments.
Industrial chains find applications in various industries such as automotive, food and beverage, packaging, mining, agriculture, and many others. They are used in a wide range of processes including assembly lines, material handling systems, conveying systems, and production equipment.
By utilizing an industrial chain, manufacturers can achieve increased productivity, improved workflow, and streamlined operations. The chain's ability to transport materials or products allows for efficient material flow, reduced manual handling, and enhanced automation.
Overall, the purpose of an industrial chain is to enable the smooth and efficient movement of materials or products, contributing to the overall effectiveness and productivity of industrial processes.



editor by CX 2023-10-08