Product Description
Motorcycle Chain
Brand introduction:
The brand trademark certified by our company is WASSOLON.Passed the OEM certification.We have a big produce line for producing motorcycle chain,we can produce 100000 chains per month.
Please look at the transported by our company
Product Description:
1. Material: Stainless Steel
2. Chain No:428H
3. Application: Stainless Steel Chains are used in so many industries, such as machine manufacturing, food machine, etc. Also are suitable for motorcycle tyre.
4. Characteristic:
1. The chain can be used on the both sides of multi-axle transmission.
2. Easy installation and replacement.
3. It can obtain larger reduction ratio.
4. The roller chain has good elasticity, high strength and each hinge part has lubricating oil, so it can be stored easliy. Thus, compared with the rigid contact tooth, it has good cushioning and vibration absorbing ability.
 
FAQ
Q1:Where is the place of shipment?
A:We shipped the goods from HangZhou, China.
Q2:I want to try your products first, is that all right?
A:Yes, we provide samples for you to try. After you try the products, you feel that they are good, so it is ok to place an order. After all, good products are confident, and I believe you will like them after trying them out.
Q3:Can I get a discount if I buy more?
A:In the case of a large number of purchases, we can negotiate the price in private.
Q4:Is this tire wear resistant?
A:Sure.The tires we produce are certified by the market, so the wear resistance must be very high and the service life is long enough.
Q5:Will the products be inspected before being sent out to ensure the quality of the products?
A:Of course.We will have an inspection after the products are produced and another inspection before they are sent out to ensure the quality of our products.
Our service:we are always online for you!!!
1.We are specializing in manufacture motorcycle tyres
2.We have many years experience on it 
3.We have confidence in supply each client good quality produce with lowest price
Our pursuit:
We hope that we can start and keep the stable and long term business relationship.Grow up together in 2571.Please let us share with your ideas,I will offer you the perdect service!!!
| | |
| --- | --- |
| Type: | Motorcycle Chain |
| Certification: | OEM |
| Material: | Alloy |
| Model: | 428h 428 420 530 520 |
| Transport Package: | Carton |
| Specification: | 0.014 |
Samples:

US$ 2.6/Piece

1 Piece(Min.Order)

|
Request Sample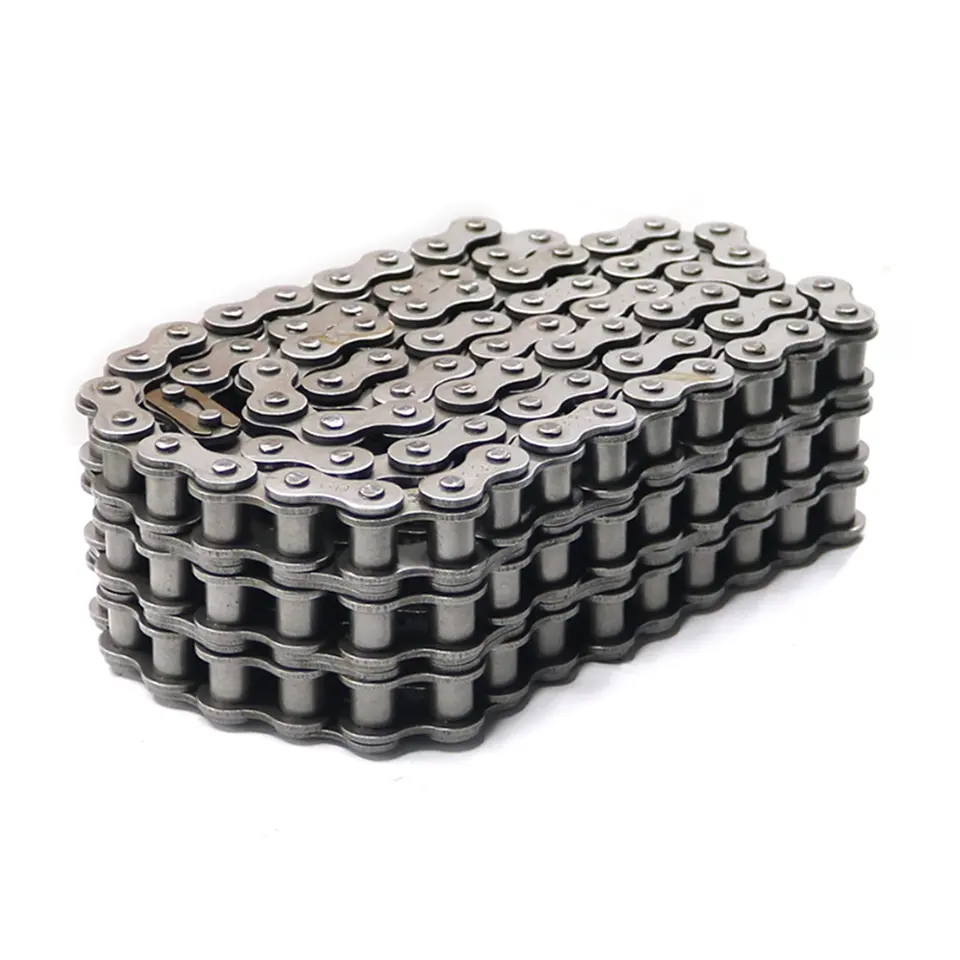 How do you troubleshoot chain skipping or slipping issues in an industrial chain?
Chain skipping or slipping issues in an industrial chain can lead to decreased efficiency and potential equipment damage. Here are some steps to troubleshoot and address these issues:
Check chain tension: Ensure that the chain is properly tensioned according to the manufacturer's recommendations. An overly loose or tight chain can cause skipping or slipping.
Inspect sprockets: Examine the sprockets for signs of wear, damage, or misalignment. Worn or damaged sprocket teeth can cause chain skipping. Correct any alignment issues and replace worn sprockets if necessary.
Inspect chain condition: Inspect the chain for signs of wear, elongation, or damage. A worn or stretched chain may not properly engage with the sprockets, leading to skipping or slipping. If the chain is significantly worn, it may need to be replaced.
Clean and lubricate the chain: Clean the chain thoroughly to remove any debris or contaminants that may be affecting its performance. Apply a suitable lubricant to ensure smooth operation and reduce friction.
Check drive system components: Examine other components of the drive system, such as bearings, shafts, and gears, for any signs of damage or misalignment. These components can also contribute to chain skipping or slipping.
Adjust alignment: Ensure that the entire chain drive system is properly aligned. Misalignment can cause uneven tension distribution and lead to chain skipping. Adjust the alignment as needed.
Inspect drive system tensioners: If the chain drive system includes tensioners, check their condition and adjustment. A malfunctioning or improperly adjusted tensioner can contribute to chain skipping.
Consult manufacturer guidelines: Refer to the manufacturer's guidelines and specifications for the specific industrial chain and equipment being used. Follow their recommended troubleshooting steps and maintenance practices.
Seek professional assistance if needed: If the issue persists or if you are unsure about the troubleshooting process, it is recommended to seek assistance from a qualified technician or the manufacturer's technical support team.
Addressing chain skipping or slipping issues promptly is important to prevent further damage and maintain the efficiency and reliability of the industrial chain system.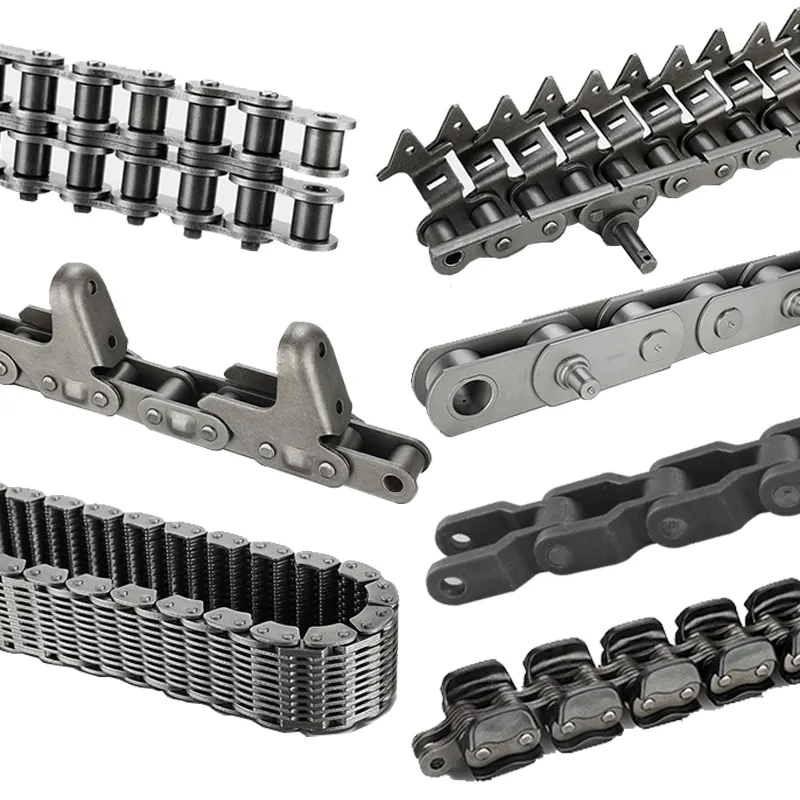 Can an industrial chain be used for vertical lifting applications?
Yes, industrial chains can be used for vertical lifting applications. However, several factors need to be considered to ensure safe and efficient lifting operations:
Chain type and strength: The industrial chain selected for vertical lifting applications must have the appropriate strength and load capacity to safely lift the intended load.
Safety factors: It is crucial to consider the safety factors and ensure that the selected chain is capable of handling the maximum expected load without exceeding its rated capacity.
Overhead clearance: Sufficient overhead clearance is necessary to accommodate the length of the chain and prevent any obstructions during the lifting process.
Proper tensioning: The chain must be properly tensioned to prevent slippage or excessive slack, which can compromise the lifting operation.
Guidance and control: Proper guidance and control mechanisms should be in place to ensure smooth and controlled vertical movement of the load.
Maintenance and inspection: Regular maintenance and inspection of the chain are essential to identify any signs of wear, damage, or fatigue that may compromise its integrity and lifting capability.
It is important to consult industry standards, regulations, and specific manufacturer guidelines to determine the suitability of an industrial chain for a vertical lifting application. Additionally, working with experienced professionals and following established safety protocols is crucial to ensure the safe and effective use of the industrial chain in lifting operations.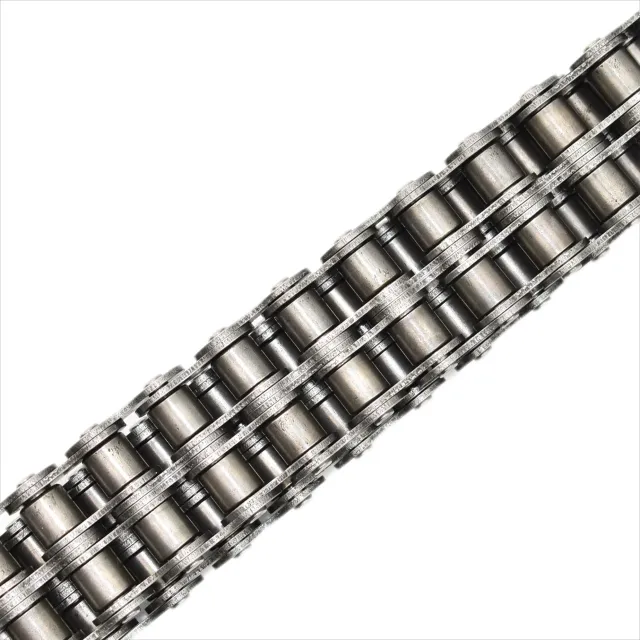 What are the main components of an industrial chain?
An industrial chain consists of several key components that work together to transmit power and facilitate the movement of loads. The main components of an industrial chain include:
Chain Links: Chain links are the individual units that make up the chain. They are typically made of metal and are connected to form a continuous loop. The shape and design of the chain links may vary depending on the type and application of the industrial chain.
Pins: Pins are cylindrical metal rods that connect the chain links. They pass through the inner bushings of the chain links, forming the pivot points for the movement of the chain.
Bushings: Bushings are cylindrical metal sleeves that are mounted inside the chain links. They provide a smooth surface for the pins to rotate, reducing friction and wear.
Rollers: Rollers are cylindrical components that sit between the chain links. They help facilitate the smooth movement of the chain by reducing friction between the chain and the surfaces it comes in contact with.
Sprockets: Sprockets are toothed wheels that engage with the chain and transfer rotational motion. They are typically mounted on shafts or axles and come in various sizes and configurations to match the chain's pitch and design.
Tensioners and Guides: Tensioners and guides are additional components that help maintain the proper tension and alignment of the industrial chain. They ensure that the chain remains in contact with the sprockets and operates smoothly.
Lubrication System: Industrial chains require proper lubrication to minimize friction, reduce wear, and extend their service life. Lubrication systems, such as oilers or grease fittings, are often integrated into the chain design to ensure adequate lubrication.
Accessories: Depending on the specific application, industrial chains may include additional accessories such as attachments, covers, guards, or special coatings to enhance their performance, protect against external elements, or meet specific industry requirements.
These components work together to form a reliable and efficient power transmission system, allowing the industrial chain to withstand heavy loads, transmit motion, and operate smoothly in various industrial applications.



editor by CX 2023-10-19