Product Description
ISO Standard Precision Short Pitch Precision Motorcycle Industrial Roller Chain (A series)
 
Product Description

1. Material: Alloy Steel
2. Surface Treatment: Shot peening
3. Application: 
  This chain will be widely used in all of the industry machine and equipment.
4. Chain No: 40-1, 50-1, 60-1, 80-1, 100-1, 120-1, etc.
 
Product name
High Precision Short Pitch Precision Roller Chain (A series)
Materials Available 
1. Stainless Steel: SS304, SS316, etc
2. Alloy Steel: 45Mn, 42CrMo, 20CrMo, etc
3. OEM according to your request
Surface Treatment
Shot peening, Blackening, Oxygenation, Polishing, Zinc-plated, Nickel-plated, Anodized, etc.
Characteristic
Fire Resistant, Oil Resistant, Heat Resistant
Design criterion
ISO DIN ANSI & Customer's Drawing
Size
Customer's Drawing & ISO standard 
Package
Wooden Case / Container and pallet, or made-to-order
Certificate
ISO9001: 2008 
Advantage
First quality, Best service, Competitive price, Fast delivery
Delivery Time
20 days for samples. 45 days for official order.
Detailed Photos
View more products,please click here…
Company Profile
| | |
| --- | --- |
| Standard or Nonstandard: | Standard |
| Application: | Packaging Machinery, Food Machinery, Marine, Mining Equipment, Agricultural Machinery |
| Surface Treatment: | Oil Blooming |
| Structure: | Roller Chain |
| Material: | Alloy |
| Type: | Short Pitch Chain |
Samples:

US$ 0/Meter

1 Meter(Min.Order)

|
Request Sample
Customization:

Available

|

Customized Request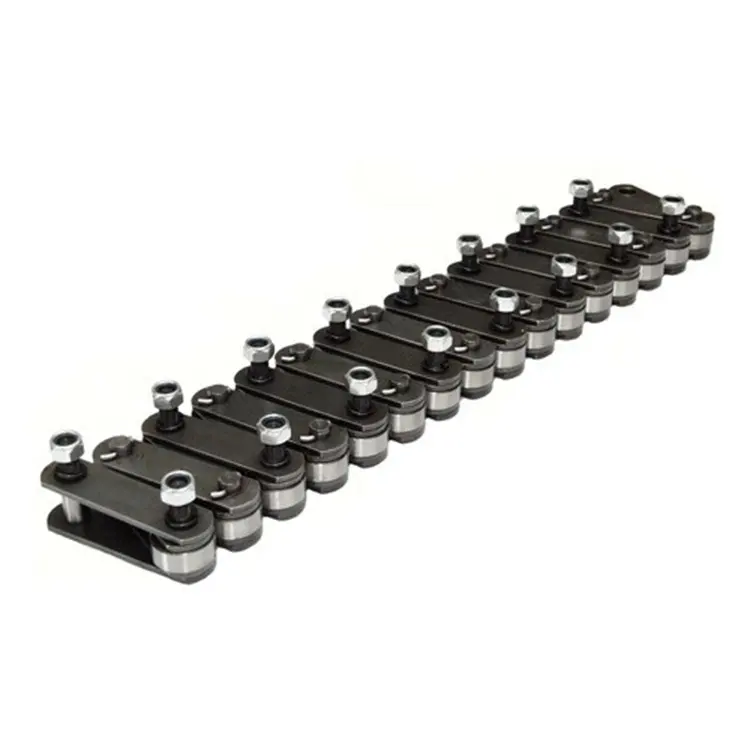 What are the design considerations for a long-span industrial chain conveyor?
Designing a long-span industrial chain conveyor requires careful consideration of several factors to ensure optimal performance and reliability. Here are some key design considerations:
Chain selection: Choose a chain that is specifically designed for long-span conveyors. Consider factors such as chain strength, wear resistance, and fatigue resistance to handle the load and stress over the extended distance.
Tensioning system: Implement an effective tensioning system to maintain proper tension in the chain throughout the conveyor's length. This helps prevent chain slack and ensures smooth operation.
Support structure: The support structure should be robust and capable of handling the weight of the conveyor and the conveyed materials over the long span. Consider factors such as the material used, structural design, and stability.
Drive system: The drive system should be appropriately sized and positioned to ensure consistent and efficient power transmission along the entire length of the conveyor. Consider factors such as motor power, gear ratio, and drive unit placement.
Guiding system: Implement an effective guiding system to keep the chain aligned and prevent deviation or misalignment. This helps ensure smooth and reliable operation, especially over long distances.
Material handling: Consider the characteristics of the conveyed material, such as size, weight, and flow rate, to determine the appropriate design features such as conveyor width, chain speed, and loading/unloading mechanisms.
Safety features: Incorporate necessary safety features such as emergency stops, guards, and interlocks to ensure operator safety and prevent accidents.
Maintenance access: Design the conveyor with easy access points for maintenance and inspection. This allows for routine maintenance tasks, such as chain lubrication and cleaning, to be performed efficiently.
Environmental conditions: Consider the environmental factors that may impact the conveyor's performance, such as temperature, humidity, and exposure to contaminants. Choose materials and components that can withstand these conditions.
Compliance with regulations: Ensure that the design of the long-span industrial chain conveyor complies with relevant safety and industry regulations.
By carefully considering these design considerations, a long-span industrial chain conveyor can be designed to meet the specific requirements of the application, providing reliable and efficient material handling over extended distances.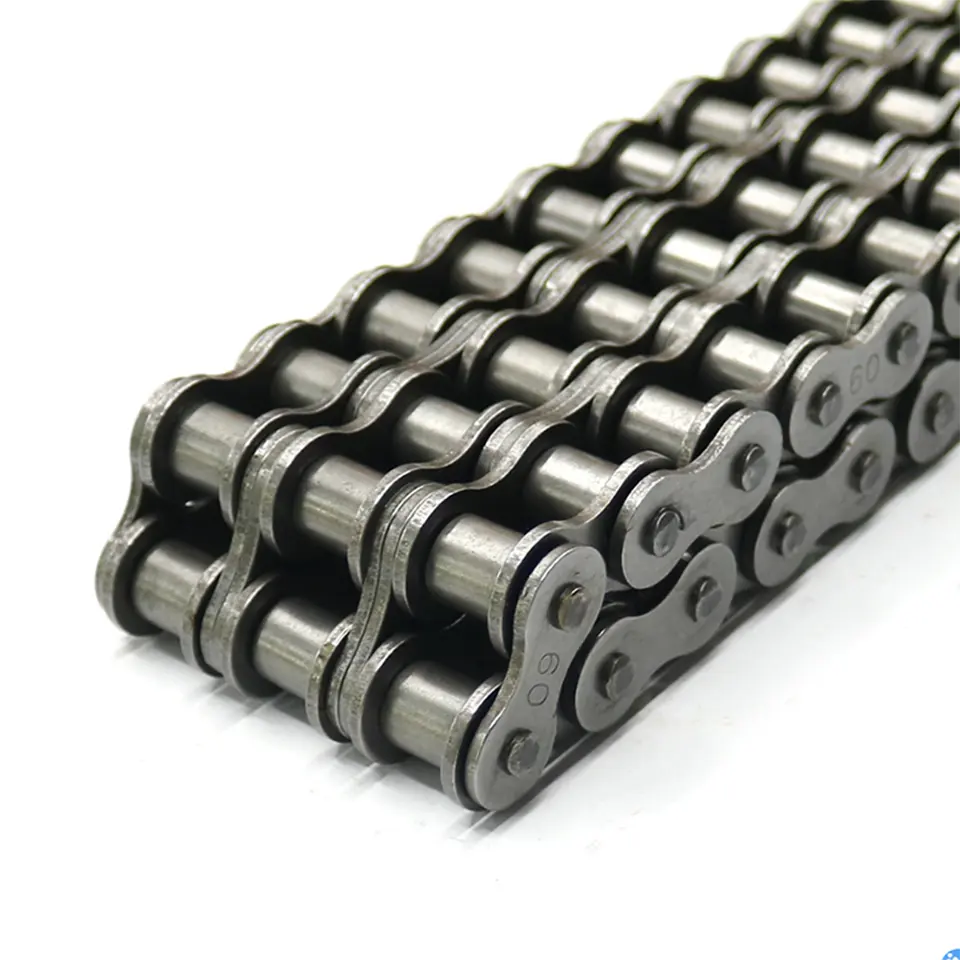 Can an industrial chain be used in high-temperature environments?
An industrial chain's suitability for high-temperature environments depends on the specific chain type, material, and operating conditions. While some industrial chains are designed to withstand elevated temperatures, others may experience performance issues or damage when exposed to excessive heat.
Industrial chains used in high-temperature applications are typically constructed using materials that exhibit excellent heat resistance. Common materials include heat-resistant alloys, stainless steel, or specialized coatings that can withstand the elevated temperatures without compromising the chain's strength or integrity.
When considering the use of an industrial chain in high-temperature environments, several factors should be taken into account:
Temperature Range: Determine the maximum temperature the industrial chain will be exposed to. Different chain materials have different temperature limits, and it's crucial to select a chain that can withstand the specific temperature range.
Chain Type: Certain chain types, such as roller chains or silent chains, may be better suited for high-temperature applications than others. Consult the manufacturer's guidelines and specifications to ensure the chosen chain type is suitable for the intended temperature range.
Lubrication: Proper lubrication is essential in high-temperature environments to minimize friction, reduce wear, and ensure smooth chain operation. Special high-temperature lubricants or dry lubrication methods may be required to maintain chain performance under elevated temperatures.
Heat Dissipation: Consider the ability of the industrial chain and the surrounding equipment to dissipate heat effectively. In some cases, additional cooling mechanisms or heat shielding may be necessary to protect the chain and prevent overheating.
Application Requirements: Assess the specific demands of the application, such as load, speed, and cyclic operation, and ensure that the chosen industrial chain can handle these conditions at high temperatures.
It's important to consult the manufacturer's recommendations and technical documentation to verify the suitability of an industrial chain for high-temperature environments. Working with experienced engineers or industry experts can also provide valuable insights and guidance in selecting the appropriate chain for such applications.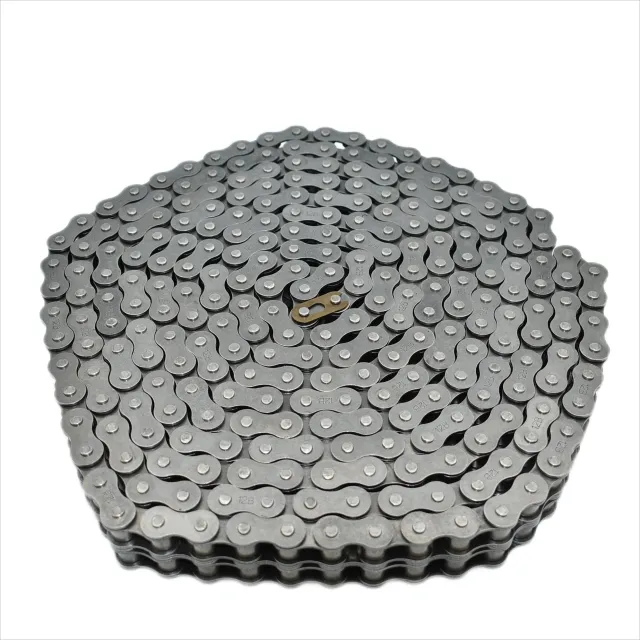 What are the advantages of using an industrial chain in industrial settings?
An industrial chain offers several advantages that make it a popular choice in industrial settings. Here are some key benefits:
High load capacity: Industrial chains are designed to handle heavy loads and provide reliable power transmission, making them suitable for applications that require robust and durable components.
Wide range of applications: Industrial chains find application in various industries, including manufacturing, automotive, mining, construction, agriculture, and more. They can be used for conveying, lifting, driving, and transferring power in different types of machinery and equipment.
Efficient power transmission: Industrial chains have high efficiency in transferring power from one component to another, minimizing energy loss and maximizing the overall performance of the machinery.
Flexible design: Industrial chains come in different sizes, configurations, and materials, allowing for flexibility in design and accommodating various application requirements. They can be customized to fit specific needs, offering versatility in industrial settings.
Durable and long-lasting: Industrial chains are built to withstand heavy-duty operations and harsh environments. They are constructed using high-quality materials and undergo heat treatment or surface hardening processes to enhance their strength, durability, and resistance to wear and fatigue.
Reliable and low-maintenance: Industrial chains are designed for continuous operation with minimal maintenance. Proper lubrication and periodic inspection are typically sufficient to ensure their reliable performance and extend their service life.
Cost-effective: Industrial chains provide a cost-effective solution for power transmission compared to other alternatives. They have a relatively low initial cost, require less maintenance, and have a long lifespan, resulting in reduced downtime and overall operational costs.
Easy installation and replacement: Industrial chains are designed for ease of installation and replacement. With standardized dimensions and readily available components, they can be quickly installed or replaced, minimizing downtime and maximizing productivity.
Overall, industrial chains offer durability, versatility, and efficiency, making them a preferred choice in industrial settings where reliable power transmission and heavy-load handling are required.



editor by CX 2023-09-22