Product Description
Products Collection
Product Description
QLV silent chains are our top-of-the-line solution for your power transmission needs. These chains are designed to offer exceptional performance, efficiency, and noise reduction for machine running.
These chains are made from high-strength steel, with linked plates and pins that fit together tightly to minimise noise and vibration during operation. They can transfer power more effectively than other chains without sacrificing noise reduction
When you need a specific design, we can provide customised solutions based on what you need. Whether you require specific features, plans, materials, or specifications, our team can work to ensure you get a chain that fully meets your needs.
Are you looking for other chains? 
Leave your message below, and feel free to contact us!
FAQ
Question 1: Are you a Manufacturer or a Trading Company?
Answer:
We are a 100% chain manufacturer with 23 years of experience
Question 2: What should I provide to get a quotation?
Answer:
1. Type of the chain (with photos if available)
2. Pitch of the chain
3. Width of the chain
4. Length and quantity of the chain
5. Other specific requirements
Question 3:
How long is your manufacturing and delivery time?
Answer: 
Products are usually finished in 2 weeks, depending on the type and quantity. Also, please get in touch with us to check the delivery time to your destination.
Question 4: How long is your guaranteed time?
Answer: 
We offer a three-year guarantee if you purchase chains and matched sprockets together.
If you need chains only, a one-year guarantee can also be confirmed.
Question 5: Trade terms and Payment terms?
Answer:
We accept EXW, FOB, DDU, Door to Door. Payment terms, such as T/T, L/C, and Western Union, are acceptable. We also provide the service of Online Trading in this B2B platform.
Company Profile
Shipping Cost:

Estimated freight per unit.





To be negotiated
| | |
| --- | --- |
| Standard or Nonstandard: | Standard |
| Application: | Textile Machinery, Garment Machinery, Conveyer Equipment, Packaging Machinery, Motorcycle, Food Machinery, Marine, Mining Equipment, Agricultural Machinery, Car |
| Material: | Carbon Steel |
Samples:

US$ 100/Meter

1 Meter(Min.Order)

|

Order Sample
Customization:

Available

|

Customized Request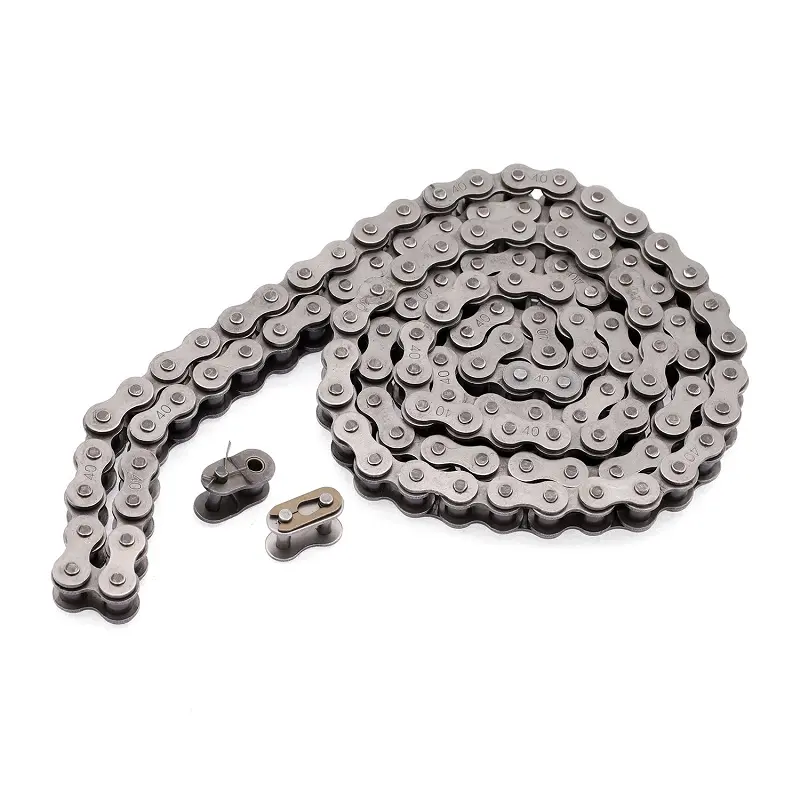 Can an industrial chain be used for heavy-duty applications?
Yes, an industrial chain is commonly used in heavy-duty applications due to its ability to handle high loads and provide reliable power transmission. Here are some detailed reasons why industrial chains are suitable for heavy-duty applications:
High Load Capacity: Industrial chains are designed to withstand heavy loads and transmit power efficiently. They are constructed with robust materials and components to ensure they can handle the demanding conditions of heavy-duty applications.
Strength and Durability: Industrial chains are manufactured from high-strength materials such as alloy steel, which provides exceptional tensile strength and resistance to wear and fatigue. This allows them to withstand the stresses and strains associated with heavy loads and continuous operation.
Reliable Power Transmission: Industrial chains offer a reliable and efficient means of transmitting power in heavy-duty applications. They provide a positive engagement between the sprockets, ensuring smooth and consistent power transfer even under high loads.
Versatility: Industrial chains can be designed and configured to meet the specific requirements of different heavy-duty applications. They are available in various sizes, designs, and types, allowing for customization and adaptation to specific load conditions and operating environments.
Proven Track Record: Industrial chains have been widely used in heavy-duty applications across industries such as construction, mining, agriculture, and material handling. Their reliability and performance in demanding conditions have been well-documented, making them a trusted choice for heavy-duty applications.
Overall, the robust construction, high load capacity, strength, durability, and proven performance make industrial chains a suitable choice for heavy-duty applications where reliable power transmission and handling of high loads are essential.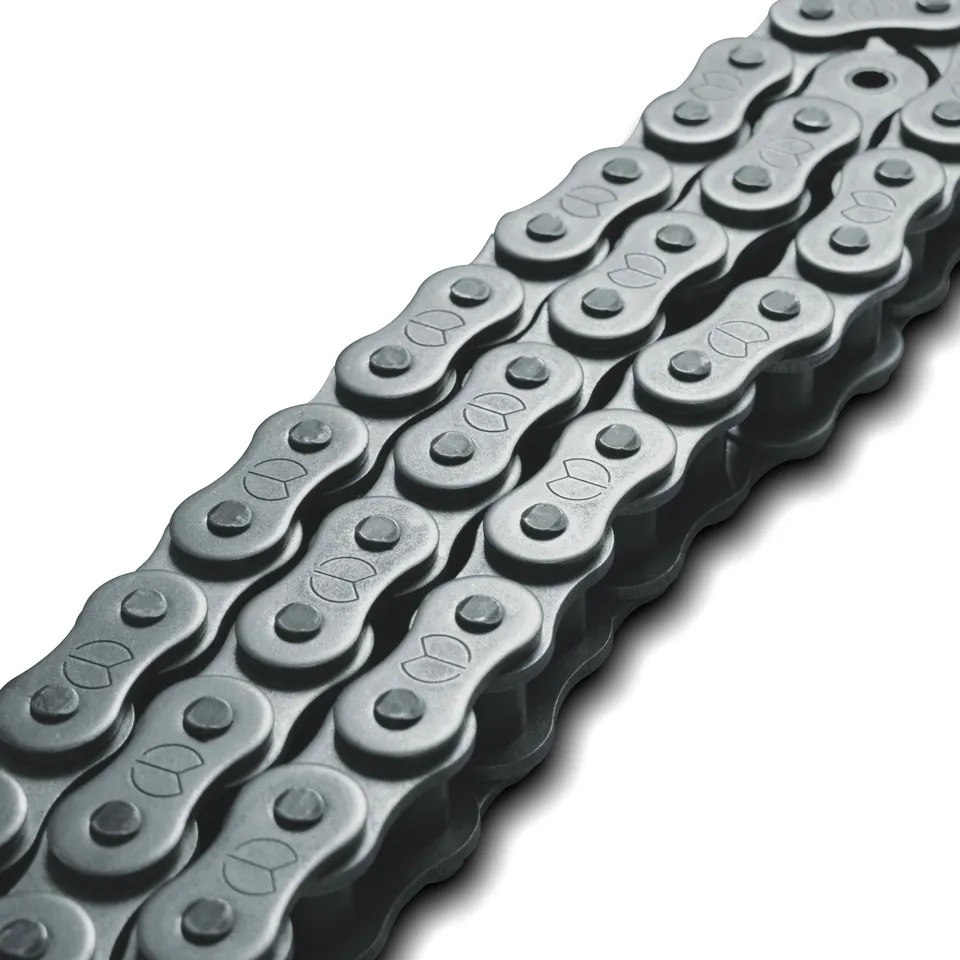 How do you calculate the required length of an industrial chain?
Calculating the required length of an industrial chain involves considering several factors such as the distance between sprockets, the number of chain links, and any additional allowances for tensioning and adjustment. Here is a step-by-step process to calculate the required chain length:
Measure the Center-to-Center Distance: Measure the distance between the center of the drive sprocket and the center of the driven sprocket. This is the center-to-center distance or pitch length.
Determine the Number of Chain Links: Determine the number of chain links required by dividing the center-to-center distance by the pitch or the distance between adjacent chain pins.
Add Allowances: Add allowances to account for tensioning and adjustment. The specific allowances depend on the type of industrial chain and the application requirements. Typically, an additional one or two links are added to accommodate tensioning and ensure proper chain engagement.
Calculate the Total Chain Length: Multiply the number of chain links by the pitch or distance between adjacent chain pins. This will give you the total chain length required.
It's important to note that industrial chains are often sold in standard lengths or in increments of a certain number of chain links. In such cases, you may need to select the nearest standard chain length that meets your calculated requirements.
It is recommended to consult the manufacturer's guidelines, technical specifications, or engineering resources for accurate and specific calculations based on the type and size of the industrial chain being used.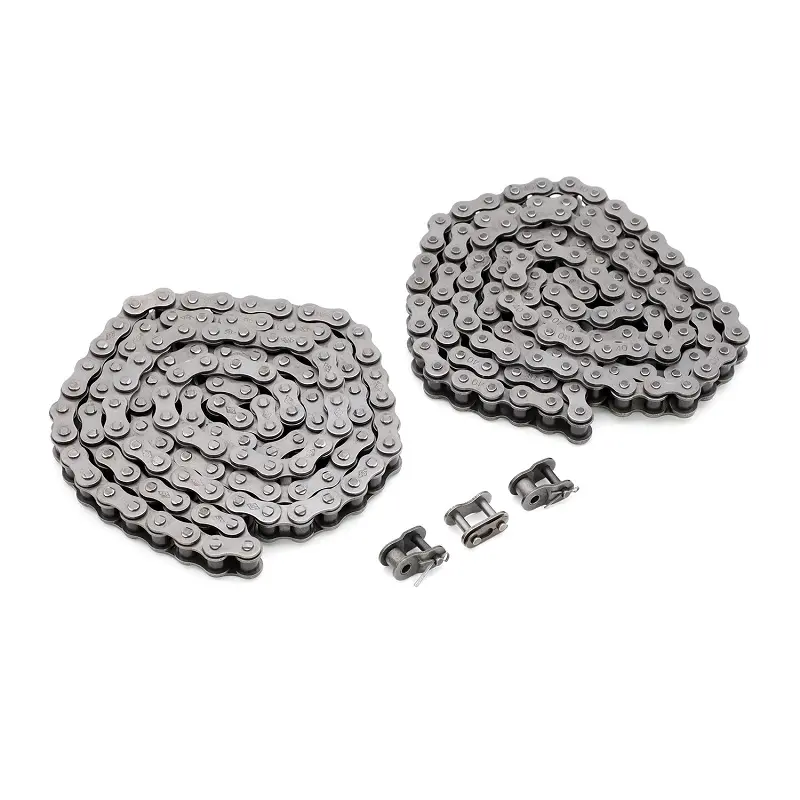 What are the maintenance requirements for an industrial chain?
Maintaining an industrial chain is crucial to ensure its optimal performance and extend its lifespan. Here are some key maintenance requirements for industrial chains:
Cleaning: Regularly clean the industrial chain to remove dirt, debris, and contaminants that can cause friction and wear. Use a suitable solvent or cleaning agent recommended by the chain manufacturer.
Lubrication: Apply the appropriate lubricant to the chain according to the manufacturer's recommendations. Lubrication reduces friction, minimizes wear, and helps prevent corrosion. Regularly inspect the lubrication levels and replenish as needed.
Tension Adjustment: Check the tension of the industrial chain regularly. Ensure it is within the recommended range specified by the manufacturer. Improper tension can lead to excessive wear, reduced performance, and increased stress on the chain components.
Alignment: Verify that the industrial chain is properly aligned with the sprockets or pulleys. Misalignment can cause uneven wear and premature failure. Adjust the alignment as necessary.
Inspection: Periodically inspect the industrial chain for signs of wear, corrosion, damaged links, or other abnormalities. Look for elongation, bent or broken links, and excessive wear on the sprockets. Replace any worn or damaged components promptly.
Environment: Consider the environmental conditions in which the industrial chain operates. Protect the chain from excessive moisture, extreme temperatures, and corrosive substances. Implement appropriate measures such as covers, guards, or coatings to safeguard the chain.
Documentation: Keep records of maintenance activities, including lubrication schedules, tension adjustments, inspections, and any repairs or replacements. This documentation helps track the chain's history and aids in future maintenance planning.
Following these maintenance requirements will help ensure the reliability, efficiency, and longevity of the industrial chain. It is important to refer to the manufacturer's guidelines and recommendations for specific maintenance procedures and intervals for your particular chain type and application.



editor by CX 2023-07-20