Product Description
Product

Standard Double Pitch Roller chain

Material

40Mn steel,304 stainless steel, 316 stainless steel and 201 stainless steel.

Types

Standard chains and special chains, such as A or B series chains, roller chains, driving chains, conveyor chains, hoisting chains, agricultural chains, sprockets, gears, wheels and so on.

Series

 A series(12.7-50.8mm pitches),B series (9.525-50.8mm pitches)and the heavy series.

Short pitch precision roller chain

Simplex Roller Chains&Bushing Chains: 

04C-1,06C-1,085-1,08A-1,10A-1,12A-1,16A-1,20A-1,24A-1,28A-1,32A-1,36A-1,40A-1,48A-1
Duplex Roller Chains&Bushing Chains:

04C-2,06C-2,085-2,08A-2,10A-2,12A-2,16A-2,20A-2,24A-2,28A-2,32A-2,36A-2,40A-2,48A-2
Triplex Roller Chains&Bushing Chains:

04C-3,06C-2,085-3,08A-3,10A-3,12A-3,16A-3,20A-3,24A-3,28A-3,32A-3,36A-3,40A-3,48A-3

Chain link type

Standard links (without attachment) and non-standard links (with attachment).

 

A1: One-side,one hole cranked attachments.
A2: One-side,two holes cranked attachments.
K1: Both-side,one hole cranked attachments.
K2: Both-side,two hole cranked attachments.
D1: One-side,an extended pin on every outer link.
D3: One-side,two extended pin on every outer link.

Our Products Advantage

1. Every step from production order to the packing process has a strict quality inspection.
2. We have standard roller chain with 1.5 CZPT (DIN. ANSI.); Non-standard roller chain (customized acording to customer drawings).
3. Export products with high quality and low price.
4.We have a good service before and after-sale.
1.Fast delivery: Standard products can be delivered in as fast as 20 days
2.Good service: timely reply, prompt quotation, responsible for the product
3.High cost performance: can maintain price stability for a certain period of time, bringing greater profits to customers
4.Good quality: production and testing have corresponding supervision to ensure product quality and get high praise from customers
5.OEM service: products can be customized according to drawings and requirements
We are responsible for the ordered products. We are very confident in the products we produce. Of course, if you have any problems after receiving the goods, you can contact us directly. We will confirm and negotiate in time to solve your difficulties.
| | |
| --- | --- |
| Standard or Nonstandard: | Standard |
| Application: | Textile Machinery, Garment Machinery, Conveyer Equipment, Packaging Machinery, Food Machinery, Mining Equipment, Agricultural Machinery |
| Surface Treatment: | Oil Blooming |
| Structure: | Roller Chain |
| Material: | Alloy |
| Type: | Double Pitch Chain |
Samples:

US$ 35/kg

1 kg(Min.Order)

|
Request Sample
Customization:

Available

|

Customized Request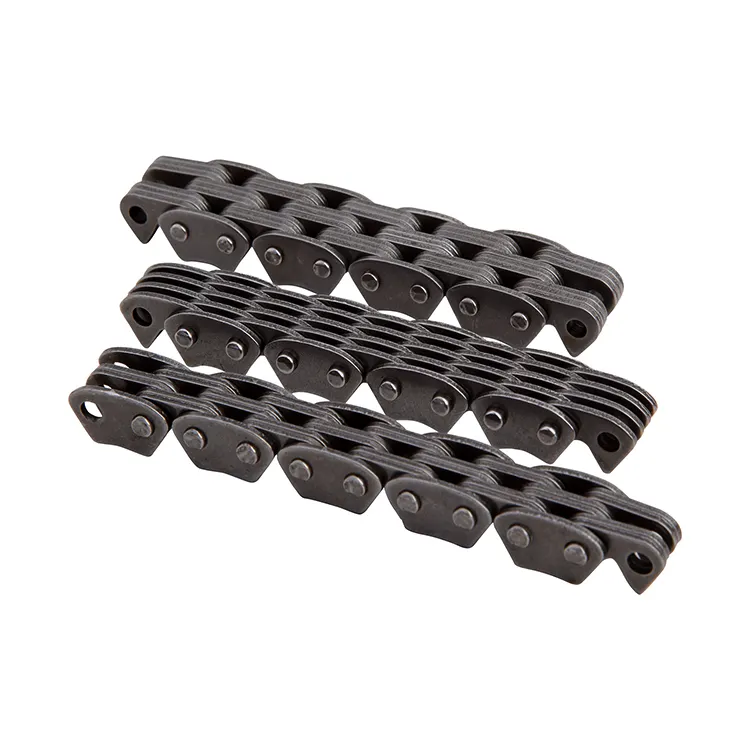 How do you prevent corrosion in industrial chains?
Preventing corrosion in industrial chains is essential to ensure their longevity and performance. Here are several measures that can be taken to prevent corrosion:
1. Material selection: Choose corrosion-resistant materials for the chain components. Stainless steel, specifically austenitic stainless steel grades, is highly resistant to corrosion and is commonly used in corrosive environments.
2. Coatings and surface treatments: Apply protective coatings or surface treatments to the chain components. These coatings can include zinc plating, galvanizing, chrome plating, or specialized corrosion-resistant coatings. These coatings create a barrier between the chain and the corrosive environment, preventing direct contact and inhibiting corrosion.
3. Lubrication: Proper lubrication is crucial in preventing corrosion. Lubricants create a protective film on the chain surface, reducing friction and preventing moisture and contaminants from reaching the metal. Use lubricants specifically designed for corrosion protection.
4. Regular cleaning and maintenance: Regularly clean and inspect the chains to remove any accumulated dirt, debris, or corrosive substances. Use appropriate cleaning agents and methods recommended for the specific chain material.
5. Environmental control: Control the environmental conditions to minimize exposure to corrosive elements. This can include implementing proper ventilation, reducing humidity levels, or installing protective barriers to shield the chains from direct contact with corrosive substances.
6. Proper storage: Store the chains in a clean, dry, and well-ventilated area to prevent exposure to moisture and corrosive agents. Use appropriate storage methods such as hanging or storing in containers to avoid contact with the ground or other potentially corrosive surfaces.
7. Regular inspections: Conduct regular inspections of the chains to detect any signs of corrosion or damage early. This allows for timely maintenance or replacement before the corrosion progresses and affects the chain's performance.
8. Follow manufacturer's guidelines: Always follow the manufacturer's guidelines and recommendations for the specific chain type and application. They may provide additional instructions on preventing corrosion and maintaining the chain's integrity.
By implementing these preventive measures, you can significantly reduce the risk of corrosion in industrial chains and ensure their long-term reliability and performance.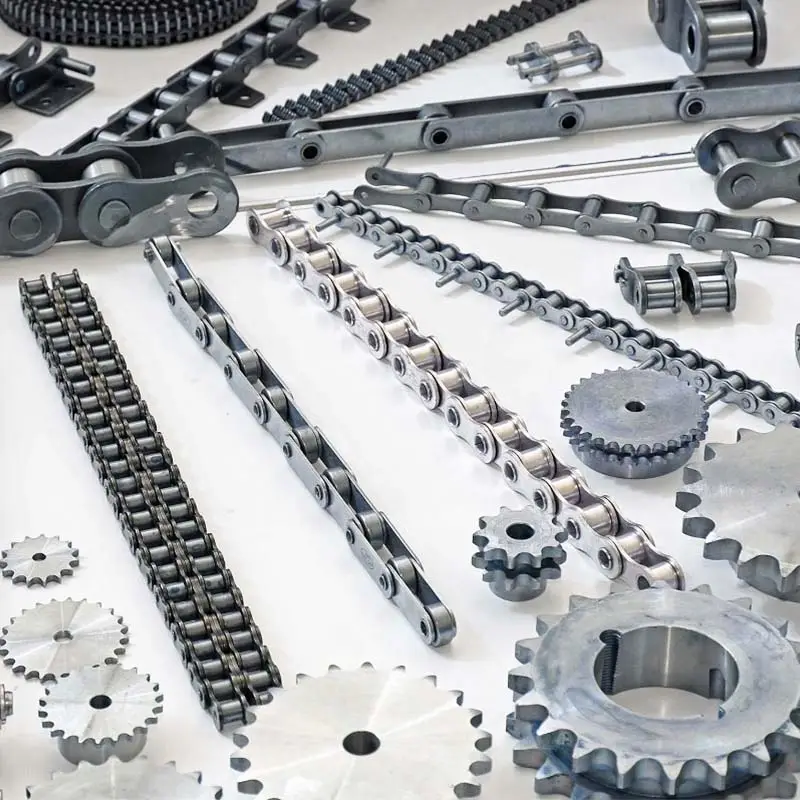 How does an industrial chain compare to other types of power transmission systems?
An industrial chain is a type of power transmission system that offers several advantages compared to other systems:
Strength and durability: Industrial chains are designed to handle heavy loads and withstand tough operating conditions. They are known for their high strength and durability, making them suitable for demanding industrial applications.
Efficiency: Industrial chains provide efficient power transmission, minimizing energy loss during operation. They offer high mechanical efficiency, which is especially important in applications that require precise and consistent power transfer.
Flexibility: Industrial chains are flexible in terms of design and configuration. They can be easily adapted to various applications and can transmit power over long distances, making them suitable for a wide range of industrial machinery and equipment.
Cost-effectiveness: Industrial chains are often cost-effective compared to alternative power transmission systems. They are relatively simple in design, easy to manufacture, and have a lower initial cost. Additionally, their durability and longevity reduce the need for frequent replacements, resulting in long-term cost savings.
Reliability: Industrial chains are known for their reliability and consistent performance. When properly maintained and operated within their load and speed limits, they can provide reliable power transmission for extended periods.
Versatility: Industrial chains can accommodate various environmental conditions, including high temperatures, corrosive environments, and high-speed applications. They can be made from different materials and configured with specific features to suit specific application requirements.
While industrial chains offer numerous advantages, it is essential to consider specific application needs and requirements when selecting a power transmission system. Factors such as load capacity, operating environment, speed, and precision may influence the suitability of an industrial chain compared to alternatives such as belts, gears, or shafts.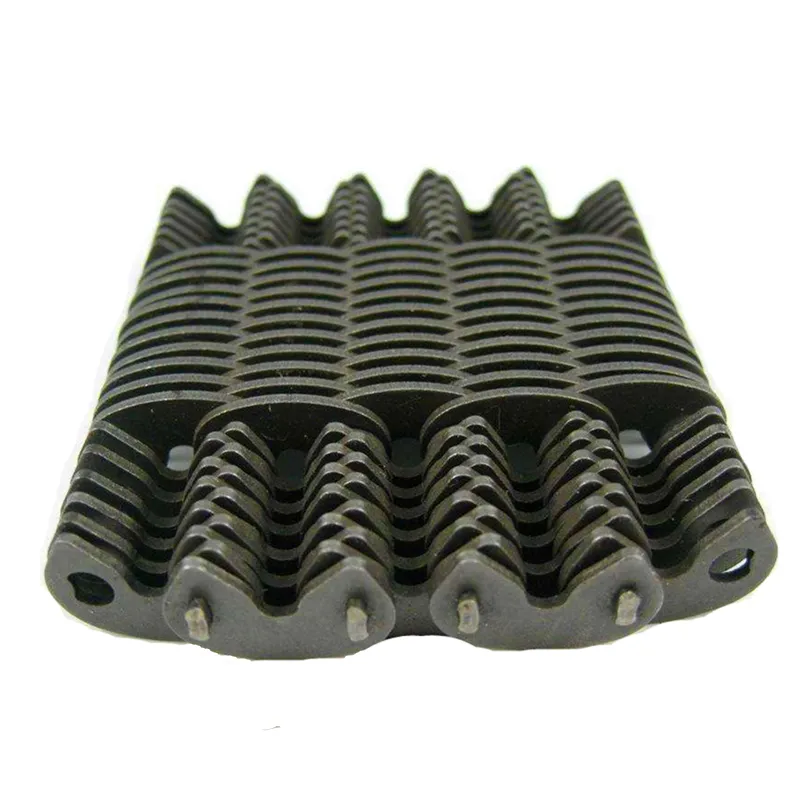 What factors should be considered when designing an industrial chain system?
Designing an industrial chain system involves careful consideration of various factors to ensure optimal performance, reliability, and safety. Here are some key factors to consider:
Load Requirements: Determine the maximum load the chain system will need to handle, including static and dynamic loads. Consider factors such as weight, acceleration, deceleration, and shock loads.
Speed and Acceleration: Take into account the required speed and acceleration of the system. High-speed applications may require special chain designs to maintain stability and reduce wear.
Environmental Conditions: Consider the operating environment, including temperature variations, moisture levels, presence of chemicals or corrosive substances, and exposure to dust or debris. Choose a chain material and coating that can withstand the specific environmental conditions.
Space Limitations: Evaluate the available space for installing the chain system. Consider factors such as clearance requirements, vertical or horizontal orientation, and any limitations imposed by surrounding equipment or structures.
Maintenance and Lubrication: Determine the maintenance requirements of the chain system, including lubrication needs and accessibility for inspection and repairs. Consider if a self-lubricating or low-maintenance chain option is desirable.
Noise and Vibration: Assess the noise and vibration levels associated with the chain system. Choose a chain design that minimizes noise and ensures smooth operation.
Service Life and Durability: Estimate the expected service life of the chain system based on the application requirements and the durability of the chosen chain material and design.
Safety Considerations: Ensure that the design adheres to safety standards and guidelines, including proper guarding, emergency stops, and adequate tensioning mechanisms.
Compatibility and Interchangeability: Consider the compatibility and interchangeability of the chain system with other components, such as sprockets, shafts, and accessories, to facilitate easy installation, replacement, and maintenance.
By carefully considering these factors during the design phase, engineers can create an industrial chain system that meets the specific requirements of the application, ensures efficient operation, and maximizes the lifespan of the chain system.



editor by CX 2023-08-05