Product Description
Chain No
Pitch
Width
Between
Inner Plates
Pin
Dia
Pin
Length
Inner
Plate
Depth
Average
Tensile
Strength
Weight
 
Mm
mm
mm
mm
mm
mm
Kn
kg/m
04B-1
6.000
2.80
1.85
6.80
5.00
3.2
0.11
05B-1
8.000
3.00
2.31
8.20
7.10
5.9
0.20
*06B-1
9.525
5.72
3.28
13.15
8.20
10.4
0.41
08B-1
12.700
7.75
4.45
16.70
11.80
19.40
0.69
10B-1
15.875
9.65
5.09
19.50
14.70
27.50
0.93
12B-1
19.050
11.68
5.72
22.50
16.00
32.20
1.15
16B-1
25.400
17.02
8.28
36.10
21.00
72.80
2.71
20B-1
31.750
19.56
10.19
41.30
26.40
106.7
3.70
24B-1
38.100
25.40
14.63
53.40
33.20
178.0
7.10
28B-1
44.450
30.99
15.90
65.10
36.70
222.0
8.50
32B-1
50.800
30.99
17.81
66.00
42.00
277.5
10.25
40B-1
63.50
38.10
22.89
82.20
52.96
394.0
16.35
48B-1
76.20
45.72
29.24
99.10
63.80
621.6
25.00
56B-1
88.90
53.34
34.32
114.60
77.80
940.0
35.78
Our company offers variety of products which can meet your multifarious demands. We adhere to the management principles of "quality first, customer first and credit-based" since the establishment of the company and always do our best to satisfy potential needs of our customers. Our company is sincerely willing to cooperate with enterprises from all over the world in order to realize a CHINAMFG situation since the trend of economic globalization has developed with anirresistible force.
| | |
| --- | --- |
| Standard or Nonstandard: | Standard |
| Application: | Food Machinery |
| Structure: | Roller Chain |
| Material: | Stainless Steel |
| Type: | Double Pitch Chain |
| Tensile Strength: | High |
Customization:

Available

|

Customized Request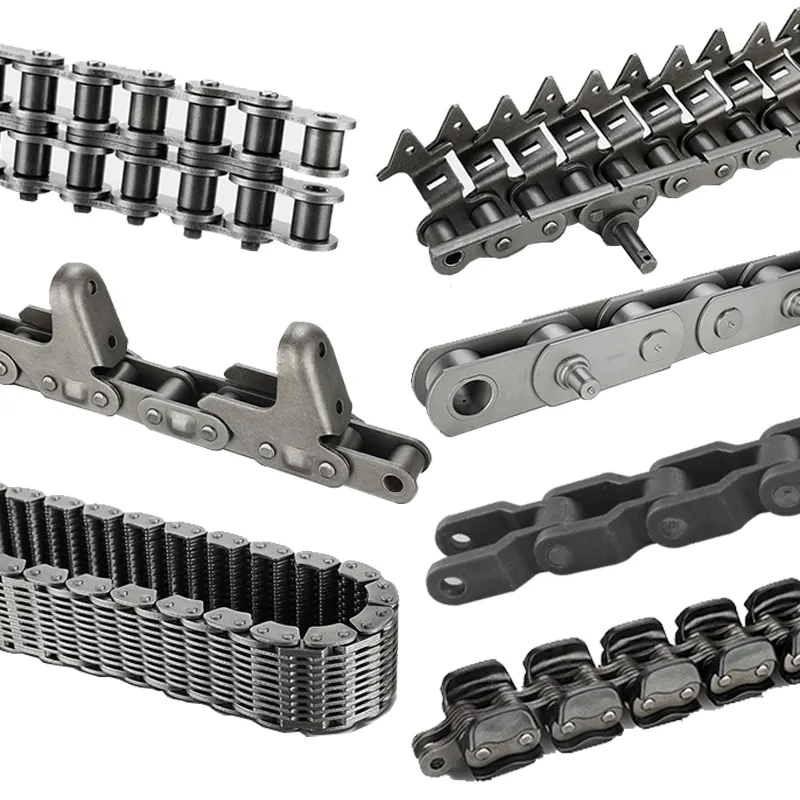 How does an industrial chain contribute to overall production efficiency?
An industrial chain plays a crucial role in enhancing overall production efficiency in various industries. Here are several ways in which an industrial chain contributes to production efficiency:
Power transmission: Industrial chains efficiently transmit power from the drive source to different components of the machinery or equipment, enabling smooth and consistent operation. This ensures that the production process runs without interruptions or power loss, maximizing overall efficiency.
Conveying and material handling: Industrial chains are commonly used in conveyor systems to transport materials, products, or components along the production line. They facilitate the movement of goods from one process to another, reducing manual handling and streamlining material flow. This improves production efficiency by minimizing bottlenecks, reducing cycle times, and optimizing resource utilization.
Positioning and indexing: In automated assembly or packaging systems, industrial chains are used to precisely position and index workpieces or products. This enables accurate and efficient assembly, reducing errors and rework. The precise positioning capabilities of industrial chains contribute to improved production efficiency and product quality.
Mechanical synchronization: Industrial chains are employed in machinery with multiple moving parts that require synchronization, such as in printing presses or packaging equipment. By linking and coordinating the movement of various components, industrial chains ensure precise timing and alignment, resulting in smooth operation and increased production efficiency.
High load capacity: Industrial chains are designed to withstand heavy loads and transmit high levels of torque. This allows them to handle demanding applications and heavy-duty processes effectively. By providing reliable and robust power transmission, industrial chains contribute to improved production efficiency in industries that require the handling of substantial loads.
Durability and reliability: Industrial chains are engineered to be durable and resistant to wear and fatigue, even in harsh operating conditions. Their long service life and minimal maintenance requirements contribute to increased production uptime and reduced downtime, enhancing overall production efficiency.
By facilitating power transmission, material handling, precise positioning, synchronization, and offering high load capacity, durability, and reliability, industrial chains play a vital role in optimizing production efficiency across various industries.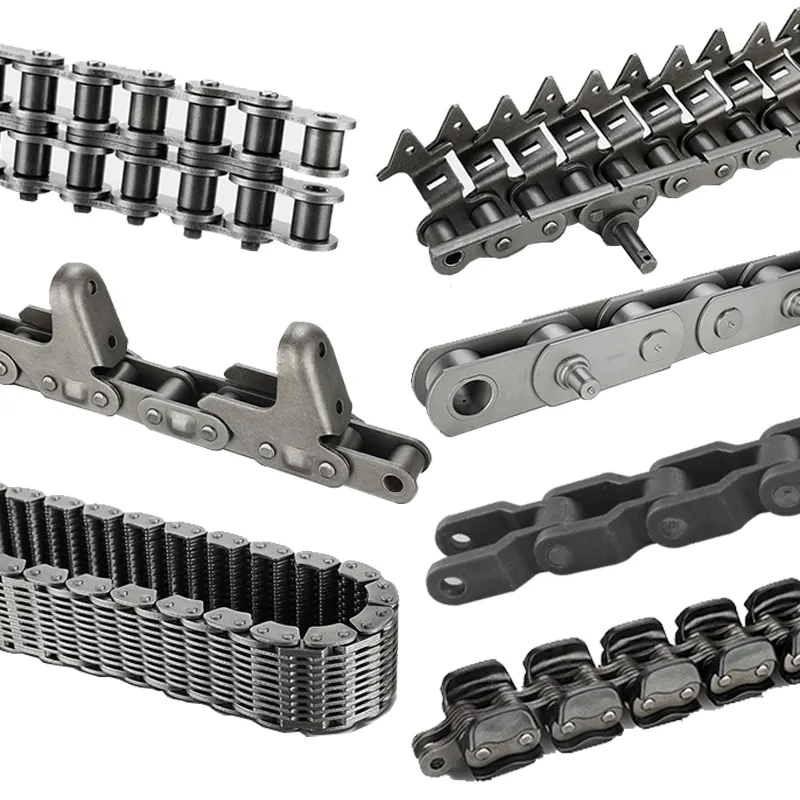 Can an industrial chain be used for vertical lifting applications?
Yes, industrial chains can be used for vertical lifting applications. However, several factors need to be considered to ensure safe and efficient lifting operations:
Chain type and strength: The industrial chain selected for vertical lifting applications must have the appropriate strength and load capacity to safely lift the intended load.
Safety factors: It is crucial to consider the safety factors and ensure that the selected chain is capable of handling the maximum expected load without exceeding its rated capacity.
Overhead clearance: Sufficient overhead clearance is necessary to accommodate the length of the chain and prevent any obstructions during the lifting process.
Proper tensioning: The chain must be properly tensioned to prevent slippage or excessive slack, which can compromise the lifting operation.
Guidance and control: Proper guidance and control mechanisms should be in place to ensure smooth and controlled vertical movement of the load.
Maintenance and inspection: Regular maintenance and inspection of the chain are essential to identify any signs of wear, damage, or fatigue that may compromise its integrity and lifting capability.
It is important to consult industry standards, regulations, and specific manufacturer guidelines to determine the suitability of an industrial chain for a vertical lifting application. Additionally, working with experienced professionals and following established safety protocols is crucial to ensure the safe and effective use of the industrial chain in lifting operations.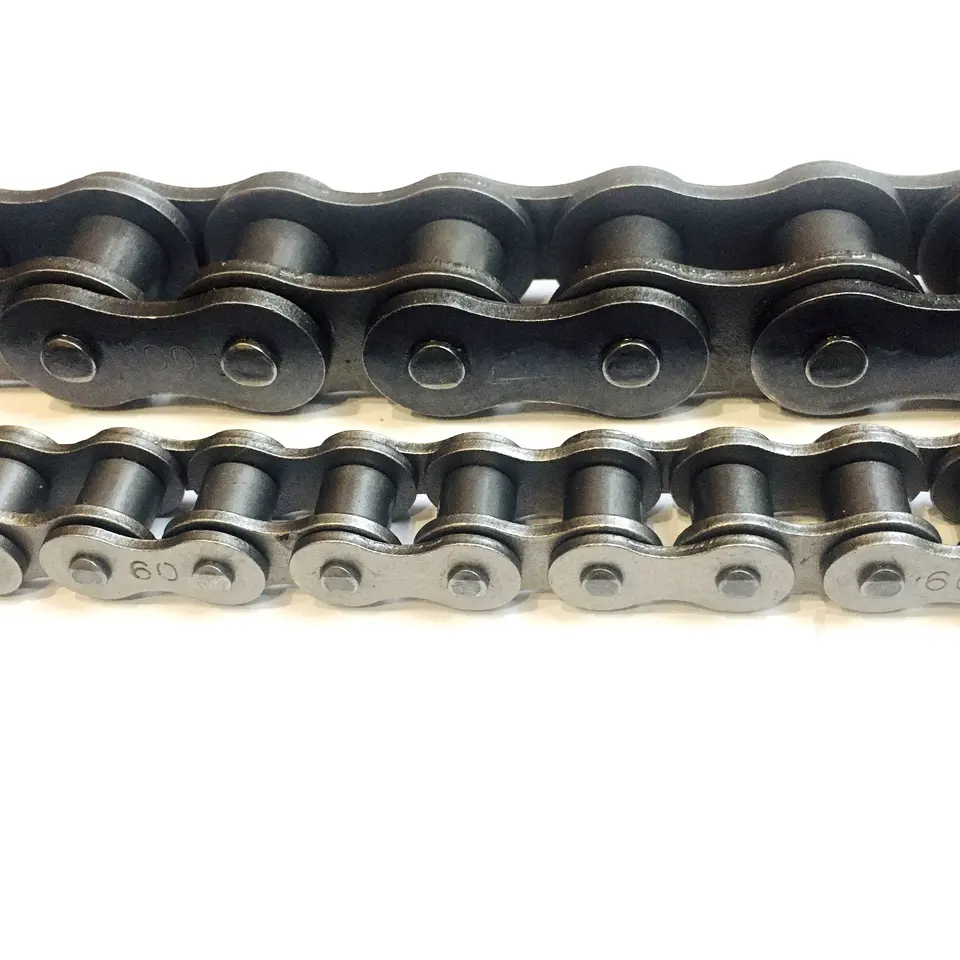 What materials are commonly used in industrial chains?
Industrial chains are constructed using various materials to meet specific application requirements. The choice of material depends on factors such as load capacity, environmental conditions, corrosion resistance, and temperature resistance. Here are some commonly used materials in industrial chains:
Carbon Steel: Carbon steel is widely used in industrial chains due to its strength, durability, and affordability. It offers good resistance to wear and can handle moderate loads in standard operating conditions.
Alloy Steel: Alloy steels are alloyed with other elements to enhance their mechanical properties, such as increased strength, hardness, and wear resistance. Alloy steel chains are commonly used in heavy-duty applications where higher load capacities and greater toughness are required.
Stainless Steel: Stainless steel chains are highly corrosion-resistant and are suitable for applications where exposure to moisture, chemicals, or high temperatures is a concern. They offer excellent durability and can withstand harsh environments, making them ideal for industries such as food processing, pharmaceuticals, and marine applications.
Plastic: Plastic chains, typically made from engineering-grade polymers such as acetal or nylon, are lightweight, corrosion-resistant, and offer low friction. They are often used in applications where reduced noise, lubrication-free operation, and resistance to chemicals or moisture are desired.
Specialty Alloys: In specific industries or applications with extreme conditions, specialty alloys such as stainless steel alloys, nickel alloys, or heat-resistant alloys may be used to provide exceptional strength, corrosion resistance, or temperature resistance.
It's important to consider the material compatibility with the environment, load requirements, and other factors when selecting an industrial chain for a particular application. Consulting with manufacturers or industry experts can help determine the most suitable material for specific industrial chain needs.



editor by CX 2023-11-02