Product Description
ISO Standard Short Pitch Precision Simplex Hardware Motorcycle Industrial Roller Chain
 
Product Description

1. Material: Alloy Steel
2. Surface Treatment: Shot peening
3. Application: The product is mainly applied in small lifting.
4. Chain No: 40-1, 50-1, 60-1, 80B-1, 10B-1, 12B-1, etc.
Product name
ISO Standard Short Pitch Precision Simplex Hardware Motorcycle Industrial Roller Chain
Materials Available 
1. Stainless Steel: SS304, SS316, etc
2. Alloy Steel: 45Mn, 42CrMo, 20CrMo, etc
3. OEM according to your request
Surface Treatment
Shot peening, Blackening, Oxygenation, Polishing, Zinc-plated, Nickel-plated, Anodized, etc.
Characteristic
Fire Resistant, Oil Resistant, Heat Resistant
Design criterion
ISO DIN ANSI & Customer's Drawing
Size
Customer's Drawing & ISO standard 
Package
Wooden Case / Container and pallet, or made-to-order
Certificate
ISO9001: 2008 
Advantage
Firtsr quality, Best service, Competitive price, Fast delivery
Delivery Time
20 days for samples. 45 days for official order.
Detailed Photos
View more products,please click here…
 
Company Profile
| | |
| --- | --- |
| Usage: | Transmission Chain |
| Material: | Alloy |
| Surface Treatment: | Oil Blooming |
| Feature: | Oil Resistant |
| Chain Size: | 40-1, 08b-1 |
| Structure: | Roller Chain |
Samples:

US$ 0/Meter

1 Meter(Min.Order)

|
Request Sample
Customization:

Available

|

Customized Request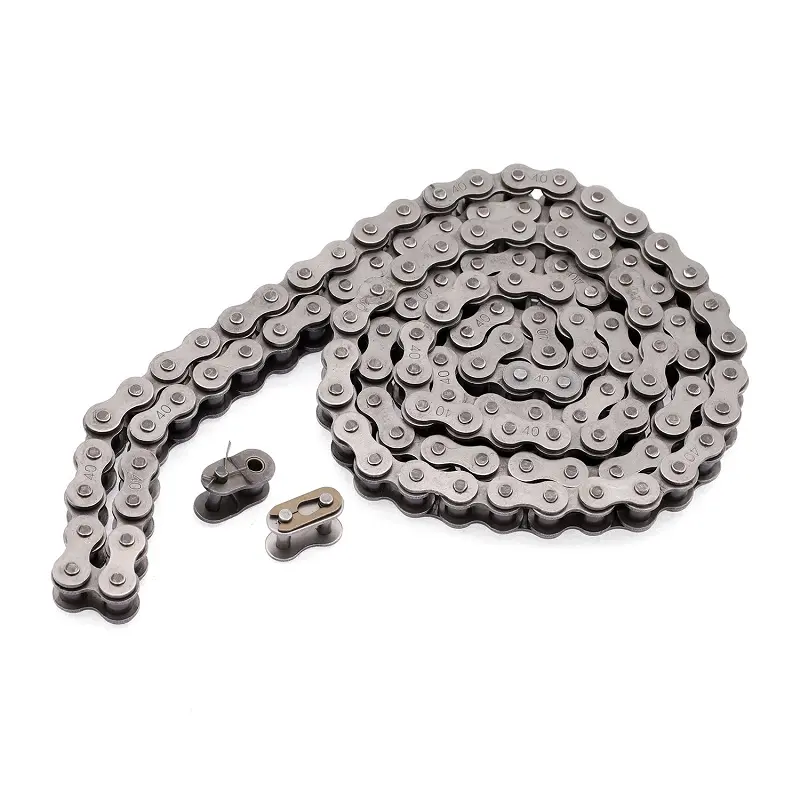 Can an industrial chain be used for heavy-duty applications?
Yes, an industrial chain is commonly used in heavy-duty applications due to its ability to handle high loads and provide reliable power transmission. Here are some detailed reasons why industrial chains are suitable for heavy-duty applications:
High Load Capacity: Industrial chains are designed to withstand heavy loads and transmit power efficiently. They are constructed with robust materials and components to ensure they can handle the demanding conditions of heavy-duty applications.
Strength and Durability: Industrial chains are manufactured from high-strength materials such as alloy steel, which provides exceptional tensile strength and resistance to wear and fatigue. This allows them to withstand the stresses and strains associated with heavy loads and continuous operation.
Reliable Power Transmission: Industrial chains offer a reliable and efficient means of transmitting power in heavy-duty applications. They provide a positive engagement between the sprockets, ensuring smooth and consistent power transfer even under high loads.
Versatility: Industrial chains can be designed and configured to meet the specific requirements of different heavy-duty applications. They are available in various sizes, designs, and types, allowing for customization and adaptation to specific load conditions and operating environments.
Proven Track Record: Industrial chains have been widely used in heavy-duty applications across industries such as construction, mining, agriculture, and material handling. Their reliability and performance in demanding conditions have been well-documented, making them a trusted choice for heavy-duty applications.
Overall, the robust construction, high load capacity, strength, durability, and proven performance make industrial chains a suitable choice for heavy-duty applications where reliable power transmission and handling of high loads are essential.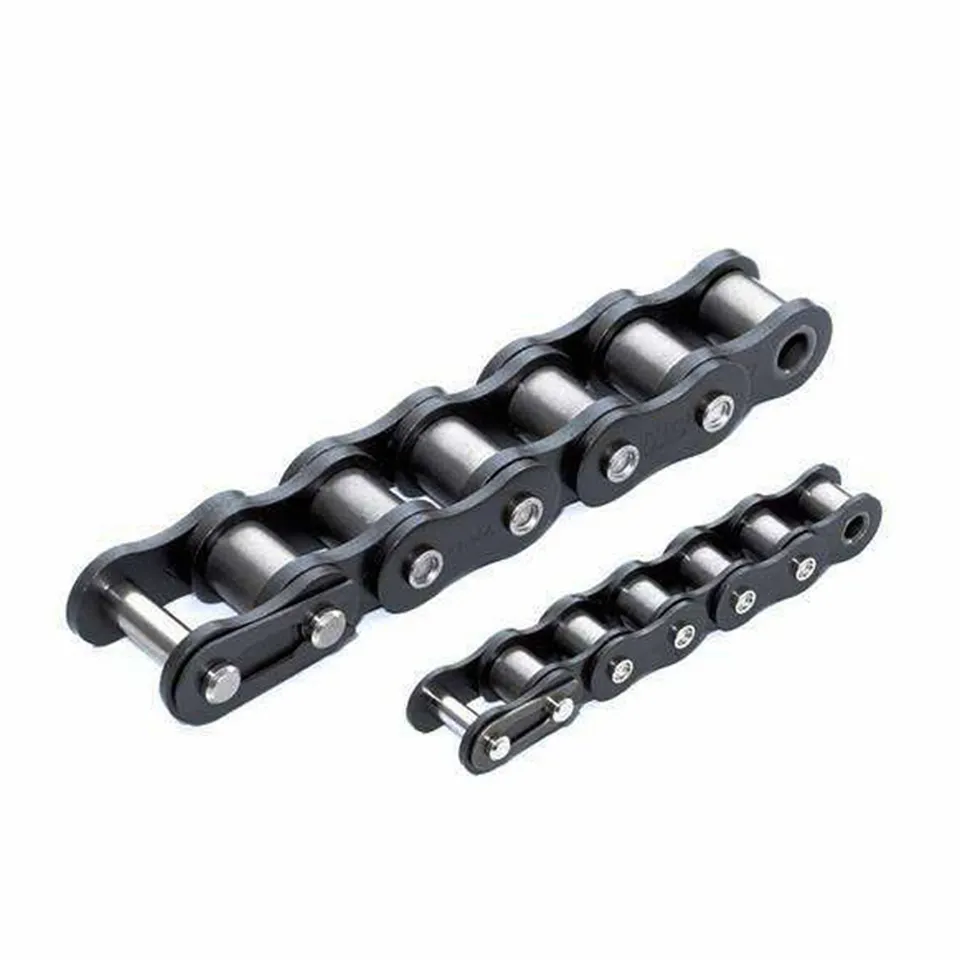 What is the load capacity of an industrial chain?
An industrial chain's load capacity refers to the maximum amount of weight or force it can safely withstand without experiencing failure or damage. The load capacity of an industrial chain depends on several factors, including its design, construction, material, and size.
Industrial chains are engineered and manufactured to handle a wide range of load capacities, from light-duty applications to heavy-duty industrial operations. The load capacity of a specific industrial chain is typically provided by the manufacturer and can be found in product specifications or technical documentation.
The load capacity of an industrial chain is influenced by various factors, such as:
Chain Type and Size: Different chain types, such as roller chains, silent chains, or engineering steel chains, have varying load capacities. Additionally, the size or pitch of the chain also affects its load capacity, with larger chains generally having higher load capacities.
Chain Material and Construction: The material used to construct the chain, such as stainless steel, carbon steel, or alloy steel, affects its strength and load-bearing capacity. The chain's construction, including the number and arrangement of links, also plays a role in determining its load capacity.
Operating Conditions: The environment in which the industrial chain operates, such as temperature, humidity, and exposure to chemicals or corrosive substances, can impact its load capacity. Extreme conditions may require special chains with higher load ratings.
Application Requirements: The specific application and the forces involved, such as tension, shock loads, or dynamic forces, need to be considered when determining the appropriate load capacity of an industrial chain.
To ensure the safe and efficient operation of an industrial chain, it is crucial to select a chain with an appropriate load capacity for the intended application. Exceeding the recommended load capacity can lead to premature wear, chain failure, or safety hazards. Consulting the manufacturer's specifications and guidelines, as well as engineering calculations, can help determine the suitable load capacity for a given industrial chain.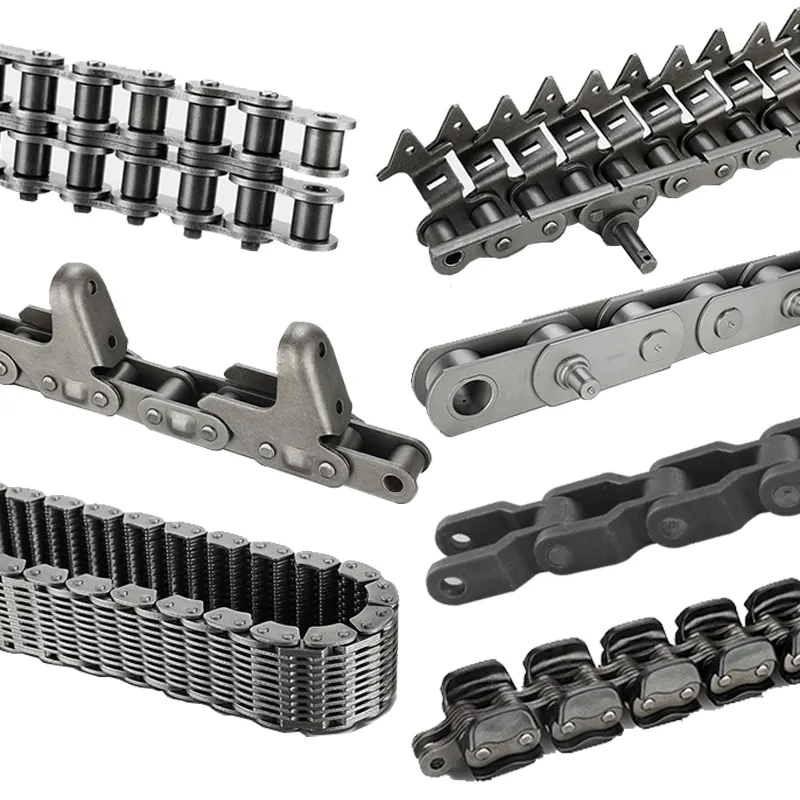 What are the different types of industrial chains?
Industrial chains are available in various types, each designed to suit specific applications and requirements. Here are some common types of industrial chains:
Roller chains: Roller chains are the most common type of industrial chains. They consist of a series of interconnected rollers that engage with the sprockets to transmit power and facilitate the movement of materials.
Conveyor chains: Conveyor chains are specifically designed for use in conveyor systems. They have attachments or slats that allow them to carry materials or products along a horizontal or inclined path.
Leaf chains: Leaf chains are made up of interlocking plates or links that provide high tensile strength and resistance to fatigue. They are commonly used in applications that require heavy lifting or load-bearing capabilities.
Wire mesh chains: Wire mesh chains are composed of interconnected wire mesh links. They are often used in applications that involve high-temperature environments, such as oven conveyors or drying processes.
Bucket elevator chains: Bucket elevator chains are designed for vertical lifting applications, typically used in industries such as agriculture, mining, and construction. They feature buckets that carry materials as they move upward.
Precision chains: Precision chains are engineered to provide precise positioning and accurate movement. They are commonly used in applications such as robotics, automation, and CNC machinery.
Specialty chains: Specialty chains are designed for specific applications and industries. Examples include agricultural chains, escalator chains, drag chains, and many more.
Each type of industrial chain has its unique design features, materials, and applications. The selection of the appropriate chain type depends on factors such as load capacity, speed, environment, and specific operational requirements.



editor by CX 2023-07-26