Product Description
Sumitomo SH60 SH120 SH220 excavator track links track chain assy 
Track Link
Track Chain
Track Pin
Track Bushing
Products Information
 
| | |
| --- | --- |
| Material | 35MnBH |
| Quality | Heat-treated,HRC50-56 |
| Color | Yellow or Black |
| Technique | Forging/Casting |
| Finishing | Smooth |
| Certificate | ISO9001:2000/GB/T24001-2004/OHSAS 18001:1999 |
| MOQ | 1 Set |
Raw material: Our carbon steel and stainless steel are supplied by the big companies all over China, Such as ZheJiang Baosteel,HangZhou Iron steel etc.
Sumitomo SH60 SH120 SH220 excavator track links track chain assy 
Application Model
PC120-6 PC130 PC130-7 PC200 PC200-1 PC200-3 PC200-5 PC200-6 PC200-7
 
PC200-8 PC210-6 PC220-1 PC220-3 PC220-6 PC220-7 PC220-8 PC270-7 PC202B

PC20-7 PC30 PC30-3 PC30-5 PC30-6 PC40-7 PC45 PC45-2 PC55

PC220LC-6 PC220LC-8 PC240 PC300 PC300-3 PC300-5 PC300-6 PC300-7 PC300-7K

PC300LC-7 PC350-6/7 PC400 PC400-3 PC400-5 PC400-6 PC400LC-7 PC450-6 PC450-7

PC600 PC650 PC750 PC800 PC1100 PC1250 PC2000
EX100 EX110 EX120 EX120-1 EX120-2 EX120-3 EX120-5 EX130-1 EX200-1
EX200-2 EX200-3 EX200-5 EX220-3 EX220-5 EX270 EX300 EX300-1 EX300-2
EX300-3 EX300-5 EX300A EX330 EX370 EX400-1 EX400-2 EX400-3 EX400-5
EX40-1 EX40-2 EX55 EX60 EX60-2 EX60-3 EX60-5 EX70 EX75
EX450 ZAX30 ZAX55 ZAX200 ZAX200-2 ZAX330 ZAX450-1 ZAX450-3 ZAX450-5
ZX110 ZX120 ZX200 ZX200 ZX200-1 ZX200-3 ZX200-59 ZX200LC-3 ZX210
ZX210-3 ZX210-3 ZX210-5 ZX225 ZX240 ZX250 ZX270 ZX30 ZX330
ZX330 ZX350 ZX330C ZX450 ZX50
E200B E200-5 E320D E215 E320DL E324D E324DL E329DL E300L
E3205 E320 E320DL E240 E120-1 E311 E312B E320BL E345
E324 E140 E300B E330C E120 E70 E322C E322B E325
E325L E330 E450 CAT225 CAT312B CAT315 CAT320 CAT320C CAT320BL
CAT330 CAT322 CAT245 CAT325 CAT320L CAT973
SH120 SH120-3 SH200 SH210-5 SH200 SH220-3 SH220-5/7 SH290-3 SH350-5/7
SH220 SH280 SH290-7 SH260 SH300 SH300-3 SH300-5 SH350 SH60 SH430
SK120-6 SK120-5 SK210-8 SK210LC-8 SK220 SK220-1 SK220-3 SK220-5/6 SK200
SK200 SK200 SK200-3 SK200-6 SK200-8 SK200-5/6 SK60 SK290 SK100
SK230 SK250 SK250-8 SK260LC-8 SK300 SK300-2 SK300-4 SK310 SK320
SK330-8 SK330 SK350LC-8 SK235SR SK450 SK480 SK30-6
DH200 DH220-3 DH220 DH2205 DH280-2 DH280-3 DH55 DH258 DH130
DH370 DH80 DH500 DH450 DH225
R60-5 R60-7 R60-7 R80-7 R200 R200-3 R210 R210 R210-9
R210LC R210LC-7 R225 R225-3 R225-7 R250 R250-7 R290 R290LC
R290LC-7 R320 R360 R954
HD512 HD1430 HD512III HD820III HD820R HD1430III HD700VII HD1250VII HD250SE
HD400SE HD550SE HD1880
DX225 DX225LCA DX258 DX300 DX300LCA DX420 DX430
EC160C EC160D EC180B EC180C EC180D EC210 EC210 EC210B EC240B
EC290 EC290B EC240 EC55 EC360 EC360B EC380D EC460 EC460B
EC460C EC700 EC140 EC140B EC160B
About us
Founded in 2008, HangZhou CZPT Engineering Machinery Co., Ltd. is located in HangZhou city, ZheJiang province, near to HangZhou port with convenient transportation. Our company is a professional manufacturer and exporter of undercarriage parts for excavators and bulldozers in China.
Our main products include track roller, top roller, idler, sprocket, track shoe, track links, track group, track bolt with nut, bucket, bucket link, teeth, and cylinder ect. These parts are applied for Cat. Kom. Hitachi, Kato, Daewoo, Hyundai, Sumitomo, Samsung, Kobelco, and Mitsubishi. With more than 12 years' development, our company have all kinds of production lines, professional technicians and skillful workers, making sure our products with high quality and competitive price. We passed the certification of ISO9001-2000, quality management procedures are conducted in accordance with international standards.
Now all our products are exported to Southeast Asia, the Middle East, Europe, North and South America, Australia, and Africa and so on. We are enhancing the market share. "Mutual benefit" is our promise and value. We'd like to supply you with high quality products and professional after-sales service. We sincerely welcome you to join us for mutual development and a prosperous future! 
| | |
| --- | --- |
| After-sales Service: | 24h*360day |
| Warranty: | 1 Year/2year |
| Type: | Excavator Parts |
| Application: | Excavator |
| Certification: | CE, ISO9001: 2000 |
| Condition: | New |
Samples:

US$ 1000/Piece

1 Piece(Min.Order)

|
Request Sample
Customization:

Available

|

Customized Request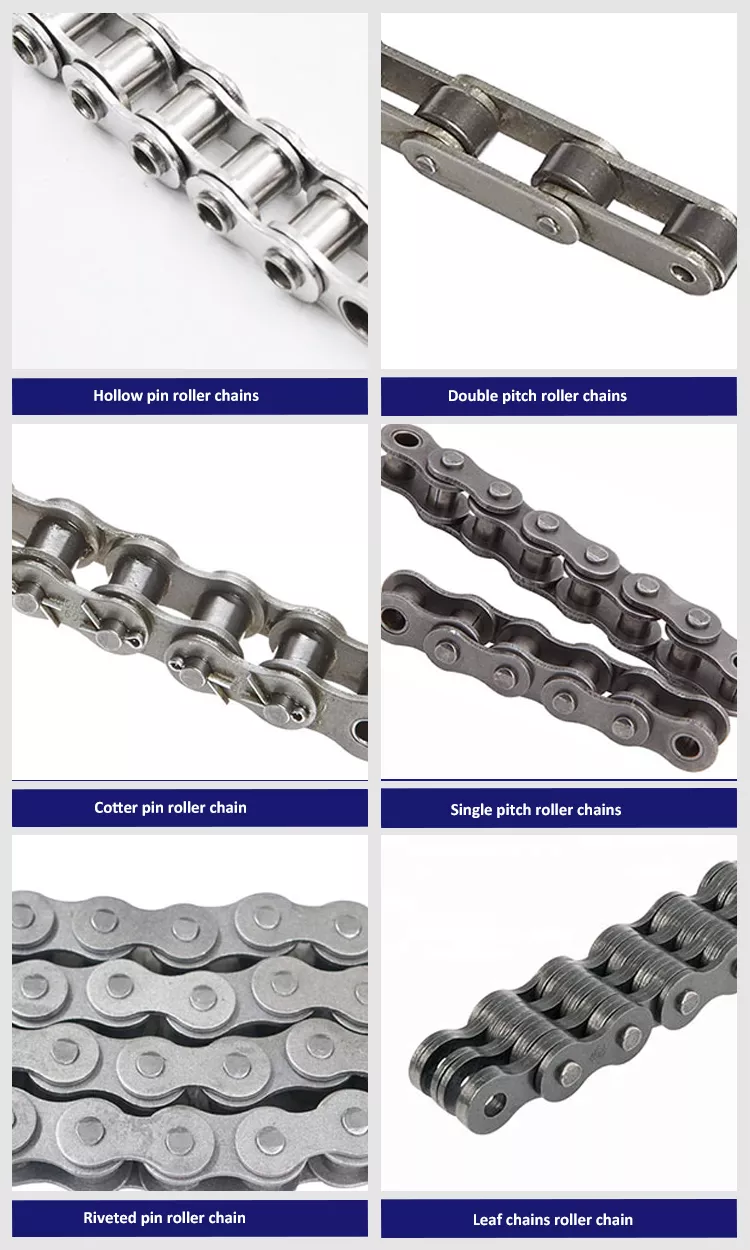 How to choose a roller chain for a conveyor
When choosing a roller chain for your conveyor, the easiest way is to refer to the horsepower and RPM charts. The horsepower and rpm of the small drive sprocket will determine the size and number of teeth of the chain. Conveyor chains are available in a variety of options, including moving products horizontally, vertically, or around a bend radius. When choosing a conveyor chain, consider the purpose of the chain. For example, if you're delivering products to customers' doorsteps, you might choose chains that can move products up and down a hallway or warehouse.
Double pitch
Double pitch roller chains are a popular way to drive agricultural equipment. It has twice the pitch of a standard roller chain and is ideal for light-duty drives. Extended pitch increases performance at lower speeds, but requires fewer components per foot than standard single-pitch chains. Compared to single-pitch roller chains, double-pitch chainplates are longer and are suitable for lighter loads. Read on to learn more about double pitch chains and how they can improve your operation.
The most common type of conveyor chain is double pitch. It is used in the auto parts industry, as well as in the precision machinery industry. It is made from the same components as the standard drive roller chain, except it has longer side plates. Double pitch chains are often used on slow-moving conveyors to reduce the stress placed on them. Industries that commonly use double pitch conveyor chains include airport equipment manufacturers, lumber mills, and fruit packing plants.
RS series roller chains are manufactured from high-quality stainless steel. It has excellent chemical and abrasion resistance and is available in a variety of cord lengths. RS sprockets have over 30 teeth. They contain all the necessary connection links for easy installation. PEER Chain offers double pitch roller chain attachments including pre-stretched chains, sprockets, and other attachments.
Double pitch roller chains have several advantages over standard chains. Double pitch chains have double the pitch, making them ideal for conveying applications such as conveyors. In addition to that, it also provides ANSI-compliant styles. These chains also have free connection links. When shopping for a double pitch roller chain, be sure to choose the one that fits your requirements and budget. They will last longer and save you money in the long run.
Double pitch roller chains to ANSI standards feature oversized rollers. These chains are best suited for applications where the product is mounted on top of the chain. They are ideal for agricultural applications where cotton is on top of the drum. Also, this type of chain is used in light-duty conveyors and agricultural applications. You can find double pitch roller chains in a variety of sizes and styles. And, as long as you know what you want, you'll be happy with the results.
Self-lubricating
Self-lubricating roller chains eliminate the need for manual relubrication, providing long-lasting operation and reducing maintenance costs. These chains are particularly popular in industries such as the food and beverage industry, textiles, printing, and sawmills. They can also replace standard roller chain drives and conveyor chains. Manufactured to the specific standard ISO R606, these chains are ideal replacements for conventional chains. PC chains are particularly beneficial for food and beverage production and packaging applications due to their anti-corrosion properties.
Self-lubricating roller chains meet ISO, ASME/ANSI, and DIN standards. They are interchangeable with standard chains of the same size and shape and can be used in a variety of industrial applications. Self-lubricating chains have special oil-impregnated sleeves to reduce maintenance time. These chains are also suitable for applications where cleanliness is an issue.
Self-lubricating roller chains are manufactured with unique RS attachments. Rather than a traditional roller chain with an external lubricating ring, this type of chain retains the lubricant within its bushings. During operation, the application generates heat, heating the lubricant, which flows out of the pin and bushing area. Therefore, CZPT roller chains are ideal for certain food conveying applications.
In addition to self-lubricating roller chains, carbon steel, stainless steel or nickel-plated steel are also available. Self-lubricating roller chains are available in different sizes depending on the application, including 0.375″ wide profile straight-chain, extended pin chain, and four-link. In addition, these chains are also available in ANSI and BS chain specifications.
Accumulation
Whether you need to move large or small loads, accumulating roller chains are a viable solution. This chain conveyor is designed with low back pressure to transport large and bulky items with minimal noise. Free-running rollers within the chain help create a smooth build-up surface. These chains are available in a variety of options, including accumulating rollers of different pitches.
The accumulation and release roller chain 14 includes an upper part 15 and a lower part 16. The upper part 15 rests in the upper subspace 28, while the lower part 16 rests on the top side 20 of the profile. As the upper belt 15 rolls around the accumulation roller chain 14, it aligns with the lower chain 16 to form a continuous receiving space. This arrangement allows the accumulation roller chain 14 to rest on the top surface of the support profile 11.
A cumulative roller chain consists of many individual parts. Each section of the chain has an elongated cylindrical shape and is connected to each other by hinged joints. Each chain section also has an accumulation and release roller associated therewith. Each roller protrudes from the upper side 20 and the lower side 21 of the chain portion. The accumulation rollers are movable about an axis 22 extending transversely to the longitudinal axis of the chain.
A feature of the stacking and releasing roller chain is its simplicity. The conveyor has a profiled section that is permanently divided into two cross-sectional spaces. The bottom space is closed from all sides. The upper space accommodates the conveyor line. The contoured portion includes an opening that guides the bottom strap. A shunt can also be inserted between the two sections. The accumulating roller chain system is a convenient and versatile way to move bulky items.
There are many different types of accumulating roller chains. Some chains have offset rollers for optimal load distribution. Others have protection to prevent machine wear. Some run without lubricant, which is a safety advantage. In addition to protection, cumulative chains can also provide protection. The side bow version of the accumulation and release roller chain with offset accumulation and release rollers is designed for conveyor systems with very small bend radii.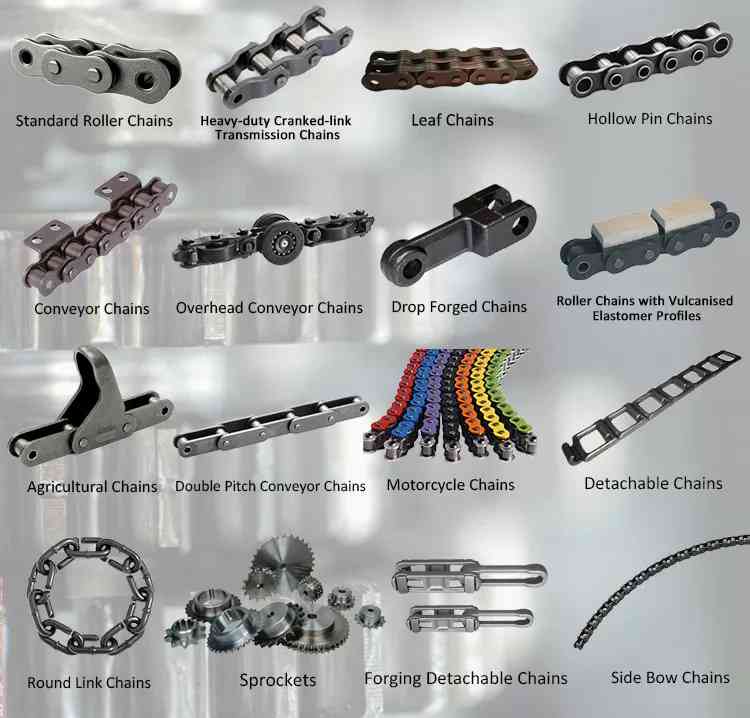 Without bushing
Bushless roller chains are the most common type of industrial chain. They are simple in design and require only regular maintenance. Regular maintenance includes lubricating, assessing wear, and replacing worn sprockets. For more information, please read the following information:
The outer chainplates and the inner chain plates are alternately arranged in pairs. The connecting pin extends through the hole in the inner link plate. The rollers thus positioned can be rotated on the connecting pins. Oil provided between the outer circumferential surfaces of each connecting pin serves to lubricate the chain. This system reduces noise and wears caused by collisions between inner chain plates and sprockets.
Compared to traditional roller chains, bushings roller chains have rollers around the bushing. These rollers are in rolling contact with the sprocket teeth, providing low friction and excellent wear resistance. To ensure smooth operation, bushings roller chains must be greased to prevent rust and keep the chain properly tensioned. Lubricated chains run smoother and last longer.
In a bushingless chain, the inner links are shaped like half bushings and ride on the rollers. The pins go through the outer plate and connect the inner links to the rollers. The outer plates overlap the inner links and open the pins. This system is also known as a heterochain. This type of chain is more common than traditional roller chains. If you are not sure which type of bushingless roller chain to choose, you may need to purchase an additional pair of inner chainplates.
Linerless roller chains may also include chain guides. In a bushingless roller chain, the outer and inner link plates conform to the surfaces of the guide rails. Thus, the large area of contact between the chain and the guide rail is eliminated, the friction loss is reduced, and the power transmission efficiency is improved. These properties make bushless roller chains more efficient and durable than traditional roller chains. It's also less noisy. If you are looking for a chain with a lower noise level, a bushingless roller chain may be the right choice for you.



editor by CX 2023-06-08