Product Description
Product Description
Product Parameters
Standard
GB, ISO, ANSI, DIN
Type
Standard A and standard B precision roller chain, conveyor chain;
special chain with accessories, welding chain, leaf chain and sprocket
ANSI chain No.
40,50,60,80,100,120,140,160,180,200,240;
C40,C50,C60,C80,C100,C120,C140,C160;
DIN/ISO chain No.
08A,10A,12A,16A,20A,24A,28A,32A,36A,40A,48A;
C08A,C10A,C12A,C16A,C20A,C24A,C28A,C32A;
Application
Food processing, pharmaceutical and chemical industries, electronics, machinery;
household appliances, automotive manufacturing, metallurgy, sewage treatment
Series
A series,B series
More Products
Advantage
Certifications
DETAILS ABOUT CZPT CHAIN 
Exhibition
Workshop
Application
Packaging Details
Shipping
FAQ      
1. Are you a manufacturer or trade Company?
We are a factory founded in 1997 with a trade team for international service.
2. What terms of payment do you usually use?
T/T 30% deposit and 70% against document, Western Union, L/C at sight
3. What is your lead time for your goods?
Normally 35 days after confirmed order. 30 days could be available in the low season for some items (during May to July), and 45 days during the new year and hot season ( Jan to March).
4. Samples
For customers who need sample confirmation before ordering, please bear in mind that the following policy will be adopted:
1) All samples are free of charge with a maximum value not exceeding USD 100.
2) The courier cost for the first-time sample sending will be charged by the consignee. We will send the samples with freight to be collected. So please inform your account with FedEx, UPS, DHL, or TNT so that we can proceed promptly.
3) The first-time courier cost will be totally deducted from the contract value of the trial cooperation.
4) OEM/ODM are both available.
| | |
| --- | --- |
| Usage: | Transmission Chain, Drag Chain, Conveyor Chain, Dedicated Special Chain |
| Material: | Stainless steel |
| Surface Treatment: | Polishing |
| Feature: | Heat Resistant |
| Chain Size: | 1/2"*11/128" |
| Structure: | Roller Chain |
Samples:

US$ 1/Meter

1 Meter(Min.Order)

|
Request Sample
Customization:

Available

|

Customized Request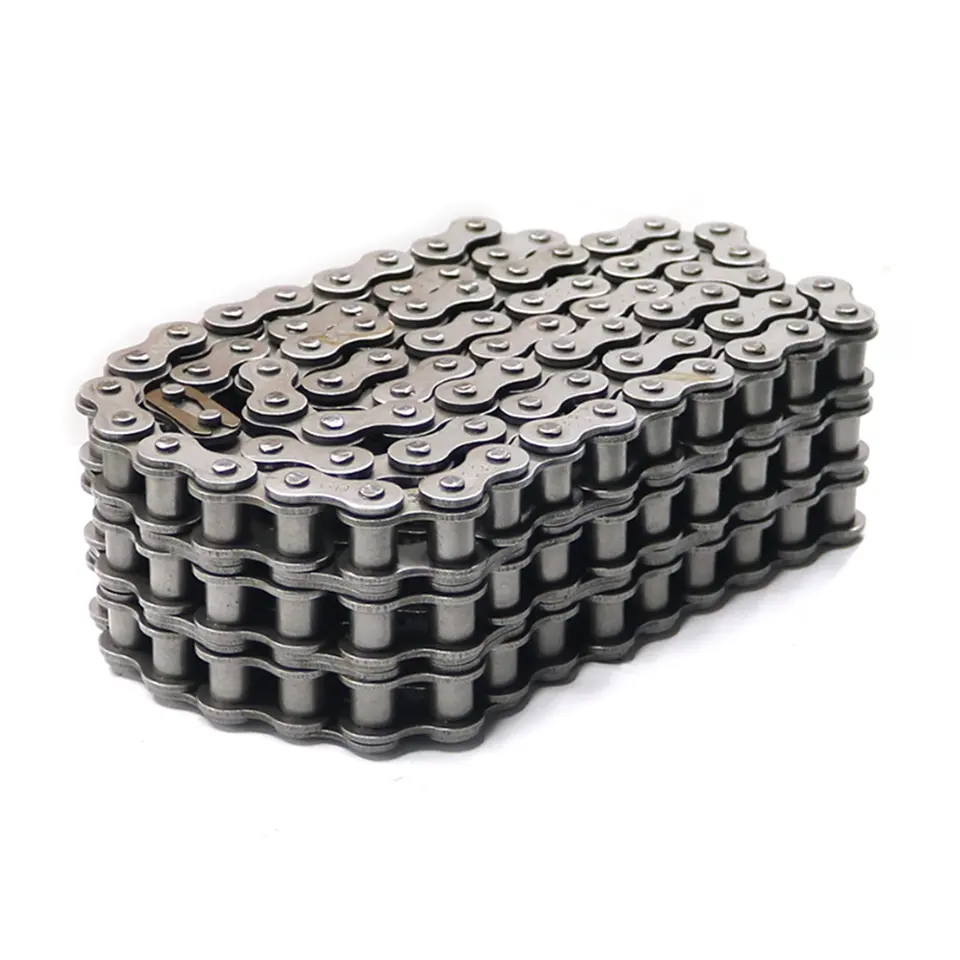 How do you troubleshoot chain skipping or slipping issues in an industrial chain?
Chain skipping or slipping issues in an industrial chain can lead to decreased efficiency and potential equipment damage. Here are some steps to troubleshoot and address these issues:
Check chain tension: Ensure that the chain is properly tensioned according to the manufacturer's recommendations. An overly loose or tight chain can cause skipping or slipping.
Inspect sprockets: Examine the sprockets for signs of wear, damage, or misalignment. Worn or damaged sprocket teeth can cause chain skipping. Correct any alignment issues and replace worn sprockets if necessary.
Inspect chain condition: Inspect the chain for signs of wear, elongation, or damage. A worn or stretched chain may not properly engage with the sprockets, leading to skipping or slipping. If the chain is significantly worn, it may need to be replaced.
Clean and lubricate the chain: Clean the chain thoroughly to remove any debris or contaminants that may be affecting its performance. Apply a suitable lubricant to ensure smooth operation and reduce friction.
Check drive system components: Examine other components of the drive system, such as bearings, shafts, and gears, for any signs of damage or misalignment. These components can also contribute to chain skipping or slipping.
Adjust alignment: Ensure that the entire chain drive system is properly aligned. Misalignment can cause uneven tension distribution and lead to chain skipping. Adjust the alignment as needed.
Inspect drive system tensioners: If the chain drive system includes tensioners, check their condition and adjustment. A malfunctioning or improperly adjusted tensioner can contribute to chain skipping.
Consult manufacturer guidelines: Refer to the manufacturer's guidelines and specifications for the specific industrial chain and equipment being used. Follow their recommended troubleshooting steps and maintenance practices.
Seek professional assistance if needed: If the issue persists or if you are unsure about the troubleshooting process, it is recommended to seek assistance from a qualified technician or the manufacturer's technical support team.
Addressing chain skipping or slipping issues promptly is important to prevent further damage and maintain the efficiency and reliability of the industrial chain system.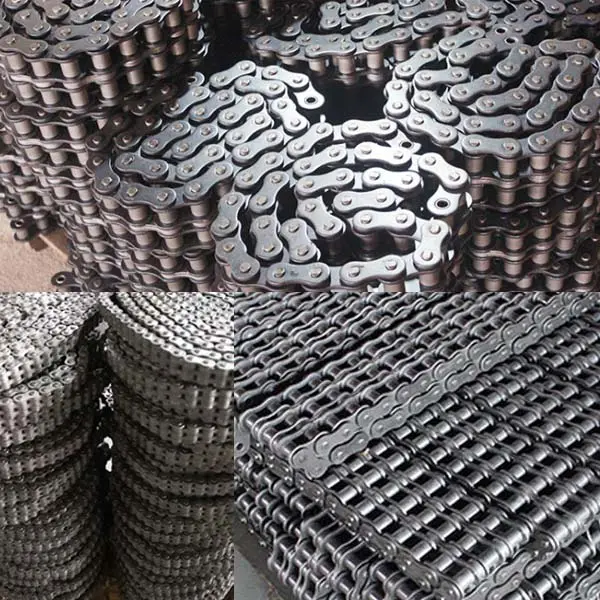 What are the noise levels associated with industrial chains?
The noise levels associated with industrial chains can vary depending on several factors, including chain design, lubrication, and operating conditions.
Chain Design: The design of the industrial chain, including the type of chain and its construction, can impact noise levels. Chains with smoother surfaces and precision manufacturing techniques tend to produce less noise.
Lubrication: Proper lubrication of the chain is essential for reducing noise. Applying a suitable lubricant to the chain can minimize friction and vibration, resulting in quieter operation.
Operating Conditions: The operating conditions of the industrial chain, such as the load, speed, and tension, can also affect noise levels. Higher loads and speeds, as well as inadequate tensioning, can increase noise levels.
Overall, it is important to consider noise levels when using industrial chains, particularly in noise-sensitive environments. Implementing proper chain design, regular lubrication, and maintaining appropriate operating conditions can help minimize noise and create a more comfortable work environment.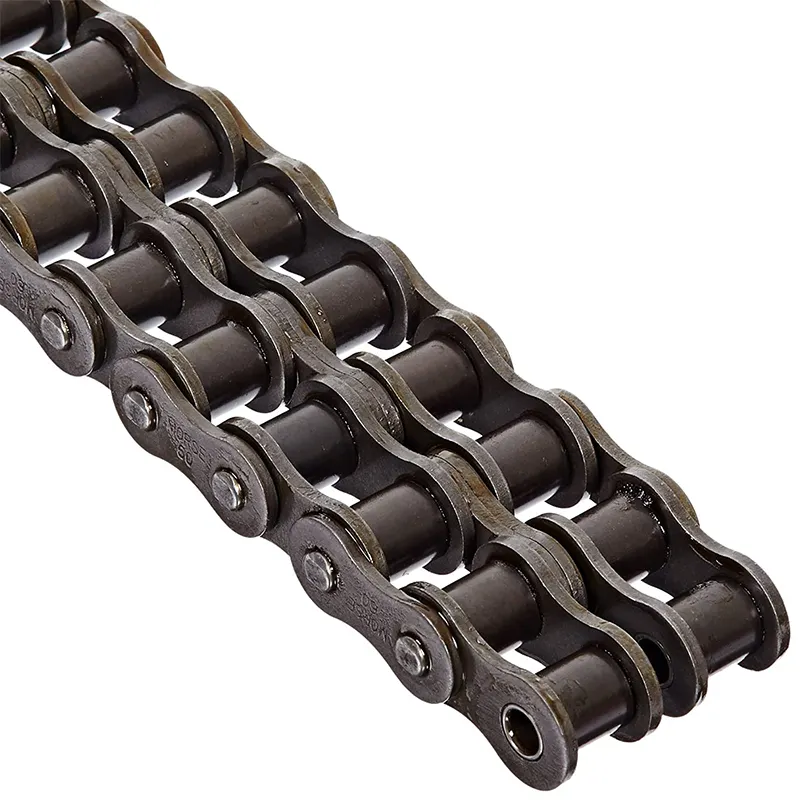 How do you troubleshoot common issues with industrial chains?
Troubleshooting common issues with industrial chains involves identifying the problem, determining its cause, and taking appropriate corrective actions. Here are some common issues and troubleshooting steps:
Chain misalignment: If the chain is misaligned, it can cause excessive wear, noise, and tension issues. To troubleshoot this, visually inspect the chain's alignment and check if the sprockets are properly aligned. Adjust the sprockets and ensure they are aligned with the chain's centerline.
Chain elongation: Over time, industrial chains can elongate, leading to poor performance and increased stress on the components. To troubleshoot elongation, measure the chain's pitch and compare it to the manufacturer's specifications. If the chain is elongated beyond the recommended limit, it may need to be replaced.
Inadequate lubrication: Insufficient or improper lubrication can result in increased friction and wear. Check the lubrication system and ensure the chain is properly lubricated according to the manufacturer's recommendations. Adjust the lubrication schedule or consider using a different lubricant if necessary.
Excessive chain tension: Excessive tension can cause increased wear, noise, and strain on the chain and components. Check the tension of the chain and adjust it to the manufacturer's recommended specifications. Ensure proper tensioning devices, such as tensioners or idler sprockets, are in place and functioning correctly.
Broken or damaged links: If there are broken or damaged links in the chain, they can cause performance issues and potential failure. Inspect the chain for any visible damage, such as broken pins or links, and replace the affected components as necessary.
Excessive chain wear: Excessive wear can lead to chain elongation, decreased performance, and increased risk of failure. Regularly inspect the chain for signs of wear, such as elongation, worn sprocket teeth, or excessive clearance between the chain and sprockets. Replace the chain if it has reached its wear limit.
It is important to consult the manufacturer's guidelines and recommendations for troubleshooting specific issues with the particular type of industrial chain being used. Additionally, regular maintenance, including proper lubrication, tensioning, and periodic inspections, can help prevent common issues and prolong the lifespan of the industrial chain.



editor by CX 2023-08-29