Product Description
G80 Lifting Alloy Steel Chain
1,Alloy chain is designed and manufactured for superior lifting performance. It can withstand more abuse, abrasion resistance, greater load lifting per size. It is lighter to handle for application. Produced from high quality alloy steel, heat treated and proof tested. Reliable for lifting applications.
2,Safety factor: 4:1
3,Embossed with marking for identification and traceability.
4,Finish: black tempered, electro galvanized, hot dip galvanized, painted.
5,Length and width of the chain link are adjustable.
6,Can be manufactured in accordance with standard: EN818-2, ISO3077, JIS standard, US federal specification, etc.
 Product Show(Self Color,Black,Golden Galvanized)
DATE SHEET 
Chain dia.
b (mm)
Inside length
t (mm)
Inside width
b1. (mm)
Outside width
b2. (mm)
Working load (t)
Breaking load (t)
Weight
(kg/m)
3
9.00
3.80
10.70
0.36
14.10
0.21
4
12.00
5.00
14.30
0.63
25.10
0.35
5
15.00
6.30
16.50
1.00
3.16
0.50
6
18.00
7.50
20.00
1.44
4.56
0.80
6.3
19.80
8.20
20.80
1.60
5.00
0.84
7
21.00
9.00
24.50
1.92
6.00
1.10
7.1
21.30
9.00
24.50
2.00
6.32
1.15
8
24.00
10.00
28.00
2.50
8.00
1.40
9
27.00
11.00
31.50
3.15
10.20
1.82
10
30.00
12.50
35.00
4.00
12.80
2.20
11
33.00
12.60
36.50
4.20
15.20
2.33
12
36.00
15.00
42.00
4.60
18.40
3.10
13
39.00
16.30
46.00
5.30
21.20
3.70
14
42.00
18.00
49.00
6.30
25.20
4.13
15
46.00
20.00
52.00
7.00
28.00
5.17
16
48.00
20.00
56.00
8.00
32.00
5.63
18
54.00
23.00
63.00
10.00
40.00
6.85
19
57.00
23.70
63.20
11.30
45.20
7.80
20
60.00
25.00
70.000
12.50
50.00
8.60
22
66.00
28.00
77.00
15.30
61.20
11.00
24
72.00
32.00
82.00
18.00
72.00
12.80
26
78.00
35.00
91.00
21.30
85.20
14.90
32
90.00
38.00
105.00
28.30
113.20
19.60
34
102.00
46.50
121.20
36.30
145.20
25.50
36
108.00
49.50
128.50
40.70
162.80
31.00
38
114.00
52.00
136.00
45.30
181.20
32.00
42
126.00
55.50
144.50
55.40
221.60
38.60
48
144.00
62.40
177.60
72.30
289.20
52.00
50
150.00
65.00
185.00
80.00
320.00
56.00
52
156.00
67.60
192.40
85.00
340.00
59.00
56
168.00
72.80
207.20
100.00
400.00
72.50
63
190.00
81.90
233.10
125.00
500.00
89.00
72
210.00
91.00
259.00
160.00
640.00
110.00
Packing Optional:
                                    Wooden Carton                                                                             Steel Drum
Applications:
All Kinds Of CHINAMFG Chain SlingLoad Chain For Chain Block&Lever Block
Production Process
CE Certified
Related Products

About Us
ZheJiang CHINAMFG Lifting Co., Ltd is committed to the developing and manufacturing High quality products which
are widely used for operations of heavy duty lifting, rigging, fastening, and material handling in mines, oil rigs,
mills, docks, and on ships. All the products we provide can be certified by registers BV, ABS, Lloyd' S, etc.
Deso' History can be dated back to 1987, following The Policy Of Reform And opening of China, Our domestic and
global market with huge demand for lifting material, we begin our business first with Chain Hoist and Lever Hoist.
Our products with good reputation in China, and we also export goods to a few countries like USA, Germany etc.
By cooperating with some National stae-owned Imp&Exp enterprises.
Deso gained the right to export in 2002 following the step of China' S joining WTO(World Trade Organization), we
are among the first companies with the authority to export in China. In order to meet the demand of our client
(Mainly for European and MID-East at that time), we expanded our products from Chain Block&Lever Block to
more lifting material. After the development of the past years, our high quality products with good price including:
*G80 Chain, Hook, Master Link, Connecting Link, Chain Sling.
*G100 Chain, Hook, Master Link, Connecting Link, Chain Sling.
*US Type Shackles and Other Rigging Hardware.
*Chain Block&Lever Block.
*Steel Wire Rope.
*Webbing Sling&Round Sling 
Deso invested new factory and facility in ZheJiang Province2571, updated production line and facility guarantee us
improved quality and capacity, combined with our 27 years' S experience in the field of international trade. We find
our advantages to Survive and the right way to help our customer win the marketshare, that' S quality and service.
When Buying From CHINAMFG You Are Buying More Than Products, You Are Buying Quality And Service
FAQ:
Q1. Why choose us?
1.We are your one-stop service and solutions provider,certified by ISO9001.
2. Exporting to Europe,USA,Australia,Mid East,Southeast Asia and Africa.
3. Strict quality control and with long term quality inspection contract with CE SGS.
4. Products is underwritten by the China Property Insurance Company(PICC) as quality assurance for customer.
5.Pre-shipment quality inspection for customer by picture/video.
6. Meet Customized requirement on design and logo.
7. Small order acceptable.Can  also include other products like wire rope ,rigging into 1 order.
Q2. How Can I order?
  Please send inquiry here, professional sales team will reply you as soon as possible.
Q3. Can I get discounts?
Yes. For big order and Frequent Customers, we give reasonable discount.
Q4. Can you add our own logo on the products?
Yes.  We offer the service of adding customers' logo on the product.
We will have a agreement with each other and not supply products with your logo to others.
Q5.OEM and ODM acceptable?
Yes,we can produce according to customer's drawing,sample or requirement.
And can make customer's logo on products and packing according to requirement.
| | |
| --- | --- |
| Usage: | Heavy Duty Lifting |
| Material: | Alloy |
| Surface Treatment: | Baking Paint |
| Feature: | Heat Resistant |
| Chain Size: | 7mm-13mm |
| Structure: | Welded Chain |
Samples:

US$ 2/Meter

1 Meter(Min.Order)

|
Request Sample
Customization:

Available

|

Customized Request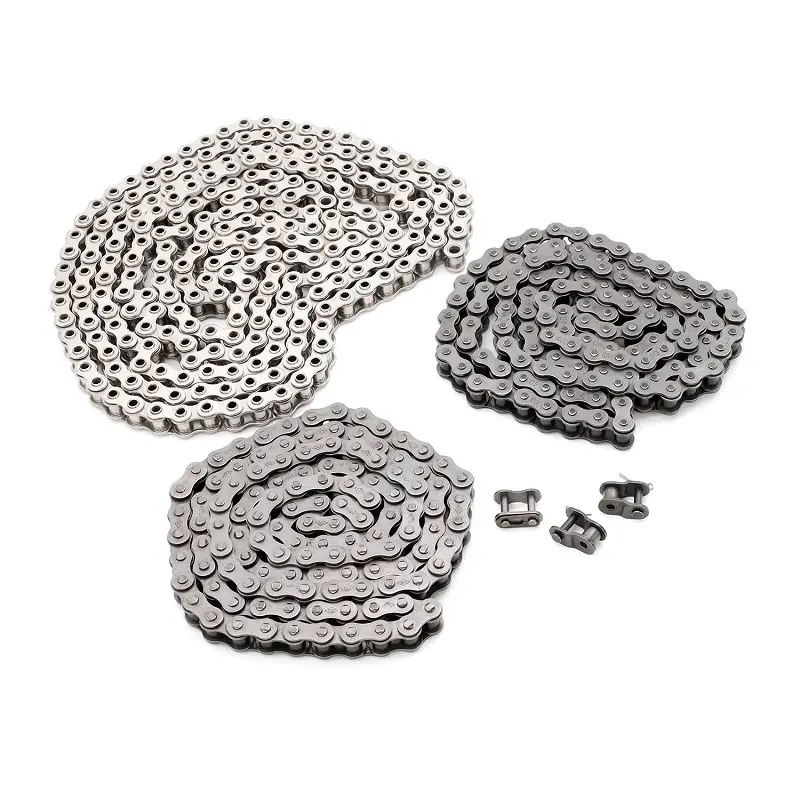 How do you ensure proper alignment of an industrial chain system?
Proper alignment of an industrial chain system is crucial for its efficient and reliable operation. Here are the steps to ensure proper alignment:
Sprocket Alignment: Align the sprockets correctly along the same plane to ensure the chain runs smoothly. Check for any misalignment, such as lateral or angular misalignment, and adjust the sprockets accordingly.
Tension Adjustment: Adjust the tension of the chain to the manufacturer's specifications. An overly loose or tight chain can cause excessive wear and premature failure. Use appropriate tensioning devices or methods to achieve the recommended tension.
Visual Inspection: Perform a visual inspection of the chain as it operates. Observe its movement along the sprockets to ensure it tracks properly. Look for any signs of the chain riding on the sprocket teeth or deviating from its intended path.
Measurement and Adjustment: Use alignment tools, such as a straightedge or laser alignment devices, to measure the alignment of the sprockets. Compare the measurements with the manufacturer's specifications and make necessary adjustments to achieve proper alignment.
Periodic Maintenance: Regularly inspect and maintain the chain system to ensure continued alignment. Check for any wear or damage that may affect the alignment and address it promptly. Keep the chain properly lubricated to reduce friction and improve its movement along the sprockets.
Professional Assistance: If you are unsure about the alignment or encounter persistent alignment issues, seek the assistance of a qualified professional or technician who has experience in industrial chain systems. They can provide expert guidance and ensure the proper alignment of the system.
By following these steps and maintaining proper alignment of the industrial chain system, you can minimize wear, reduce the risk of chain failure, and optimize the overall performance and longevity of the system.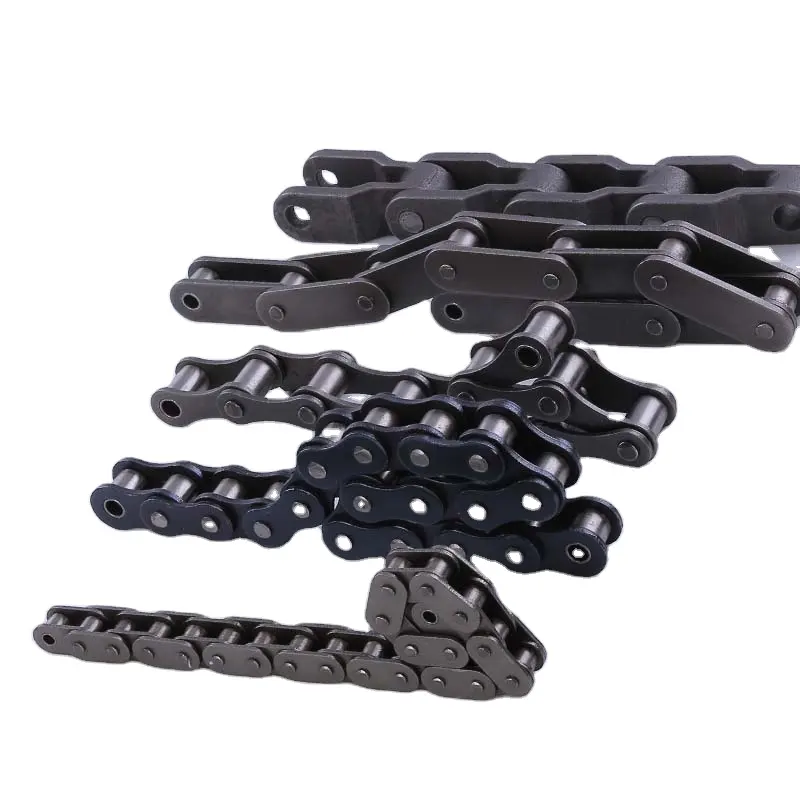 What are the industry standards and regulations for industrial chains?
There are several industry standards and regulations that govern the design, manufacturing, and use of industrial chains. These standards ensure safety, reliability, and performance consistency across different applications. Here are some prominent standards and regulations related to industrial chains:
– ISO 606: This standard specifies the design and dimensions of metric series roller chains used in industrial applications. It provides guidelines for chain pitch, roller diameter, and plate dimensions.
– ANSI/ASME B29.1: This American National Standard covers the design, dimensions, and interchangeability requirements for roller chains, including single, multiple, and double-pitch chains.
– ISO 10823: This standard focuses on the measurement and assessment of chain elongation during operation. It provides guidelines for evaluating the wear and elongation of roller chains.
– OSHA (Occupational Safety and Health Administration): OSHA sets safety standards and regulations to ensure a safe working environment. While it doesn't specifically address industrial chains, it covers general machine guarding requirements that are applicable to chain-driven machinery.
– Machinery Directive (2006/42/EC): This European directive outlines the essential health and safety requirements for machinery and equipment. It covers aspects such as design, construction, and use of machinery, including industrial chains.
It's important for manufacturers and users of industrial chains to be aware of these standards and regulations and ensure compliance. Adhering to these standards helps ensure the safety, reliability, and proper functioning of industrial chain systems in various industries.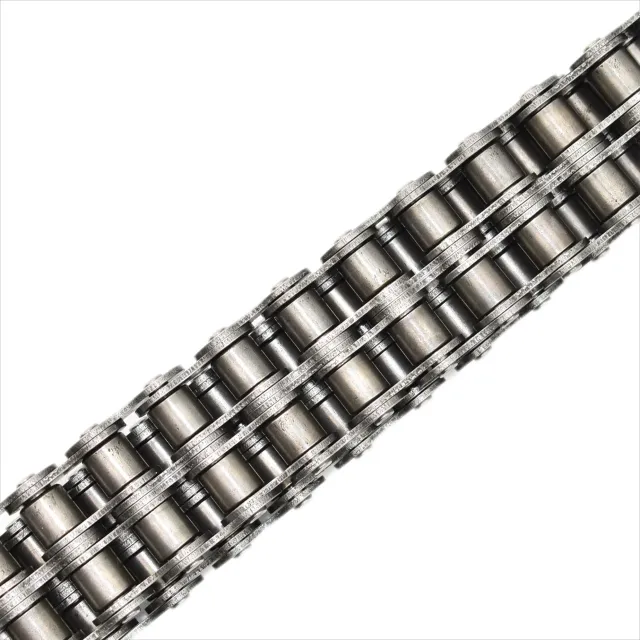 What are the main components of an industrial chain?
An industrial chain consists of several key components that work together to transmit power and facilitate the movement of loads. The main components of an industrial chain include:
Chain Links: Chain links are the individual units that make up the chain. They are typically made of metal and are connected to form a continuous loop. The shape and design of the chain links may vary depending on the type and application of the industrial chain.
Pins: Pins are cylindrical metal rods that connect the chain links. They pass through the inner bushings of the chain links, forming the pivot points for the movement of the chain.
Bushings: Bushings are cylindrical metal sleeves that are mounted inside the chain links. They provide a smooth surface for the pins to rotate, reducing friction and wear.
Rollers: Rollers are cylindrical components that sit between the chain links. They help facilitate the smooth movement of the chain by reducing friction between the chain and the surfaces it comes in contact with.
Sprockets: Sprockets are toothed wheels that engage with the chain and transfer rotational motion. They are typically mounted on shafts or axles and come in various sizes and configurations to match the chain's pitch and design.
Tensioners and Guides: Tensioners and guides are additional components that help maintain the proper tension and alignment of the industrial chain. They ensure that the chain remains in contact with the sprockets and operates smoothly.
Lubrication System: Industrial chains require proper lubrication to minimize friction, reduce wear, and extend their service life. Lubrication systems, such as oilers or grease fittings, are often integrated into the chain design to ensure adequate lubrication.
Accessories: Depending on the specific application, industrial chains may include additional accessories such as attachments, covers, guards, or special coatings to enhance their performance, protect against external elements, or meet specific industry requirements.
These components work together to form a reliable and efficient power transmission system, allowing the industrial chain to withstand heavy loads, transmit motion, and operate smoothly in various industrial applications.



editor by CX 2023-10-12