Product Description
Candado Paso 40-1 Transmission Industrial Roller Chain 08A-1 08B-1 CADENA 25-1 04C-1 chain 35-1
1.Material choices:Carbon steel,40Mn ,C45 steel,304 stainless steel, 316 stainless steel and 201 stainless steel.
2.We specialized in producing all kinds of standard chains and special chains, such as A or B series chains, roller chains,
driving chains, conveyor chains, hoisting chains, agricultural chains, sprockets, gears, wheels and so on;
3.Roller chains: A series(12.7-50.8mm pitches),B series (9.525-50.8mm pitches)and the heavy series.
4.We supply all kinds of different mode stainless steel roller chain.
5.We also supply following short pitch precision roller chain
Simplex Roller Chains&Bushing Chains: 04C-1,06C-1,085-1,08A-1,10A-1,12A-1,16A-1,20A-1,24A-1,28A-1,32A-1,36A-1,40A-1,48A-1
Duplex Roller Chains&Bushing Chains:04C-2,06C-2,085-2,08A-2,10A-2,12A-2,16A-2,20A-2,24A-2,28A-2,32A-2,36A-2,40A-2,48A-2
Triplex Roller Chains&Bushing Chains:04C-3,06C-2,085-3,08A-3,10A-3,12A-3,16A-3,20A-3,24A-3,28A-3,32A-3,36A-3,40A-3,48A-3
Specification
| | |
| --- | --- |
| Name | High Quality Short Pitch Precision Roller Chains *03C *04C-1 *06C-1 |
| Material | Low carbon steel, C45, 20CrMnTi, 42CrMo, 40Cr, stainless steel |
| Surface treatment | Blacking, galvanization, chroming, electrophoresis, color painting |
Roller Chain We can provide roller chain A & B series with high quality and competitive price. 
Standard : 03C-1, 04C-1, 06C-1,08A-1,10A-1,12A-1,16A-1,20A-1,24A-1,28A-1,32A-1,40A-1,48A-1
                  03C-2, 04C-2, 06C-2,08A-2,10aA-2,12A-2,16A-2,20A-2,24A-2,28A-2,32A-2,40A-2,48A-2
                  03C-3, 04C-3, 06C-3,08A-3,10A-3,12A-3,16A-3,20A-3,24A-3,28A-3,32A-3,40A-3,48A-3 etc
                  05B-1;06B-1,08B-1,10B-1,12B-1,16B-1,20B-1,24B-1,28B-1,32B-1,40B-1,48B-1 05B-2;
                  06B-2,08B-2,10B-2,12B-2,16B-2,20B-2,24B-2,28B-2,32B-2,40B-2,48B-2 05B-3 ,
                   08B-3,10B-3,12B-3,16B-3,20B-3,24B-3,28B-3,32B-3,40B-3,48B-3 etc 
Nonstandard chain : We can make all kinds of non-standard chains according to the requirements of customer Application scope: Roller chain and Sprocket work together, apply to textile machinery, food machinery, printing machinery and woodworking machinery etc. 
Product name :Simplex short pitch roller chain 08A-1 La cadena de rodillos
Material: Stainless steel, Alloy steel Heat Treatment Carburizing and quenching and heat treatment, tempering, and blackening. Surface treatment " Short blasting Blackening, bluing, copper plating, galvanizing, or as required by the customer
Function High precision, high wear resistance, best service life ; best noise reduction ; best price
1. Heat Treatment.:the plate of roller chains would be bulk heat treatment
2. Carburization: Place in heat treatment equipment parts were heated to a certain temperature and heat preservation   time, and then pass into the carbon, medium carbon into the workpiece surface, chain in order to improve the hardness and abradability .
3 Quenching Parts :after heated to a certain temperature in heat treatment equipment, heat preservation time, and then according to the requirements in different medium cooling, thus improve parts hardness.
4 Tempering:After quenching parts at a certain temperature in the heat treatment equipment
for heating, cooling and heat preservation time after.Parts after tempering can reduce the quenching hardness, eliminate the quenching stress,improve the toughness.
5.Black Oxide/Bluing:Using organic polymer polymerization principle, the use of heat treatment process in the process of tempering heat black film.
Our company
HangZhou Flow Group Ltd is a professional manufacturer of bearings, collecting together production and processing, domestic and foreign trade. The factory specializes in the production and export of many kinds of bearings: deep groove ball bearing, spherical roller bearing, tapered roller bearing, and so on. The customized bearings is also acceptable and the production will be according to your requirements and samples.
All bearings in our factory adopt international quality standards. The complete equipment, strict quality control, advanced Japanese technology and quality service provide a guarantee to supply the high-quality bearings for our customers. Domestic sales and service network has covered 15 major cities in China, meanwhile our bearing has sold more than 60 overseas countries and regions.
If you are interested in any of our products or have an intention to order, please feel free to contact us.
Contact Us
Bella
 
| | |
| --- | --- |
| Standard or Nonstandard: | Standard |
| Application: | Textile Machinery, Conveyer Equipment, Packaging Machinery, Electric Cars, Motorcycle, Food Machinery, Marine, Mining Equipment |
| Structure: | Roller Chain |
| Material: | Stainless Steel |
| Type: | Short Pitch Chain |
| Transport Package: | Box+Wooden Box |
Customization:

Available

|

Customized Request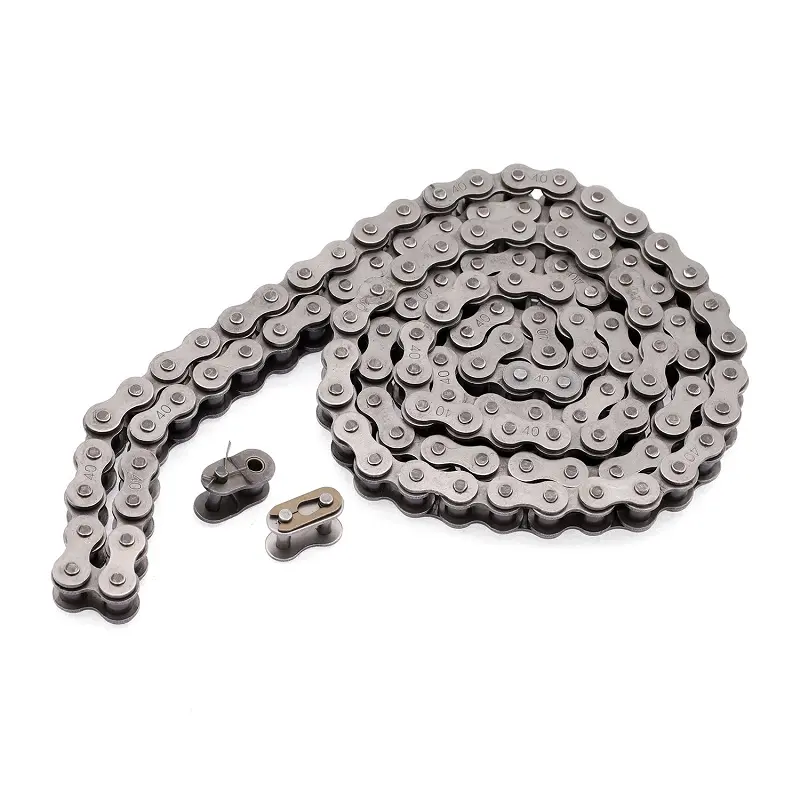 Can an industrial chain be used for heavy-duty applications?
Yes, an industrial chain is commonly used in heavy-duty applications due to its ability to handle high loads and provide reliable power transmission. Here are some detailed reasons why industrial chains are suitable for heavy-duty applications:
High Load Capacity: Industrial chains are designed to withstand heavy loads and transmit power efficiently. They are constructed with robust materials and components to ensure they can handle the demanding conditions of heavy-duty applications.
Strength and Durability: Industrial chains are manufactured from high-strength materials such as alloy steel, which provides exceptional tensile strength and resistance to wear and fatigue. This allows them to withstand the stresses and strains associated with heavy loads and continuous operation.
Reliable Power Transmission: Industrial chains offer a reliable and efficient means of transmitting power in heavy-duty applications. They provide a positive engagement between the sprockets, ensuring smooth and consistent power transfer even under high loads.
Versatility: Industrial chains can be designed and configured to meet the specific requirements of different heavy-duty applications. They are available in various sizes, designs, and types, allowing for customization and adaptation to specific load conditions and operating environments.
Proven Track Record: Industrial chains have been widely used in heavy-duty applications across industries such as construction, mining, agriculture, and material handling. Their reliability and performance in demanding conditions have been well-documented, making them a trusted choice for heavy-duty applications.
Overall, the robust construction, high load capacity, strength, durability, and proven performance make industrial chains a suitable choice for heavy-duty applications where reliable power transmission and handling of high loads are essential.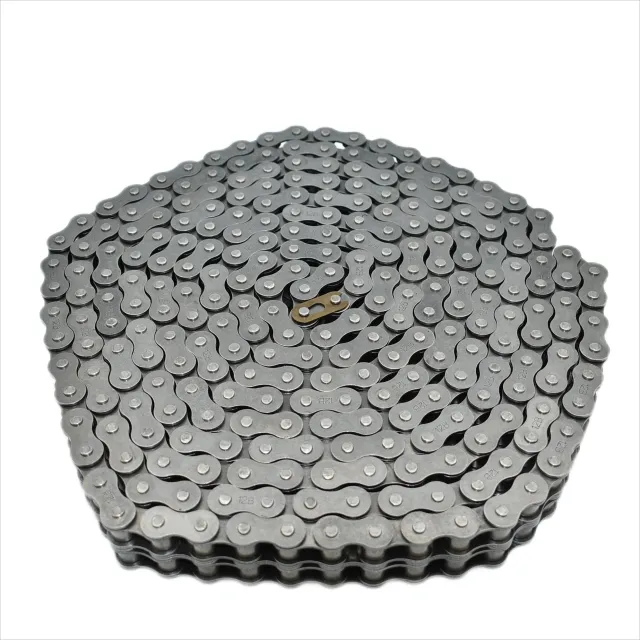 What are the environmental considerations when using an industrial chain?
When using an industrial chain, there are several environmental considerations to take into account:
1. Lubrication: Proper lubrication of the chain is important not only for its performance but also for environmental reasons. Using environmentally-friendly lubricants can help minimize the impact on the environment, especially in applications where there is a risk of lubricant leakage or contamination.
2. Material Selection: Choosing the right materials for the chain and its components is crucial. Opting for materials that are resistant to corrosion and wear can extend the chain's lifespan and reduce the need for frequent replacements, thus minimizing waste.
3. Maintenance and Inspection: Regular maintenance and inspection of the chain can help identify any potential issues early on, preventing unexpected failures and reducing the environmental impact of unplanned downtime and repairs.
4. Noise and Vibration: Industrial chains can generate noise and vibrations during operation, which may have environmental implications, especially in noise-sensitive areas or where worker comfort is a priority. Implementing measures to minimize noise and vibration, such as proper lubrication, chain tensioning, and damping systems, can help mitigate these effects.
5. Waste Management: Proper disposal and recycling of worn-out or damaged chain components are important to minimize the environmental impact. Recycling programs or partnering with responsible waste management companies can ensure that discarded chain components are properly handled and disposed of in an environmentally friendly manner.
By considering these environmental factors and implementing appropriate measures, the use of industrial chains can be made more sustainable and environmentally responsible.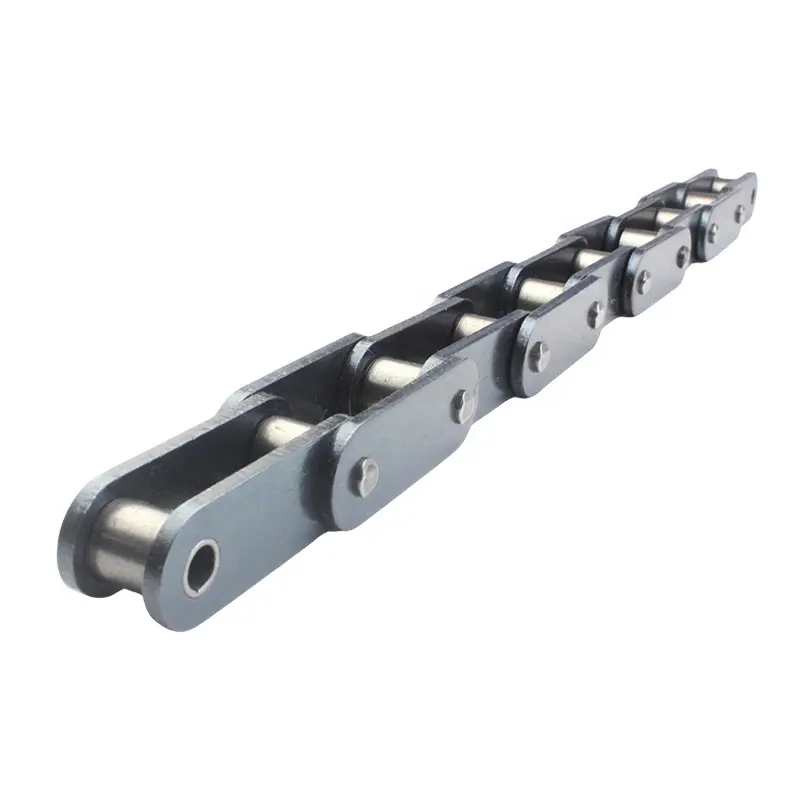 Can an industrial chain be repaired or does it need to be replaced entirely?
Whether an industrial chain can be repaired or needs to be replaced entirely depends on the extent of damage and the type of chain. In some cases, minor issues with an industrial chain can be repaired, while in other cases, replacement may be necessary. Here are some considerations:
Extent of damage: If the chain has minor issues such as a damaged link or a loose pin, it may be possible to repair it by replacing the damaged component. However, if the chain has significant damage, such as severe elongation or multiple broken links, it may be more cost-effective to replace the entire chain.
Type of chain: The repairability of an industrial chain also depends on its construction and design. Some chains, such as roller chains, can be disassembled and repaired by replacing individual components. However, other types of chains, such as welded steel chains, may be difficult or impractical to repair and may require complete replacement.
Manufacturer's recommendations: It is essential to consult the manufacturer's guidelines and recommendations regarding repairs. The manufacturer can provide specific information on whether the chain can be repaired and the proper procedures to follow.
Cost and time considerations: Repairing an industrial chain may require specialized tools, replacement parts, and technical expertise. It is important to consider the cost of repairs, including labor and materials, compared to the cost of a new chain. Additionally, repair time should be taken into account, as it may result in downtime for the equipment or production line.
Ultimately, the decision to repair or replace an industrial chain should be based on factors such as the extent of damage, the chain's design, manufacturer's recommendations, and cost-effectiveness. It is recommended to consult with a qualified technician or contact the manufacturer for guidance in making this determination.



editor by CX 2023-08-22