Product Description
| | | | | | | | |
| --- | --- | --- | --- | --- | --- | --- | --- |
| MODEL | P | T | t | h | H | b | d |
| S16 | 100 | 30 | 15 | 27 | 8 | 16 | 14 |
| P102-W385 | 102 | 30 | 13 | 27 | 9 | 14 | 14 |
| RUS270 | 123 | 50 | 24 | 46 | 16 | 25 | 20  20.5 |
| Z20 | 125 | 50 | 24 | 48 | 15 | 26 | 20 |
| P140 | 140 | 78 | 31 | 50 | 19 | 32 | 25 |
| Z30 | 142 | 64 | 28.5 | 50 | 18 | 30.5 | 25 |
| 150 | 150 | 38 | 18 | 40 | 10 | 20 | 18 |
| P155 | 155 | 79 | 39.5 | 63.5 | 36 | 40.5 | 30 |
| Z25 | 160 | 58 | 28 | 55 | 18 | 30 | 25 |
| YD310 | 200 | 43 | 20 | 47 | 12 | 22 | 20 |
| A-3634 | 216 | 64 | 26 | 72 | 20 | 28.5 | 35 |
| X63 | 250 | 60 | 28 | 70 | 20 | 30 | 25 |
| P260 | 260 | 72 | 32 | 75 | 20 | 34 | 32 |
         ZheJiang CHINAMFG Precision Casting and Forging Inc. was established in 2003, covering an area of 40,000 square meter with 300 employees. In 2571, the company passed the quality management system certification of GB/T 19001-2016 and ISO 9001:2015, and has a number of invention patents.It is a national high-tech enterprise.
        Our main products are bucket teeth,side teeth,bucket adapter for excavator and loader; Forged pipe coupling for concrete pump ; Drop forged chain for scraper conveyor, etc. Other casting and forging parts canalsobecustomized accordingto customer drawings. The main materials are alloy steel, high manganese steel, gray iron, ductile iron, etc.
       Our company can produce casting range in 0.1kg-2tons, forging range in 0.1kg-100kgs, casting and forging annual capacity of 10,000tons.From productdesign, mold development to heattreatment, machining and spraying, we provide the whole processof internal manufacturing to better control the cost and quality.
       ZheJiang Plus Import and Export Trading Co., Ltd. was established in 2571, is Wanxin's subsidiary, mainly responsible for marketing and export.
FAQ
Q1.Are you a manufacturer or a trading company?
we are totally manufacturer of machinery parts.
Q2.Can i get samples for checking the quality?
we can provide free samples,but you need to pay the freight.
Q3.What's your MOQ?
For normal prodcuts,we don't have MOQ.
For customerized products,we will tell you MOQ based on your drawing.
Q4.What's your delivery time?
it's about 7-45 days based on your quantity.
| | |
| --- | --- |
| Material: | Alloy |
| Structure: | Roller Chain |
| Surface Treatment: | Electroplating |
| Chain Size: | 1/2"*11/128" |
| Feature: | Fire Resistant, Oil Resistant, Heat Resistant |
| Warranty: | 12 Months Warranty |
Samples:

US$ 100/Piece

1 Piece(Min.Order)

|
Request Sample
Customization:

Available

|

Customized Request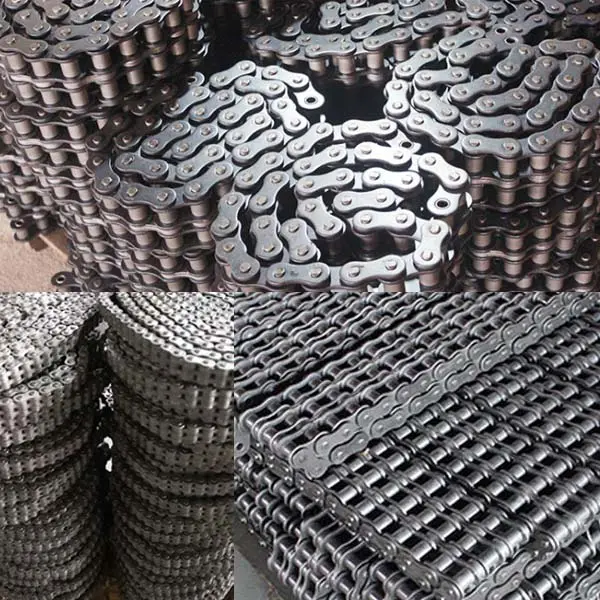 How does lubrication affect the performance of an industrial chain?
Lubrication plays a crucial role in the performance and longevity of an industrial chain. It provides a protective layer between the moving components of the chain, reducing friction and wear. Here are the key ways in which lubrication affects the performance of an industrial chain:
Friction reduction: Lubrication creates a lubricating film that reduces friction between the chain's pins, bushings, and rollers. This minimizes the resistance to movement and allows the chain to operate smoothly, reducing energy consumption and preventing excessive heat generation.
Wear prevention: Lubrication forms a protective barrier that prevents direct metal-to-metal contact between the chain's components. This reduces wear and extends the chain's service life, minimizing the need for frequent replacements and costly downtime.
Corrosion protection: Lubricants can have anti-corrosion additives that protect the chain from rust and corrosion caused by moisture, chemicals, or environmental factors. This is particularly important in applications exposed to harsh or corrosive environments.
Noise reduction: Proper lubrication reduces the noise generated by the chain's movement by minimizing metal-to-metal contact and damping vibrations. This is crucial in applications where noise levels need to be controlled, such as in residential areas or noise-sensitive environments.
Temperature control: Lubrication helps dissipate heat generated during chain operation, preventing overheating and potential damage to the chain. It also provides thermal stability, allowing the chain to maintain its performance even in high-temperature environments.
Contamination resistance: Lubrication helps repel and flush away contaminants such as dirt, dust, and debris that can accumulate on the chain. By keeping the chain clean, lubrication reduces the risk of abrasive wear and blockages that can hinder the chain's operation.
Proper lubrication selection and maintenance are critical to ensure optimal performance and longevity of an industrial chain. It is important to follow the manufacturer's recommendations regarding lubrication intervals, lubricant type, and application methods to achieve the best results.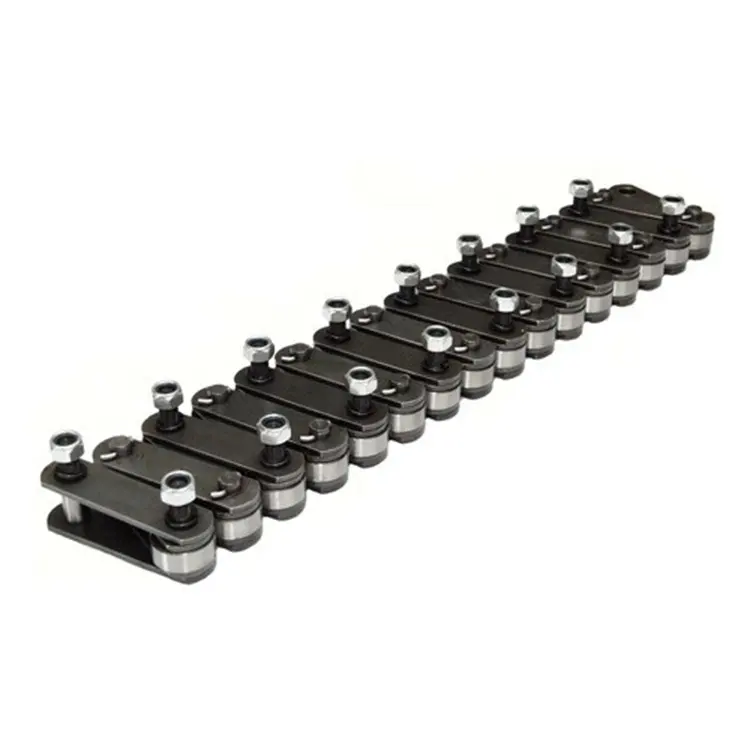 What are the common causes of industrial chain failures?
Industrial chain failures can occur due to various factors:
Excessive load: Applying a load that exceeds the chain's capacity can lead to stress and failure. It is important to consider the chain's rated load and choose the appropriate chain for the application.
Inadequate lubrication: Insufficient or improper lubrication can result in increased friction and wear, leading to premature chain failure. Regular lubrication with the recommended lubricant and following the manufacturer's guidelines is crucial.
Improper tensioning: Incorrect chain tension can cause misalignment, premature wear, and failure. Proper tensioning ensures optimal performance and longevity of the chain.
Misalignment: Poor alignment between the sprockets can cause the chain to wear unevenly and increase the risk of failure. Proper alignment of the sprockets is essential for smooth operation.
Wear and tear: Continuous use without proper maintenance and regular inspection can result in chain fatigue, elongation, and eventual failure. Regular inspection and timely replacement of worn-out components are necessary to prevent failure.
Corrosion: Exposure to corrosive environments can weaken the chain material and compromise its integrity. Using corrosion-resistant chains or applying appropriate coatings can mitigate the risk of corrosion-related failures.
Lack of maintenance: Neglecting routine maintenance tasks such as cleaning, lubrication, and inspection can lead to chain degradation and eventual failure. Regular maintenance is essential to ensure optimal chain performance and longevity.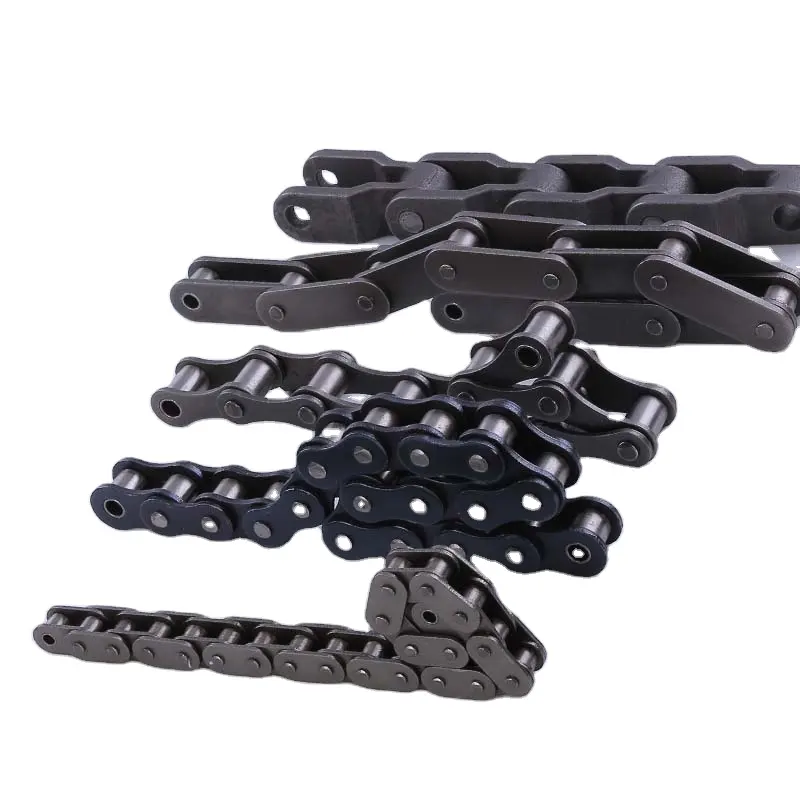 How is an industrial chain different from a regular chain?
An industrial chain differs from a regular chain in terms of its design, construction, and intended application. Here are some key differences:
Strength and Durability: Industrial chains are specifically designed to handle heavy loads and withstand harsh operating conditions in industrial settings. They are constructed using high-quality materials and undergo rigorous testing to ensure strength and durability.
Precision Engineering: Industrial chains are engineered with precision to meet specific performance requirements. They are manufactured to strict tolerances, ensuring precise fit and proper engagement with sprockets, resulting in reliable and efficient power transmission.
Specialized Designs: Industrial chains come in a variety of specialized designs to accommodate different applications. They may feature specific link shapes, roller configurations, or surface treatments tailored to meet the unique needs of various industries, such as conveying, lifting, or power transmission.
Lubrication Requirements: Industrial chains often require regular lubrication to minimize friction and wear. They may incorporate lubrication systems or be designed to accommodate external lubrication methods to ensure optimal performance and longevity.
Application Focus: Regular chains are commonly used for lighter-duty applications such as securing objects or supporting light loads. Industrial chains, on the other hand, are designed for heavy-duty industrial applications, including machinery, conveyors, mining equipment, and other demanding environments where high load capacity and reliability are crucial.
Industry Standards and Regulations: Industrial chains are often subject to specific industry standards and regulations to ensure their performance, safety, and compatibility with machinery and equipment used in industrial settings.
Overall, the key distinction lies in the industrial chain's robustness, precision engineering, specialized designs, and suitability for heavy-duty industrial applications, setting it apart from regular chains commonly used in lighter-duty tasks.



editor by CX 2023-10-23