Product Description
Product

Standard Double Pitch Roller chain

Material

40Mn steel,304 stainless steel, 316 stainless steel and 201 stainless steel.

Types

Standard chains and special chains, such as A or B series chains, roller chains, driving chains, conveyor chains, hoisting chains, agricultural chains, sprockets, gears, wheels and so on.

Series

 A series(12.7-50.8mm pitches),B series (9.525-50.8mm pitches)and the heavy series.

Short pitch precision roller chain

Simplex Roller Chains&Bushing Chains: 

04C-1,06C-1,085-1,08A-1,10A-1,12A-1,16A-1,20A-1,24A-1,28A-1,32A-1,36A-1,40A-1,48A-1
Duplex Roller Chains&Bushing Chains:

04C-2,06C-2,085-2,08A-2,10A-2,12A-2,16A-2,20A-2,24A-2,28A-2,32A-2,36A-2,40A-2,48A-2
Triplex Roller Chains&Bushing Chains:

04C-3,06C-2,085-3,08A-3,10A-3,12A-3,16A-3,20A-3,24A-3,28A-3,32A-3,36A-3,40A-3,48A-3

Chain link type

Standard links (without attachment) and non-standard links (with attachment).

 

A1: One-side,one hole cranked attachments.
A2: One-side,two holes cranked attachments.
K1: Both-side,one hole cranked attachments.
K2: Both-side,two hole cranked attachments.
D1: One-side,an extended pin on every outer link.
D3: One-side,two extended pin on every outer link.

Our Products Advantage

1. Every step from production order to the packing process has a strict quality inspection.
2. We have standard roller chain with 1.5 CZPT (DIN. ANSI.); Non-standard roller chain (customized acording to customer drawings).
3. Export products with high quality and low price.
4.We have a good service before and after-sale.
1.Fast delivery: Standard products can be delivered in as fast as 20 days
2.Good service: timely reply, prompt quotation, responsible for the product
3.High cost performance: can maintain price stability for a certain period of time, bringing greater profits to customers
4.Good quality: production and testing have corresponding supervision to ensure product quality and get high praise from customers
5.OEM service: products can be customized according to drawings and requirements
We are responsible for the ordered products. We are very confident in the products we produce. Of course, if you have any problems after receiving the goods, you can contact us directly. We will confirm and negotiate in time to solve your difficulties.
| | |
| --- | --- |
| Standard or Nonstandard: | Standard |
| Application: | Textile Machinery, Garment Machinery, Conveyer Equipment, Packaging Machinery, Food Machinery, Marine, Mining Equipment, Agricultural Machinery |
| Surface Treatment: | Oil Blooming |
| Structure: | Roller Chain |
| Material: | Carbon Steel |
| Type: | Bush Chain |
Samples:

US$ 35/kg

1 kg(Min.Order)

|
Request Sample
Customization:

Available

|

Customized Request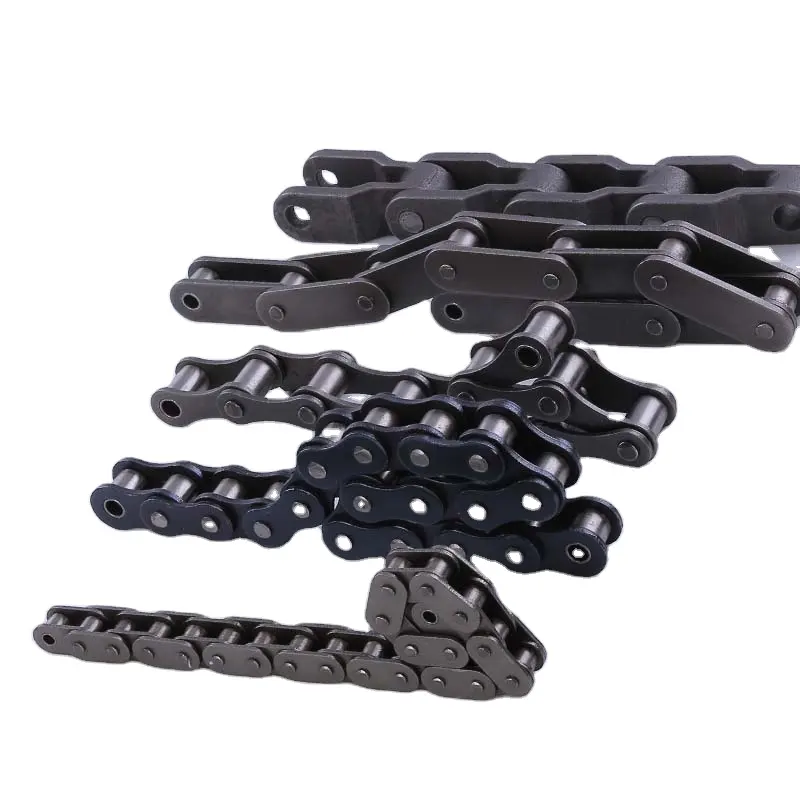 How do you ensure proper tensioning and alignment of an industrial chain drive?
Proper tensioning and alignment of an industrial chain drive are crucial for optimal performance, efficiency, and longevity of the system. Here are the steps to ensure correct tensioning and alignment:
Tensioning:
1. Determine the manufacturer's recommended tension for the specific industrial chain being used. This information can usually be found in the chain drive system documentation or provided by the manufacturer.2. Measure the current tension of the chain using a tension measuring tool or gauge. This is typically done by applying a known force to a specific point on the chain and measuring the elongation or deflection.3. Compare the measured tension with the recommended tension. If the measured tension is lower, the chain needs to be tensioned, while if it is higher, the tension needs to be reduced.4. Adjust the tension by either increasing or decreasing the slack in the chain. This is usually done by adjusting the position of the chain tensioner or by altering the position of the chain drive components, such as the motor or sprockets.5. Repeat the tension measurement and adjustment process until the recommended tension is achieved. It is important to ensure the tension is evenly distributed across the chain.
Alignment:
1. Check the alignment of the chain drive components, including the motor, sprockets, and shafts. Misalignment can cause excessive wear, noise, and reduced efficiency.2. Use alignment tools, such as laser alignment devices or straight edges, to assess the alignment of the components. The goal is to ensure that the chain runs parallel to the sprockets and that the sprockets are properly aligned with each other.3. Make adjustments to correct any misalignment. This may involve shimming or repositioning the components to achieve proper alignment.4. Verify the alignment by observing the chain's movement and its interaction with the sprockets during operation. The chain should run smoothly without excessive vibration, noise, or rubbing against the sprocket teeth.5. Regularly monitor the tension and alignment of the industrial chain drive and make necessary adjustments as part of the routine maintenance program.Proper tensioning and alignment help minimize chain wear, reduce the risk of premature failure, and ensure smooth and efficient operation of the industrial chain drive system.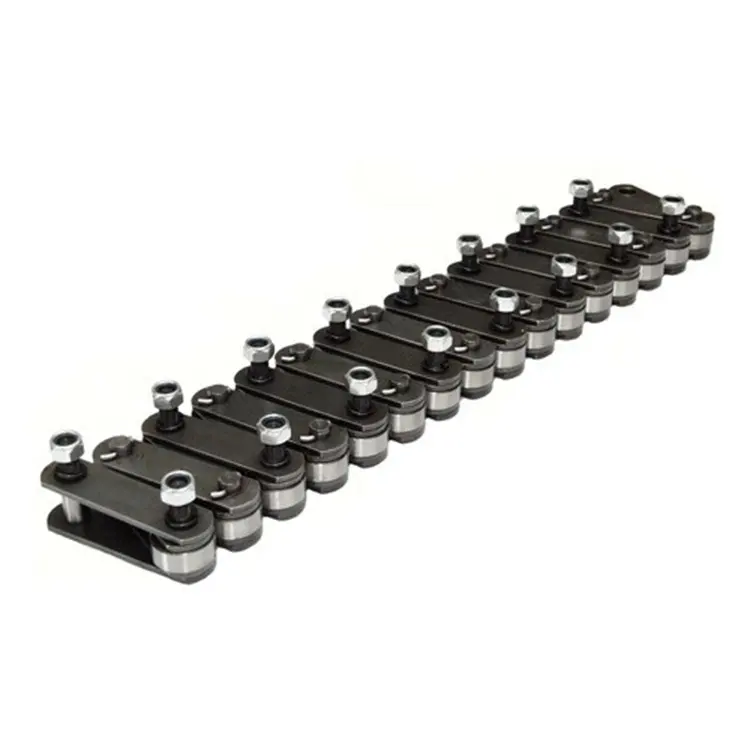 What are the common causes of industrial chain failures?
Industrial chain failures can occur due to various factors:
Excessive load: Applying a load that exceeds the chain's capacity can lead to stress and failure. It is important to consider the chain's rated load and choose the appropriate chain for the application.
Inadequate lubrication: Insufficient or improper lubrication can result in increased friction and wear, leading to premature chain failure. Regular lubrication with the recommended lubricant and following the manufacturer's guidelines is crucial.
Improper tensioning: Incorrect chain tension can cause misalignment, premature wear, and failure. Proper tensioning ensures optimal performance and longevity of the chain.
Misalignment: Poor alignment between the sprockets can cause the chain to wear unevenly and increase the risk of failure. Proper alignment of the sprockets is essential for smooth operation.
Wear and tear: Continuous use without proper maintenance and regular inspection can result in chain fatigue, elongation, and eventual failure. Regular inspection and timely replacement of worn-out components are necessary to prevent failure.
Corrosion: Exposure to corrosive environments can weaken the chain material and compromise its integrity. Using corrosion-resistant chains or applying appropriate coatings can mitigate the risk of corrosion-related failures.
Lack of maintenance: Neglecting routine maintenance tasks such as cleaning, lubrication, and inspection can lead to chain degradation and eventual failure. Regular maintenance is essential to ensure optimal chain performance and longevity.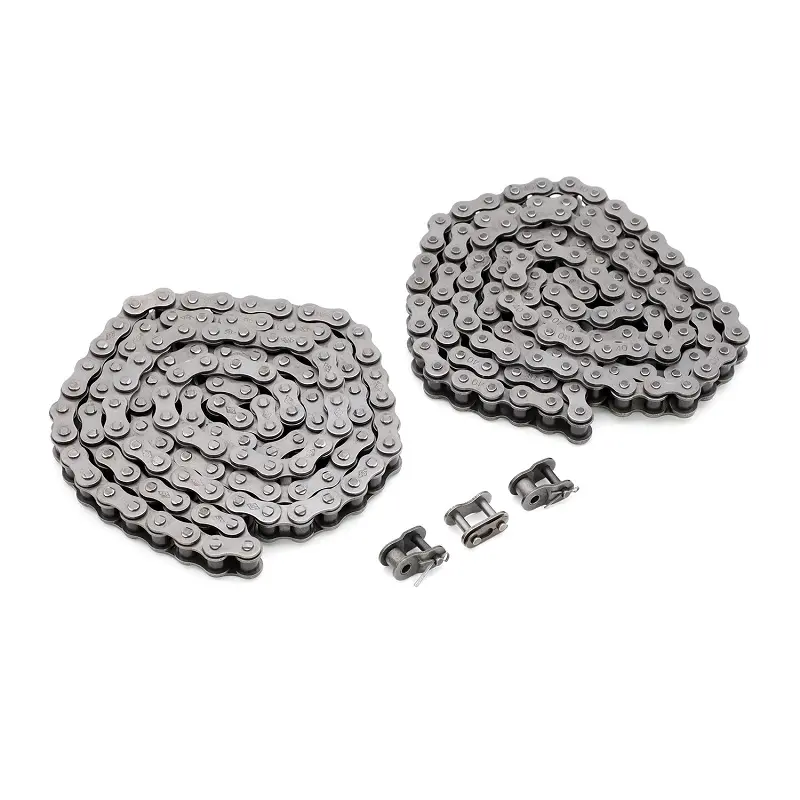 What are the maintenance requirements for an industrial chain?
Maintaining an industrial chain is crucial to ensure its optimal performance and extend its lifespan. Here are some key maintenance requirements for industrial chains:
Cleaning: Regularly clean the industrial chain to remove dirt, debris, and contaminants that can cause friction and wear. Use a suitable solvent or cleaning agent recommended by the chain manufacturer.
Lubrication: Apply the appropriate lubricant to the chain according to the manufacturer's recommendations. Lubrication reduces friction, minimizes wear, and helps prevent corrosion. Regularly inspect the lubrication levels and replenish as needed.
Tension Adjustment: Check the tension of the industrial chain regularly. Ensure it is within the recommended range specified by the manufacturer. Improper tension can lead to excessive wear, reduced performance, and increased stress on the chain components.
Alignment: Verify that the industrial chain is properly aligned with the sprockets or pulleys. Misalignment can cause uneven wear and premature failure. Adjust the alignment as necessary.
Inspection: Periodically inspect the industrial chain for signs of wear, corrosion, damaged links, or other abnormalities. Look for elongation, bent or broken links, and excessive wear on the sprockets. Replace any worn or damaged components promptly.
Environment: Consider the environmental conditions in which the industrial chain operates. Protect the chain from excessive moisture, extreme temperatures, and corrosive substances. Implement appropriate measures such as covers, guards, or coatings to safeguard the chain.
Documentation: Keep records of maintenance activities, including lubrication schedules, tension adjustments, inspections, and any repairs or replacements. This documentation helps track the chain's history and aids in future maintenance planning.
Following these maintenance requirements will help ensure the reliability, efficiency, and longevity of the industrial chain. It is important to refer to the manufacturer's guidelines and recommendations for specific maintenance procedures and intervals for your particular chain type and application.



editor by CX 2023-07-21