Product Description
Products Collection
Product Description
QLV silent chains are our top-of-the-line solution for your power transmission needs. These chains are designed to offer exceptional performance, efficiency, and noise reduction for machine running.
These chains are made from high-strength steel, with linked plates and pins that fit together tightly to minimise noise and vibration during operation. They can transfer power more effectively than other chains without sacrificing noise reduction
When you need a specific design, we can provide customised solutions based on what you need. Whether you require specific features, plans, materials, or specifications, our team can work to ensure you get a chain that fully meets your needs.
Are you looking for other chains? 
Leave your message below, and feel free to contact us!
FAQ
Question 1: Are you a Manufacturer or a Trading Company?
Answer:
We are a 100% chain manufacturer with 23 years of experience
Question 2: What should I provide to get a quotation?
Answer:
1. Type of the chain (with photos if available)
2. Pitch of the chain
3. Width of the chain
4. Length and quantity of the chain
5. Other specific requirements
Question 3:
How long is your manufacturing and delivery time?
Answer: 
Products are usually finished in 2 weeks, depending on the type and quantity. Also, please get in touch with us to check the delivery time to your destination.
Question 4: How long is your guaranteed time?
Answer: 
We offer a three-year guarantee if you purchase chains and matched sprockets together.
If you need chains only, a one-year guarantee can also be confirmed.
Question 5: Trade terms and Payment terms?
Answer:
We accept EXW, FOB, DDU, Door to Door. Payment terms, such as T/T, L/C, and Western Union, are acceptable. We also provide the service of Online Trading in this B2B platform.
Company Profile
Shipping Cost:

Estimated freight per unit.





To be negotiated
| | |
| --- | --- |
| Standard or Nonstandard: | Standard |
| Application: | Textile Machinery, Garment Machinery, Conveyer Equipment, Packaging Machinery, Food Machinery, Marine, Mining Equipment, Agricultural Machinery |
| Material: | Carbon Steel |
Samples:

US$ 100/Meter

1 Meter(Min.Order)

|

Order Sample
Customization:

Available

|

Customized Request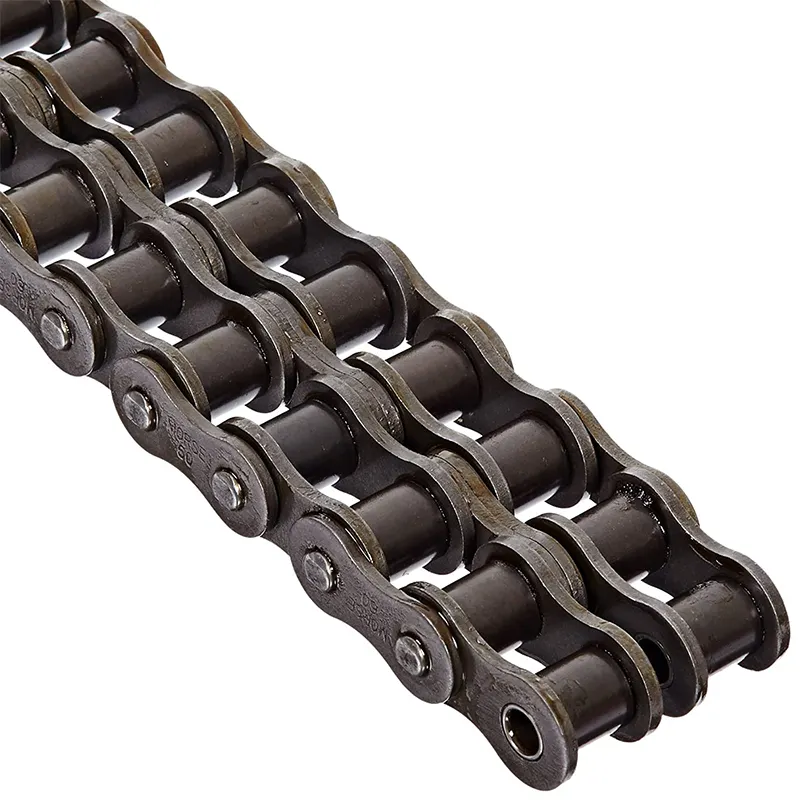 What are the future trends and advancements in industrial chain technology?
Industrial chain technology is continuously evolving to meet the changing needs of various industries. Here are some future trends and advancements that can be observed in industrial chain technology:
Increased Automation: Industrial chains are becoming an integral part of automated systems. The advancement of robotics, IoT (Internet of Things), and artificial intelligence is driving the integration of industrial chains with smart technologies. This includes features such as remote monitoring, predictive maintenance, and real-time data analysis for optimizing chain performance and overall system efficiency.
Improved Materials and Coatings: Ongoing research and development efforts are focused on developing advanced materials with enhanced properties for industrial chains. This includes materials with superior strength, durability, corrosion resistance, and wear resistance. Additionally, the development of advanced surface coatings and treatments further enhances the performance and lifespan of industrial chains.
Energy Efficiency: Energy efficiency is a growing concern in industrial applications. Future industrial chains are likely to incorporate designs and features that reduce energy consumption, such as optimized chain profiles, reduced friction coatings, and improved lubrication systems. These advancements aim to minimize power losses and improve overall system efficiency.
Integration with Digital Technologies: Industrial chains are expected to be increasingly integrated with digital technologies for seamless communication and data exchange. This integration enables better monitoring of chain performance, real-time diagnostics, and the ability to make data-driven decisions for maintenance and optimization. Digital twins, virtual simulations, and augmented reality (AR) are also emerging trends that allow for improved chain design, testing, and troubleshooting.
Enhanced Safety Features: Safety remains a top priority in industrial settings. Future industrial chains may incorporate advanced safety features such as integrated sensors for detecting chain wear, overload conditions, or abnormal operating parameters. These features can provide early warning signs and help prevent accidents or equipment failures.
The future of industrial chain technology is driven by the need for increased efficiency, reliability, and safety. The integration of smart technologies, improved materials, energy efficiency measures, digitalization, and enhanced safety features are expected to shape the advancements in industrial chain technology in the coming years.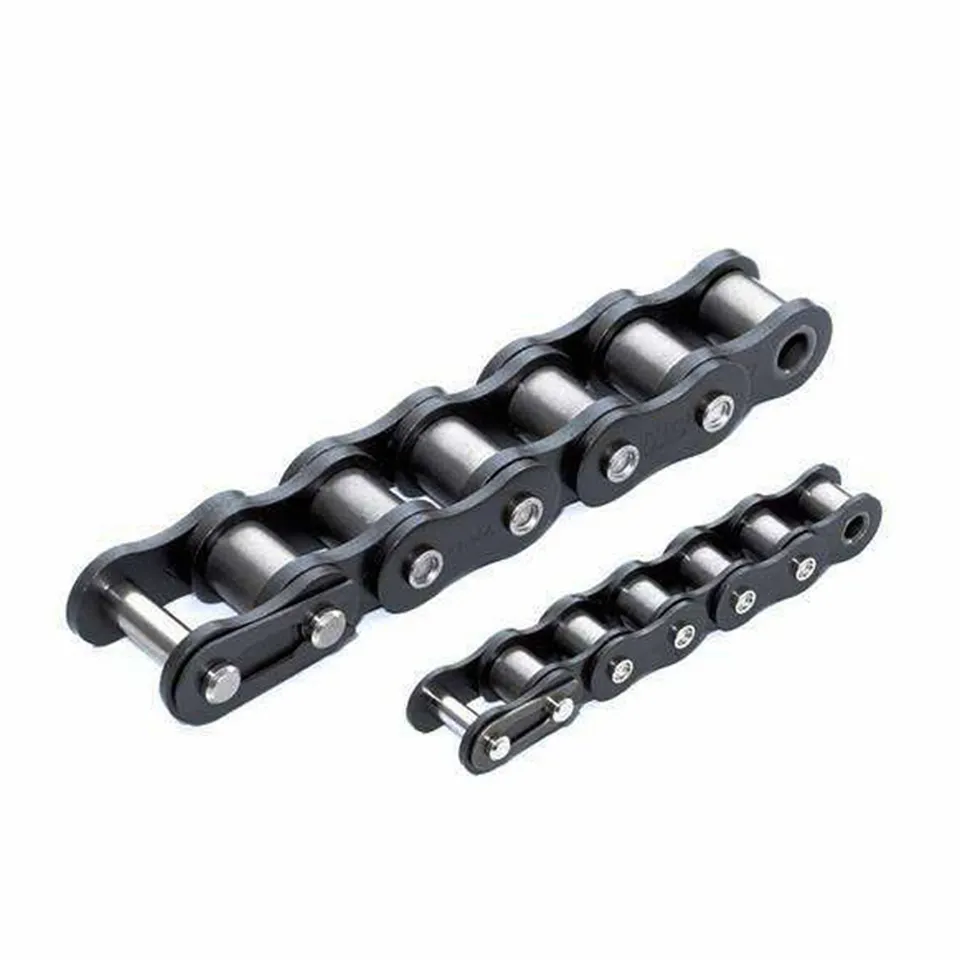 What is the load capacity of an industrial chain?
An industrial chain's load capacity refers to the maximum amount of weight or force it can safely withstand without experiencing failure or damage. The load capacity of an industrial chain depends on several factors, including its design, construction, material, and size.
Industrial chains are engineered and manufactured to handle a wide range of load capacities, from light-duty applications to heavy-duty industrial operations. The load capacity of a specific industrial chain is typically provided by the manufacturer and can be found in product specifications or technical documentation.
The load capacity of an industrial chain is influenced by various factors, such as:
Chain Type and Size: Different chain types, such as roller chains, silent chains, or engineering steel chains, have varying load capacities. Additionally, the size or pitch of the chain also affects its load capacity, with larger chains generally having higher load capacities.
Chain Material and Construction: The material used to construct the chain, such as stainless steel, carbon steel, or alloy steel, affects its strength and load-bearing capacity. The chain's construction, including the number and arrangement of links, also plays a role in determining its load capacity.
Operating Conditions: The environment in which the industrial chain operates, such as temperature, humidity, and exposure to chemicals or corrosive substances, can impact its load capacity. Extreme conditions may require special chains with higher load ratings.
Application Requirements: The specific application and the forces involved, such as tension, shock loads, or dynamic forces, need to be considered when determining the appropriate load capacity of an industrial chain.
To ensure the safe and efficient operation of an industrial chain, it is crucial to select a chain with an appropriate load capacity for the intended application. Exceeding the recommended load capacity can lead to premature wear, chain failure, or safety hazards. Consulting the manufacturer's specifications and guidelines, as well as engineering calculations, can help determine the suitable load capacity for a given industrial chain.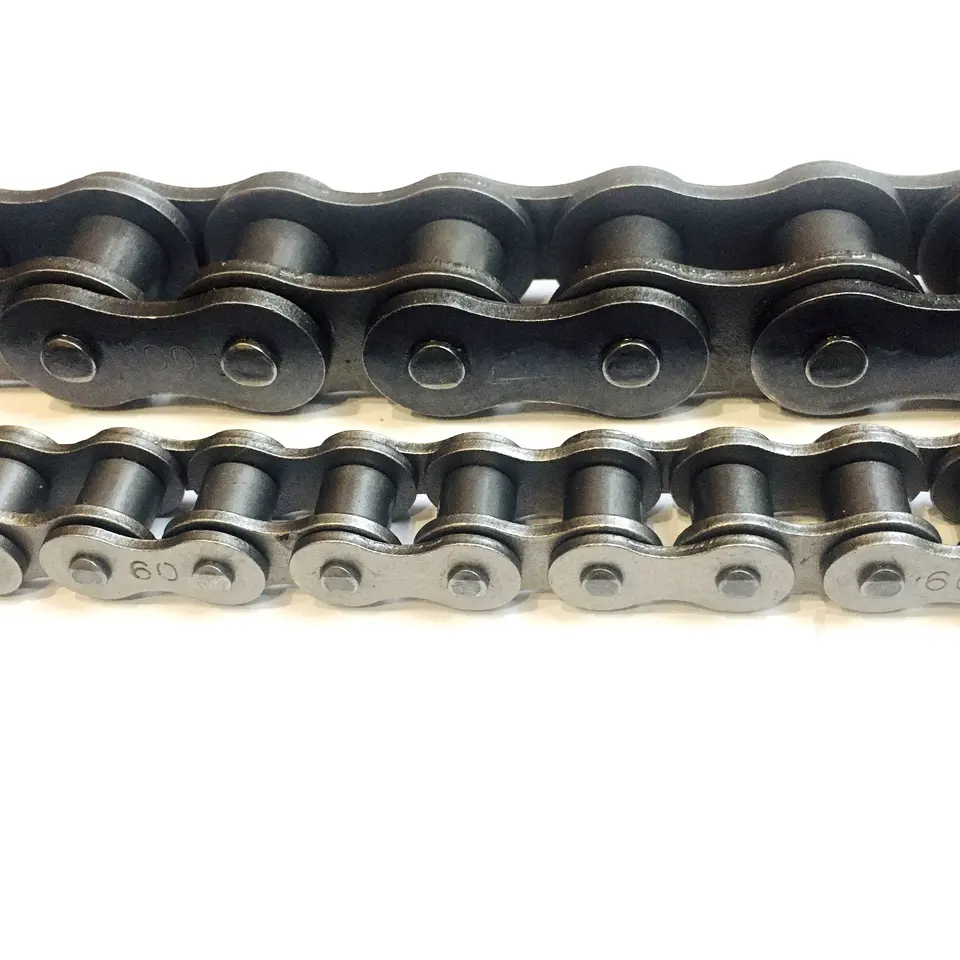 What materials are commonly used in industrial chains?
Industrial chains are constructed using various materials to meet specific application requirements. The choice of material depends on factors such as load capacity, environmental conditions, corrosion resistance, and temperature resistance. Here are some commonly used materials in industrial chains:
Carbon Steel: Carbon steel is widely used in industrial chains due to its strength, durability, and affordability. It offers good resistance to wear and can handle moderate loads in standard operating conditions.
Alloy Steel: Alloy steels are alloyed with other elements to enhance their mechanical properties, such as increased strength, hardness, and wear resistance. Alloy steel chains are commonly used in heavy-duty applications where higher load capacities and greater toughness are required.
Stainless Steel: Stainless steel chains are highly corrosion-resistant and are suitable for applications where exposure to moisture, chemicals, or high temperatures is a concern. They offer excellent durability and can withstand harsh environments, making them ideal for industries such as food processing, pharmaceuticals, and marine applications.
Plastic: Plastic chains, typically made from engineering-grade polymers such as acetal or nylon, are lightweight, corrosion-resistant, and offer low friction. They are often used in applications where reduced noise, lubrication-free operation, and resistance to chemicals or moisture are desired.
Specialty Alloys: In specific industries or applications with extreme conditions, specialty alloys such as stainless steel alloys, nickel alloys, or heat-resistant alloys may be used to provide exceptional strength, corrosion resistance, or temperature resistance.
It's important to consider the material compatibility with the environment, load requirements, and other factors when selecting an industrial chain for a particular application. Consulting with manufacturers or industry experts can help determine the most suitable material for specific industrial chain needs.



editor by CX 2023-09-21