Product Description
 Wholesale Price Power Transmission 08b Industrial Roller Chain With Extended Pins
Product Description
Roller chains conforms to ISO, ANSI, DIN, JIS and other standards. It adopts high-quality materials and advanced processing technology. The roller chains has the characteristics of high tensile strength and high fatigue strength. The roller chain is widely used in construction machinery, agricultural machinery, motorcycles, and automobile transmission. , food conveying machinery, logistics conveying machinery, packaging machinery and other fields, to transmit power for various mechanical facilities
1. Material: Stainless Steel 304 & 316 / Alloy Carbon Steel
2. Surface Treatment: Shot peening / Zinc-plated / Nickel-plated / Dacromet-plated
3. Chain No:
35SS-1, 40SS-1, 50SS-1, 60SS-1, 80SS-1, 100SS-1, 120SS-1, 140SS-1;
35SS-2, 40SS-2, 50SS-2, 60SS-2, 80SS-2, 100SS-2, 120SS-2, 140SS-2;
35SS-3, 40SS-3, 50SS-3, 60SS-3, 80SS-3, 100SS-3, 120SS-3, 140SS-3;
4. Application: Stainless Steel Chains are used in so many industries, such as machine manufacturing, food machine, etc. Also are suitable for high and low temperature conditions.
5. Characteristic:
1. The chain can be used on the both sides of multi-axle transmission.
2. Easy installation and replacement.
3. It can obtain larger reduction ratio.
4. The roller chain has good elasticity, high strength and each hinge part has lubricating oil, so it can be stored easliy. Thus, compared with the rigid contact tooth, it has good cushioning and vibration absorbing ability.
| | |
| --- | --- |
| Product Name | Wholesale Price Power Transmission 08b Industrial Roller Chain With Extended Pins |
| Material | carbon steel,SS304, SS316, etc |
| Standard | DIN GB ISO JIS  |
| DIN/ISO chain No. | C2050 C2052 C2060 C2062 C2080 C2082,ect |
| Key Words | Roller Chains  |
| Application Area | Food processing, pharmaceutical and chemical industries, electronics, household appliances, automotive manufacturing, metallurgy, sewage treatment |
| Delivery time | 3-10 days depends on quantity needed |
Product Parameters
Company Profile
HangZhouTerry Machinery Co.,Ltd is a leading internatioal Machinery Manufacturer. The growing economics and convenient transportation of HangZhou benefits the development of Terry Machinery. Our products are utilized in commercial, industrial and custom application. Terry Machinery is specialized in engineering machinery bearing and vehicle industrial bearing. Our products have been exported over 53 countries.The goal of Terry Machinery is to provide out customers with widest range of products at lowest price, high quality with the best service.
Certifications
Our Advantages

1. World-Class Roller Chains
We provide our customers with all types of indigenous chains with world-class quality.
2. Free Samples:
We can provide free 1-10 meters,but you need bear shipping cost.
3. Genuine products With Excellent Quality:
 The company has always proved the 100% quality products it provides with genuine intent.
4. Many Cheap International Forwarders: 
 We have many International forwarders partner and all kinds of shipping channel,keep sure your goods arrived yourside safe and fast.
5. Quick Delivery:
 The company provides just-in-time delivery with its streamlined supply chain.
Packaging & Shipping
FAQ
1.What is the minimum order quantity for this product?
Depending on the size of the bearing, the MOQ is variable, if you are interested, you can contact me for a quote.
2.What is your latest delivery time?
Most orders will be shipped within 3-10 days of payment being received.
3.What are the advantages of your company's services compared to other companies?
Answer questions online 24 hours a day, reply in a timely manner, and provide various documents required by customers for customs clearance or sales. 100% after-sales service.
4.Which payment method does your company support?
Do our best to meet customer needs, negotiable.
5.Do you accept OEM or customized service?
In addition to standard products, we also supply non-standard and modified standard products for special application. Meanwhile, we provide OEM service.
                         Please feel free to contact us, if you have any other question
| | |
| --- | --- |
| Standard or Nonstandard: | Standard |
| Application: | Textile Machinery, Garment Machinery, Conveyer Equipment, Packaging Machinery, Electric Cars, Motorcycle, Food Machinery, Marine, Mining Equipment, Agricultural Machinery, Car |
| Surface Treatment: | Polishing |
| Structure: | Roller Chain |
| Material: | Carbon Steel |
| Type: | Double Pitch Chain |
Samples:

US$ 2/Meter

1 Meter(Min.Order)

|
Request Sample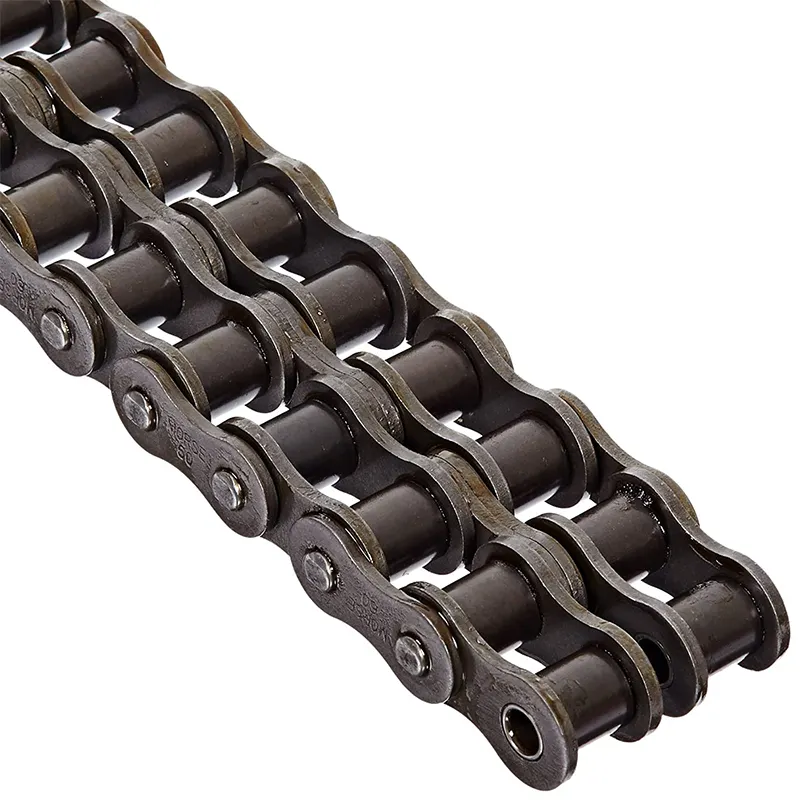 What are the future trends and advancements in industrial chain technology?
Industrial chain technology is continuously evolving to meet the changing needs of various industries. Here are some future trends and advancements that can be observed in industrial chain technology:
Increased Automation: Industrial chains are becoming an integral part of automated systems. The advancement of robotics, IoT (Internet of Things), and artificial intelligence is driving the integration of industrial chains with smart technologies. This includes features such as remote monitoring, predictive maintenance, and real-time data analysis for optimizing chain performance and overall system efficiency.
Improved Materials and Coatings: Ongoing research and development efforts are focused on developing advanced materials with enhanced properties for industrial chains. This includes materials with superior strength, durability, corrosion resistance, and wear resistance. Additionally, the development of advanced surface coatings and treatments further enhances the performance and lifespan of industrial chains.
Energy Efficiency: Energy efficiency is a growing concern in industrial applications. Future industrial chains are likely to incorporate designs and features that reduce energy consumption, such as optimized chain profiles, reduced friction coatings, and improved lubrication systems. These advancements aim to minimize power losses and improve overall system efficiency.
Integration with Digital Technologies: Industrial chains are expected to be increasingly integrated with digital technologies for seamless communication and data exchange. This integration enables better monitoring of chain performance, real-time diagnostics, and the ability to make data-driven decisions for maintenance and optimization. Digital twins, virtual simulations, and augmented reality (AR) are also emerging trends that allow for improved chain design, testing, and troubleshooting.
Enhanced Safety Features: Safety remains a top priority in industrial settings. Future industrial chains may incorporate advanced safety features such as integrated sensors for detecting chain wear, overload conditions, or abnormal operating parameters. These features can provide early warning signs and help prevent accidents or equipment failures.
The future of industrial chain technology is driven by the need for increased efficiency, reliability, and safety. The integration of smart technologies, improved materials, energy efficiency measures, digitalization, and enhanced safety features are expected to shape the advancements in industrial chain technology in the coming years.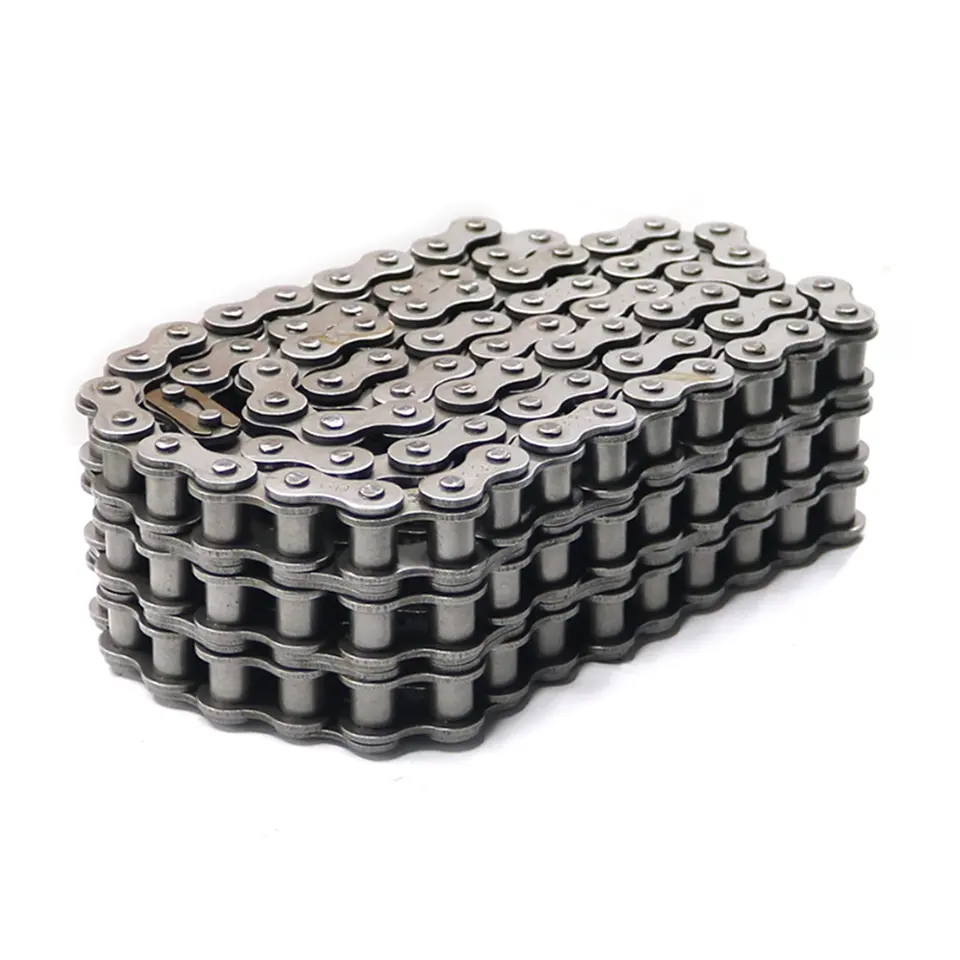 What safety precautions should be followed when working with industrial chains?
Working with industrial chains involves potential hazards, and it is important to follow proper safety precautions to prevent accidents and injuries. Here are some safety guidelines to consider:
Training and Familiarization: Ensure that workers are properly trained in handling industrial chains, including understanding the risks involved and knowing how to operate, maintain, and inspect them correctly.
Personal Protective Equipment (PPE): Wear appropriate PPE, such as safety glasses, gloves, and steel-toed shoes, to protect against potential hazards, including flying debris, pinch points, and sharp edges.
Equipment Inspection: Regularly inspect the industrial chain, sprockets, and other related equipment for any signs of damage, wear, or misalignment. If any issues are found, repair or replace the components before using the chain.
Proper Installation: Follow the manufacturer's instructions and guidelines for proper installation of the industrial chain, including correct tensioning, alignment, and lubrication. Ensure that the chain is securely attached and that all connections and fasteners are properly tightened.
Safe Operating Procedures: Adhere to safe operating procedures when using machinery or equipment with industrial chains. Avoid operating the machinery at excessive speeds or overloading the chain beyond its recommended capacity.
Lockout/Tagout: When performing maintenance or repairs on machinery with industrial chains, follow lockout/tagout procedures to ensure the equipment is de-energized and cannot be accidentally started.
Avoid Loose Clothing and Jewelry: Do not wear loose clothing, jewelry, or any other items that can get caught in the chain or machinery, posing a risk of entanglement.
Emergency Stop Devices: Ensure that emergency stop devices are easily accessible and functional to quickly halt the machinery in case of an emergency or entanglement.
Regular Maintenance: Implement a regular maintenance program to inspect and maintain industrial chains, including lubrication, tensioning, and replacing worn or damaged components.
It is crucial to consult and follow all relevant safety regulations and guidelines specific to your industry and location. Additionally, fostering a safety-conscious work environment, providing proper training and supervision, and promoting a culture of safety awareness among workers can contribute to the prevention of accidents and injuries when working with industrial chains.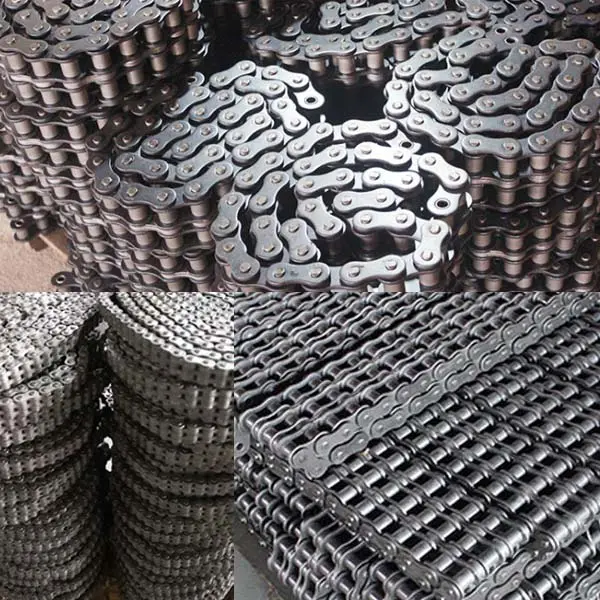 How do you select the right industrial chain for a specific application?
Selecting the right industrial chain for a specific application involves considering several factors to ensure optimal performance and longevity. Here are the steps to guide you in the selection process:
Identify the application requirements: Understand the specific needs of your application, such as load capacity, speed, operating environment, and desired functionality.
Determine the chain type: Based on the application requirements, choose the appropriate chain type, such as roller chains, conveyor chains, leaf chains, or specialty chains.
Consider chain material: Evaluate the compatibility of the chain material with the operating environment, including factors like corrosion resistance, temperature resistance, and chemical resistance.
Evaluate chain strength: Determine the required chain strength based on the anticipated loads and forces encountered in the application. Consider factors such as shock loads, tension, and fatigue resistance.
Calculate chain length: Calculate the required chain length by considering the distance between sprockets, the desired tension, and any adjustments required for installation and maintenance.
Check for specific features: Determine if any specific features are necessary for the application, such as self-lubricating capabilities, noise reduction, or specialized attachments.
Consult manufacturer guidelines: Refer to the manufacturer's guidelines and specifications for the selected chain type to ensure it meets the required standards and specifications.
Consider maintenance and serviceability: Evaluate the chain's maintenance requirements and ease of servicing to ensure it can be properly maintained throughout its lifespan.
Verify compatibility: Confirm the compatibility of the selected industrial chain with the accompanying sprockets, gears, or other components to ensure proper engagement and operation.
Consider cost-effectiveness: Assess the overall cost-effectiveness of the chain, considering factors such as initial cost, maintenance expenses, and expected lifespan.
By following these steps and considering the specific requirements of your application, you can select the right industrial chain that meets your operational needs and ensures reliable and efficient performance.



editor by CX 2023-11-16