Product Description
Product Description
Joyas De Plata Men Bracelet Chains for Jewelry Making Pure 925 Silver Adjustable Cuban Chain Brazalete Gold Women Bracelet
| | |
| --- | --- |
| Material: | Stainless Steel |
| Color: | Steel(Customized color is available) |
| Packing: | Individual OPP Bag/Pcs or Box |
| Shipping Method: | DHL,UPS,FEDEX… |
| OEM | Acceptable |
Detailed Photos
1.We offers a wide range of chain necklaces in styles and designs such as Cable, Rope, square and round Box, Curb, Figaro, Wheat, Singapore, Rolo, Mariner and more that are available in different lengths and colors for you to choose from. 
2.Most of the styles are available in Stainless Steel, 10K, 14K and 18K yellow, white and rose gold, All products are stamped with the appropriate hallmark indicating the quality.
Company Profile
HangZhou City Shangya Hardware Products Co., Ltd is more than 10 years experience fashion jewelry manufacturer , We have many experience in the development of handicrafts, production,sales and raw materials for handicrafts. We have been providing customers with cheap and beautiful handicrafts for a long time, which has been enjoying great reputation by domestic and foreign customers.
Our mainly products include earring,necklaces,bracelets ,DIY jewelry accessories and other fashion jewelries besides we also provide all series of jewelry materials We believe that quality is the soul of an enterprise, as we strive to stay ahead in competition.We have our own factory and long term cooperated jewelry accessories factory, so we can always provide good quality product with factory price to our customers .We welcome customers from both at home and abroad to contact us in order to establish long term business relationship with us.
Our Services
• We can help customer make artwork,designs.
• Samples development:we can develop different designs samples base on customers' designs,samples and artworks.If no need any logo for the item we have,we can offer sample free.
• High quality and competitive price for all of our customers.
• Very Strict quality control make sure customers satisfactory.
• Small trial order also be welcomed.
• OEM&ODM are very welcomed.
FAQ
1.Q:What can i do before place the order ?
A:Confirm the produce picture,size,color,logo,shipping method payment method,delivery time,declared value,and other custom request.
2.Q:How to place the order ?
A:We will send you an invoice,small order full payment,big order 30% earnest money to produce,the rest payment before
shipping.when we have stock we will ship in 2-3 days.
3.Q:What can we do after send the payment ?
A:We will keep update and send you news when we get from our factory,and keep in touch.
4.Q:I can't find any news when tracking the track number.
A:Most time,we can tracking,occasionally the express company not update the information,let's wait 1-2 days more,we will contact express,also the tracking number have turned new number.
5.Q:What is the Minimum quality for each order?
A:Normally 100 pcs,but we also support small quantity if you can accept a higher price.
6.Q:If there is broken products
A:We have check it carefully before the shipment,but the shipping delivering is uncontrollable,but never worry about it,contact us in time and take photos,we will help going on this case,mostly,we will make discount or refund and use on next order.
7.Q:About the re-order.
A:We will make same products and same package like last time,if there is some change,such as package or add a logo,let us know before we make it.
8.Q:Can i have discount?
A: Yes,more quantity,more discount.
9.Q:Is stainless steel jewelry harmless to human body?
A: Stainless steel is nickel and lead free, eco-friendly material, can pass ROHS, SGS, CE standard, totally harmless to human skin,won't like alloy or copper material will cause allergy problems.
PS:Outside of work,no matter if we have did the business,we are friends,if you have chance come to China,make sure pay a visit our company,I invite you for Chinese tea.
| | |
| --- | --- |
| Material: | Stainless Steel |
| Type: | Bracelets |
| Suitable for: | Female |
| Style: | Star Fashion |
| Color: | Silver |
| Usage: | Decoration, Health, Gift |
Customization:

Available

|

Customized Request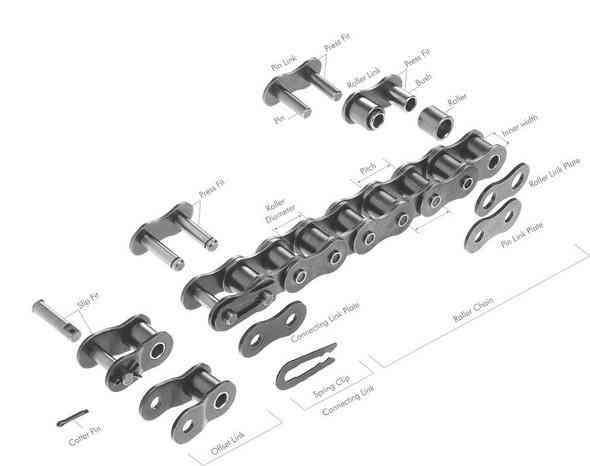 Choosing a drive chain for a belt conveyor
The drive chain is used to move heavy objects on the conveyor chain. Chains are magnetic, antistatic, high temperature, or chemical resistant, depending on the application. These types of drive chains are used in many different industries. A common machine that uses this type of drive is a chain hoist. Chain hoists are designed to lift heavy loads with minimal effort. Chains are often used to transport heavy loads.
roller chain
Whether using a roller chain as a drive chain or a belt conveyor can be tricky. Whether it's a small low-speed drive with manual lubrication or a high-speed pump-lubricated drive with multiple sprockets, there are several factors to consider when choosing a roller chain. First, you need to consider motor horsepower and rpm. The speed of the motor determines how much chain you need. For example, if you are using a low-speed drive, you will need to choose a low-pitch, high-pitch chain. Another thing to consider is chain length – ideally, you can go for an even number of sprockets and chains, but never go smaller.
The lubrication system is also important because the lubrication system must be able to deliver enough oil. The type of oil used to lubricate a chain depends on its operating environment, temperature and speed. Wear is caused by pressure on the bearing, angular sliding of the pins, and rotation of the rollers. There are five different types of lubrication methods available, depending on the system used. A high-quality carbon steel chain is a major advantage when operating at high temperatures, as it can withstand higher temperatures.
The materials of construction for roller chains vary by application. Typically, the most common materials are steel and stainless steel, but sometimes alloy steels are used in food processing machinery that may have lubrication problems. Nylon and brass are also sometimes used. Some industries require heavy-duty chains. If you need an extremely heavy chain, you may want to consider a heavy-duty roller chain. If you are not sure which type of chain is best for your application, consult an industry expert.
Unlike other chains, roller chains are more efficient from a size and weight perspective. While solution chains are useful in some situations, drive chains are more effective for dirty work and slipping on tracks. They are commonly used in construction and manufacturing. There are other advantages to using a drive chain. They are generally stronger than belts, which is a huge benefit. So, if you're wondering which is better, here are them:
Multi-strand roller chain
The multi-strand roller chains for drive chains market is expected to grow at a CAGR of over 20% during the forecast period. Market reports cover product demand, supply, and cost. The report covers the global market including company profiles, product details, and contact information of key players. It also takes into account the revenue generated by different application areas. The report contains 159 pages of useful information and data. It is an essential tool for anyone involved in drive chain manufacturing.
The essential characteristics of multi-strand chains are their power ratings and allowable bearing area pressures. Power rating is an important characteristic that determines the chain's ability to transmit a specific load. Typically, multi-strand chains are rated in the range of 12,000 watts per strand. However, their capabilities are limited by link plate fatigue, roller impact fatigue, and wear between pins and bushings.
Energy Series chains are ideal for high-speed and high shock load applications. The chain is designed to provide reliable power and withstand the rigors of the oil and gas industry. It uses high-strength steel and double-coated rolls. These chains come in different lengths and come in two types: single-strand and multi-strand. It is best to consult a professional to find out which chain best suits your needs.
The global multi-strand roller chains market is expected to grow at a CAGR of over 7% during the forecast period. From 2011 to 2019, the industry is expected to grow by nearly 6%. However, the outlook for this market is not optimistic, with some companies experiencing negative growth over the past year. Nonetheless, slowing global economic growth and tightening COVID-19 regulations are likely to hinder the market growth.
Although requirements vary by application, it must be remembered that the load on a multi-strand roller chain must not be greater than 1/9 or 1/6 of the tensile strength of the chain. If the load exceeds this threshold, the chainplates will fatigue. This is the main reason why roller chains are expensive. However, this is not always the case. Multi-strand roller chains are a great idea if you are looking for an affordable and reliable drive chain.
double chain
If you're looking for an industrial-grade drive chain, you've probably considered a double chain. The chain meshes with the sprockets on either side of the gears. It comes in different styles, each with its own advantages and disadvantages. The CZPT duplex series has twice the power capacity of standard SC duplex chains. This type of chain is usually best for new applications. On the other hand, SC double chain chains are the cheapest but have less weight and power capacity.
Another option is a triple drive chain. This type of drive chain has an additional row of plates and contains three sprockets. Its unique design reduces the weight and impact velocity of the timing chain. It is usually used in automotive applications. It is ideal for low to medium-load timing applications. It is also available in acoustically optimized versions. Three-quarter inch pitch double chain chains are widely used in gasoline engine aids and timing drives.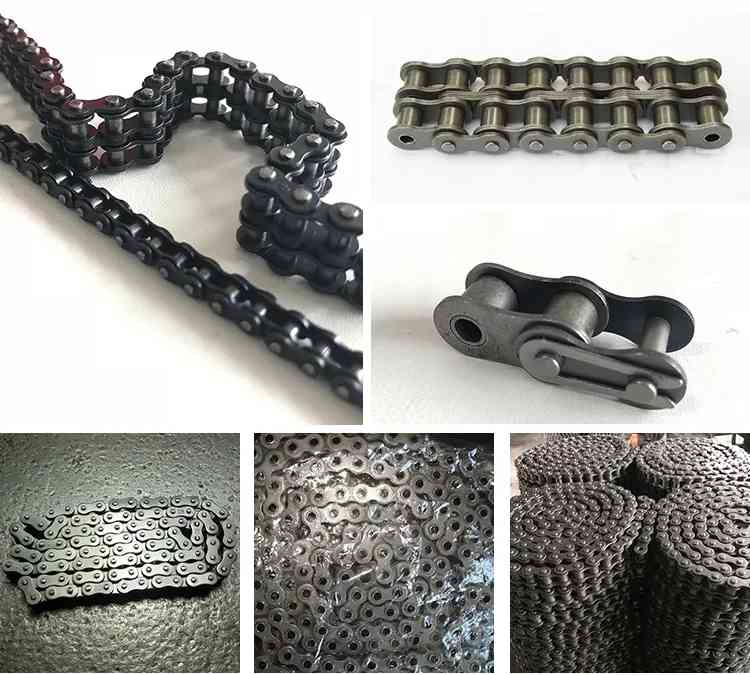 flat top chain
High friction rubber is usually installed on the top or bottom of a flat top drive chain to improve its high friction surface and prevent interference during side bend conveying. The chain plate can be customized with thin rubber layer or thick elastic polyurethane rubber according to customer requirements. In addition to providing high friction, the flat top chain also provides excellent anti-slip properties for glass bottles.
Premium steel flat top chain with high quality surface finish and excellent wear resistance. They have a high level of noise reduction and can be used in heavy duty conveying applications. These chains are available in a variety of alloys such as stainless steel or aluminum. Some models are designed to be very rugged and last longer. Aluminum and galvanized steel chains are popular choices for these chains.
Flat Top Drive Chain Conveyors are versatile and come in an endless combination of configurations. Drives can be connected end-to-end to form long conveyor lines, while side-curved flat-top chains are versatile enough to handle tandem, serpentine or carousel configurations. Standard and heavy duty models are also available. Flat top chains can be used in many different applications including food, beverages and other commodities.
Standard flat top chains are usually rectangular or L-shaped and designed for use on straight conveyors. In some cases, space constraints may require a U-shaped or rectangular conveyor line. For smoother conveying, side-curved flat-top chains can be used. These chains are paired with regular rectangular chain plates and tall pins for high load capacity. They come in different widths, including multi-strand chains.



editor by CX 2023-04-25