Product Description
Product

Standard Double Pitch Roller chain

Material

40Mn steel,304 stainless steel, 316 stainless steel and 201 stainless steel.

Types

Standard chains and special chains, such as A or B series chains, roller chains, driving chains, conveyor chains, hoisting chains, agricultural chains, sprockets, gears, wheels and so on.

Series

 A series(12.7-50.8mm pitches),B series (9.525-50.8mm pitches)and the heavy series.

Short pitch precision roller chain

Simplex Roller Chains&Bushing Chains: 

04C-1,06C-1,085-1,08A-1,10A-1,12A-1,16A-1,20A-1,24A-1,28A-1,32A-1,36A-1,40A-1,48A-1
Duplex Roller Chains&Bushing Chains:

04C-2,06C-2,085-2,08A-2,10A-2,12A-2,16A-2,20A-2,24A-2,28A-2,32A-2,36A-2,40A-2,48A-2
Triplex Roller Chains&Bushing Chains:

04C-3,06C-2,085-3,08A-3,10A-3,12A-3,16A-3,20A-3,24A-3,28A-3,32A-3,36A-3,40A-3,48A-3

Chain link type

Standard links (without attachment) and non-standard links (with attachment).

 

A1: One-side,one hole cranked attachments.
A2: One-side,two holes cranked attachments.
K1: Both-side,one hole cranked attachments.
K2: Both-side,two hole cranked attachments.
D1: One-side,an extended pin on every outer link.
D3: One-side,two extended pin on every outer link.

Our Products Advantage

1. Every step from production order to the packing process has a strict quality inspection.
2. We have standard roller chain with 1.5 CHINAMFG (DIN. ANSI.); Non-standard roller chain (customized acording to customer drawings).
3. Export products with high quality and low price.
4.We have a good service before and after-sale.
1.Fast delivery: Standard products can be delivered in as fast as 20 days
2.Good service: timely reply, prompt quotation, responsible for the product
3.High cost performance: can maintain price stability for a certain period of time, bringing greater profits to customers
4.Good quality: production and testing have corresponding supervision to ensure product quality and get high praise from customers
5.OEM service: products can be customized according to drawings and requirements
We are responsible for the ordered products. We are very confident in the products we produce. Of course, if you have any problems after receiving the goods, you can contact us directly. We will confirm and negotiate in time to solve your difficulties.
| | |
| --- | --- |
| Standard or Nonstandard: | Standard |
| Application: | Textile Machinery, Garment Machinery, Conveyer Equipment, Packaging Machinery, Electric Cars, Motorcycle, Food Machinery, Mining Equipment, Agricultural Machinery, Car |
| Surface Treatment: | Oil Blooming |
| Structure: | Roller Chain |
| Material: | Alloy |
| Type: | Short Pitch Chain |
Samples:

US$ 35/kg

1 kg(Min.Order)

|
Request Sample
Customization:

Available

|

Customized Request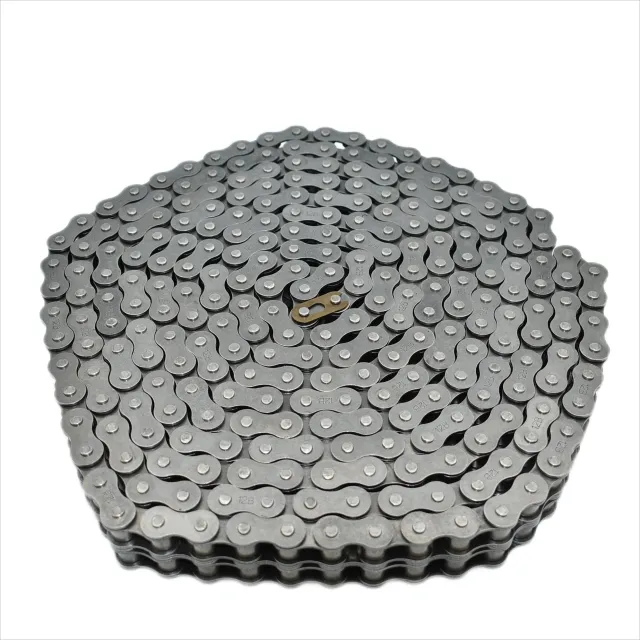 Can an industrial chain be retrofitted to an existing conveyor system?
Yes, an industrial chain can be retrofitted to an existing conveyor system in many cases. Retrofitting involves replacing the existing conveyor belt or alternative power transmission system with an industrial chain to improve performance, increase load capacity, or meet specific application requirements. Here are the key considerations for retrofitting an industrial chain:
System compatibility: Before retrofitting, it is essential to evaluate the compatibility of the existing conveyor system with an industrial chain. Consider factors such as the structure, design, and components of the conveyor system to ensure proper fit and functionality.
Chain selection: Choose an industrial chain that is suitable for the specific application requirements and aligns with the load capacity, speed, and environmental conditions of the conveyor system. Consider factors such as chain type, pitch, material, and lubrication requirements.
Drive system adaptation: Retrofitting an industrial chain may require adjustments to the drive system of the conveyor. This may involve replacing the existing drive components or modifying the drive mechanism to accommodate the chain drive.
Installation and alignment: Proper installation and alignment of the industrial chain are crucial for optimal performance. Ensure that the chain is tensioned correctly, aligned with the sprockets, and properly lubricated.
Maintenance and monitoring: Implement a maintenance plan to regularly inspect and lubricate the industrial chain. Monitor the chain's performance, including tension, wear, and any signs of failure, to ensure smooth and efficient operation.
Safety considerations: Retrofitting an industrial chain requires adherence to safety standards and guidelines. Ensure that the retrofitting process does not compromise the safety of personnel or the integrity of the conveyor system.
It is recommended to consult with an experienced engineer or conveyor system specialist when retrofitting an industrial chain to an existing conveyor system. They can provide expert advice, conduct a thorough assessment, and ensure a successful retrofit that improves the performance and reliability of the conveyor system.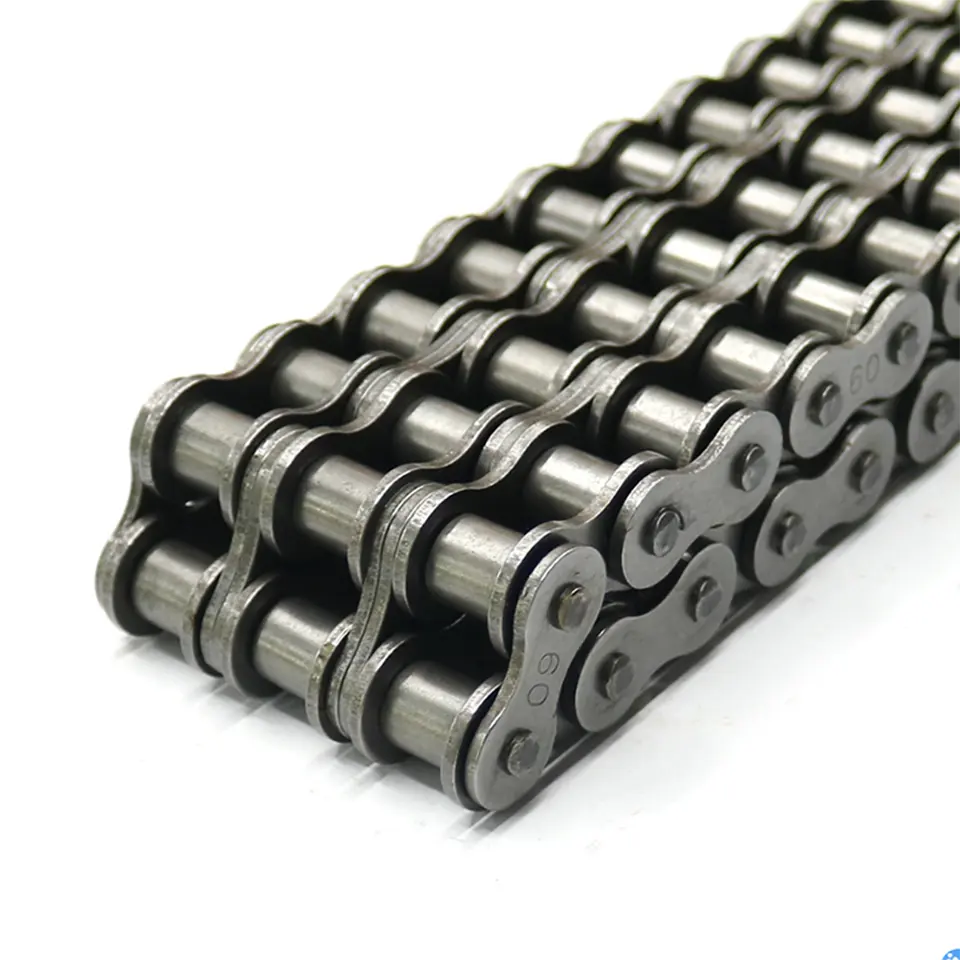 Can an industrial chain be used in high-temperature environments?
An industrial chain's suitability for high-temperature environments depends on the specific chain type, material, and operating conditions. While some industrial chains are designed to withstand elevated temperatures, others may experience performance issues or damage when exposed to excessive heat.
Industrial chains used in high-temperature applications are typically constructed using materials that exhibit excellent heat resistance. Common materials include heat-resistant alloys, stainless steel, or specialized coatings that can withstand the elevated temperatures without compromising the chain's strength or integrity.
When considering the use of an industrial chain in high-temperature environments, several factors should be taken into account:
Temperature Range: Determine the maximum temperature the industrial chain will be exposed to. Different chain materials have different temperature limits, and it's crucial to select a chain that can withstand the specific temperature range.
Chain Type: Certain chain types, such as roller chains or silent chains, may be better suited for high-temperature applications than others. Consult the manufacturer's guidelines and specifications to ensure the chosen chain type is suitable for the intended temperature range.
Lubrication: Proper lubrication is essential in high-temperature environments to minimize friction, reduce wear, and ensure smooth chain operation. Special high-temperature lubricants or dry lubrication methods may be required to maintain chain performance under elevated temperatures.
Heat Dissipation: Consider the ability of the industrial chain and the surrounding equipment to dissipate heat effectively. In some cases, additional cooling mechanisms or heat shielding may be necessary to protect the chain and prevent overheating.
Application Requirements: Assess the specific demands of the application, such as load, speed, and cyclic operation, and ensure that the chosen industrial chain can handle these conditions at high temperatures.
It's important to consult the manufacturer's recommendations and technical documentation to verify the suitability of an industrial chain for high-temperature environments. Working with experienced engineers or industry experts can also provide valuable insights and guidance in selecting the appropriate chain for such applications.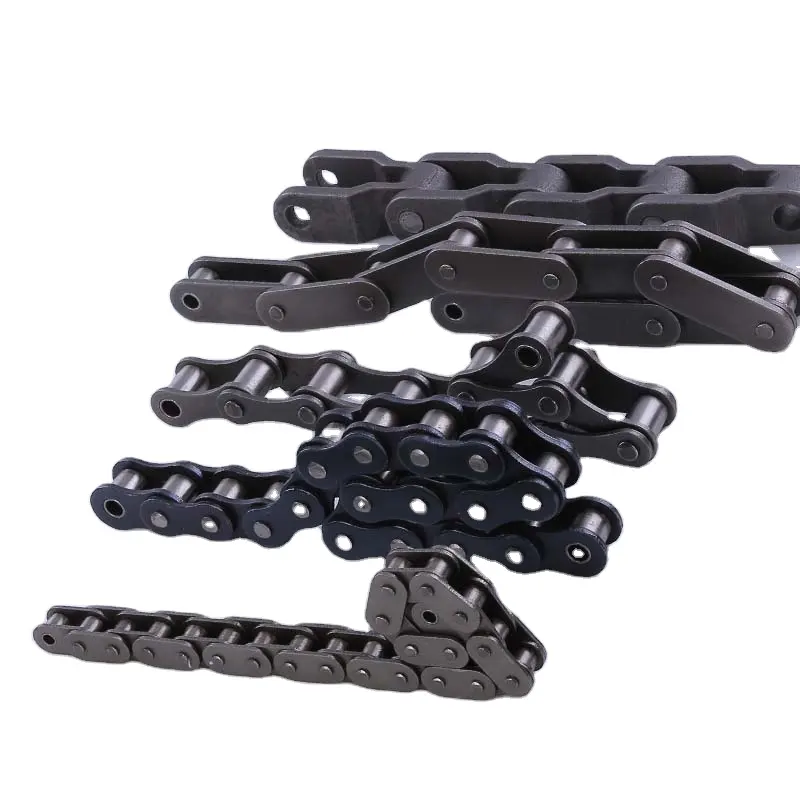 How is an industrial chain different from a regular chain?
An industrial chain differs from a regular chain in terms of its design, construction, and intended application. Here are some key differences:
Strength and Durability: Industrial chains are specifically designed to handle heavy loads and withstand harsh operating conditions in industrial settings. They are constructed using high-quality materials and undergo rigorous testing to ensure strength and durability.
Precision Engineering: Industrial chains are engineered with precision to meet specific performance requirements. They are manufactured to strict tolerances, ensuring precise fit and proper engagement with sprockets, resulting in reliable and efficient power transmission.
Specialized Designs: Industrial chains come in a variety of specialized designs to accommodate different applications. They may feature specific link shapes, roller configurations, or surface treatments tailored to meet the unique needs of various industries, such as conveying, lifting, or power transmission.
Lubrication Requirements: Industrial chains often require regular lubrication to minimize friction and wear. They may incorporate lubrication systems or be designed to accommodate external lubrication methods to ensure optimal performance and longevity.
Application Focus: Regular chains are commonly used for lighter-duty applications such as securing objects or supporting light loads. Industrial chains, on the other hand, are designed for heavy-duty industrial applications, including machinery, conveyors, mining equipment, and other demanding environments where high load capacity and reliability are crucial.
Industry Standards and Regulations: Industrial chains are often subject to specific industry standards and regulations to ensure their performance, safety, and compatibility with machinery and equipment used in industrial settings.
Overall, the key distinction lies in the industrial chain's robustness, precision engineering, specialized designs, and suitability for heavy-duty industrial applications, setting it apart from regular chains commonly used in lighter-duty tasks.



editor by CX 2023-11-16