Product Description
Product Description
Free Flow Chian 

BS25 
| | | | | | |
| --- | --- | --- | --- | --- | --- |
| Chain Number | model | Pitch | Roller Dia. (D) | Roller Dia.(d) | Weight(kg/m) |
| BS25-C206B | SKVR25-1905 | 19.05 | 18.3 | 11.91 | 0.52 |
| BS25-C208A | SKVR25-2540 | 25.4 | 24.6 | 15.88 | 0.79 |
| BS25-C212A | SKVR25-3810 | 38.1 | 36.6 | 22.23 | 2.19 |
BS30
 
| | | | | | |
| --- | --- | --- | --- | --- | --- |
| Chain Number | model | Pitch | Roller Dia. (D) | Roller Dia.(d) | Weight(kg/m) |
| BS30-C212A | SKVR30-3810 | 38.1 | 38 | 18 | 2.14 |
Free flow chian, also called plus speed chain, accumulation chain,  Differential chain.
Free flow chian, also called plus speed chain, accumulation chain,  Differential chain.
It is a popular chain used in pallet/tray conveyor system.
Free flow chian, also called plus speed chain, accumulation chain,  Differential chain.
Free flow chain is 1 of the major products of Seikonveyor. Its production is finished in automatic factory. In every month CHINAMFG factory supplys over 500000 CHINAMFG free flow chain to the market. Include different materials types: Nylon, steel, stainless steel.  and different color: black, blue, brown. Our free flow chain is widely used in automatic conveyor system, especially for different kinds of assembly lines
BS25 free flow chain production view
Free flow chian, also called plus speed chain, accumulation chain,  Differential chain.
Free flow chian, also called plus speed chain, accumulation chain,  Differential chain.
We pick perfect rollers to assemble the free flow chain, to ensure the chain run smooth
Free flow chian, also called plus speed chain, accumulation chain,  Differential chain.
Bulk production makes our free flow chain with competitive price in the martke. 
Free flow chian, also called plus speed chain, accumulation chain,  Differential chain.
For bulk order, we provide plywood crate package to protect it from damage during transportation.
 
More Products 

 
| | |
| --- | --- |
| Material: | Plastic |
| Structure: | Roller Chain |
| Surface Treatment: | Electroplating |
| Feature: | Fire Resistant, Oil Resistant, Heat Resistant |
| Pitch: | 38.1 |
| Weight: | 6.8kgs/PC |
Samples:

US$ 20/Meter

1 Meter(Min.Order)

|
Request Sample
Customization:

Available

|

Customized Request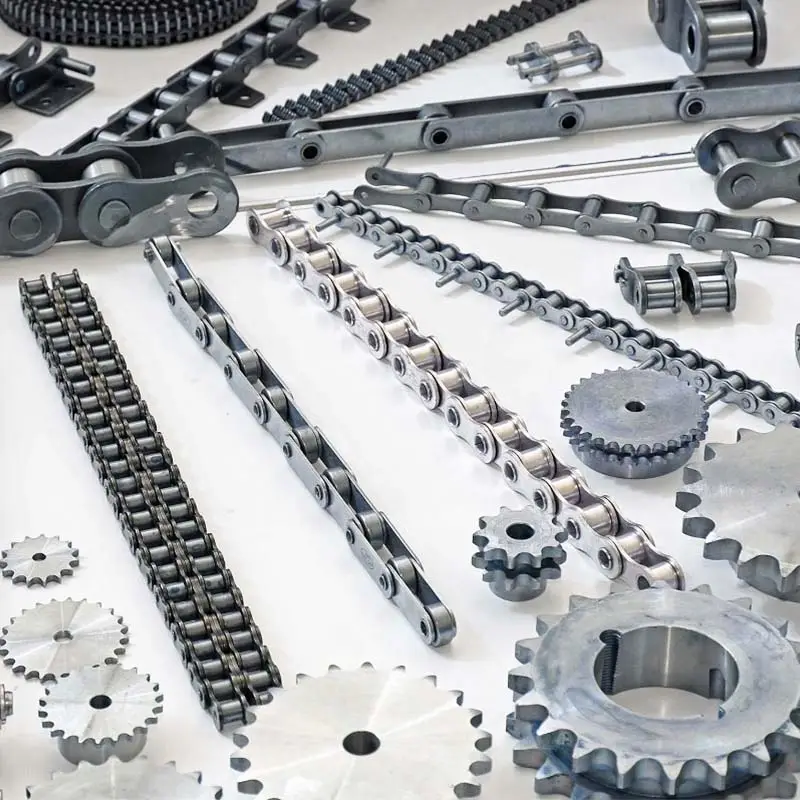 What are the factors to consider when selecting the pitch of an industrial chain?
The pitch of an industrial chain refers to the distance between adjacent pins or rollers on the chain. When selecting the pitch of an industrial chain, several factors should be considered:
Load requirements: The pitch of the chain should be selected based on the expected load that the chain will need to carry. Higher loads typically require larger pitch sizes to ensure sufficient strength and durability.
Speed of operation: The chain's pitch should be chosen based on the speed at which the chain will be operating. Higher speeds may require smaller pitch sizes to maintain smooth and efficient operation.
Space limitations: The available space for the chain system should be considered when selecting the pitch. Smaller pitch sizes can accommodate tighter spaces, while larger pitch sizes may be suitable for applications with more ample space.
Application requirements: The specific requirements of the application should be taken into account. Factors such as the type of load being transported, the operating environment (temperature, moisture, etc.), and any special considerations (e.g., noise reduction, corrosion resistance) can influence the pitch selection.
Chain compatibility: It is essential to ensure that the selected chain pitch is compatible with the sprockets or gears used in the system. The chain and sprocket/gear pitch should match to ensure proper engagement and efficient power transmission.
Service life expectations: Consideration should be given to the desired service life of the chain. In applications with high-cycle operations or demanding conditions, selecting a chain with a smaller pitch size or a specialized design may be necessary to enhance longevity.
By carefully considering the load requirements, speed of operation, space limitations, application requirements, chain compatibility, and service life expectations, one can select the appropriate pitch size for an industrial chain that ensures optimal performance and reliability.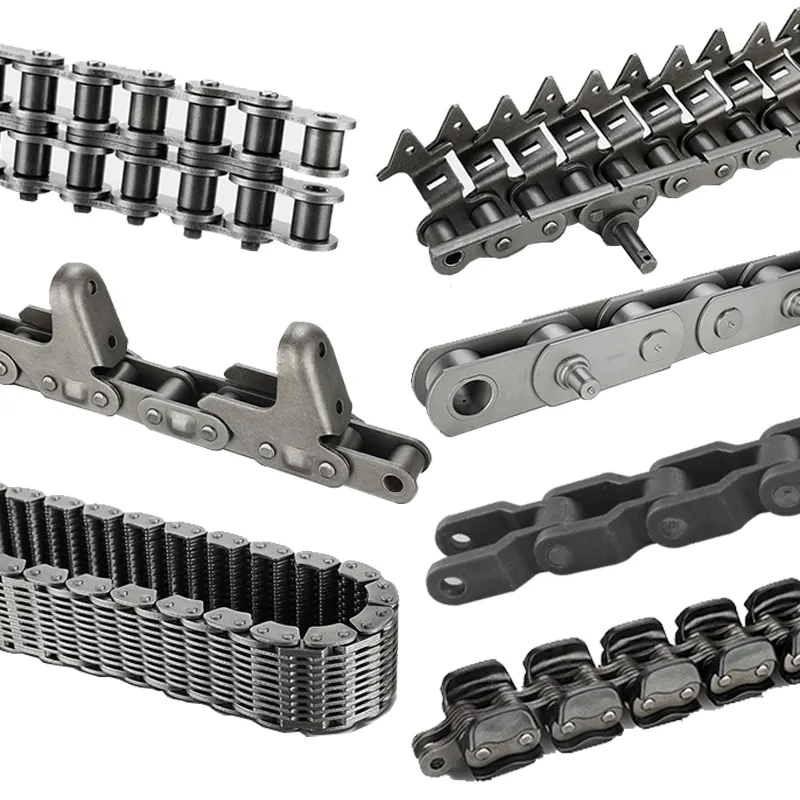 Can an industrial chain be used for vertical lifting applications?
Yes, industrial chains can be used for vertical lifting applications. However, several factors need to be considered to ensure safe and efficient lifting operations:
Chain type and strength: The industrial chain selected for vertical lifting applications must have the appropriate strength and load capacity to safely lift the intended load.
Safety factors: It is crucial to consider the safety factors and ensure that the selected chain is capable of handling the maximum expected load without exceeding its rated capacity.
Overhead clearance: Sufficient overhead clearance is necessary to accommodate the length of the chain and prevent any obstructions during the lifting process.
Proper tensioning: The chain must be properly tensioned to prevent slippage or excessive slack, which can compromise the lifting operation.
Guidance and control: Proper guidance and control mechanisms should be in place to ensure smooth and controlled vertical movement of the load.
Maintenance and inspection: Regular maintenance and inspection of the chain are essential to identify any signs of wear, damage, or fatigue that may compromise its integrity and lifting capability.
It is important to consult industry standards, regulations, and specific manufacturer guidelines to determine the suitability of an industrial chain for a vertical lifting application. Additionally, working with experienced professionals and following established safety protocols is crucial to ensure the safe and effective use of the industrial chain in lifting operations.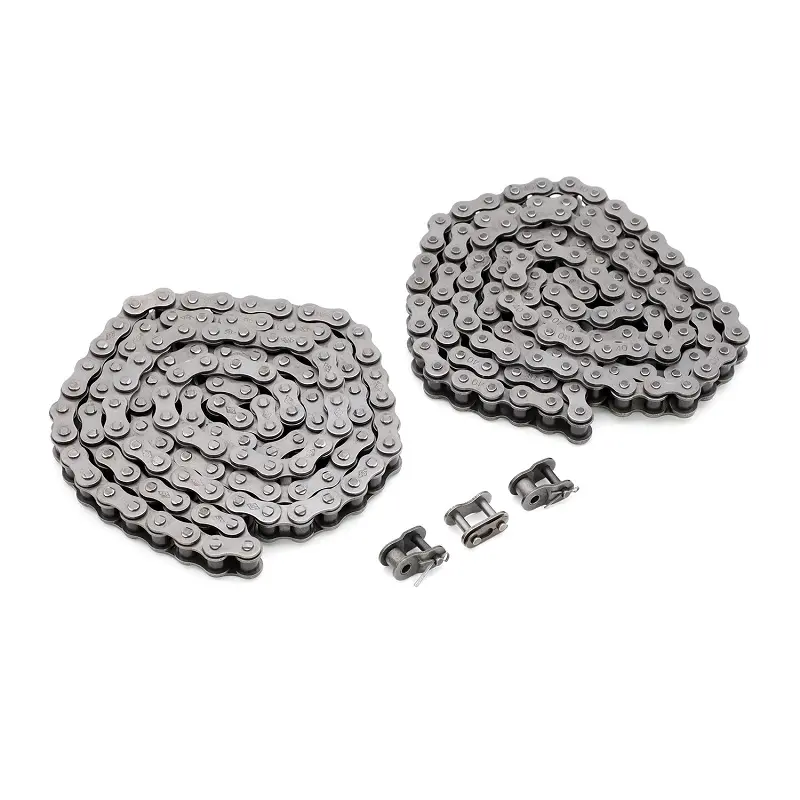 What are the maintenance requirements for an industrial chain?
Maintaining an industrial chain is crucial to ensure its optimal performance and extend its lifespan. Here are some key maintenance requirements for industrial chains:
Cleaning: Regularly clean the industrial chain to remove dirt, debris, and contaminants that can cause friction and wear. Use a suitable solvent or cleaning agent recommended by the chain manufacturer.
Lubrication: Apply the appropriate lubricant to the chain according to the manufacturer's recommendations. Lubrication reduces friction, minimizes wear, and helps prevent corrosion. Regularly inspect the lubrication levels and replenish as needed.
Tension Adjustment: Check the tension of the industrial chain regularly. Ensure it is within the recommended range specified by the manufacturer. Improper tension can lead to excessive wear, reduced performance, and increased stress on the chain components.
Alignment: Verify that the industrial chain is properly aligned with the sprockets or pulleys. Misalignment can cause uneven wear and premature failure. Adjust the alignment as necessary.
Inspection: Periodically inspect the industrial chain for signs of wear, corrosion, damaged links, or other abnormalities. Look for elongation, bent or broken links, and excessive wear on the sprockets. Replace any worn or damaged components promptly.
Environment: Consider the environmental conditions in which the industrial chain operates. Protect the chain from excessive moisture, extreme temperatures, and corrosive substances. Implement appropriate measures such as covers, guards, or coatings to safeguard the chain.
Documentation: Keep records of maintenance activities, including lubrication schedules, tension adjustments, inspections, and any repairs or replacements. This documentation helps track the chain's history and aids in future maintenance planning.
Following these maintenance requirements will help ensure the reliability, efficiency, and longevity of the industrial chain. It is important to refer to the manufacturer's guidelines and recommendations for specific maintenance procedures and intervals for your particular chain type and application.



editor by CX 2023-11-13