Product Description
ISO/ANSI/DIN Standard  Short Pitch Precision Stainless Steel Hardware Transmission Motorcycle Industrial Roller Chain
 
Product Description

1. Material: Stainless Steel 304 & 316 / Alloy Carbon Steel
2. Surface Treatment: Shot peening / Zinc-plated / Nickel-plated / Dacromet-plated
3. Chain No:
35SS-1, 40SS-1, 50SS-1, 60SS-1, 80SS-1, 100SS-1, 120SS-1, 140SS-1;
35SS-2, 40SS-2, 50SS-2, 60SS-2, 80SS-2, 100SS-2, 120SS-2, 140SS-2;
35SS-3, 40SS-3, 50SS-3, 60SS-3, 80SS-3, 100SS-3, 120SS-3, 140SS-3;
4. Application: Stainless Steel Chains are used in so many industries, such as machine manufacturing, food machine, etc. Also are suitable for high and low temperature conditions.
5. Characteristic:
1. The chain can be used on the both sides of multi-axle transmission.
2. Easy installation and replacement.
3. It can obtain larger reduction ratio.
4. The roller chain has good elasticity, high strength and each hinge part has lubricating oil, so it can be stored easliy. Thus, compared with the rigid contact tooth, it has good cushioning and vibration absorbing ability.
 
Product name
Stainless Steel Roller Chain From China
Materials Available 
1. Stainless Steel: SS304, SS316, etc
2. Alloy Steel: 45Mn, 42CrMo, 20CrMo, etc
3. OEM according to your request
Surface Treatment
Shot peening, Blackening, Oxygenation, Polishing, Zinc-plated, Nickel-plated, Anodized, etc.
Characteristic
Fire Resistant, Oil Resistant, Heat Resistant
Design criterion
ISO DIN ANSI & Customer's Drawing
Size
Customer's Drawing & ISO standard 
Package
Wooden Case / Container and pallet, or made-to-order
Certificate
ISO9001: 2008 
Advantage
First quality, Best service, Competitive price, Fast delivery
Delivery Time
20 days for samples. 45 days for official order.
Detailed Photos


View more products,please click here…
 
Company Profile
| | |
| --- | --- |
| Usage: | Transmission Chain |
| Material: | Stainless steel |
| Structure: | Roller Chain |
| 80-1: | 1" |
| Size: | 50ss-1 |
| Other: | Corrosion Resistance |
Samples:

US$ 0/Meter

1 Meter(Min.Order)

|
Request Sample
Customization:

Available

|

Customized Request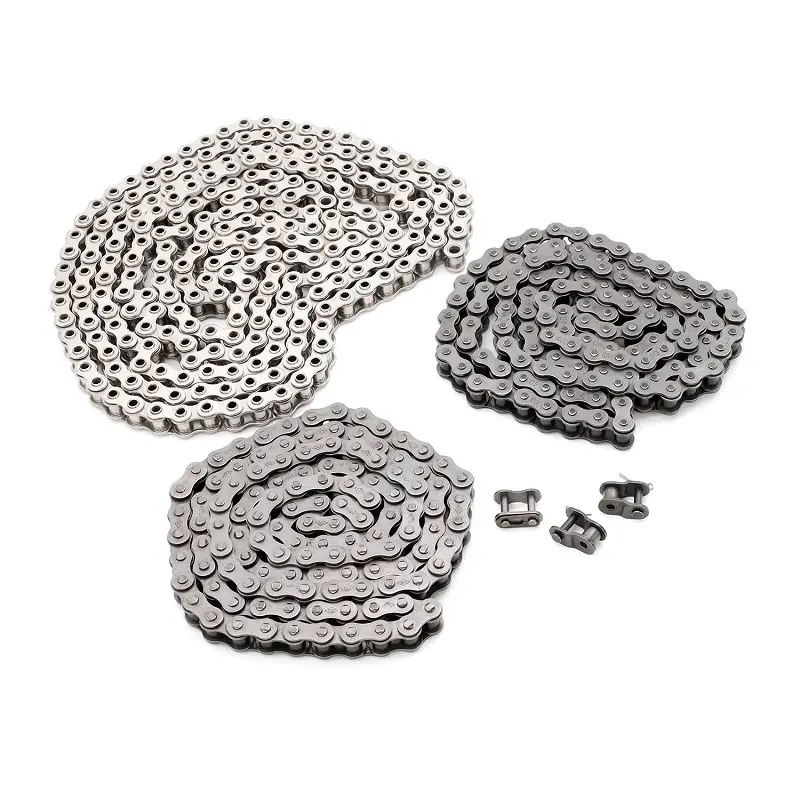 How do you ensure proper alignment of an industrial chain system?
Proper alignment of an industrial chain system is crucial for its efficient and reliable operation. Here are the steps to ensure proper alignment:
Sprocket Alignment: Align the sprockets correctly along the same plane to ensure the chain runs smoothly. Check for any misalignment, such as lateral or angular misalignment, and adjust the sprockets accordingly.
Tension Adjustment: Adjust the tension of the chain to the manufacturer's specifications. An overly loose or tight chain can cause excessive wear and premature failure. Use appropriate tensioning devices or methods to achieve the recommended tension.
Visual Inspection: Perform a visual inspection of the chain as it operates. Observe its movement along the sprockets to ensure it tracks properly. Look for any signs of the chain riding on the sprocket teeth or deviating from its intended path.
Measurement and Adjustment: Use alignment tools, such as a straightedge or laser alignment devices, to measure the alignment of the sprockets. Compare the measurements with the manufacturer's specifications and make necessary adjustments to achieve proper alignment.
Periodic Maintenance: Regularly inspect and maintain the chain system to ensure continued alignment. Check for any wear or damage that may affect the alignment and address it promptly. Keep the chain properly lubricated to reduce friction and improve its movement along the sprockets.
Professional Assistance: If you are unsure about the alignment or encounter persistent alignment issues, seek the assistance of a qualified professional or technician who has experience in industrial chain systems. They can provide expert guidance and ensure the proper alignment of the system.
By following these steps and maintaining proper alignment of the industrial chain system, you can minimize wear, reduce the risk of chain failure, and optimize the overall performance and longevity of the system.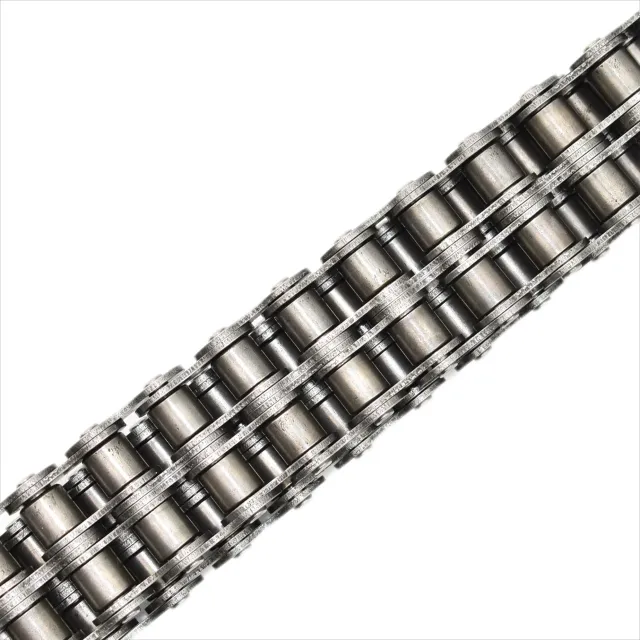 How do you optimize the efficiency of an industrial chain system?
Optimizing the efficiency of an industrial chain system involves various factors and considerations. Here are some key steps to achieve maximum efficiency:
1. Proper Design: Ensure that the industrial chain system is designed correctly for the specific application. Consider factors such as load capacity, speed, environment, and required service life when selecting the chain and related components.
2. Adequate Lubrication: Proper lubrication is essential for reducing friction, wear, and energy loss in the chain system. Follow the manufacturer's recommendations for lubrication intervals and use the appropriate lubricant type and quantity.
3. Correct Tensioning: Maintaining the right tension in the chain is crucial for optimal performance. Over-tensioning or under-tensioning can lead to increased wear, power loss, and premature failure. Regularly check and adjust the tension as per the manufacturer's guidelines.
4. Alignment and Sprocket Inspection: Ensure proper alignment of the chain and sprockets. Misalignment can cause excessive wear and energy loss. Regularly inspect the sprockets for signs of wear, damage, or misalignment, and replace or adjust as necessary.
5. Minimize Friction and Resistance: Reduce friction and resistance throughout the chain system by keeping the components clean and free from debris. Regularly clean and inspect the chain, sprockets, and guides to remove any accumulated dirt or contaminants.
6. Maintenance and Inspection: Implement a regular maintenance and inspection schedule for the entire chain system. This includes checking for wear, lubrication status, tension, and alignment. Address any issues promptly to prevent further damage and ensure optimal performance.
7. Training and Education: Provide proper training to operators and maintenance personnel on the correct handling, operation, and maintenance of the industrial chain system. This will help ensure that everyone understands the importance of efficiency and follows best practices.
By following these optimization strategies, the efficiency of an industrial chain system can be improved, leading to reduced energy consumption, extended service life, and cost savings in the long run.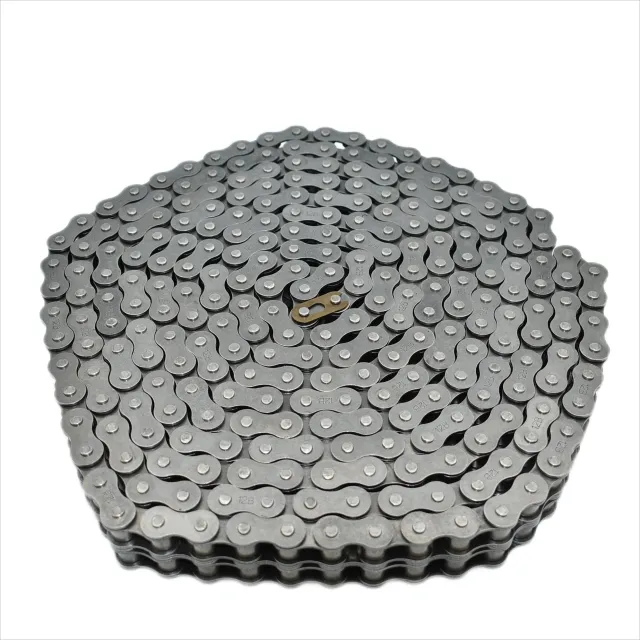 What are the advantages of using an industrial chain in industrial settings?
An industrial chain offers several advantages that make it a popular choice in industrial settings. Here are some key benefits:
High load capacity: Industrial chains are designed to handle heavy loads and provide reliable power transmission, making them suitable for applications that require robust and durable components.
Wide range of applications: Industrial chains find application in various industries, including manufacturing, automotive, mining, construction, agriculture, and more. They can be used for conveying, lifting, driving, and transferring power in different types of machinery and equipment.
Efficient power transmission: Industrial chains have high efficiency in transferring power from one component to another, minimizing energy loss and maximizing the overall performance of the machinery.
Flexible design: Industrial chains come in different sizes, configurations, and materials, allowing for flexibility in design and accommodating various application requirements. They can be customized to fit specific needs, offering versatility in industrial settings.
Durable and long-lasting: Industrial chains are built to withstand heavy-duty operations and harsh environments. They are constructed using high-quality materials and undergo heat treatment or surface hardening processes to enhance their strength, durability, and resistance to wear and fatigue.
Reliable and low-maintenance: Industrial chains are designed for continuous operation with minimal maintenance. Proper lubrication and periodic inspection are typically sufficient to ensure their reliable performance and extend their service life.
Cost-effective: Industrial chains provide a cost-effective solution for power transmission compared to other alternatives. They have a relatively low initial cost, require less maintenance, and have a long lifespan, resulting in reduced downtime and overall operational costs.
Easy installation and replacement: Industrial chains are designed for ease of installation and replacement. With standardized dimensions and readily available components, they can be quickly installed or replaced, minimizing downtime and maximizing productivity.
Overall, industrial chains offer durability, versatility, and efficiency, making them a preferred choice in industrial settings where reliable power transmission and heavy-load handling are required.



editor by CX 2023-08-10