Product Description
Products Collection
Product Description
QLV silent chains are our top-of-the-line solution for your power transmission needs. These chains are designed to offer exceptional performance, efficiency, and noise reduction for machine running.
These chains are made from high-strength steel, with linked plates and pins that fit together tightly to minimise noise and vibration during operation. They can transfer power more effectively than other chains without sacrificing noise reduction
When you need a specific design, we can provide customised solutions based on what you need. Whether you require specific features, plans, materials, or specifications, our team can work to ensure you get a chain that fully meets your needs.
Are you looking for other chains? 
Leave your message below, and feel free to contact us!
FAQ
Question 1: Are you a Manufacturer or a Trading Company?
Answer:
We are a 100% chain manufacturer with 23 years of experience
Question 2: What should I provide to get a quotation?
Answer:
1. Type of the chain (with photos if available)
2. Pitch of the chain
3. Width of the chain
4. Length and quantity of the chain
5. Other specific requirements
Question 3:
How long is your manufacturing and delivery time?
Answer: 
Products are usually finished in 2 weeks, depending on the type and quantity. Also, please get in touch with us to check the delivery time to your destination.
Question 4: How long is your guaranteed time?
Answer: 
We offer a three-year guarantee if you purchase chains and matched sprockets together.
If you need chains only, a one-year guarantee can also be confirmed.
Question 5: Trade terms and Payment terms?
Answer:
We accept EXW, FOB, DDU, Door to Door. Payment terms, such as T/T, L/C, and Western Union, are acceptable. We also provide the service of Online Trading in this B2B platform.
Company Profile
Shipping Cost:

Estimated freight per unit.





To be negotiated
| | |
| --- | --- |
| Standard or Nonstandard: | Standard |
| Application: | Textile Machinery, Garment Machinery, Conveyer Equipment, Packaging Machinery, Motorcycle, Food Machinery, Marine, Mining Equipment, Agricultural Machinery, Car |
| Material: | Carbon Steel |
Samples:

US$ 100/Meter

1 Meter(Min.Order)

|

Order Sample
Customization:

Available

|

Customized Request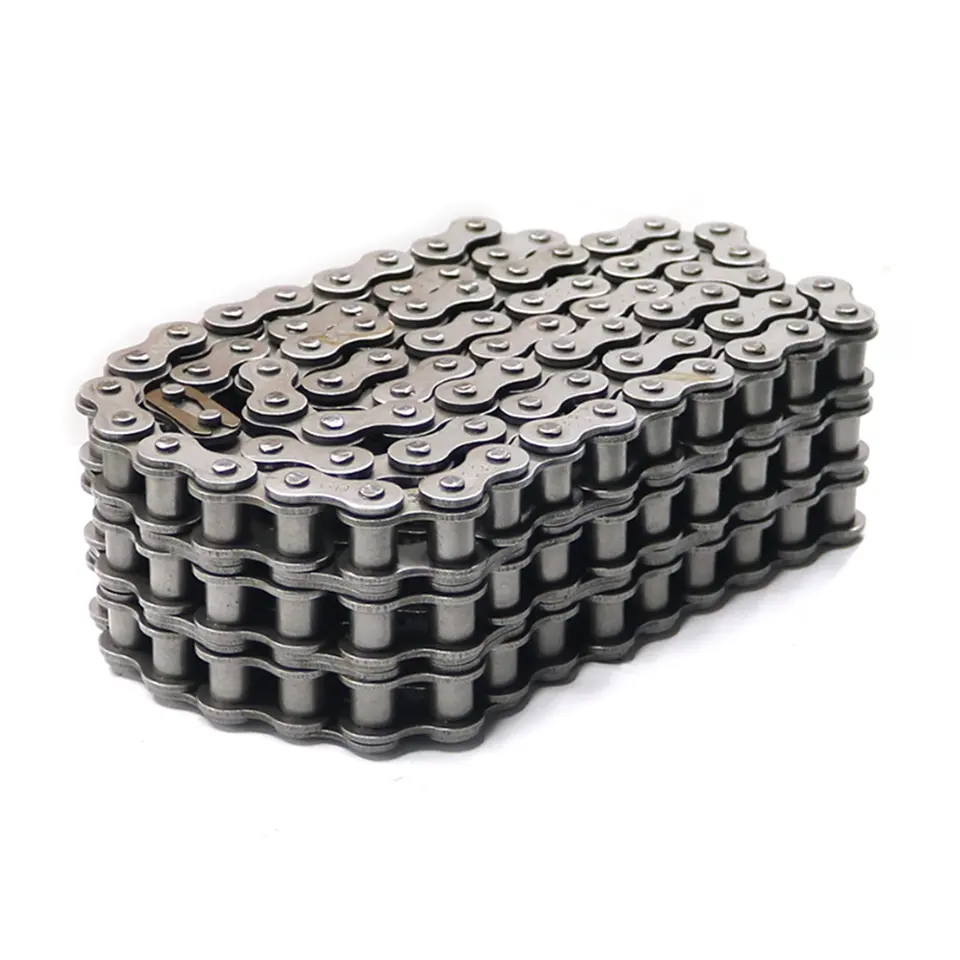 How do you troubleshoot chain skipping or slipping issues in an industrial chain?
Chain skipping or slipping issues in an industrial chain can lead to decreased efficiency and potential equipment damage. Here are some steps to troubleshoot and address these issues:
Check chain tension: Ensure that the chain is properly tensioned according to the manufacturer's recommendations. An overly loose or tight chain can cause skipping or slipping.
Inspect sprockets: Examine the sprockets for signs of wear, damage, or misalignment. Worn or damaged sprocket teeth can cause chain skipping. Correct any alignment issues and replace worn sprockets if necessary.
Inspect chain condition: Inspect the chain for signs of wear, elongation, or damage. A worn or stretched chain may not properly engage with the sprockets, leading to skipping or slipping. If the chain is significantly worn, it may need to be replaced.
Clean and lubricate the chain: Clean the chain thoroughly to remove any debris or contaminants that may be affecting its performance. Apply a suitable lubricant to ensure smooth operation and reduce friction.
Check drive system components: Examine other components of the drive system, such as bearings, shafts, and gears, for any signs of damage or misalignment. These components can also contribute to chain skipping or slipping.
Adjust alignment: Ensure that the entire chain drive system is properly aligned. Misalignment can cause uneven tension distribution and lead to chain skipping. Adjust the alignment as needed.
Inspect drive system tensioners: If the chain drive system includes tensioners, check their condition and adjustment. A malfunctioning or improperly adjusted tensioner can contribute to chain skipping.
Consult manufacturer guidelines: Refer to the manufacturer's guidelines and specifications for the specific industrial chain and equipment being used. Follow their recommended troubleshooting steps and maintenance practices.
Seek professional assistance if needed: If the issue persists or if you are unsure about the troubleshooting process, it is recommended to seek assistance from a qualified technician or the manufacturer's technical support team.
Addressing chain skipping or slipping issues promptly is important to prevent further damage and maintain the efficiency and reliability of the industrial chain system.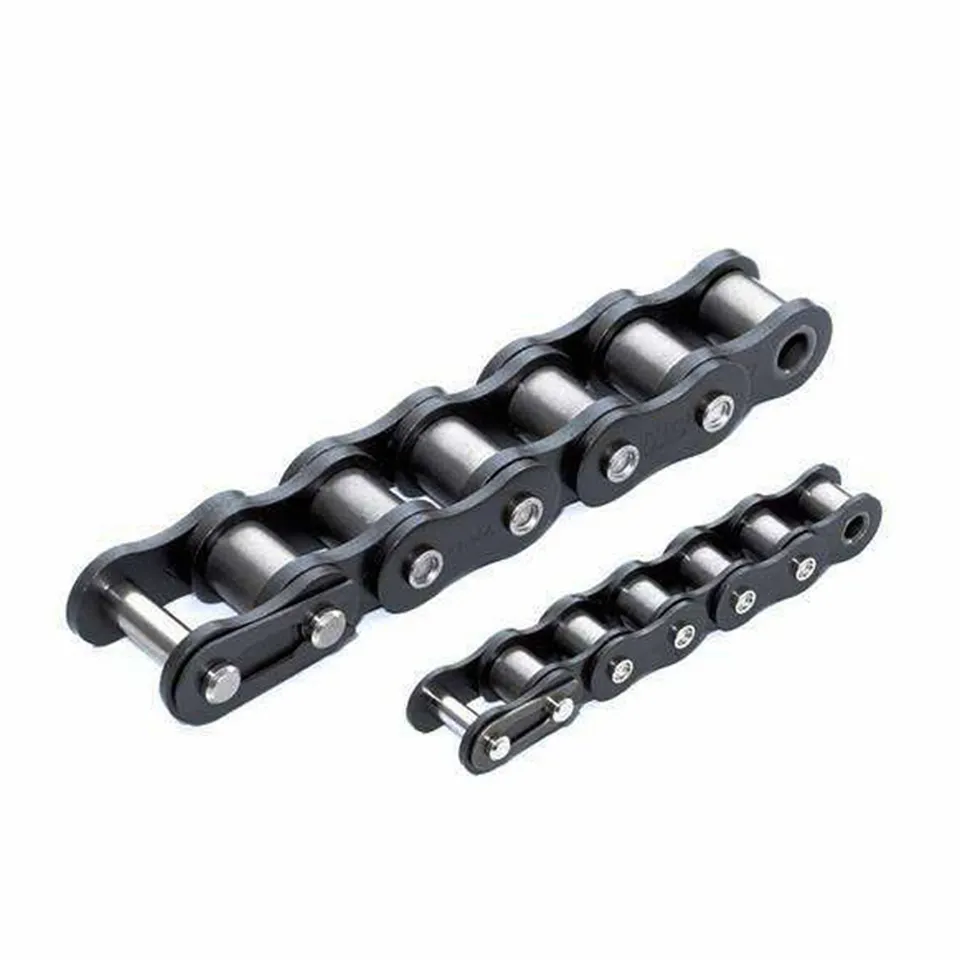 What is the load capacity of an industrial chain?
An industrial chain's load capacity refers to the maximum amount of weight or force it can safely withstand without experiencing failure or damage. The load capacity of an industrial chain depends on several factors, including its design, construction, material, and size.
Industrial chains are engineered and manufactured to handle a wide range of load capacities, from light-duty applications to heavy-duty industrial operations. The load capacity of a specific industrial chain is typically provided by the manufacturer and can be found in product specifications or technical documentation.
The load capacity of an industrial chain is influenced by various factors, such as:
Chain Type and Size: Different chain types, such as roller chains, silent chains, or engineering steel chains, have varying load capacities. Additionally, the size or pitch of the chain also affects its load capacity, with larger chains generally having higher load capacities.
Chain Material and Construction: The material used to construct the chain, such as stainless steel, carbon steel, or alloy steel, affects its strength and load-bearing capacity. The chain's construction, including the number and arrangement of links, also plays a role in determining its load capacity.
Operating Conditions: The environment in which the industrial chain operates, such as temperature, humidity, and exposure to chemicals or corrosive substances, can impact its load capacity. Extreme conditions may require special chains with higher load ratings.
Application Requirements: The specific application and the forces involved, such as tension, shock loads, or dynamic forces, need to be considered when determining the appropriate load capacity of an industrial chain.
To ensure the safe and efficient operation of an industrial chain, it is crucial to select a chain with an appropriate load capacity for the intended application. Exceeding the recommended load capacity can lead to premature wear, chain failure, or safety hazards. Consulting the manufacturer's specifications and guidelines, as well as engineering calculations, can help determine the suitable load capacity for a given industrial chain.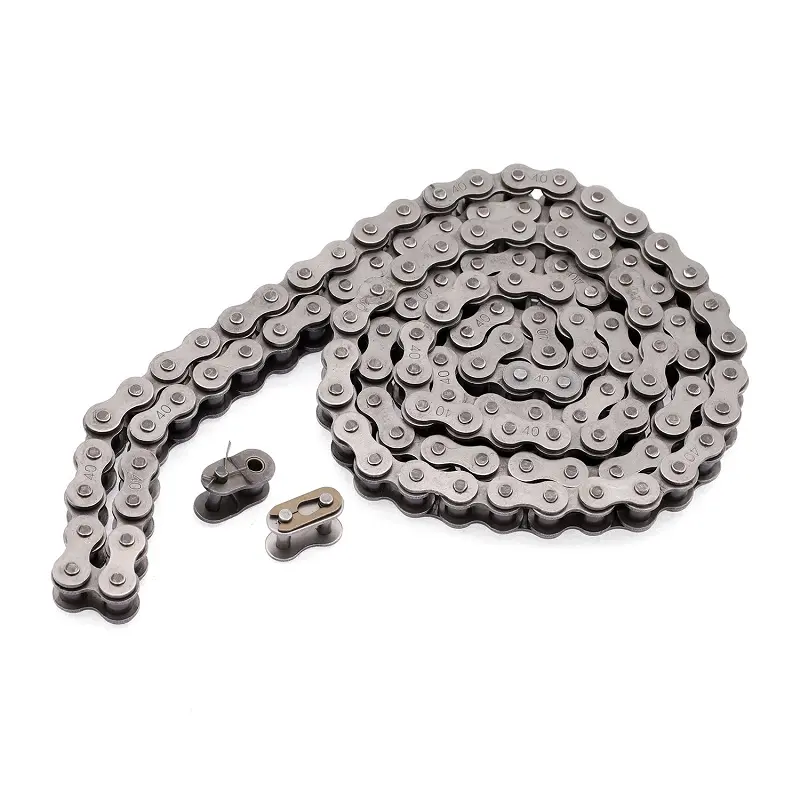 What lubrication is recommended for industrial chains?
Choosing the right lubrication for industrial chains is essential to ensure their smooth operation and longevity. Here are some commonly recommended lubricants for industrial chains:
Chain Oil: Chain oils are specifically formulated for industrial chain applications. They have excellent penetration and adhesion properties, providing lubrication to the chain's internal components. Chain oils often have anti-wear and anti-corrosion additives to protect against friction and moisture.
Grease: Greases designed for industrial chain lubrication offer good adhesion and cling properties. They provide a protective film that stays in place even under high loads and temperatures. Greases can provide long-lasting lubrication and are suitable for applications where oil may not be suitable or accessible.
Dry Film Lubricants: Dry film lubricants, such as PTFE (polytetrafluoroethylene) or molybdenum disulfide-based coatings, are applied as a thin film to the chain. They create a low-friction barrier between the chain components, reducing wear and enhancing performance. Dry film lubricants are particularly useful in applications where oil or grease may attract dirt, dust, or contaminants.
When selecting a lubricant for industrial chains, consider factors such as operating conditions, temperature, load, speed, and environmental conditions. It's important to consult the chain manufacturer's recommendations and follow their guidelines for lubrication intervals and application methods. Regular lubrication and maintenance will help reduce friction, wear, and the risk of chain failures in industrial applications.



editor by CX 2023-08-08