Product Description
Products Collection
Product Description
QLV silent chains are our top-of-the-line solution for your power transmission needs. These chains are designed to offer exceptional performance, efficiency, and noise reduction for machine running.
These chains are made from high-strength steel, with linked plates and pins that fit together tightly to minimise noise and vibration during operation. They can transfer power more effectively than other chains without sacrificing noise reduction
When you need a specific design, we can provide customised solutions based on what you need. Whether you require specific features, plans, materials, or specifications, our team can work to ensure you get a chain that fully meets your needs.
Are you looking for other chains? 
Leave your message below, and feel free to contact us!
FAQ
Question 1: Are you a Manufacturer or a Trading Company?
Answer:
We are a 100% chain manufacturer with 23 years of experience
Question 2: What should I provide to get a quotation?
Answer:
1. Type of the chain (with photos if available)
2. Pitch of the chain
3. Width of the chain
4. Length and quantity of the chain
5. Other specific requirements
Question 3:
How long is your manufacturing and delivery time?
Answer: 
Products are usually finished in 2 weeks, depending on the type and quantity. Also, please get in touch with us to check the delivery time to your destination.
Question 4: How long is your guaranteed time?
Answer: 
We offer a three-year guarantee if you purchase chains and matched sprockets together.
If you need chains only, a one-year guarantee can also be confirmed.
Question 5: Trade terms and Payment terms?
Answer:
We accept EXW, FOB, DDU, Door to Door. Payment terms, such as T/T, L/C, and Western Union, are acceptable. We also provide the service of Online Trading in this B2B platform.
Company Profile
Shipping Cost:

Estimated freight per unit.





To be negotiated
| | |
| --- | --- |
| Standard or Nonstandard: | Standard |
| Application: | Textile Machinery, Garment Machinery, Conveyer Equipment, Packaging Machinery, Food Machinery, Marine, Mining Equipment, Agricultural Machinery |
| Material: | Carbon Steel |
Samples:

US$ 100/Meter

1 Meter(Min.Order)

|

Order Sample
Customization:

Available

|

Customized Request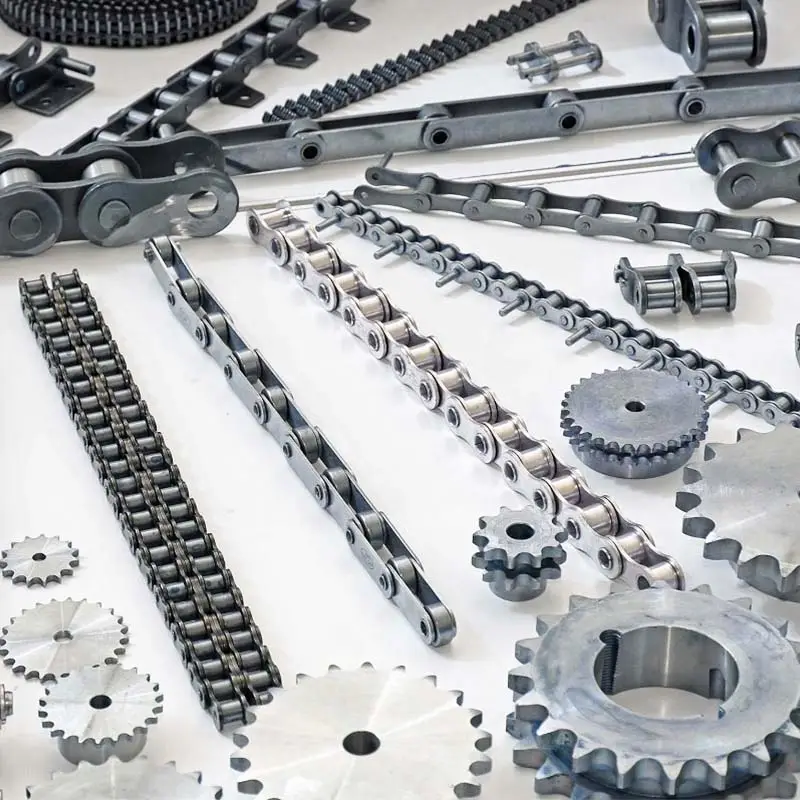 What are the factors to consider when selecting the pitch of an industrial chain?
The pitch of an industrial chain refers to the distance between adjacent pins or rollers on the chain. When selecting the pitch of an industrial chain, several factors should be considered:
Load requirements: The pitch of the chain should be selected based on the expected load that the chain will need to carry. Higher loads typically require larger pitch sizes to ensure sufficient strength and durability.
Speed of operation: The chain's pitch should be chosen based on the speed at which the chain will be operating. Higher speeds may require smaller pitch sizes to maintain smooth and efficient operation.
Space limitations: The available space for the chain system should be considered when selecting the pitch. Smaller pitch sizes can accommodate tighter spaces, while larger pitch sizes may be suitable for applications with more ample space.
Application requirements: The specific requirements of the application should be taken into account. Factors such as the type of load being transported, the operating environment (temperature, moisture, etc.), and any special considerations (e.g., noise reduction, corrosion resistance) can influence the pitch selection.
Chain compatibility: It is essential to ensure that the selected chain pitch is compatible with the sprockets or gears used in the system. The chain and sprocket/gear pitch should match to ensure proper engagement and efficient power transmission.
Service life expectations: Consideration should be given to the desired service life of the chain. In applications with high-cycle operations or demanding conditions, selecting a chain with a smaller pitch size or a specialized design may be necessary to enhance longevity.
By carefully considering the load requirements, speed of operation, space limitations, application requirements, chain compatibility, and service life expectations, one can select the appropriate pitch size for an industrial chain that ensures optimal performance and reliability.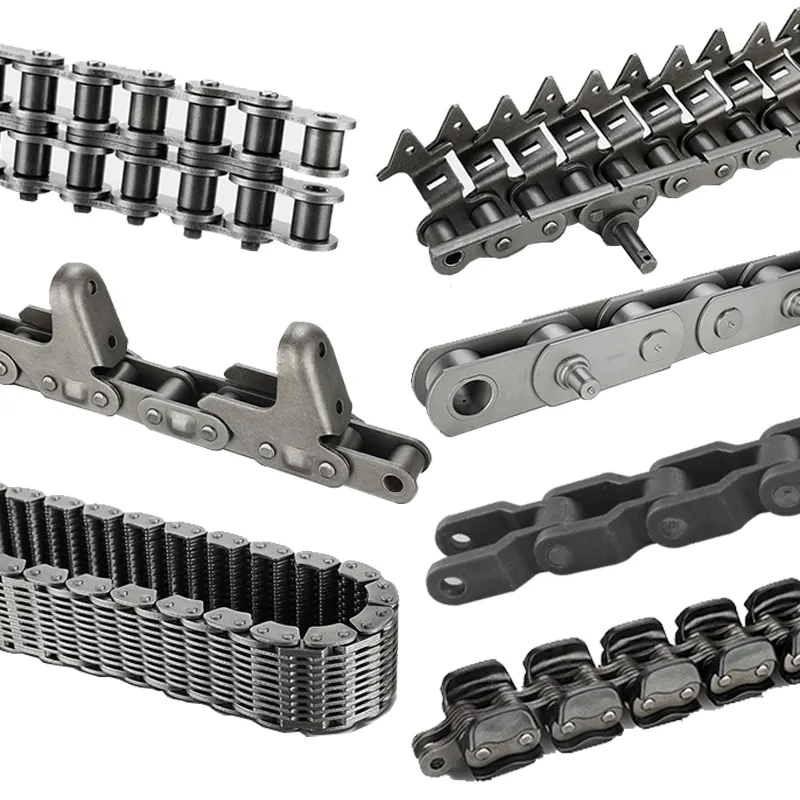 Can an industrial chain be used for vertical lifting applications?
Yes, industrial chains can be used for vertical lifting applications. However, several factors need to be considered to ensure safe and efficient lifting operations:
Chain type and strength: The industrial chain selected for vertical lifting applications must have the appropriate strength and load capacity to safely lift the intended load.
Safety factors: It is crucial to consider the safety factors and ensure that the selected chain is capable of handling the maximum expected load without exceeding its rated capacity.
Overhead clearance: Sufficient overhead clearance is necessary to accommodate the length of the chain and prevent any obstructions during the lifting process.
Proper tensioning: The chain must be properly tensioned to prevent slippage or excessive slack, which can compromise the lifting operation.
Guidance and control: Proper guidance and control mechanisms should be in place to ensure smooth and controlled vertical movement of the load.
Maintenance and inspection: Regular maintenance and inspection of the chain are essential to identify any signs of wear, damage, or fatigue that may compromise its integrity and lifting capability.
It is important to consult industry standards, regulations, and specific manufacturer guidelines to determine the suitability of an industrial chain for a vertical lifting application. Additionally, working with experienced professionals and following established safety protocols is crucial to ensure the safe and effective use of the industrial chain in lifting operations.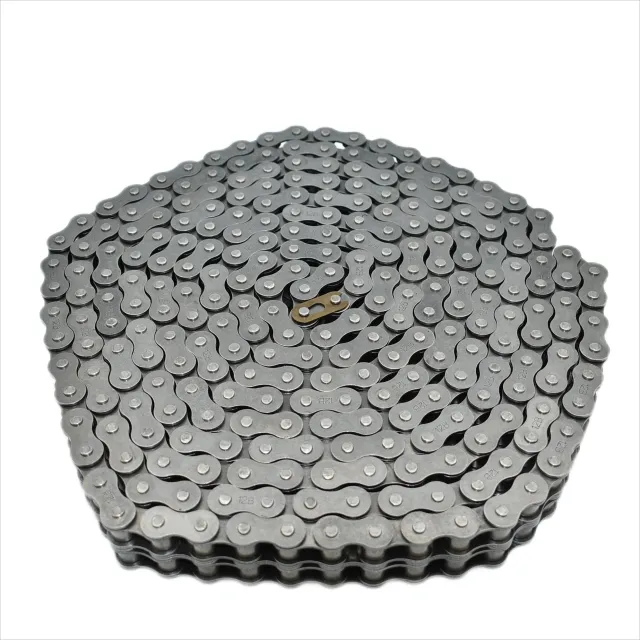 What are the advantages of using an industrial chain in industrial settings?
An industrial chain offers several advantages that make it a popular choice in industrial settings. Here are some key benefits:
High load capacity: Industrial chains are designed to handle heavy loads and provide reliable power transmission, making them suitable for applications that require robust and durable components.
Wide range of applications: Industrial chains find application in various industries, including manufacturing, automotive, mining, construction, agriculture, and more. They can be used for conveying, lifting, driving, and transferring power in different types of machinery and equipment.
Efficient power transmission: Industrial chains have high efficiency in transferring power from one component to another, minimizing energy loss and maximizing the overall performance of the machinery.
Flexible design: Industrial chains come in different sizes, configurations, and materials, allowing for flexibility in design and accommodating various application requirements. They can be customized to fit specific needs, offering versatility in industrial settings.
Durable and long-lasting: Industrial chains are built to withstand heavy-duty operations and harsh environments. They are constructed using high-quality materials and undergo heat treatment or surface hardening processes to enhance their strength, durability, and resistance to wear and fatigue.
Reliable and low-maintenance: Industrial chains are designed for continuous operation with minimal maintenance. Proper lubrication and periodic inspection are typically sufficient to ensure their reliable performance and extend their service life.
Cost-effective: Industrial chains provide a cost-effective solution for power transmission compared to other alternatives. They have a relatively low initial cost, require less maintenance, and have a long lifespan, resulting in reduced downtime and overall operational costs.
Easy installation and replacement: Industrial chains are designed for ease of installation and replacement. With standardized dimensions and readily available components, they can be quickly installed or replaced, minimizing downtime and maximizing productivity.
Overall, industrial chains offer durability, versatility, and efficiency, making them a preferred choice in industrial settings where reliable power transmission and heavy-load handling are required.



editor by CX 2023-08-11